Stickbulb, which took home Best in Show at NYCxDESIGN earlier this year, has partnered with The Future Perfect on a RUX-designed series of lighting called Boom. The Future Perfect is unveiling a special installation of the exclusive lighting series, which is made from the components of destroyed buildings. The series includes Little Boom, Middle Boom, Big Boom and Double Boom.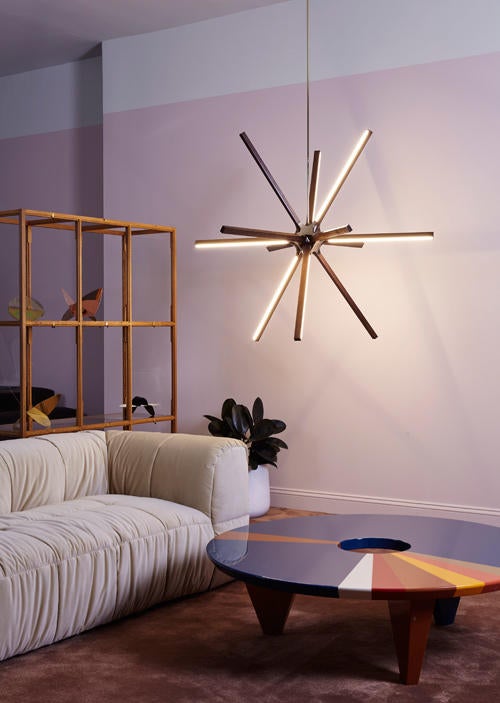 The design team set out to create a collection with minimal pieces, and which could be produced within a five-mile radius of their studio in Long Island City (located in Queens, New York City). They also opted to use energy efficient LED technology and components, as well as sustainably sourced and reclaimed woods.
The result? The Double Boom is made from redwood sourced from New York's defunct water towers. Stickbulb is known for using reclaimed and sustainably sourced woods. The different "Booms," explain the partners, are designed to reflect the "moment of destruction of the building or water tower from which its wood comes."
"Written into the DNA of our designs is a tension between high-tolerance machine precision and wild, organic growth," says Russell Greenberg, RUX founder and creative director. Greenberg and RUX's managing partner, Christopher Beardsley, founded Stickbulb in 2012.
"The fixtures achieve expressive forms by the use of minimalist elements: Varying lengths of wood cantilever out from a cast brass core. The contrast of materials furthers the play with light, establishing a reflective core that the light seems to 'explode' from," elaborate the makers.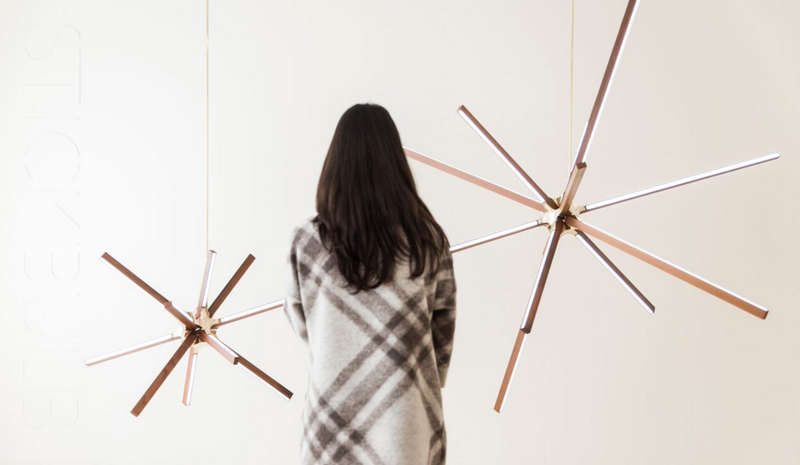 The exhibit, which is exclusive to The Future Perfect, also spotlights Stickbulb's Table Torch, Wall Sconce, Vertical Sconce, Sky Bang and Multiple Pendant, each one designed by RUX and handmade in New York.
The Future Perfect has locations in New York, San Francisco and Los Angeles and has worked with a range of designers like Lindsey Adelman, Christian Woo, DIMORESTUDIO and more.