Located on the west coast of India, the state of Goa has long been a holiday destination for expats and locals alike. The northern region, called Candolim, has been compared to South Beach, and boasts a huge expanse of beach facing the Arabian Sea, restaurants, beach shacks and shopping—and now, avant-garde art and design—that draw a constant flow of bustling activity, music and revelry.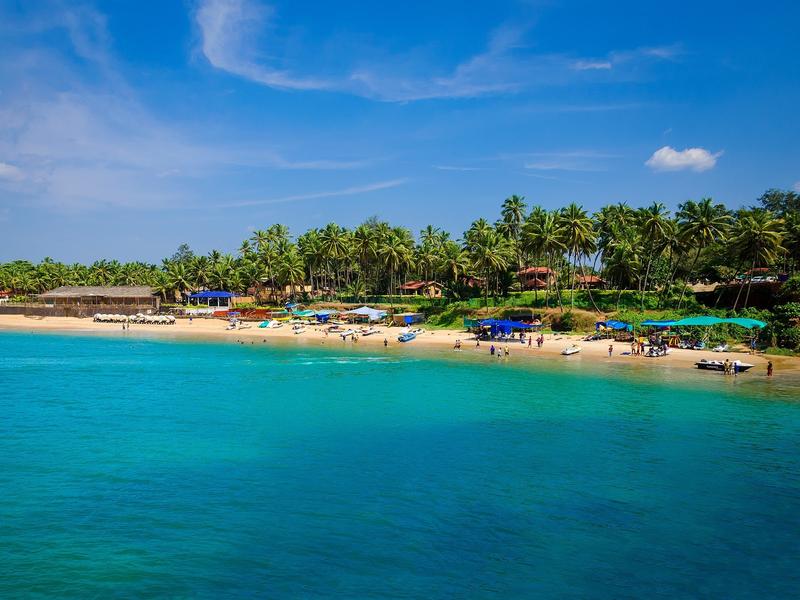 Although Goa is one of India's wealthiest states and its population has been growing consistently (up to more than 3 million from 1.9 million in 2013), The Wire reports that the state has seen a dip in the number of foreign tourists (to 12.6 percent in 2014 from 23 percent in 2000). Goa tourism officials are seeking ways to bring back European visitors—who outspend local ones at a ratio of 4:1, according to The Times of India—and who might find it easier to flock to the British or Spanish islands instead.
The solution, according to Dayanand Sopte, the newly appointed chairman of the Goa Tourism Development Corporation, may lie in infrastructure. "My priority will be to ensure that foreign footfalls are increased by adding new tourism activities," said Sopte in a statement. "More importance will be given to development of basic infrastructure in the coastal belt." The government has also invited comments and suggestions from stakeholders and locals as it builds the next phase of the Goa tourism master plan and policy, reported The Times of India. With a focus on coastal culture and heritage, the plan aims to touch on all the different aspects of Goa travel, from leisure to weddings.
The Cube
A slew of openings in Goa, however, are taking a different approach—one that spotlights avant-garde art and design. Take The Cube Gallery, housed in the sleepy little region of Moira. While the area has long been associated with serenity and access to nature, the Cube has helped put Moira on the map—which is exactly what founder and Los Angeles native Sonny Singh intended. "All the galleries here are based out of old Portuguese villas. I wanted to go off tangent, by building a fly ash recycled brick space, rather than work with conventional laterite," he tells Business of Home. The result is an airy, open space with a decidedly modern yet quirky aesthetic.
Take the Cube's exterior: A series of white columns and (what else?) cubes intersect to form a continuing series, fusing with the main entrance. The arts incubator—a fairly new concept in India—uses open glass Veka windows and moving walls to change the geometry of the space, depending on artist requests. "I intend for this to be more of a design gallery, rather than a space that merely showcases wall art," explains Singh.
And So
Just as compelling is experiential design atelier And So, which is located in northern Goa and aims to make good design attainable. The first of its kind in the state's design landscape, And So is the brainchild of Anjali Mody, founder of Mumbai- and Goa-based Josmo Studio, a collective that both makes and curates well-designed pieces from around India. At affordable prices, the shop stocks expertly curated, eclectic brands that will likely be new to even well-traveled decor fans—ideal for both locals and expats.
And So makes full use of every bit of its 6,000-square-foot space, offering a unique intersection between storytelling and selling. The salon-like atmosphere features separate areas that sell complete looks ("a lifestyle," according to Mody), with a vast array of plants, materials and styles to start conversations, as opposed to single-studio exhibitions. The concept is inspired by the diversity of perspectives in Goa, a former Portuguese colony that now hosts people from around the country.

Growing out of a pure need to have ease of comfort in shopping, we want to be able to provide a space that allows customers to buy everything under one roof.
" —Anjali Mody
"Growing out of a pure need to have ease of comfort in shopping, we want to be able to provide a space that allows customers to buy everything under one roof. And So is also a collective of designers with strong and interesting stories to tell," says Mody. "Goa is especially dear to us for the people it attracts, its melting pot of ideals and consciousness towards the art of making and the environment. Our group of artisans will flourish here with the efforts we put forth towards their growth."
Vaishnavipratima
Mumbai-based stores also see the appeal of opening outposts in Goa, particularly due to the resort-trendy style that permeates the beach crowd. Take interiors studio Vaishnavipratima's October-opened stand-alone store in a 105-year-old Goan villa: The rustic exterior is preserved, but inside, the cozy loft plays with pop art, exquisite luminaires and some decidedly trendy bonsai. "The design statement that reflects in all my projects is the pleasant fusion and balance of modern Indian decor; the design and color palette of each furniture being completely opposite to the decor, yet striking the right harmony," says founder Vaishnavipratima Kodakalla of her second store.
If Goa is primed for an opportunity to draw visitors back, it may be this fusion that will help raise the bar for the region. These young design visionaries seem up for the challenge.