The 50 States Project is a series of candid conversations with interior designers across the country about how they've built their businesses. This week, Kansas City, Missouri–based designers Mallory Robins and Elizabeth Bennett of Kobel + Co tell us why they've developed three distinct offerings to meet clients' needs, how a recent delivery snafu showed them that they're on the right track and why their 'design first' approach means not relying on a markup.
How did the two of you become business partners?
Mallory Robins: In 2017, my family relocated from Houston to Kansas City, and I had the opportunity to reimagine my career. I had been working in corporate America, but I'd always loved design. When I founded Kobel + Co I didn't have a complete sense of what I wanted it to look like, I just knew I wanted to do something in design. Then, after about a year of dabbling part-time, a college friend reached out to me and asked if I could help with their large renovation here in Mission Hills. That was the first big project I took on—it was a large-scale renovation, including an addition to the house, a full custom kitchen, multiple bathrooms and selections for the whole home. It was such an incredible experience for me, and I felt like it checked the creative box that I really loved but also fulfilled the operational side of my brain. It just felt like such a fit for me. That experience helped me realize that I didn't want this to be something that I dabbled at—I wanted it to be something bigger and full-time. I also knew I couldn't do that by myself.
At about that time, a few serendipitous things happened. Elizabeth and I had been friends in college, but we hadn't seen each other or spoken in maybe 15 years. But that year, our kiddos ended up in a class together at school and we reconnected. Just as I was wrapping that big project, Elizabeth had her home photographed in a local publication. So here I was, looking at her beautiful home in this magazine and thinking, "Oh, my gosh, I have to talk to her." So I got in touch, and she invited me over for coffee. I was super pregnant with my third child, and she made me feel so at home right away—she put me on her couch and put my feet up, and I felt this utter clarity that this was my human. This was the person I wanted to take on the world with. So I just asked her right there and then: "Would you quit your job and join me?" Now, full disclosure, I had no idea how I was going to afford to pay both of us, because it was genuinely a part-time business at the time. But I just knew that together we would take on the world.
Elizabeth Bennett: Ironically, the whole reason that my house was even photographed was that I'd been working big jobs in product development for 15 years—my degree is in industrial design—and I was miserable and hated it. All the creativity had been sucked out. So I had started that year in January telling myself that this was going to be my year of "yes." I'm pretty cautious, but someone came to me and said, "Let's photograph your house." And I was like, "This is something I would never do, so I'm going to do it." Thank goodness I did! And then when Mallory asked me to quit my job and join her, it was a pretty easy yes.
Mallory, what changed for you once you had a partner in the business?
Robins: My corporate background had been very collaborative in nature, so I struggled with being a sole proprietor of a company. I felt like I never had anyone to bounce ideas off of—it was a lot of late-night conversations with myself, like, "Is this right?" A lot of thinking and overthinking.
She also brought a huge additional skill set that I don't have. We are incredibly complimentary, and I would say that she excels in things that I'm admittedly not very good at. She's a master stylist—she can walk into a room, move things around and suddenly make a space beautiful. Whereas I love the big-picture blocking and tackling the design, she has that magic in the finishing touches. She also has incredible Photoshop skills, which I did not have. In terms of having a way to convey our designs to a client, she really took us to the next level.
Bennett: And then Mallory is an absolute boss when it comes to running the business and thinking outside the box. We do think it was fate that brought us together, because we are such a good partnership. Mallory very much lives in the function, whereas I complement and counter that by living in the form. I think if anyone was out there feeling like they needed a partner, or didn't feel like they could scale themselves, one of the keys to how we've found our success is that we were very balanced. If you were to go out and find a partner who's exactly like you, I don't know if it would allow you to scale your business quite as quickly or effectively.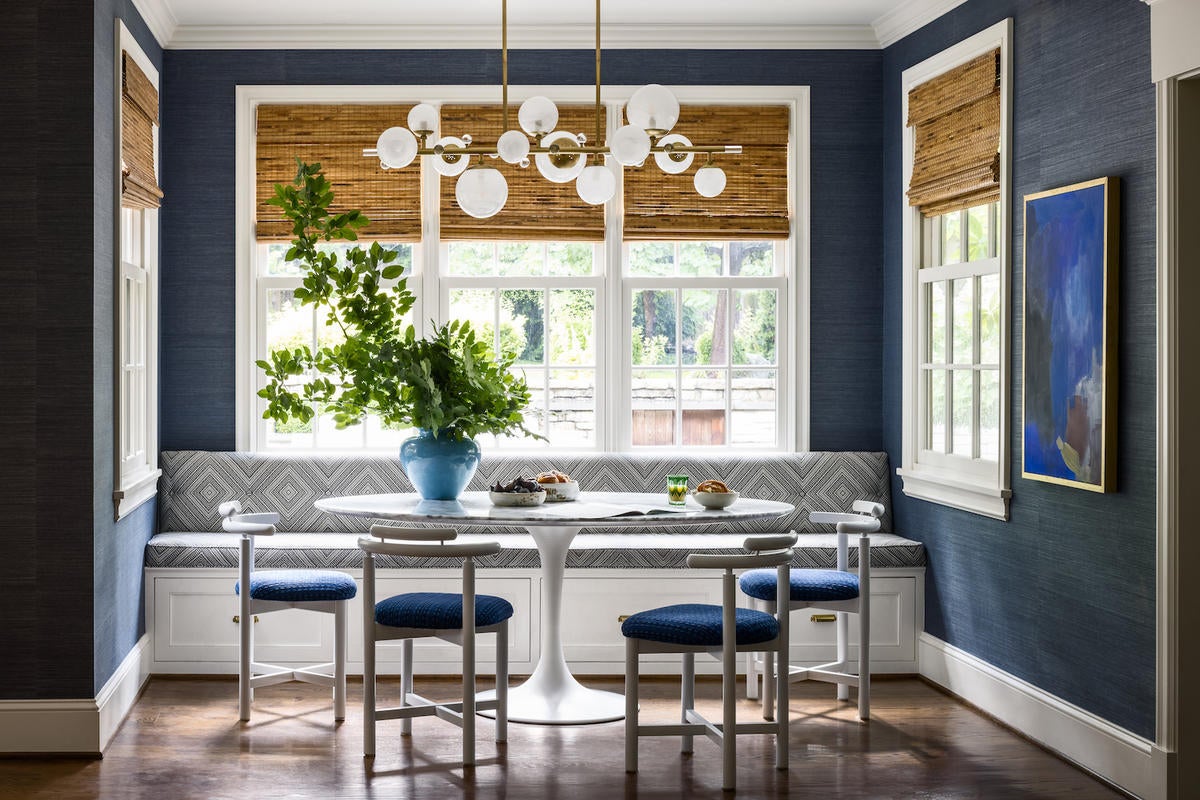 Were you also an aesthetic match?
Robins: There are elements that make our personal styles a little bit different from each other—I think Elizabeth has more of an elegance in her personal style, while mine might be a little more laid-back—but on the whole, our personal styles are complementary. It's a mix of traditional, modern, a little bit of whimsy, some collected items. Nothing too pretentious.
Bennett: Our brand ethos is about our love of juxtaposition and contrast, which suits not only our personalities, but also our approach to design. We joke, we disagree, and we talk it out—and that's for almost every design, down to what vase we should use. I think that's where the success is. We find a lot of solutions within our internal debate, which is what makes us stronger together.
Robins: I knew concretely in that moment when I asked her to be my partner that I wanted a partner, not a teammate or an employee. I wanted someone who was just as invested in the success and in running a design firm as I was.
What did those early jobs look like as the business was developing?
Robins: Well, first of all, I never doubted that it was going to work. I will optimistically walk off a cliff sure that I'm going to fly.
Bennett: So that's also a difference between us. She is very optimistic. I am the person who says, "The glass is losing water. We should plan for when it does lose water." I left a very good job to do this, so I was pretty confident that we were going to make it work.
Robins: When Elizabeth joined me, the firm had work in the pipeline—it wasn't really like starting from scratch. In those first few months working together, there was a constant evolution of, like, what exactly does our business process look like? What does success look like for us? What kind of projects do we want to take on? One thing we did in that year that was successful was taking on a couple holiday projects. It was a ton of work in a very condensed amount of time, but we were trying anything to see what stuck. Several of those clients turned out to be really amazing, full-service, long-term renovation clients, and we got our foot in the door with an incredible Christmas dream.
Bennett: In the beginning, the work coming in was more furnishings based. But then it started to scale up into massive home renovations, and now we're working on new builds in multiple states.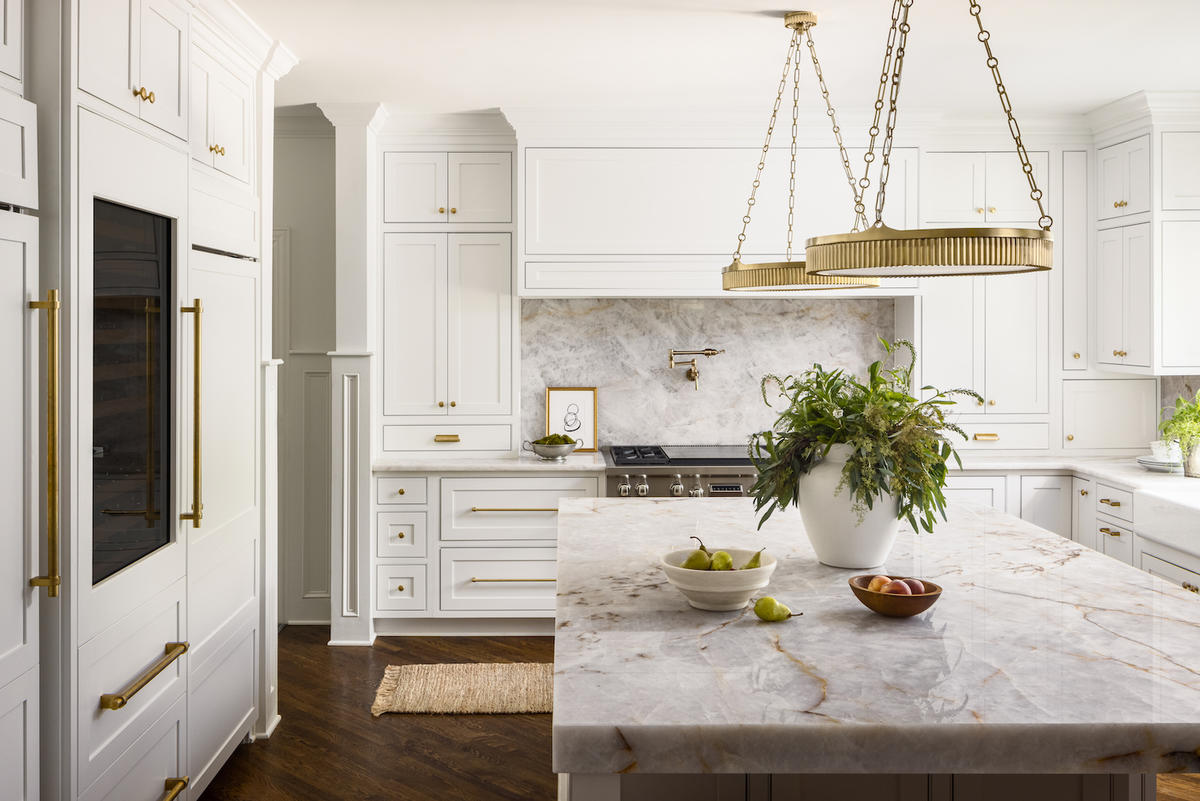 What does a full project load look like for you today?
Bennett: We're finding that our sweet spot for full service is around 10 projects.
Robins: That's about how many large-scale renovations or new builds we have in the pipeline right now. And then at the same time, we serve clients in two other ways: We have a pretty robust e-design program, which we actually launched before COVID, but that really took off during COVID with clients all over the country; and then we also do construction consults. At any given time, we are working on anywhere from 15 to 20 client projects.
What does a construction consultation entail?
Robins: Those construction consultations came from finding a hole in the market for clients that didn't want to make the full investment in full-service design—maybe they felt like they could manage the renovation themselves, or they aren't interested in furnishing and decor but want to make sure their ideas are cohesive and that it doesn't look like a Pinterest board exploded in their house. We often hear, "I want to make sure I'm doing it right."
That process generally occurs over a six-month time span, but it's led by the client in terms of how quickly or how spread out they want those sessions to be. It's very much client-directed. We might focus in one session exclusively on countertop, tile and cabinet materials, really making sure that material choices are cohesive. If it's a new build or large-scale renovation, we might spend an entire session on the floor plan. When you look at this floor plan, whether your architect or your builders provided it, have you thought about how you want to use this space down the road? Does that sectional you've been dreaming of actually fit in the room, or is it blocked by a doorway? Our role is to help with the bigger picture rather than getting lost in the weeds of, "Oh, I really want a library in a moody color."
Bennett: It's a series of meetings throughout the duration of their project, and while it is an investment, I think clients take solace in the fact that it's a fraction of the cost of full-service design and they still have a partner in the decision-making process. We're talking them through marble versus quartz versus quartzite, sharing some of our best practices or things to look out for, letting them know that they're definitely going to want to be there for the electrical walk-through and here are some things they're going to need to ask. It's about equipping them with a little bit of a tool kit to make sure that they set themselves up for success.
Robins: We're booked out on those at the moment, which is a nice place to be, but they're great. It's fun for us to jump into a project and then jump back out.
I know you're getting compensated for that time, but it's not something where you're going to end up with finished photographs of the space. Is it creatively fulfilling in a different way?
Bennett: I think we feel that way more with our e-design. We get to meet people all over the country, pop into their lives and create. We've done every single style you can think of, and that's fun and fulfilling. The consults are more of the down-and-dirty of floor planning and framing, so I wouldn't say it's necessarily creatively fulfilling.
Robins: If I can be totally honest, part of it is that it feels good to know you helped somebody. That's the part that is fulfilling: the value to the client.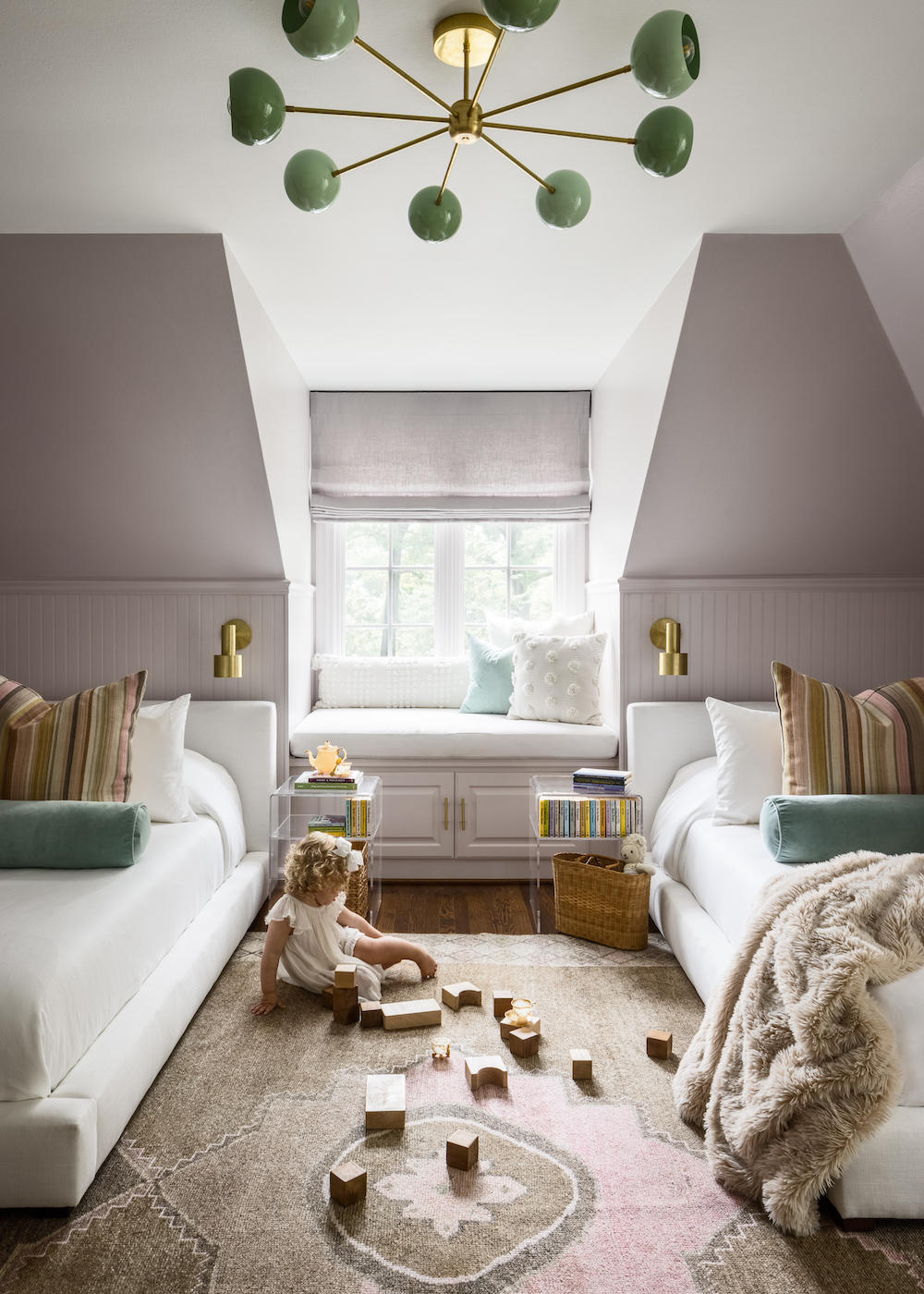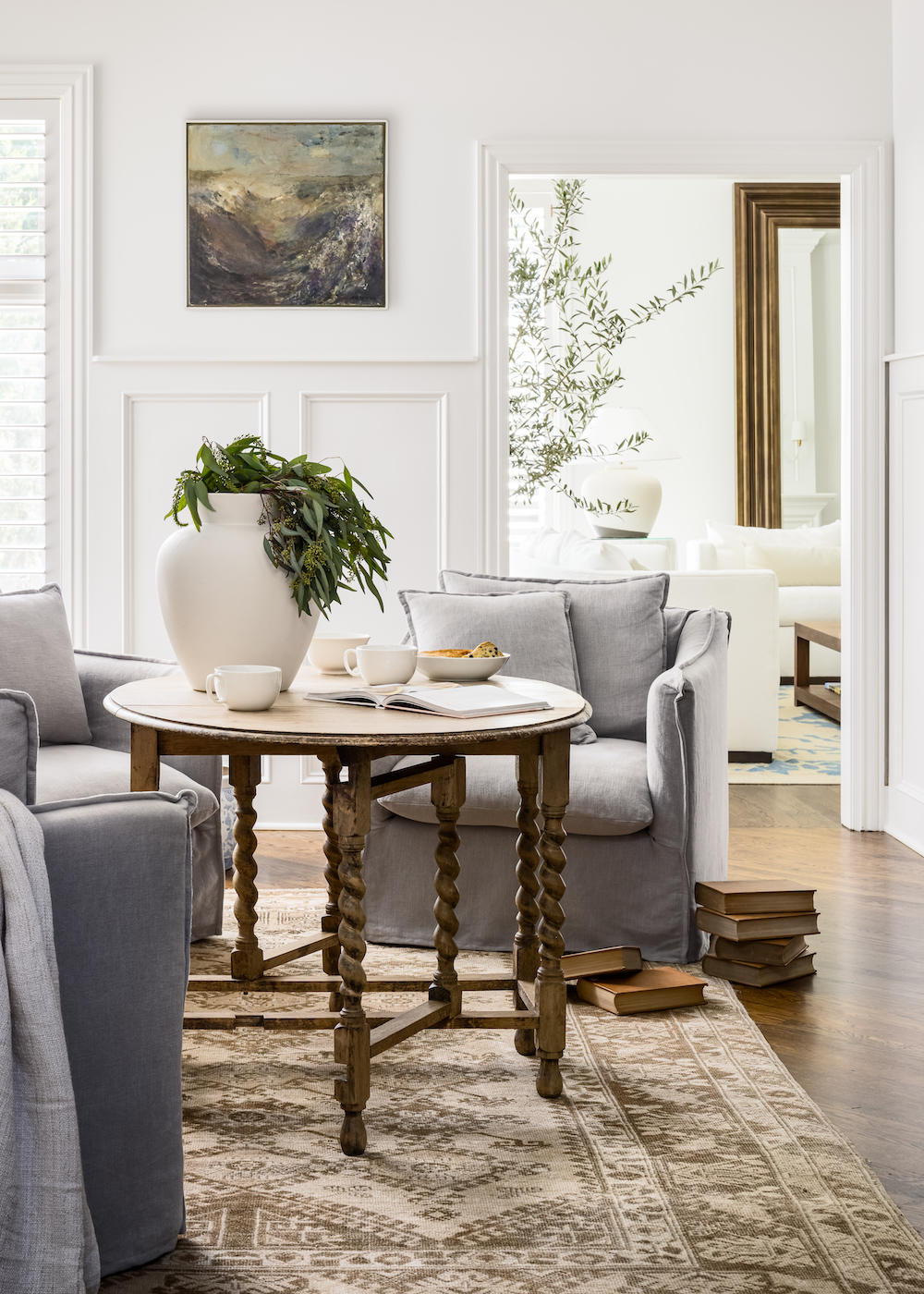 How have you approached pricing and billing for each of these services?
Robins: They are all a little different. Our e-design, which we call shoppable design, is a flat fee by room. It's super straightforward, and it's a really fun service for us to get into for all the reasons Elizabeth just mentioned. For the client—probably someone who doesn't want to make the investment in full service but does want help—it is a fantastic way to get a room done. They get a floor plan of the room and a shopping list with links to everything, as well as a completely rendered room, which is like a road map. We've had clients take that and execute it literally—the completely designed space, down to the accessories—which, for a rather nominal flat fee, is a nice option. Construction consults are also just a flat fee for those sessions. And then for our full service work, it's also a flat fee, but that one varies depending on scale and scope of the project. For full service, it's not a one-size-fits-all price point.
For the e-design piece, are you working primarily with affiliate links?
Bennett: That's a great question. Our mantra in the office is "design first." So if and where we can source from an affiliate, we do sometimes link it, but it doesn't dictate the item selection. We want the client to be happy and to have the room reflect the value that they invested in it.
Robins: If the right thing for the project is not linkable in that regard, it's still going in.
And then is the margin you earn on product a complement to your flat fee for full service design?
Robins: We work a little bit differently than most designers in our industry in that we actually provide a good portion of our trade discounts to our full-service clients—we pass along some level of value there. Again, our ethos is "design first," so we feel like it's important as a studio to never be motivated to source products based on the potential profit on them. I think that level sets the playing field when we are sourcing for projects so that the most important thing is that it's right for the design, not that we make a certain percentage on a markup, or that it's easier to get than another product. We truly put the design first and foremost.
Do clients appreciate that model?
Robins: We work really hard to be transparent with clients. I mean, we moved away from hourly work a few years ago—
Bennett: We now only do it for our existing clients.
Robins: It felt transactional. And because we don't prioritize markup as a business model, our flat fee for full service is an investment level. But when clients are procuring a sizable portion of their home through us, it does translate into quite a bit of value for them.
Bennett: When you're working on a house for two years or more, you become very intimately involved with your clients. I think the way we've chosen to go to market with our business model probably comes from Mallory having an MBA and all of my years in the corporate world: We just want it to be simple and clean and transparent. It's a business transaction at the beginning that sets the tone and transparency for the rest of our relationship, and I think it really alleviates any of the stress over the long haul.
Are you billing your entire design fee upfront, then?
Robins: We set the entire design fee upfront in a contract, and then the client puts down a deposit at the contract signing. The rest of the payments are portioned out throughout the project.
The subsequent payments make cash flow easier?
Robins: Yes. Theoretically, that cadence and cash flow intake should be commensurate with the amount of work we're doing at the same time too.
When did you start building a team around you?
Bennett: We dabbled. A few years ago, we had a couple of summer interns, and we hired one full time. That was really our first hire. But, I mean, we're hustlers. And as moms of young kids, we found ourselves getting up at 5 a.m. and working until 11 o'clock at night. The business was scaling so fast. We brought some interns in, and that was when we really realized, "OK, we can do this. We can make an investment in a team." And that's when we got serious. We have a studio now, which we've put a great deal of investment into, and we invested in delegation. We have an external CFO who we meet with monthly and quarterly to plan for the business, and we now have three full-time employees. We're starting to be able to see where that sweet spot is for us in terms of workload, planning for those gaps between projects and things like that.
What are those three roles on your team?
Robins: We have an operations manager, who handles all logistics and procurement—which was something I was handling previously, and it was overtaking any ability to do design work. So that's huge.
Bennett: She quickly found that if she let me purchase something, she might not ever see the receipt. We also have one full-time designer and a design assistant on our team, and then there's Mallory and I.
As you started to delegate, where do your clients see you and when do they interact with your team?
Robins: We're still small enough that clients are interacting with one of us in almost every interaction. They interact with our team throughout meetings, and our entire team is very involved in the design process and the presentation process, so clients are certainly very familiar with our team members as well. But for the most part, Elizabeth and I are still very much involved with every client project we have.
Bennett: Nothing goes out without our eyes on it, and we think that that's important.
Robins: Our brand itself is growing, but it's still young, so continuing to ensure that there's consistency in any of our deliverables is important.
You mentioned an external CFO. Tell me about that investment in your business, and what changed for you.
Robins: We already had a bookkeeper for a couple hours a month, frankly mostly to make sure I didn't mess up tax, which gives me nightmares. She was awesome, and she did a great job making sure our books were beautiful. But when we started to ask ourselves if we could afford to take on these recurring expenses—rent for a physical studio, or hiring—we felt like we needed someone with fresh, objective eyes on the numbers. We turned to a bookkeeper and CFO who we check in with every couple of months. One of the things we enjoy most with her is she takes the time to step back from the numbers and understand what our business goals are, and then how the numbers are then reflecting our ability to achieve those goals.
Bennett: It's also a little bit like business therapy. She's great coming in and asking us, "How are you doing? Are you able to get out from under that workload and sit in the creative? What are we thinking about for next year—what's on the horizon for PR and marketing?" We work so much in the business that we rarely have an opportunity to look at the business as a whole, and it's been a great investment. I would absolutely recommend it to anyone who's thinking about getting someone to help steer them, or at least set some guardrails. It's time well spent every time we have our session.
Did thinking about the firm's finances that way give you the confidence to start growing?
Robins: I do think that gave us a bit of confidence. If we were making a decision to hire someone, I think what we both wanted to know was that it wasn't a shortsighted decision. We wanted the assurance that we have the growth and a consistent amount of business to pay someone's salary. I think having someone look objectively at the finances of the business and the growth of the business and say, "Yes, your growth does support your ability to hire people," that has been incredible from a business confidence standpoint.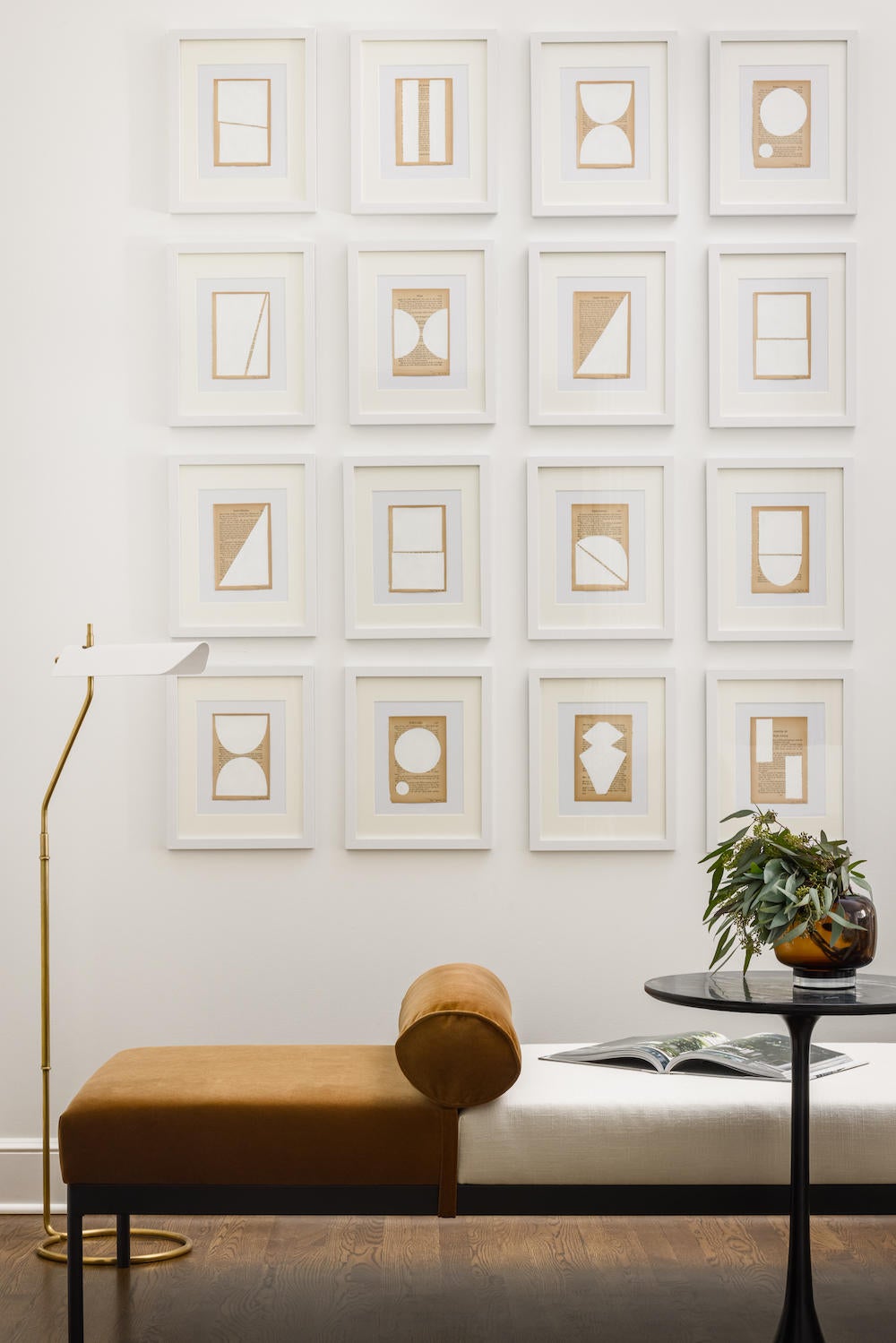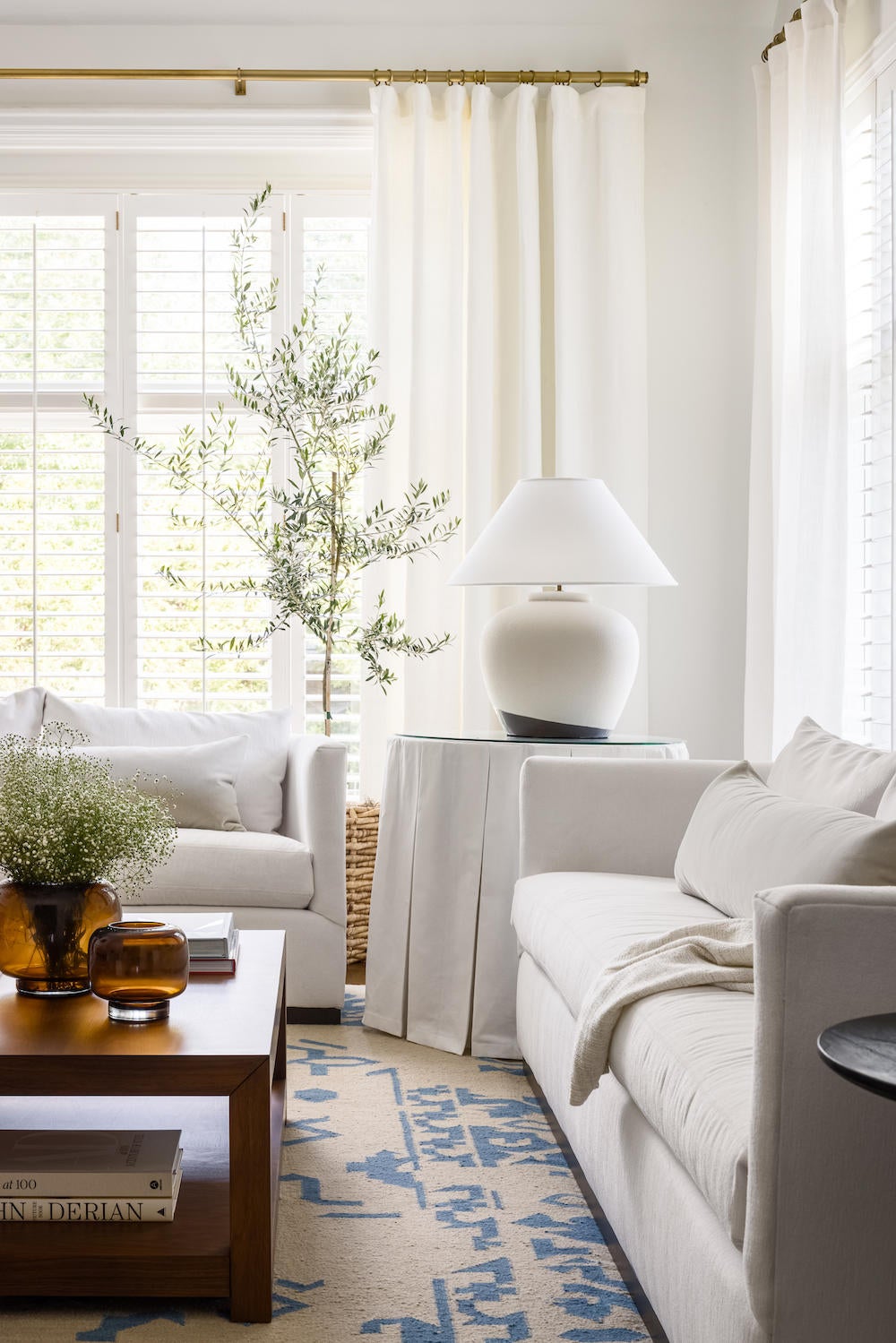 Tell me about the design scene in Kansas City, Missouri.
Bennett: I think Kansas City is interesting because we are in the middle of the country, so we are influenced by so much. We've got clients who want that West Coast, Santa Barbara vibe, and we've got clients who really want an uptown New York vibe or that buttoned-up Connecticut look. And then we've got clients who are kind of like beach cowgirls.
The other interesting thing about our particular market is that there's a lot of history in our town, and a lot of quiet affluence. We've got clients who don't have a budget at all, but they want to know that we are mixing in pieces from West Elm in the kids room. People here aren't very pretentious—they might have no budget, but they also really want a sense of value.
Robins: I'm not sure if this is specifically the market we're in or if it's more about the clients we've attracted, but we also find that clients want a sense of livability in their home. They want something beautiful, but these houses are not showrooms. We often have clients with large families, and they want to use every space to the fullest while looking the way they want it to.
I grew up in Kansas City and have been back in town for the past few days. One thing that struck me is how thoughtful but varied the architecture seems to be.
Robins: We love the age of the homes but also the variety of styles that you just wouldn't see in a new build today. One of our most exciting projects right now is a 100-year-old castle with round turret rooms. I mean, there's just, there's some incredible but varied architecture throughout the whole city.
Bennett: It goes back to the fact that we're smack-dab in the middle, right? So we benefit from a lot of different influences. On any given street, you'll have a red brick Georgian, a Tudor, a Spanish-style stucco. It is a little bit of a melting pot, which is fun for us, because every project and every client's style dictates a different approach. Kansas City is a bit of a hidden gem.
What resources are available locally, or where do you find yourself shopping?
Bennett: Whether it's ordering from some of the showrooms out of Texas or working with the furniture reps who will come into the studio, we do the majority of our sourcing online via vendors that we know and trust.
Robins: Part of the impetus for having a studio was that we were drowning in samples. We can shop online all day, but we have samples for everything, and I think the ability to have clients come in here and interact with product is so important. On the whole, one area where we do struggle is when we occasionally have clients who very much want to sit in a product before buying. For something like that, we don't have as large of a variety as some of the larger metropolitan areas might offer.
Bennett: We also source a lot of vintage. That served us well throughout the pandemic, though I will say it's becoming more challenging to find those gems as I think everyone is now sourcing vintage. We still try to pepper in at least 10 to 15 percent vintage in every room—something that has some tarnish and dirt and age.
Are you shopping for vintage in person locally or predominantly online?
Robins: I mean, we do spend hours on Chairish and 1stDibs—that's truly a late-night guilty pleasure.
Bennett: The pandemic shook things up for us a little. Pre-COVID, we did more in-person shopping. During COVID, we were both conservative and had to transition to online shopping, and then found a good amount of efficiency in doing that.
Did you find efficiencies in other places as more parts of the design process moved online?
Bennett: For local full-service clients, we still have weekly on-site meetings with contractors and partners, and we are available to have clients come into the studio for any of their weekly meetings. But for a lot of our meetings, we still use Zoom for the efficiency of how we can present. We can change things on the fly—I can be changing something in Photoshop live for them, or we can be changing our cabinetry layout live. The efficiency of that has been key to being able to take on the added workload.
Robins: I think the example Elizabeth just gave gives a good window into how we work, in that we do try to be collaborative with our clients. We're always presenting what we think is our best interpretation of their style in the space, but if something we presented isn't jiving, we're right there with backup options to put in—and not just throwing something in there, but showing options that we've also curated, and that we think would be just as outstanding.
Bennett: There are so many design houses out there that are amazing at what they do, and you can see an image and just know exactly who designed it. Our approach has been that it will feel like a Kobel project, but at the end of the day, we don't stamp our look on any client.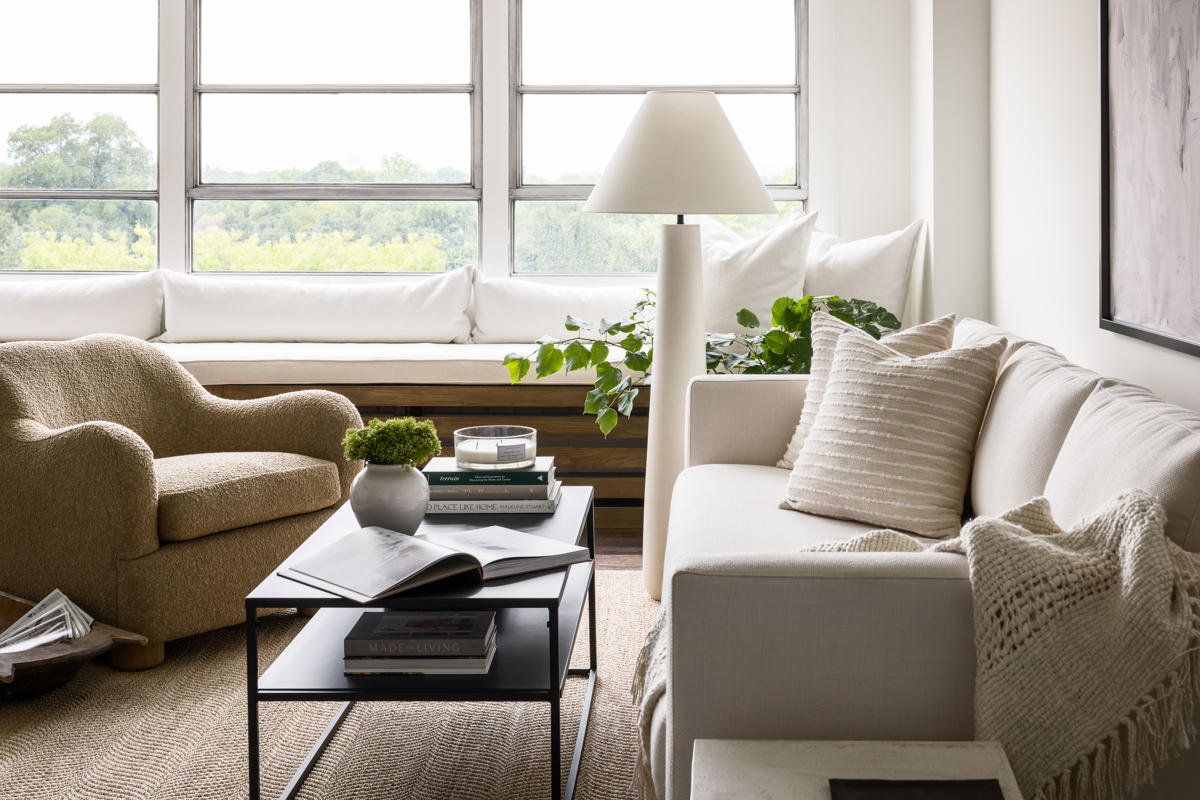 How did you think through and develop the client experience you wanted for your firm?
Robins: I think part of what makes us successful is we are comfortable continuing to refine things. But in the past year, we have really zeroed in on what that process looks like, what we felt was most successful for most clients, and what we felt was most sustainable from a business standpoint. Some of that was just shoring up what we do and what we don't do, and learning to say no to projects that weren't a fit.
Bennett: That's also evolved as our business has evolved and grown. Mallory and I have tried to have these quarterly partner meetings where we step back and look at the business to assess what's feeling right, what feels buildable, what feels like it's maybe not in our wheelhouse. That's how we've been able to start to chip away at where our core competencies are, where we really want to play and what that ideal client looks like.
Robins: Having a team brought in fresh eyes on our processes, too. Being able to step back and get three pairs of eyes on a process and say, "How did you feel that went?" That allowed us to shore up our processes.
How has your partnership evolved?
Robins: Oh, I'm so glad I get a chance to tell you how much I love Elizabeth. Aside from my actual husband, she's the most amazing partner in the world. We are not ignorant to the fact that this kind of partnership is one of a kind.
Bennett: We carpool to work almost every day, and when we leave work, even if it's been a hard day—well, if it's been a hard day, we're probably even more likely to get a glass of wine at one of our houses with our kids—and I think that is pivotal to our success. As the business is evolving, our partnership is always at the heart of it.
One of the things we have learned as a team has grown is that you can have a hard day and you can have hard conversations, but at the end of the day, we very much want to do this. This is our business and we have big plans for it. We leave our egos at the door, and we expect our team to treat it that way too. This isn't like "Designing Women," we're not coming in and just playing with fabrics. Sometimes I wish it was a little like "Designing Women," and we do have margaritas on Friday afternoons, but it is really hard work.
You mentioned having big plans for the business. Where do you see the most opportunity to grow when you look ahead?
Robins: I think, if I could learn to not sleep, I'm sure we could kill it tomorrow.
Bennett: I think there's always that push-pull because you can only scale your design services so far—there are only so many hours in the day, and Mallory and I feel strongly that we need to put our eyes on things. We're not the kind of firm where we let stuff kind of go out the door without our care and attention, and we know we can only scale that so far, so we are looking at other ways to bring in some additional revenue to support the growth of the firm.
Robins: We would ideally love to look into a recurring revenue opportunity, whether that's a collaboration or a product line—something like that would be a huge goal.
Bennett: And then on the design side, just continuing to refine our ideal client. We have been so lucky, and I couldn't say a bad thing about any of the clients we've had, but we want to continue to find those projects that allow our team to flex creatively with the clients. The next step is feeling comfortable turning down projects that don't have the budget to meet those creative realizations.
The panel conversation you led at The Shade Store yesterday [in Leawood, Kansas] was so wonderful, in part because it's so great to see so many other strong women in business who approach their businesses so differently, and who have such different and diverse clientele. But unlike some of the panelists, we have found we do not do as well with clients that come to us with very little personal opinion. We find more success when a client comes to us with a bit of direction and knows what they don't like.
Robins: When there's less ambiguity, and it's more clear what success looks like. Now, that's not to say that just because they show up with images or a certain idea of how they want it to go that that's how it ends up, because they're hiring us to develop a creative direction that reflects them personally, not just replicate something they saw online.
That's an important distinction. How do you translate some of the client's inspiration into something new and unique?
Robins: We're making sure we take the time to dig in and understand what you mean when you say, "I want a moody library." A word like "moody" means something different to every client, and it doesn't always necessarily mean that it's a color—that doesn't necessarily mean that it's green or that it's literally dark, you know? Mood can happen in a lot of different ways.
What does success look like for each of you?
Robins: That's a deep question, Kaitlin. I think that's still evolving—I don't know, frankly, if I have that answer entirely pinned down, but I think it's continuing to grow the business in a way that is sustainable, creatively fulfilling and allows our employees to grow and flourish.
Bennett: I think I have a bit of a reputation in the studio for always being incredibly critical of our work. I just want us to continually creatively grow, and to continue to push—to see how many creative solutions we can find in each and every project.
Robins: I think on a much more microscopic view, success might also look like taking a very long vacation and knowing that the studio was up and running with an incredible team at the helm.
Bennett: I feel like we're there. We've got a great team in place, and we've done the work of trying to clearly communicate what the studio goals are and what our expectations are. I think you have to set people up for success and let them do their thing.
Robins: We had a bungled delivery yesterday while Elizabeth and I were at your panel, and our operations manager was texting us and trying to problem-solve through it. I gave a half explanation in a text because I was attempting to listen to your presentation, and she wrote back, "My gut is telling me the same thing." And I loved that—that her gut was to do the thing that was the right thing for the client, even though it cost us money.
To learn more about Mallory Robins and Elizabeth Bennett, visit their website or find them on Instagram.
Homepage photo: Elizabeth Bennett (left) and Mallory Robins | Courtesy of Kobel + Co