As Ol' Blue Eyes sang of his beloved New York: "If I can make it there, I'll make it anywhere." Luxury furniture makers Hellman-Chang have been doing the former—now they're trying the latter. Starting this month, co-founders Dan Hellman and Eric Chang are moving their business from a production facility in a hipstery corner of Brooklyn to a slightly less-cosmopolitan destination: Dawsonville, Georgia (population 3,000).
The move, Chang tells Business of Home, was long overdue. "Honestly, we were probably two years too late," he says. The company has been growing steadily, roughly 15 percent to 20 percent annually, since Chang and Hellman began building furniture together in 2005. "We found out that as our sales were growing, our capabilities started to get choked. There were a lot of pain points that we were experiencing within our company, and we ultimately decided that we needed more square footage."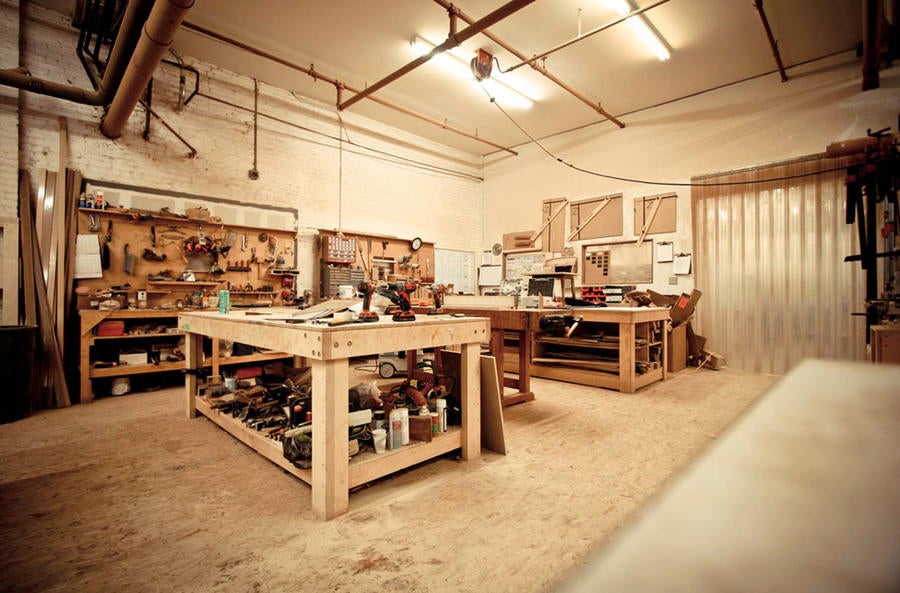 Courtesy of Hellman-Chang
Chang and Hellman quickly encountered an all-too-familiar problem for New Yorkers in search of more space: There isn't any. After briefly looking at North Carolina, they finally settled on a 32,000-square-foot former food-testing facility in rural Georgia. (In an effort to attract manufacturers, Dawsonville offers attractive financing to companies willing to make the move.) Hellman has already made the move and will be overseeing the factory's operations. Though the partners relocated two senior employees from their current workshop, they parted ways with most of their former staff; instead, they are hiring a local team in Georgia, tapping into the area's population of skilled cabinetmakers. Chang, meanwhile, will keep an office open in Brooklyn to oversee sales, design and marketing.
As part of a desire to move smart, not just big, Chang and Hellman hired consultants to help them oversee their new production line. Interestingly, the resulting analysis suggested that one of the most important uses of their newfound empty space would be to keep it empty. "We didn't realize that the constraint of our [space in Brooklyn] wasn't that we couldn't get a new machine. It was actually the ability to have empty space for work in progress," says Chang. "In the old space, if we had a large bed to do or a big dining table, it would require taking up two to three benches. It may require the opportunity cost of not starting another project concurrently."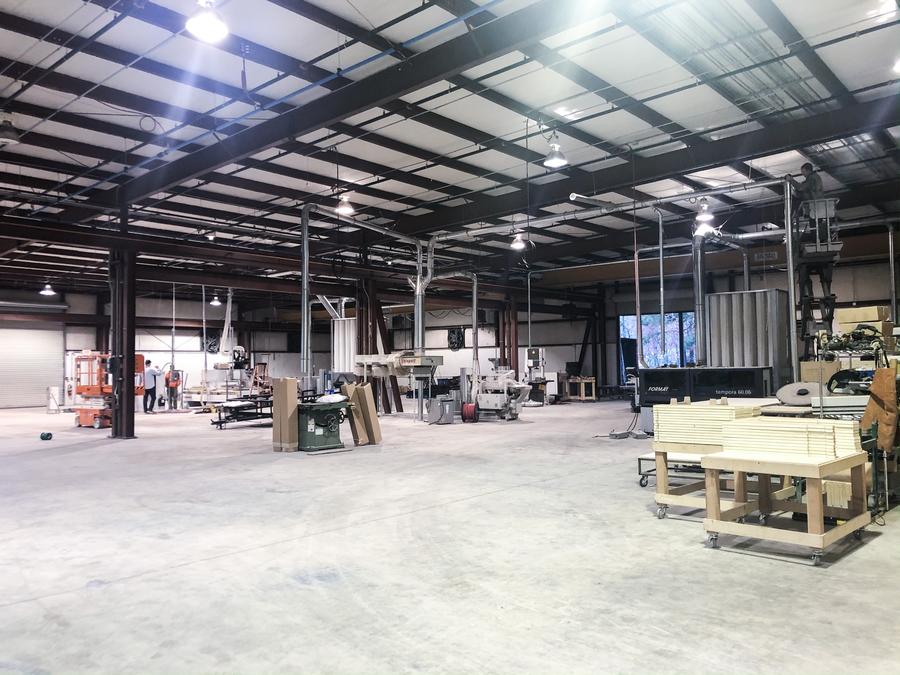 Courtesy of Hellman-Chang
In the new facility, the partners are also moving away from their previous "One person makes the entire piece" approach and adopting a more streamlined production process. However, Chang says, they'll continue to have every new worker on the line learn about the company's craft by participating in every phase of the process—and then taking the pieces home with them. "No matter what specific position they're in, they get to do every single step, including sanding and finishing, so that they can respect everyone else's role within the production pipeline," says Chang. "Part of the process is that they get to build one or two pieces start to finish and then take it home and live with it."
Chang estimates that the new location will allow the company to increase production capacity by eight to ten times. Perhaps more importantly, it will allow them to compete on an increasingly important consideration: speed. As clients come to expect commerce at the pace of Amazon, designers are pushing makers to hustle. It's a demand Chang has taken note of, as his company's delivery times had been creeping up from 12 weeks to 20. "Designers increasingly ask, 'Hey, can you do this in six weeks, eight weeks, 10 weeks?'" he says. "Our plan is to start out by focusing on the top 20 percent of our line and offer all of the available options in a quick-ship time period of four to six weeks."
The move is a big step up, Chang acknowledges, but it's time: "The emotional challenge was the hard part—getting over leaving Brooklyn as our manufacturing home," he says, but once the decision was made, there was no looking back. "The only analogy I can think of is going from a garage woodshop to a factory."
Homepage image: Courtesy of Hellman-Chang