In our series, What I Love, we're asking designers to build us a mood board of what's inspiring them right now.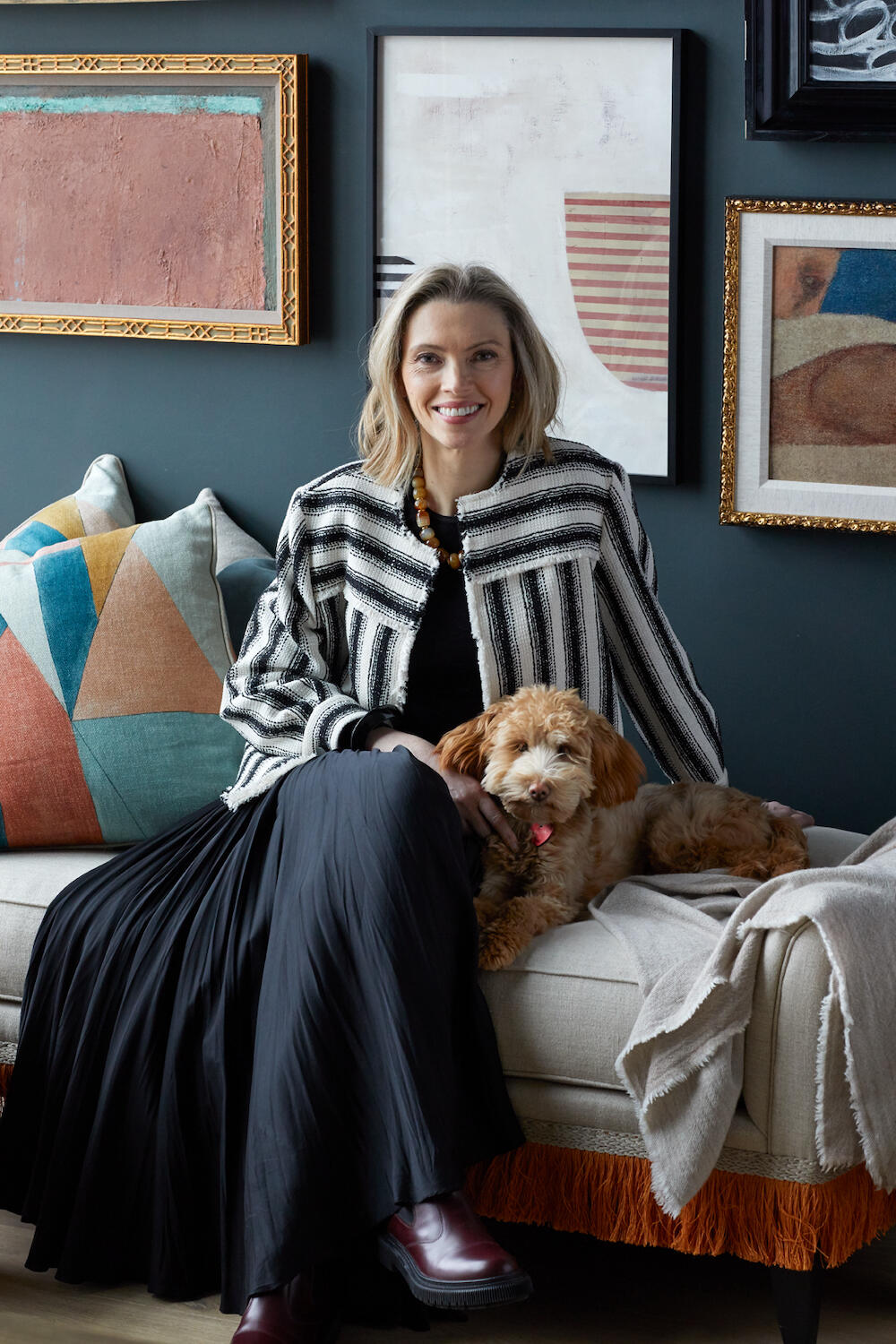 Above all else, Gillian Gillies is a curator. The Toronto-based designer starts each of her designs with a specific item in mind—and builds the rest of the scheme around it. "Narrowing down the selections can be quite challenging," she tells Business of Home.
The jumping-off point for her current mood board? A sandy, two-toned cashmere throw of her own design that's hand-woven in her home country of Scotland. "The palette is anchored in nubby neutral tones, with subtle accents of olive and blush," she says. "The textures and colors create a cozy, grounded feeling—like you are being hugged by a warm blanket," says Gillies.
The final design showcases an array of Canadian-made items in rich, organic hues and materials. "Supporting local products and materials can help reduce the carbon footprint of a project as there is less transportation involved," she adds.
Here, Gillies breaks down the details—from plaster crown molding samples to woven jute mesh swatches.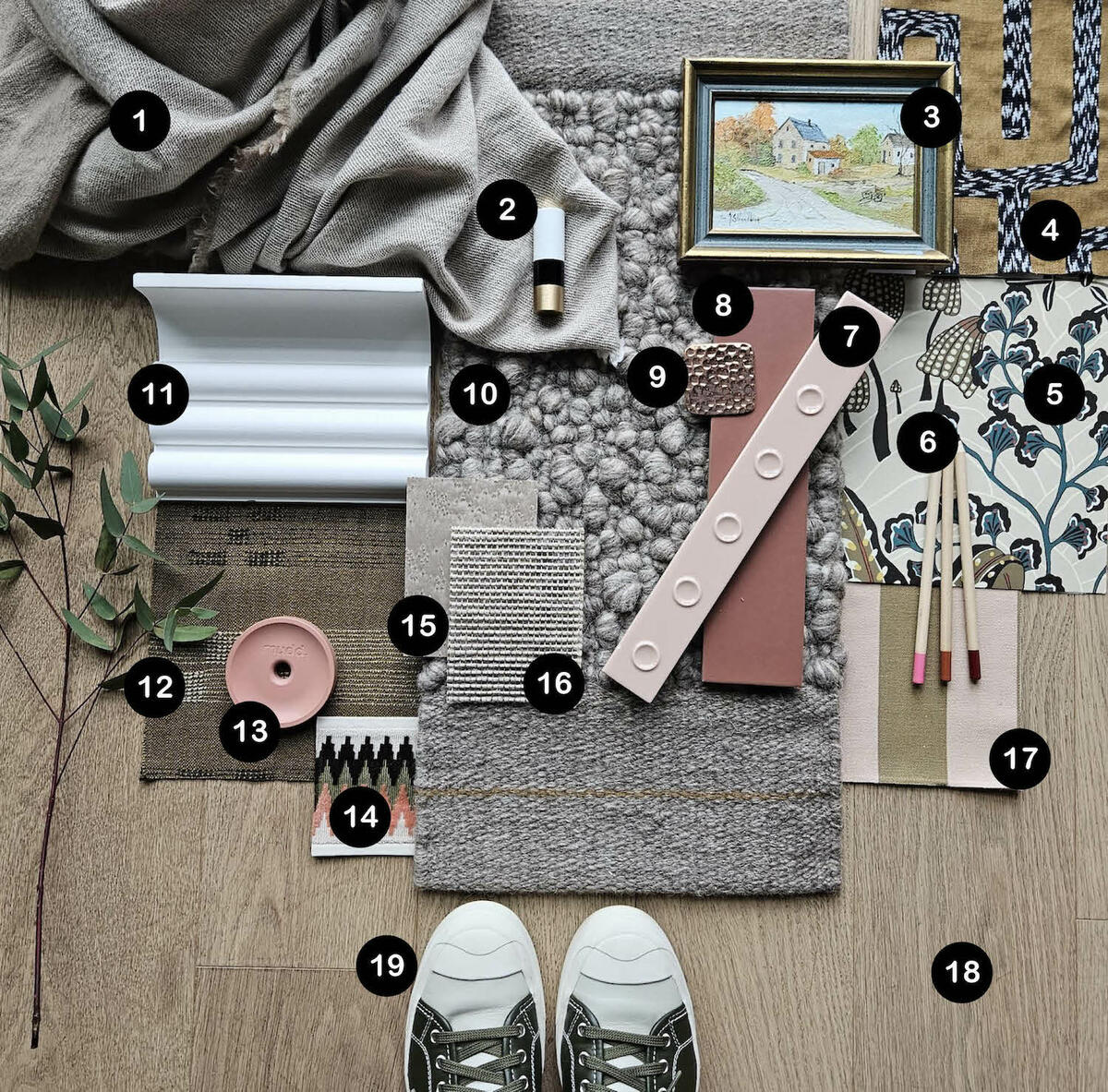 Courtesy of Gillian Gillies Interiors
1. DIVIDE & CONQUER THROW BY GILLIAN GILLIES
"I designed this 100-percent cashmere throw in two shades of tumbled linen, woven in my home country of Scotland. I love that it looks great worn as a wrap—a great travel essential that can easily fit into a tote bag—or on a piece of furniture."
2. ROUGE HERMÈS SATIN LIPSTICK IN ROSE ENCENS BY HERMÈS
"I'm not known for wearing a lot of makeup, but I do love lipstick, and this is a favorite. The packaging is a treat, and I love that the lipstick has a linen protective case."
3. VINTAGE ARTWORK FROM VINTAGE FINE OBJECTS
"Vintage pieces are always part of our design schemes, and Kevin J. Austin of Vintage Fine Objects has a great eye, which is why pieces go fast on his Instagram account."
4. BAKUBA FABRIC IN SAFARI BY CASTEL
"Inspired by vintage Kuba cloths, I love the soft hand of this embroidered textile. Castel is a beautiful company to work with, and we love working with good people."
5. WOODLAND FLOOR WALLPAPER IN 11 BY JOSEPHINE MUNSEY FOR KRAVET
"This wallpaper will be in my home someday. It has a magical enchanted forest feeling that reminds me of a book called The Faraway Tree that I used to read as a child."
6. STUDIO SERIES COLORED PENCIL SET AT AMAZON
"Studio Series has the most beautifully curated colored pencils that help bring our designs to life."
7. PUNTO PORCELAIN TILE IN ROSE DOWN BY STONE TILE
"I adore these glossy Punto dimple tiles. They're beautiful on a backsplash to add a touch of joy."
8. JOINT PORCELAIN TILE IN KLINKER BY STONE TILE
"This color is so earthy and has a vintage feel to it."
9. MOJITO HAMMERED COPPER BAR & PREP SINK IN POLISHED COPPER BY NATIVE TRAILS HOME
"There is always room in a house for a hammered polished copper sink, and the Mojito can triple as a prep sink/bar sink/ice bucket."
10. PALUS RUG IN ANISE BY ARMADILLO
"I fell for this carpet at this year's ICFF show in New York. The saffron stripe in the extra deep border had me at hello."
11. FLUTED PLASTER CROWN MOULDING BY CLASSIC MOULDINGS
"A delicious addition to any room with great proportions and presence. Classic Mouldings is a lovely company to work and collaborate with."
12. SHIMA DESERT PALM FABRIC IN M647/03 BY MARK ALEXANDER
"The perfect slubby, yellowed olive fabric. I would struggle with whether to wear this or upholster my favorite chair in it."
13. MUDD CONCRETE ODET BASIN SURFACE MOUNT SINK IN MOUSSE BY CASSON
"A pretty addition to a powder room or kid's bathroom. Manufactured in Toronto in multiple sizes and colors."
14. CHEVRON BRAID IN SOMERSET GREEN BY TEMPERLEY LONDON FOR ROMO
"A beautiful mélange of colors adorn this velvet trim by British designer Alice Temperley for Romo. I would pair it with linen on an upholstered ottoman."
15. TABU NATURAL & DYED BIRD'S EYE MAPLE VENEER BY MATERIALS INC.
"I love to layer finishes, and can see this working beautifully on a cabinet frame with upholstered doors."
16. METAL MESH SPAGO BY MATERIALS INC.
"Obsessed with this woven jute mesh by Materials Inc."
17. BELMONDO FABRIC IN 5 ROSA DEL DESERTO BY DEDAR
"Stripes are a constant in our design schemes, and Dedar has some really unique color pairings in the Belmondo collection. I adore this blush and olive colorway."
18. WHITE OAK FLOORING BY MONCER
"The white oak floors in our studio—and in many of our projects—come from Moncer."
19. FRIDA SNEAKERS BY SOFIE D'HOORE
"When sourcing and running between projects, comfortable shoes are a must. These are my favorite from Belgian designer Sophie D'Hoore."