Across the design industry, brands are expanding their footprint, providing a slew of new stores and showrooms to spark inspiration as fall nears. In our September roundup, BOH gathers all the showroom happenings to have on your radar.
Showroom Spotlight:
Fromental's NYDC space creates room for discovery
An 18-foot mural with butterflies, mushrooms, rocks and flowers on a violet silk background lives inside Fromental's new showroom in the New York Design Center. "You walk around this corner and suddenly you get this huge burst of vibrant shades and shapes, which completely change the atmosphere around you," explains Tim Butcher, the co-founder of the hand-painted wallpaper company. "Every time I walk into a room with that piece, it's got this funky hothouse feeling. It's rooted in a classical aesthetic, but amped up with the colors and the style to create something bold, vivid and fun."
This is just one of the many free-spirited designs found in Fromental's 2,300-square-foot showroom, which the company shares with U.K.–based bespoke lighting manufacturer Collier Webb. Collaborating with another brand helped Fromental narrow down its vision and inspiration for the space: "In the creative realm, if you've got a totally blank canvas and you can do anything, you can tend to spin your wheels a little bit too much, but it's good when you've got a tighter brief," says Butcher, adding that maximizing the showroom's flow was a priority for both companies. "We curated a space to create inspiration and a sense of style, even if we don't necessarily manage to show as much product. We wanted people to walk into this space and see it as an installation rather than a 3D catalog—we wanted to make it a series of moments and discoveries."
To execute this vision, the showroom is broken into small vignettes hidden behind curved walls, inviting visitors to explore further once they get a glimpse into the room. Because wallpaper requires a lot of space, each vignette—ranging from walls covered in clouds and mountains to a sleek metallic finish—tells a different story. In addition to scale, the texture and detail in Fromental's designs are best understood when you stand in front of these life-size creations instead of looking at a swatch.
Fromental's expansion on to the fifth floor of the design center from a shared space with Joe Lucas at Harbinger also helps with the brand's visibility. "We're not known by everybody in the industry, and we're still a little under the radar, so it's exciting to see that person walking by who you don't know," explains Butcher. "Sometimes those people are your [future] best client—you never know!"

200 Lexington Ave., Suite 511, New York
CALIFORNIA
Ben Soleimani opened a rug gallery called The Reserve, located inside of the brand's 20,000-square-foot flagship showroom in Los Angeles. The atelier and bespoke studio showcases a curated collection of antique rugs that are sourced from founder Ben Soleimani's private collection and available for viewing by appointment.
8650 Melrose Ave., West Hollywood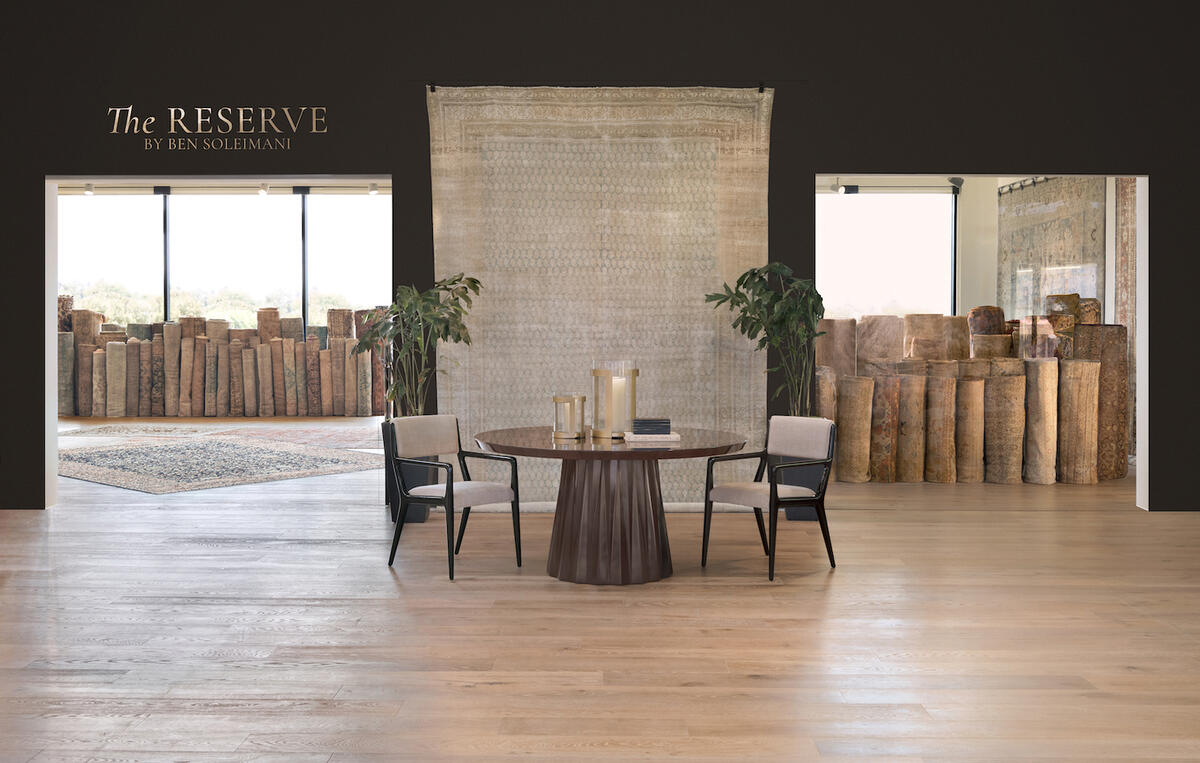 Courtesy of Ben Soleimani
COLORADO
Organic mattress company Avocado debuted a storefront in Boulder. The showroom displays Avocado's natural, eco-luxury mattresses and furniture, as well as sustainable loungewear, sleepwear, and clean skin and body products.
1805 29th St., No. 1132, Boulder
GEORGIA
Italian hand-crafted furniture company Natuzzi Italia opened a showroom in Atlanta's West Midtown neighborhood. Designed by Italian architect Fabio Novembre, the 10,000-square-foot retail concept follows the recent debut of the brand's stores in San Diego and Manhasset, New York, and displays Natuzzi Italia's collections of sofas, sectionals, dining tables, beds and lighting.
1061 Howell Mill Rd., Atlanta
NEVADA
Linen Salvage Luxe expanded to open a permanent showroom at Las Vegas Market. Located inside the Las Vegas Design Center, the space features the brand's soft, laid-back style, with products including sheets, hand towels, pillows and blankets.
475 S. Grand Central Pkwy, Suite C580–585, Las Vegas
MASSACHUSETTS
Home furnishings and decor retailer Arhaus debuted a showroom in Peabody, Massachusetts. Located at Northshore Mall, the new 15,406-square-foot space showcases the brand's beds, chairs, sofas and custom furniture, and offers complimentary design services for customization.
210 Andover Street, Peabody
MINNESOTA
Slab distributor and surface products company UGM Surfaces opened a space in Plymouth, Minnesota. This new location allows customers to view full slabs of material and features the brand's wide selection of products for countertops, backsplashes, flooring and walls from brands including Vadara Quartz, Santa Margherita Quartz, U-Quartz, Ascale and Lapitec.
13705 26th Ave. N., Suite 120, Plymouth
Courtesy of Soane Britain
NEW YORK
Danish design brand Carl Hansen & Søn debuted a flagship store in Midtown East. Located in the historic Hammacher Schlemmer Building, which was completed in 1926, the new space features pieces from the brand's classic furniture collections and accessories.
45 East 57th St., New York
Brooklyn-based furniture manufacturer De La Vega Designs opened its first showroom in the New York Design Center. The 2,100-square-foot space features the brand's 32-piece collection of furnishings, case goods, accessories and limited-edition pieces. De La Vega Designs also represents photographer Don Freeman and textile line Fabric and Steel, and showcases the work of the artisans who help create the brand's furnishings and accessories.

200 Lexington Ave., Suite 1316, New York
Art and design company Salon 21 opened its first brick-and-mortar store in the SoHo neighborhood to provide curated art experiences for the contemporary consumer. Founded by curator Alex Bass, Salon 21 will host rotating art exhibitions and feature fine art and interior design, with an emphasis on viewing these pieces as items customers can live with.

52 Greene St., New York
British manufacturer Soane debuted a flagship showroom on Madison Avenue. The space is laid out in a series of rooms—the entryway, drawing room, kitchen, dining room, bedroom and bathroom—featuring the brand's products, including upholstered wallpaper, desks, chairs, cabinets and more. In an immersive fabric and wallpaper room, customers can explore options from over 40 independent craft workshops.

22 E. 65th St., 4th Floor, New York

Luxury refrigeration brand True Manufacturing unveiled its inaugural New York showroom in the Architects & Designers Building. The space features the brand's signature home refrigeration solutions and offers educational programming for trade, product training, and demonstrations and events for the design community.
150 E. 58th St., 6th Floor, New York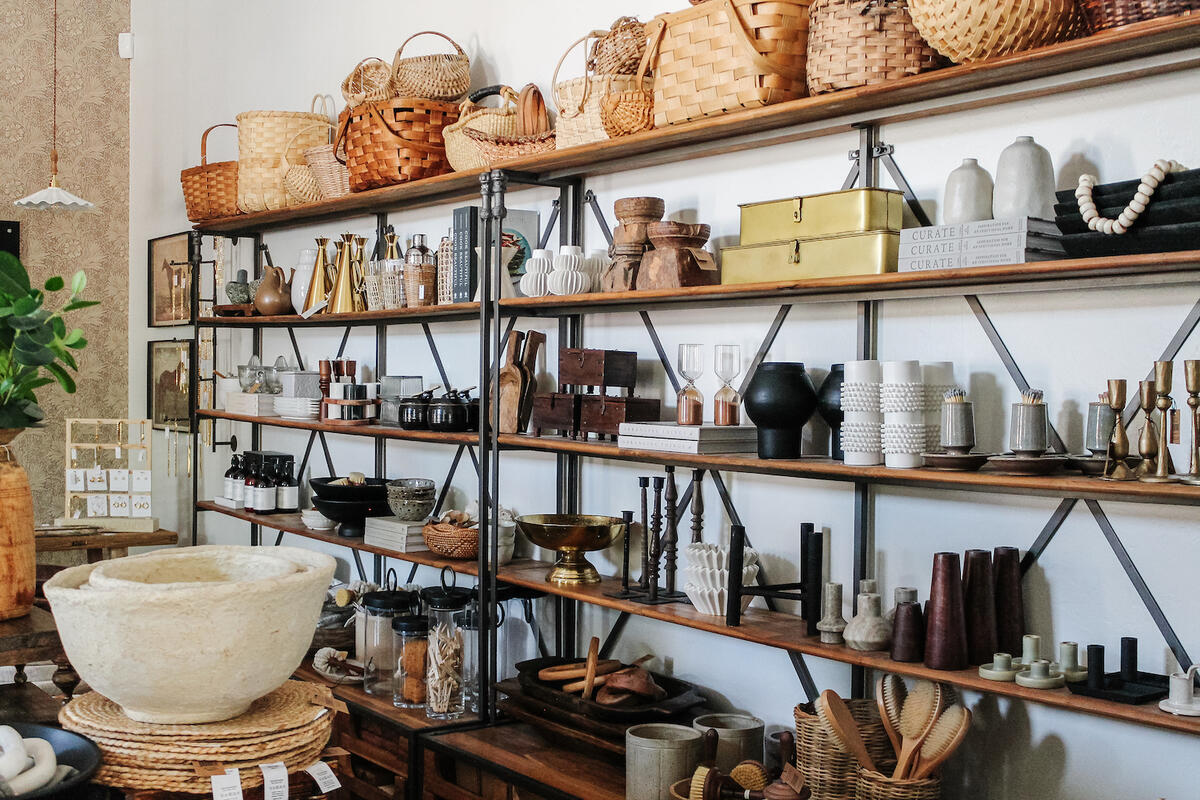 Courtesy of Kelsey Leigh Design Co.
OKLAHOMA
Oklahoma designer Kelsey McGregor of Kelsey Leigh Design Co. opened Heritage House, a brick-and-mortar shop in Edmond. The space features a collection of warm, rustic modern furniture, lighting and decor. Many of the products in KLD's designs will be available for purchase in the store, and pieces are curated from varying price points to give customers more options.
102 S. Broadway, Downtown Edmond
PENNSYLVANIA
Furniture company Design Within Reach debuted a new studio in Ardmore, Pennsylvania. Located in Philadelphia's Suburban Square shopping district, the 4,200-square-foot space offers an assortment of DWR's modern furniture and accessories, including outdoor pieces.
6 E.t Montgomery Ave., Ardmore
TENNESSEE
StonePeak Ceramics launched a new Nashville showroom in partnership with Robert F. Henry Tile Company. Broken up into several vignettes, the 7,000-square-foot space showcases hundreds of the company's porcelain and ceramic surfaces for both commercial and residential applications.
770 Melrose Ave., Nashville
TEXAS
Linen Salvage Luxe opened its first Dallas showroom during Dallas market in July. Located inside the Dallas Market Center, the space features the brand's soft, laid-back style, with products including sheets, hand towels, pillows and blankets.
2050 N. Stemmons Fwy., 5th Floor, Dallas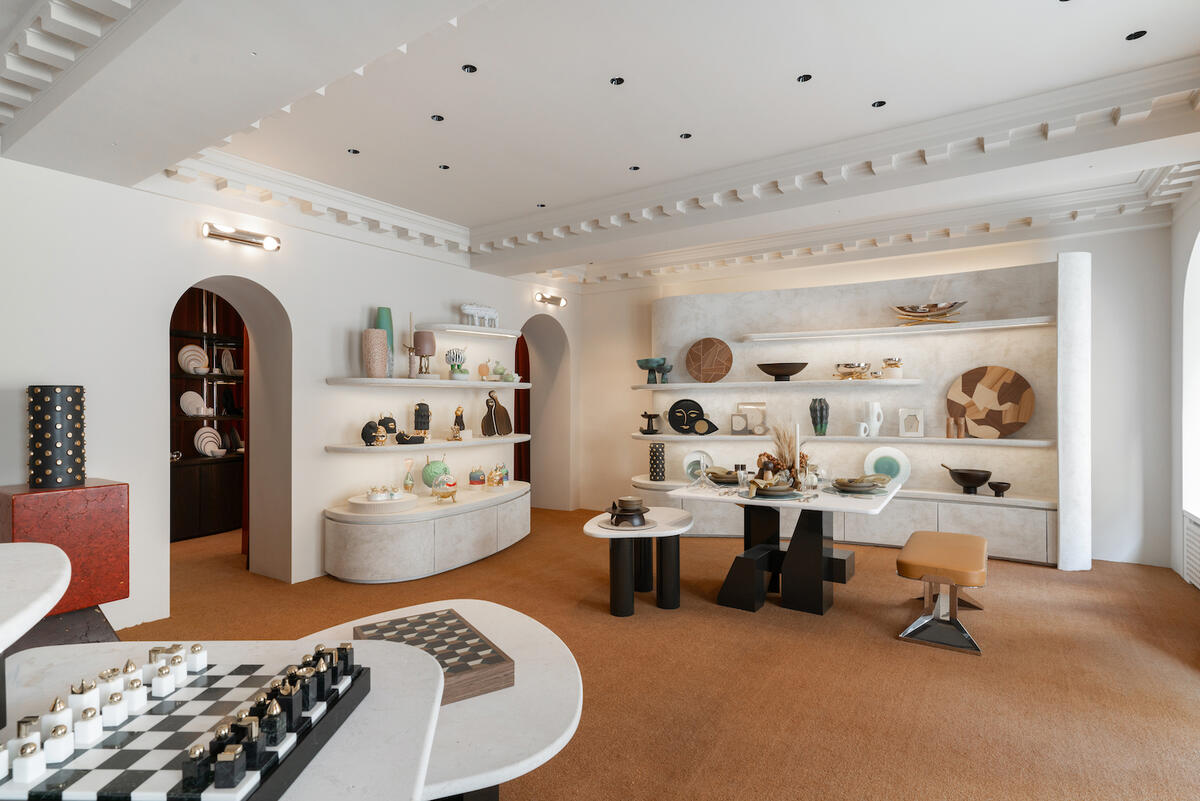 INTERNATIONAL
Sustainable lighting brand Tala launched its first permanent showroom during London Design Festival. Located in the Shoreditch Design Triangle, the new space was designed by local architect Thomas Longley. The ground floor features the brand's chandeliers, pendants, floor lamps, low-level table lights and portables, while the basement allows customers to explore Tala's library of material swatches and bulb options.
40 Rivington St., London

Luxury design house L'Objet unveiled its first flagship boutique in Paris during Paris Design Week. Located in the Saint-Germain-des-Prés neighborhood, the space is split into two distinct spaces—home decor and apothecary and fragrance—and will feature L'Objet's latest collaborations and custom pieces.
30 Rue Jacob, Paris
Homepage image: This 18-foot mural with butterflies, mushrooms, rocks and flowers on a violet silk background lives inside Fromental's new showroom in the NYDC | Alun Callender