In our series, What I Love, we're asking designers to build us a mood board of what's inspiring them right now.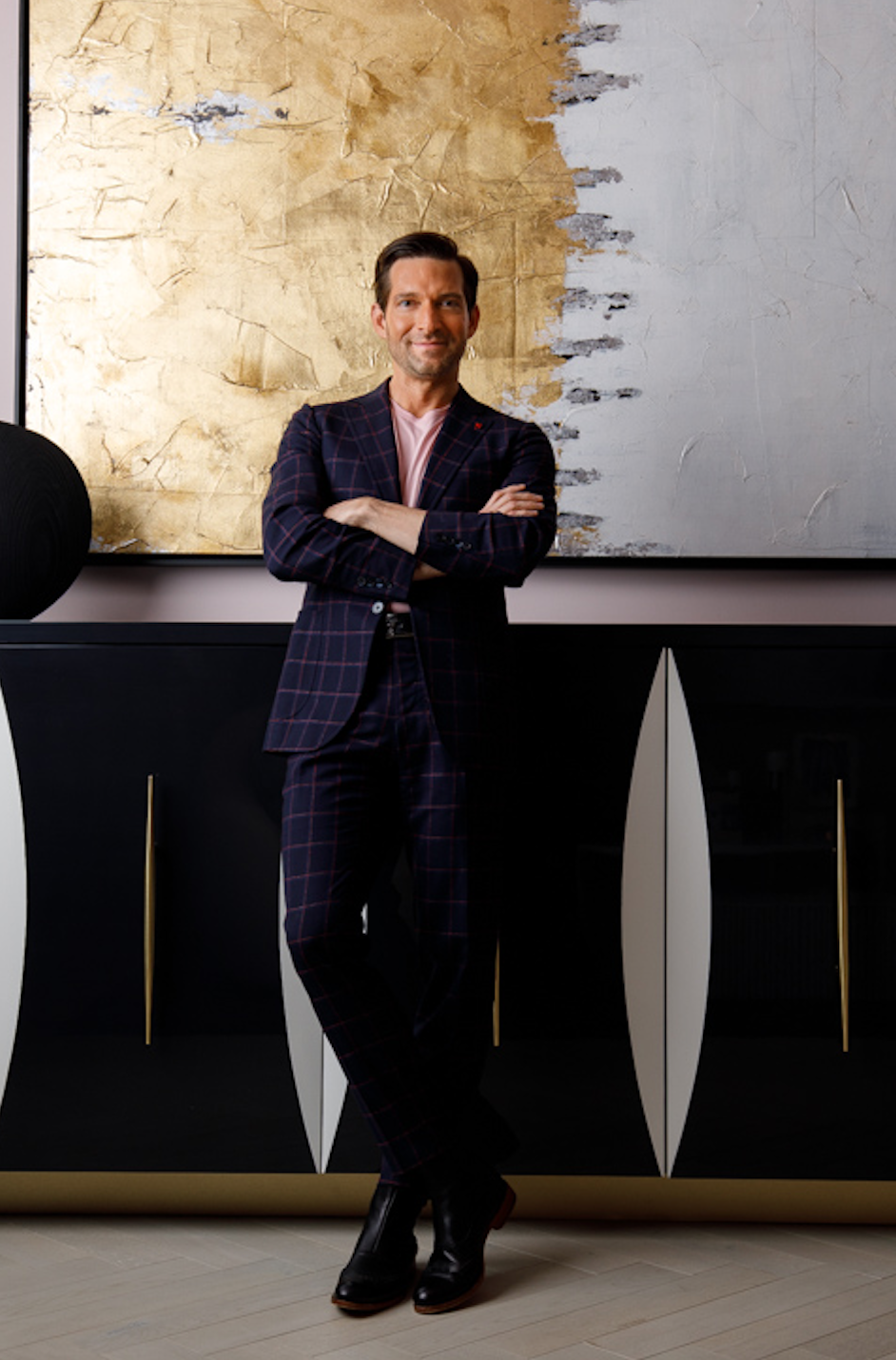 Details matter to Dwayne Bergmann. The Florida-based designer has a knack for composing warm, grounding spaces with lots of luxurious materials and modern decor accents.
Take, for instance, his current mood board. The scheme, which he describes as "Monterey, California, meets Ralph Lauren," showcases an array of soothing earth tones punctuated by bold contemporary pieces. "The palette is versatile," Bergmann tells Business of Home. "The beiges and browns create a cozy, calming environment with colors and textures rooted in the natural world."
The result is a synchronous display of light, airy colors anchored by organic finishes and rich saturated hues. "It's designed to delight the senses," he says of the flat lay.
Here, he breaks down the details, from matte porcelain tile samples to leather-wrapped drawer pulls.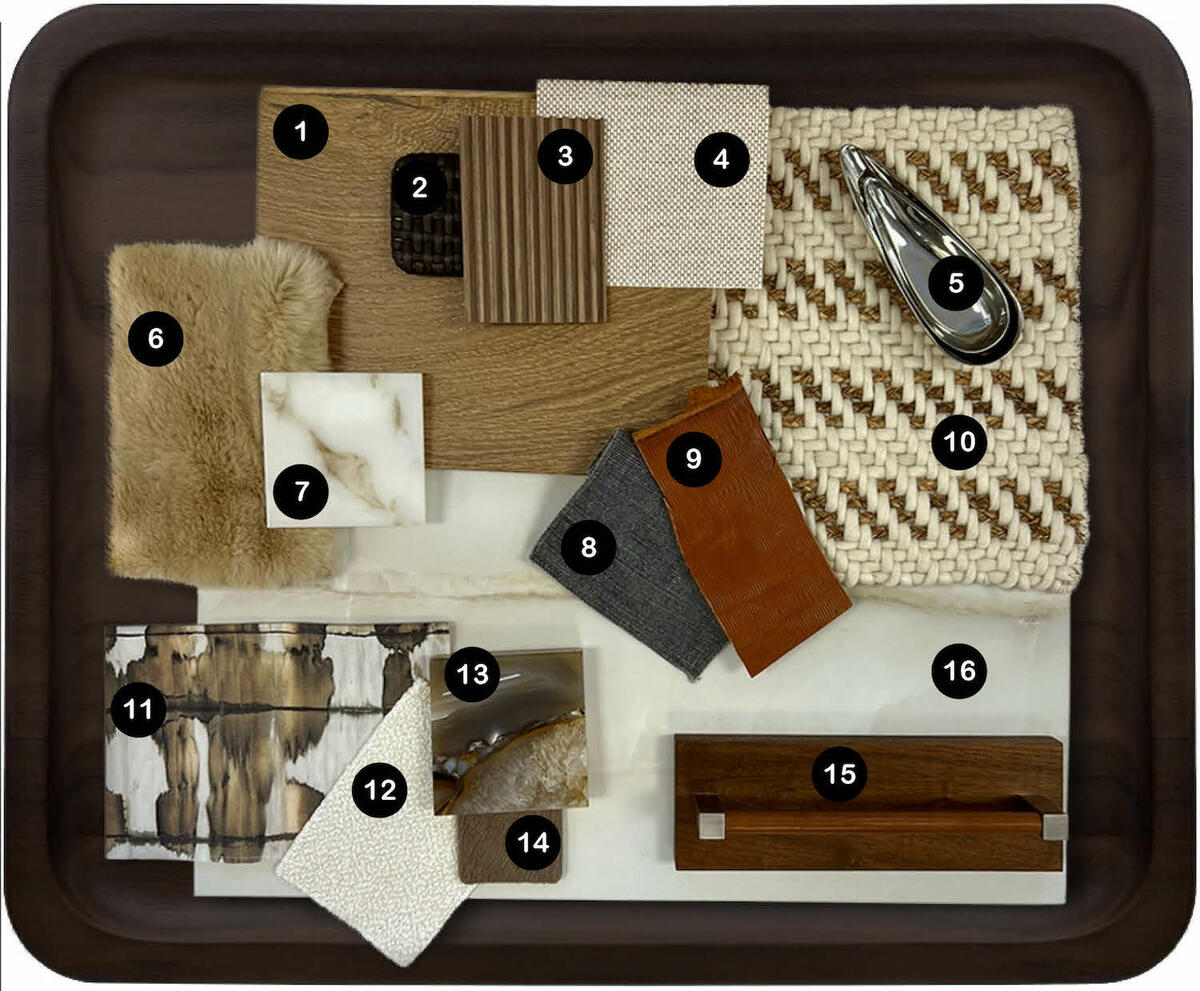 Courtesy of Dwayne Bergmann Interiors
1. TRESOR HARDWOOD FLOOR SAMPLE IN JOLIE BY PROVENZA FLOORS
"Oak provides just the right amount of warmth for flooring—not too golden, but it supplements a level of richness to any room."
2. AIRE SIDE CHAIR IN BLACK WALNUT SAMPLE BY SUMMER CLASSICS
"We live by the phrase 'livable luxury' at my design firm, and black outdoor furniture serves style, contrast and, most importantly, functionality."
3. TAMBORA DENALI WOODEN VENEER SAMPLE BY MATERIALS INC.
"Wooden veneer panels add depth and sophistication that's perfect for a statement wall."
4. SCOPE WALLCOVERING IN LINEN BY ARTE
"Wallcoverings create a distinct look and pave the way for texture in a space without overwhelming the eye."
5. BLOB BOWL SET BY PHILIPPI
"These stainless steel nesting bowls add a contemporary element and a juxtaposition against the warm, earthy tones [in the space]."
6. STOUT FAUX FUR FABRIC IN SAND BY KRAVET
"Faux fur adds opulence and sophistication, so it's perfect for creating luscious pillows in any room."
7. BROWN FAUX CARRARA MARBLE SAMPLE BY ROOS INTERNATIONAL LTD.
"This resin material mimics onyx, crisply elevating any design without competing with other textures or patterns."
8. TREVI FABRIC IN STEEL BLUE BY SAVEL INC.
"We all know linen is durable, but it's also antibacterial and bug-resistant. It can be dyed in rich colors because of its porous qualities, which makes it perfect for clients who want a bespoke piece that is custom to their style and needs."
9. RIBBED BELTING LEATHER IN BROWN BY HANCOCK & MOORE
"Saddle brown belting leather is best when used as an artisan accent on the arm panels of a chair or sofa, but it's also a built-in conversation piece."
10. KLEMENS RUG IN FOG BY HOLLAND & SHERRY INTERIORS
"Coastal comes in a variety of different forms. Paying homage to our Florida roots, this rug is a perfect example of my contrasting take on coastal—'Olde Florida' meets modern, luxe, oceanfront resort."
11. AKOYA IVORY MATTE PORCELAIN TILE BY ELYSIUM
"The modern, abstract painterly pattern in this tile is rich, tonal and striking—providing the framework for any color palette."
12. AGNELLO FABRIC IN PRISTINE BY THE VALE LONDON
"White boucle brings texture and luxury to any upholstery."
13. NATURAL AGATE PRECIOUSSTONE BY ANTOLINI
"Agate is beautiful as is, but doubles as a dramatic work of art when backlit."
14. BESPOKE HIDE RUG SAMPLE IN BARK BY YERRA
"Versatile, resilient hide in a natural bark tone complements an organic color palette."
15. WILLOUGHBY DRAWER PULL BY WILMETTE LEATHER
"This walnut leather-wrapped drawer pull liberates any modern industrial aesthetic."
16. BONTECOU FABRIC IN BRONZE BY S. HARRIS
"A soft white palette with subdued warmer hues is the perfect backdrop to make other design elements pop."
Homepage photo: A flat lay by Dwayne Bergmann | Courtesy of Dwayne Bergmann Interiors