Domino and The Home Depot in SoHo, New York, are using home decor, furniture and product to inform and entertain attendees—and impact nonprofit Habitat for Humanity. The Domino holiday pop-up, which opened last week and runs on weekends through the end of the month, features a functioning kitchen constructed fully from cabinetry, fixtures and appliances available at Home Depot as well as living and dining areas designed with decor from HomeDepot.com.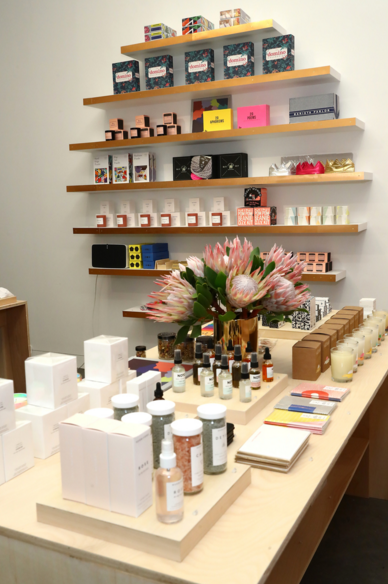 "Our 2017 New York holiday pop-up, created in partnership with The Home Depot, offers accessible, stylish options and inspirations for entertaining and decorating," says Nathan Coyle, CEO of Domino. "Fabulous design and memorable celebrations should be easy and accessible for everyone. We're excited to use Domino's editorial vision to bring to life unique and memorable holiday moments with merchandise sold at The Home Depot and Domino."
"The Home Depot is always looking for new, innovative ways to connect with our customers," said Lisa DeStefano, the company's vice president of marketing. "We're excited to partner with a style leader like Domino to showcase decor finds from HomeDepot.com, a beautiful kitchen from Thomasville and appliances from KitchenAid."
Proceeds from from the sales will benefit Habitat for Humanity. As the brands explain, "Consistent with Domino's and The Home Depot's ethos of ethically reusing materials and recycling where possible, elements of construction, including the kitchen buildout and all appliances, will be donated to Habitat at the close of the pop-up."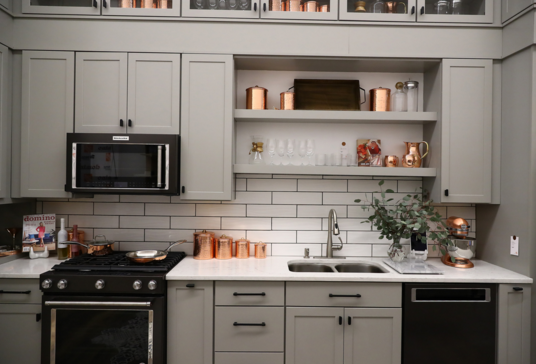 "We are so grateful for the generous contributions from our partners at Domino and The Home Depot, which will help Habitat NYC further our mission to provide homeownership opportunities to hardworking, lower-income families," said Karen Haycox, CEO of Habitat for Humanity New York City. "Home is at the heart of the holiday season. Every family should have the choice of a home they can call their own and a place to invite friends and family to share in these times of celebration."
The pop-up is open Friday to Sunday until December 17, as well as on December 22 and 23, at the SoHo Home Depot (44 Mercer Street). Check out the special event schedule, courtesy of Domino:
The Art of the Parlor Party, With Spring Street Social Society
December 6 and 7, from 7:30 to 10:30 p.m.
Spring Street Social Society co-founders Patrick Janelle and Amy Virginia Buchanan will bring their expertise in hosting "Parlor Parties" to the Domino Holiday Home. This two-night event will invite guests to learn reimagined hosting ideas—from beverages to decor.
Not Calm, but Collected, With Cynthia Rowley
December 14, from 6:30 to 8 p.m.
Cynthia Rowley will share in-the-kitchen party hacks around simple holiday recipes for a dinner party when you're short on time.
Modern Cookie Decorating, With Marisol Morley of Tiny Kitchen Treats
December 16, from noon to 2 p.m.
Our baking expert will help us modernize the tradition of holiday cookie decorating through bright colors and unexpected graphic patterns and share insider tips on how to create professionally decorated sweet treats.