NFTs are increasingly making their way into the home world, with marketplaces like 1stDibs hosting auctions for the digital assets and manufacturers such as Nathan Anthony debuting cryptocurrency-inspired furniture collections at this year's Spring High Point Market. When it comes to interiors, however, the increased attention around digital artwork raises the question of whether virtual possessions are actually making their way into homes—and if so, how exactly does that work?
In recent months, a number of startups have cropped up with the goal of tapping into the market of homeowners and art collectors who want to show off their digital purchases in real life. For the most part, NFT frames—wall-mounted display screens designed specifically for digital artworks—are the product. Many of the companies in the burgeoning space (contenders include Framed, Tokenframe, Qonos Inc. and Infinite Objects, which has collaborated with NFT superstar Beeple) are focused on creating high-quality digital displays that are a step up from regular television sets, with the purpose of offering a viewing experience that's better suited to big-ticket NFTs. With NFT works now fetching sky-high prices, it doesn't quite make sense to display a $10 million digital artwork on a $200 flat-screen from Best Buy.
Lago, one company working in the space, was established about a year ago to capitalize on NFT collectors looking for a way to display their works at home. Reflecting on the business's origins, Lago co-founder Dan Merritts recounts the experience of fellow co-founder Scott Gralnick, who'd already been working in the cryptocurrency wallet industry when a venture he founded began supporting NFTs in 2018. It was also around that time that collectors began to inquire about bringing their digital objects into their physical spaces.
"People were like, 'Hey, you've been a supporter of NFTs for a long time. How do we actually show these in our homes? How do we make them real?'" says Merritts. "So Lago was founded mainly on the mission of taking the metaverse home."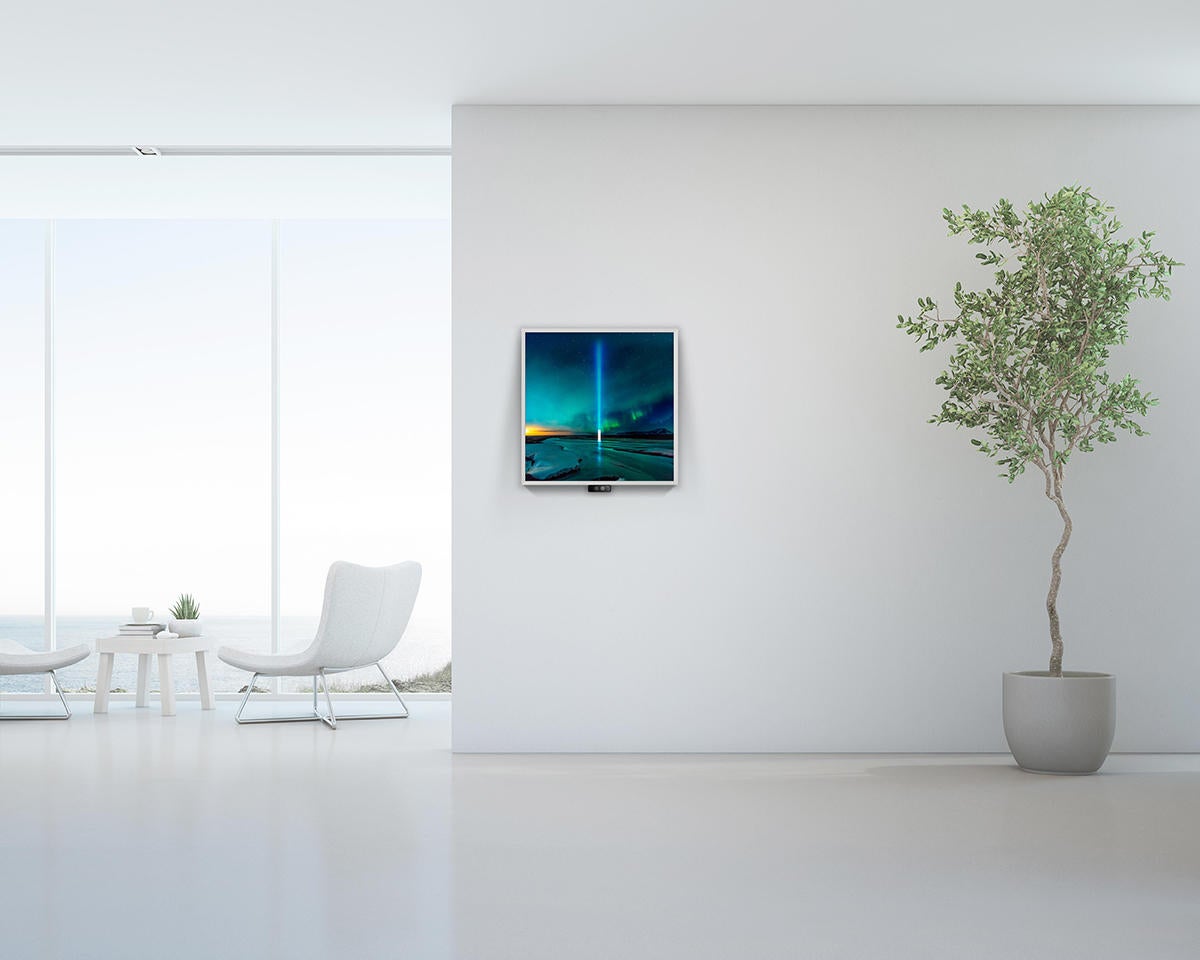 Together with a third co-founder, Jonathan Levine, the team set out to offer a straightforward solution to displaying NFTs. It works like this: Collectors can connect their crypto wallets (a software program or hardware device that stores keys for cryptocurrency transactions) directly to one of Lago's display frames in order to verify the authenticity of their art, which is then projected in a physical, in-person space with the click of a button from a phone or computer.
According to Merritts, the basic technology behind NFT frames is similar to that of a television, though the differing functions demand slight alterations. For one, the 16:9 aspect ratio used on television is better matched to film, while the vast majority of digital art fits much better into a 1:1 aspect ratio. Also, televisions are typically meant to be turned off (at least occasionally). Since NFT frames are on all the time, their structure requires protections against burn-in images and features a matte finish to counteract the glare from direct sunlight. Additionally, Lago's frames have the ability to incorporate works with video or movement elements and can also utilize gesture control, a function that allows individuals to interact with the art through motion-sensor detection. Similar products from other NFT frame companies also incorporate the same or additional adjustments, with Tokenframe offering built-in speakers for pieces with sound components, and Infinite Objects providing compact-sized stand-alone frames.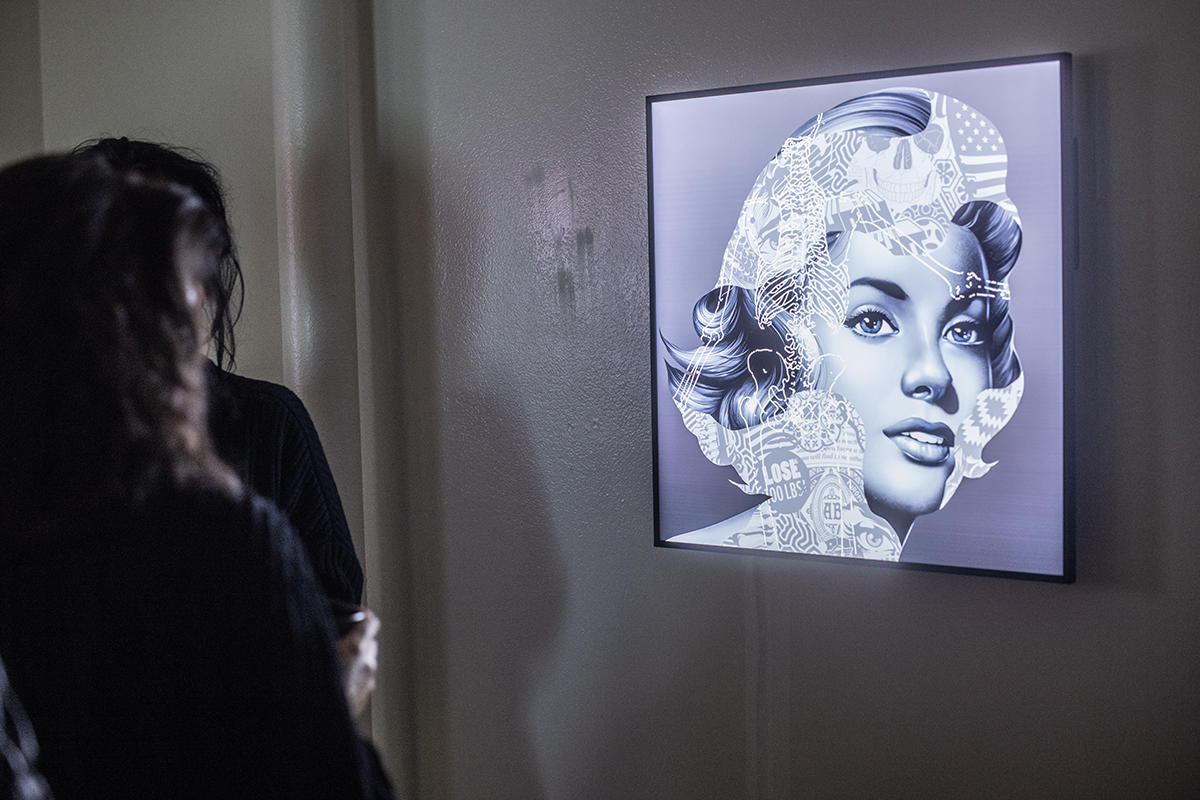 Lago's clientele spans collectors, artists, gallerists and homeowners, in addition to professionals in the real estate and interior design industries. The company has found that with designers, a primary focus is finding an NFT display that's stylistically distinct from a generic flat-screen TV. To that end, its frames are customizable by shape, size and color, with an additional network of bespoke frame-makers and woodworkers on call for an even more tailored aesthetic. "Depending on the motif and the approach, what we find is most designers are really looking for something that doesn't look like a television," says Merritts.
That was exactly the effect Oakland, California–based designer Kelly Finley had in mind when she decided to incorporate digital artwork NFTs into her design for the 2022 Kips Bay Decorator Show House in Palm Beach, Florida. For Finley, the decision was an extension of her interest in smart home technology and her willingness to demonstrate to clients and industry colleagues that high-tech features can be luxurious and easily integrated into the home. When she caught wind that NFTs were selling for millions of dollars, she decided to investigate the realm for herself.
"I just thought to myself, 'What do they do with this? Do you look at it on your phone?'" says Finley. "I decided that we should try to work out a way to show what you do, and how we can bridge that digital world with the physical world."
Finley connected with a digital artist who showed her how to set up a crypto wallet and search for artists with NFTs on platforms like OpenSea. While the sheer amount of artworks saturating the space was overwhelming, she eventually found a group called Melanated Studios—a Black- and female-owned NFT gallery that helps underrepresented creators monetize their work—which put together a collection for her.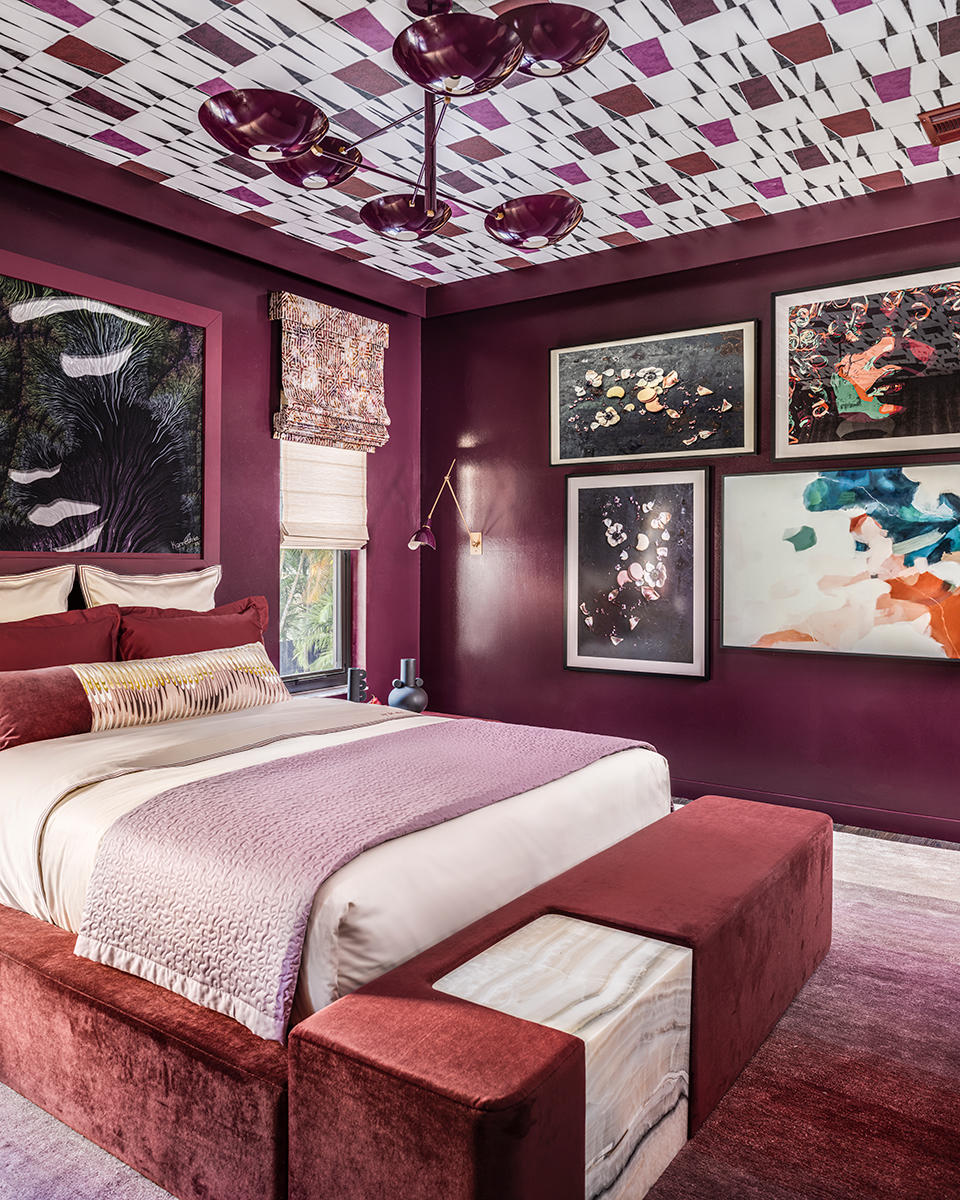 For the space itself, Finley created a gallery wall that mixed traditional printed artworks and photographs with digital pieces displayed on screens. (The designer used Samsung Frame TVs rather than an NFT-specific company; while she acknowledged the drawbacks of not using frames designed for NFTs, she liked the idea of using something that was less expensive, more flexible and approachable for showhouse visitors who may not have much experience with the crypto world.) When the showhouse opened, she found that a number of visitors walked in the room and couldn't tell the difference between regular works and digital pieces—plus, the homeowners themselves ended up buying the displays when the showhouse concluded. "Our goal was to show you can have this in your home and it can be nice, not just a big bright screen staring at you," she says.
Frames or no, the NFT art market still has some maturing to do before it appeals to the wider breadth of interior design clients. In perusing the vast offerings of NFTs that currently exist, Finley noted the popularity of cartoonish animated renderings—a style that doesn't resonate with her high-end clients. Another hurdle, she says, is the somewhat convoluted marketplace, including the unfamiliar online journey of setting up a crypto wallet, accessing an NFT database and acquiring a specific artwork—a process that might be less intimidating to the next generation of digitally native design clientele, but that may be less appealing to today's design client.
Similarly, from a collector's perspective, while well-known artists or recognizable works carry prestige for high-end interior design clients and their social circles, NFT works have yet to break into the mainstream in quite the same way. Andrew Lane, co-founder of design services company Digby, says that a rare NFT can be a status symbol, though the crypto in-crowd in which such pieces carry cachet is still relatively niche.
"It doesn't function emotionally quite the same way as every art collection and every art collector does. Because it's so rare, it's such a specific community—and such an upper echelon of that community," says Lane. "For some people, it would be like having a Warhol in your house, where it's as much about the asset as it is about the art."
Lane suggests that the tipping point, if it ever comes, may occur when the mainstream recognizes the utility of the blockchain technology underlying NFTs—primarily, their ability to authenticate a piece of art and ultimately combat fraud and counterfeits. Until then, it's a matter of waiting to see if the industry catches up. "I think that the real opportunity is for all this technology to help connect people," says Lane. "And when people get connected in a new way, that's a whole new world that we're going to get the chance to design and make inviting and beautiful."
Homepage image: An NFT frame created by Lago | Courtesy of Lago