Happy summer, designers! We've covered how to pitch your clients on art, how to tackle not just the art scene in Chelsea but also art fairs throughout the world, and more. But the creators themselves are the key to the entire art-world ecosystem. Today, we're meeting Jill Nathanson, a contemporary painter whose work feels summery and uplifting, and stands out from your typical pretty abstracts. Her solo show at a New York gallery just opened, so find out what you need to know about the hows and whys of her work.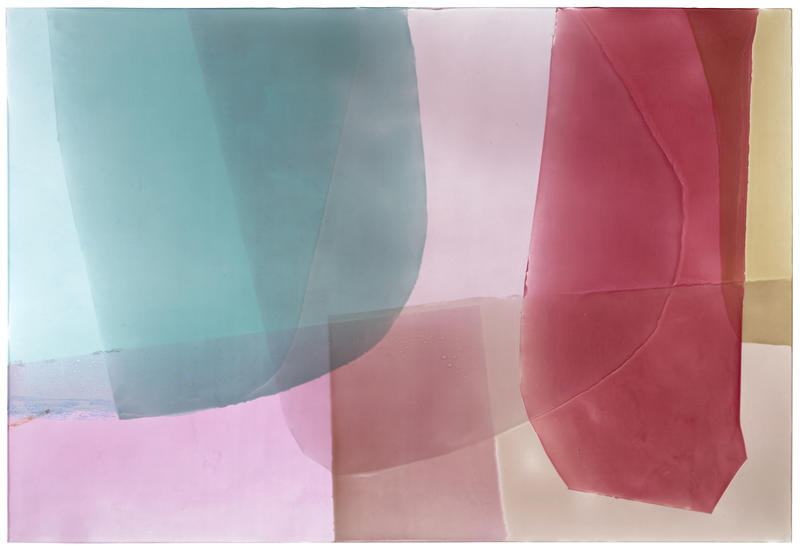 Here's why: Rather than painting organic forms on canvas with oil or acrylic paint, as is typical, Nathanson's technique is totally unique; she mixes pigment and polymer (kind of like a plastic) and pours it onto hardwood panels. She doesn't use a brush or make contact with the wood at all, really, and the hardness of the wood contrasts with the poured polymer to create this kind of subtly three-dimensional and highly tactile surface.
What makes it good: The layering of color in Nathanson's work is a driving force for her appeal. Each of the polymer pours is carefully controlled so that they overlap in particularly clean and balanced ways. Executing this takes a significant amount of experimentation and skill with the materials, especially to avoid unwanted bleeding of color and a messy merging of forms. The result that she achieves resembles tiers of translucent tissue paper, and it's completely beautiful. New hues are created through the layering, and your eye inevitably hops around to each part of the canvas, picking up on subtle variations in the color saturation.
Her inspiration: Color theory has always interested Nathanson, and in each of her works she intentionally incorporates colors that attract and repel each other. One of her all-time favorite artists is Thomas Nozkowski, whom she describes in an interview with Margarita Gómez Carrasco as helping her "get past making sense in a painting ... I learned to engage with chance, to have a fresher thinking through chance. But my goal isn't a celebration of 'chance'; I want the paintings to transmit affective realties of seeing, lived through a thinking, intensely feeling body. It's the idiosyncratic, illogical color unity of each painting that I am after."
How to see the work: Nathanson's solo show, "Cadence" is up now at Berry Campbell, running through June 30. The gallery is filled with numerous works by the artist, and there are certainly more in the back that aren't even hung. If you go to the gallery, say hi to Christine and Martha—the high-powered founders who are always there, always willing to walk you through the show, and always happy to show you other pieces by Nathanson and others that may be of interest. Her work is exclusively represented by Berry Campbell (meaning you can't buy it elsewhere), so this is a particularly good opportunity to get to know the work and have another excellent art resource to put in your pocket.
"Cadence" by Jill Nathanson runs through June 30 at Berry Campbell (530 West 24th Street, New York). The gallery is open Tuesday to Saturday, from 10 a.m. through 6 p.m.
Katharine Earnhardt is the president and founder of MASON LANE ART ADVISORY, a Brooklyn firm that styles walls nationwide.