A new brand of luxury residences has launched in the nation's capital. Located at the renovated Patterson Mansion, Ampeer Dupont Circle includes 92 fully furnished residential units; communal living spaces designed to encourage interaction; food and drink service; events programming; and other features.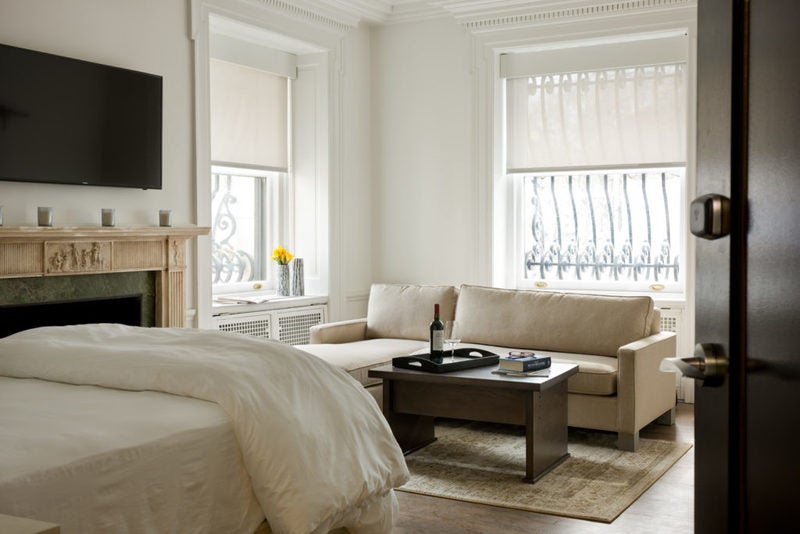 "We wanted to create a residential community that was about more than just a place to rest your head. Our vision for Ampeer was to provide residents with opportunities to connect—inside and outside of the building," says Frank Saul, founder and CEO of Saul Urban, which co-developed the project with Rooney Properties, a major real estate developer in the Washington, D.C., area. "Through our inviting common spaces, morning breakfast and evening drinks and hors d'oeuvres, residents are able to connect with their peers, while our dedicated team of lifestyle associates and diverse lineup of programming provide them access and connection to the city."
Renowned D.C.-area designer Darryl Carter of Darryl Carter Inc. oversaw the makeover of the mansion, saying, "Frank's vision was to maintain the building's elegance, while merging it with modern flair. What we have created in Ampeer has gone beyond anything we could have ever imagined. Its historic roots proved to be a spectacular canvas to reimagine what an elite living space could be. Simply put: Walking through those doors, you enter a whole new world."
Targeting "highly transient, high-income professionals who typically will not use it as their primary residence—such as diplomats, politicos, executives, consultants, lawyers and the like," the brand says that leasing options will range in term from three months to one year. Among Ampeer's features: a library, 24-hour concierge service, a state-of-the-art fitness center, complimentary breakfast, and bike- and car-share memberships.
There are plans to open comparable concepts in other major cities.