London-born, Los Angeles–based designer Claudia Afshar was frustrated by the limitations of the marketplace. To achieve the kind of subtle, sophisticated texture she dreamed of for her projects' vertical surfaces, she would purchase slabs of wood and stone, then pay extra for customized fluting—a costly undertaking that, depending on the substance's durability, didn't always work out; and even when it did, the upkeep was too demanding. Turning to traditional tile, she found few grooved options to choose from and encountered inconsistency in color palettes as the scope of her planned application increased. Plus, styles that might work for a backsplash or bathroom definitely didn't translate to the outdoors. The solution, Afshar realized, was to design a brand-new product herself to fill the niche—and to create it in partnership with the leading manufacturer of innovative, sustainable surfaces, Cosentino. Made from the company's high-performance, carbon-neutral Dekton ultracompacted stone material and available in two groove widths and five matte colorways, the Ukiyo collection debuts this month.
"Ukiyo means 'to live in the moment,'" says Afshar, speaking from her headquarters in Brentwood. The message resonated with the designer, who finds inspiration and a sense of calm in the smallest natural details, be it the subtle layers on the face of a stone that has eroded over time or the frisson of ripples that race across the surface of a lake whenever the wind blows it a kiss. Taking her cue from Japan's muted, minimalist, texture-forward aesthetic and celebration of symmetry, she conceived of the large-format, linear-fluted tiles for use inside and out, in residences, restaurants and other commercial and hospitality spaces. While delivering nuanced dimensionality, tonal depth and geometric interest wherever it is placed, the collection also offers extreme ease of care.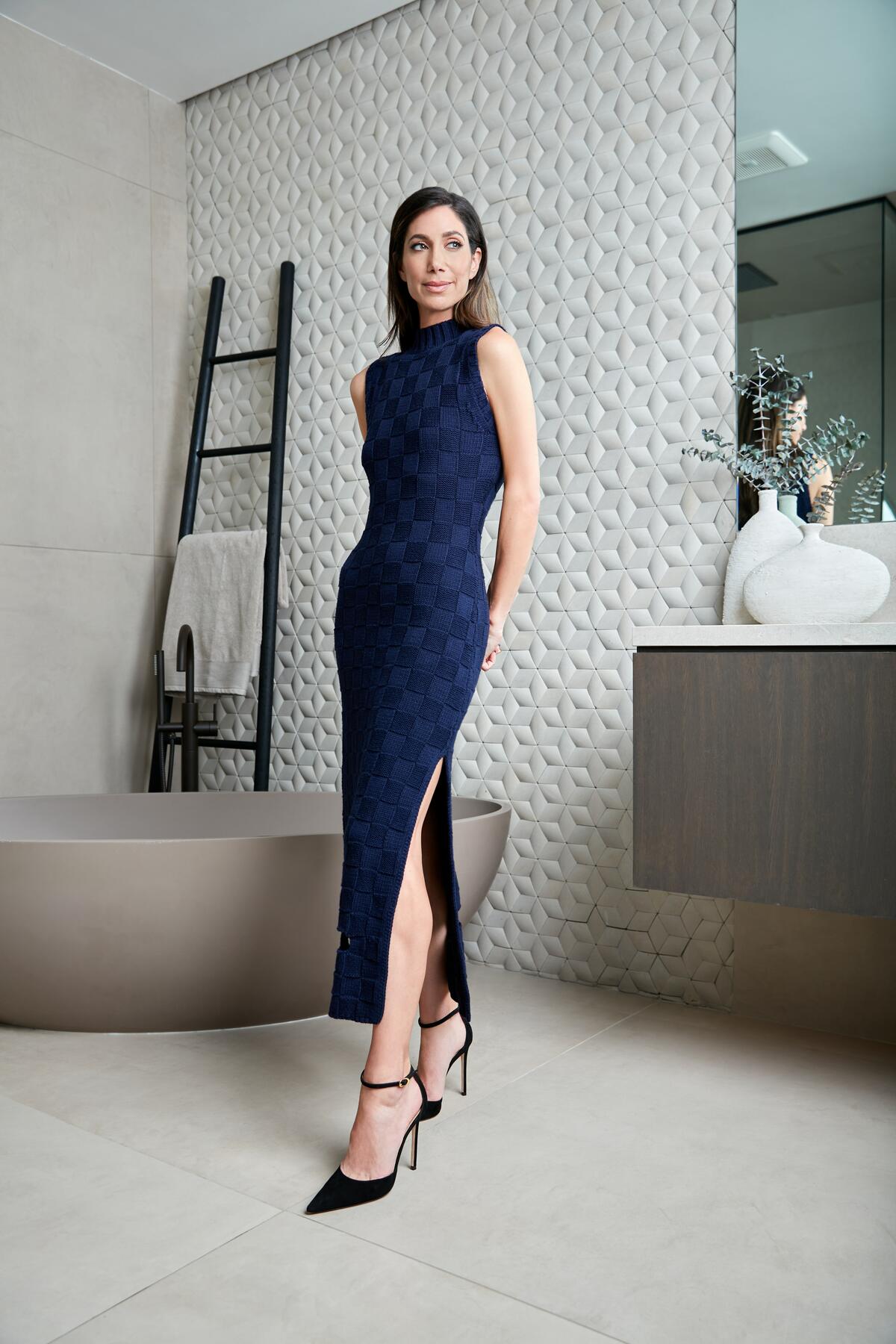 "It's not going to weather in the sun. It resists scratching and stains. Water damage won't be an issue—as opposed to, for example, limestone, which, though I love it, is not always practical because of the tremendous amount of maintenance it needs," says Afshar. Impervious to decay, scaling and discoloration, Ukiyo adds a sophisticated decorative element to even the most communal, heavily trafficked spaces—making it a kid- and pet-friendly match for hotel lobbies and pools. "The cleanability factor adds such convenience," she says.
Afshar developed the Ukiyo collection in tandem with Cosentino's global research and design team. The company proved to be a dedicated partner, investing in new machinery just to test the fluting measurements. With "a ton" of potential textures packed in her carry-on, the designer flew out to Cosentino's manufacturing facilities in its home country of Spain for a trial-and-error of sizes to determine the optimal width, depth and overall thickness of what would become the two grooved patterns. "Cosentino is so progressive. Each challenge is well thought through. The answer is never no. It's: What do we have to do to make this work?" says Afshar. Back in Los Angeles, she reviewed and revised samples at every stage. "I'm very sleeves-rolled-up, all in," she says of her involvement, adding that she only ever designs products she'd be happy to have in her own home: "Livability is always rule of thumb for me." A sneak preview of the collection at this past spring's K-Bis prompted enthusiastic inquiries from the design community, and now, on the eve of Ukiyo's mainstream premiere, Afshar is deep in the planning stages for an epic, move-in-ready showhouse in L.A.'s Studio City in January 2025, where she'll display the tile's many different applications.
"We're going to use about 50,000 square feet of slab to decorate three kitchens, nine bathrooms, the patio area and the facade," she says. In contrast to large-scale hospitality projects in which the design for a single hotel bathroom can be replicated a hundred times over, residential projects merit a more bespoke approach. "In a luxury home, nine bathrooms get nine related but distinct personalities." Ukiyo's compatibility with other organic materials like wood and natural marble, as well as complementary honed Dekton surfaces for floors and countertops, combined with its widely adaptable colorways, make the styling possibilities infinite—and fun. "The play is endless."
Ukiyo is Afshar's first collaboration with Cosentino and the brand's first foray into fluted surfaces. The designer foresees more creative exploration in their shared future. "I think this is the start of many exciting materials," she says, describing her partnership with the company as "a dream come true." She selected Ukiyo's initial colorways from Dekton's existing palette with an eye toward the comfortable, understated luxury and cohesive indoor-outdoor lifestyle that clients crave from their homes today. Below, she discusses the five versatile hues and the aesthetic impressions they make in their fluted Ukiyo incarnation.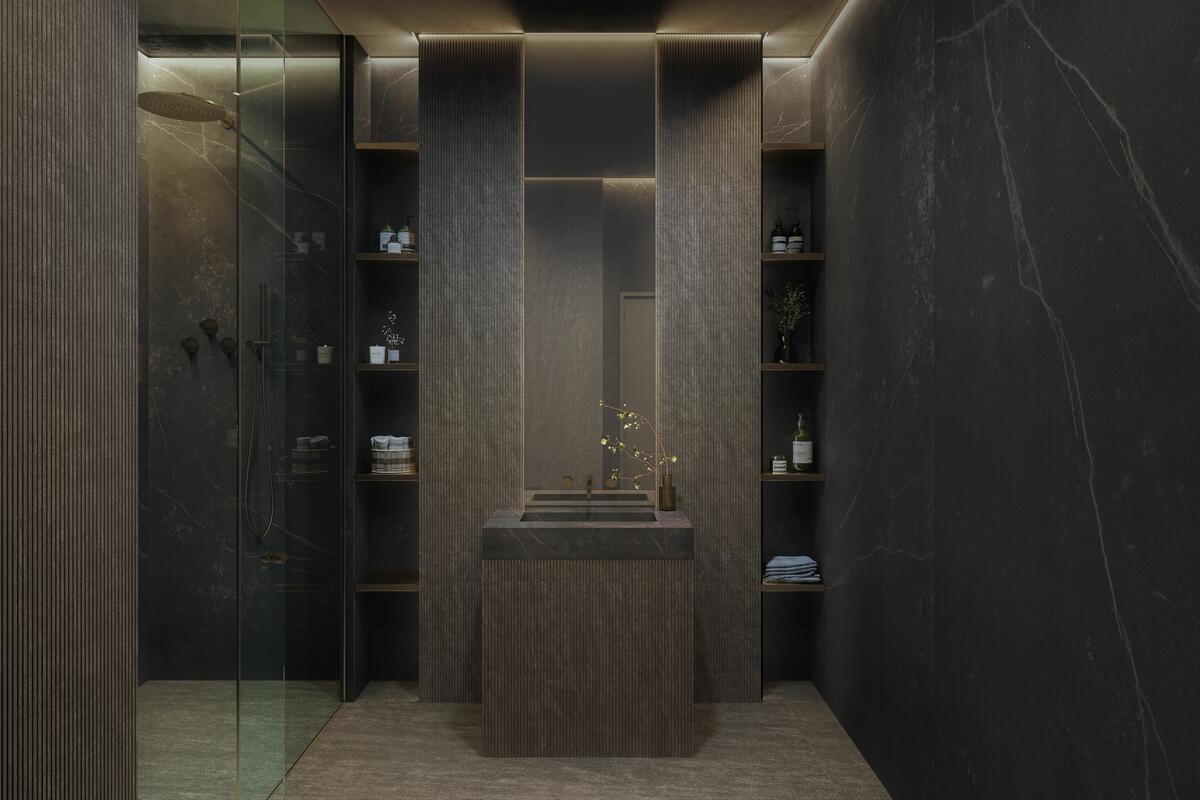 BROMO
Tonally variegated with purposeful fading, in a shade inspired by metamorphic rock, deep gray Bromo is the darkest colorway in the collection. "It feels very true to Japan, where slate is used in many different applications," says Afshar. As gray in all its glory is now embraced as a contemporary neutral, this rich iteration lends itself to many scenarios. "It will work beautifully with a range of metals and woods." The designer envisions it punctuated by brushed brass accents in a moody, studious library—and as the perfect hardworking material for custom backyard cabinetry containing recycling bins and gardening equipment.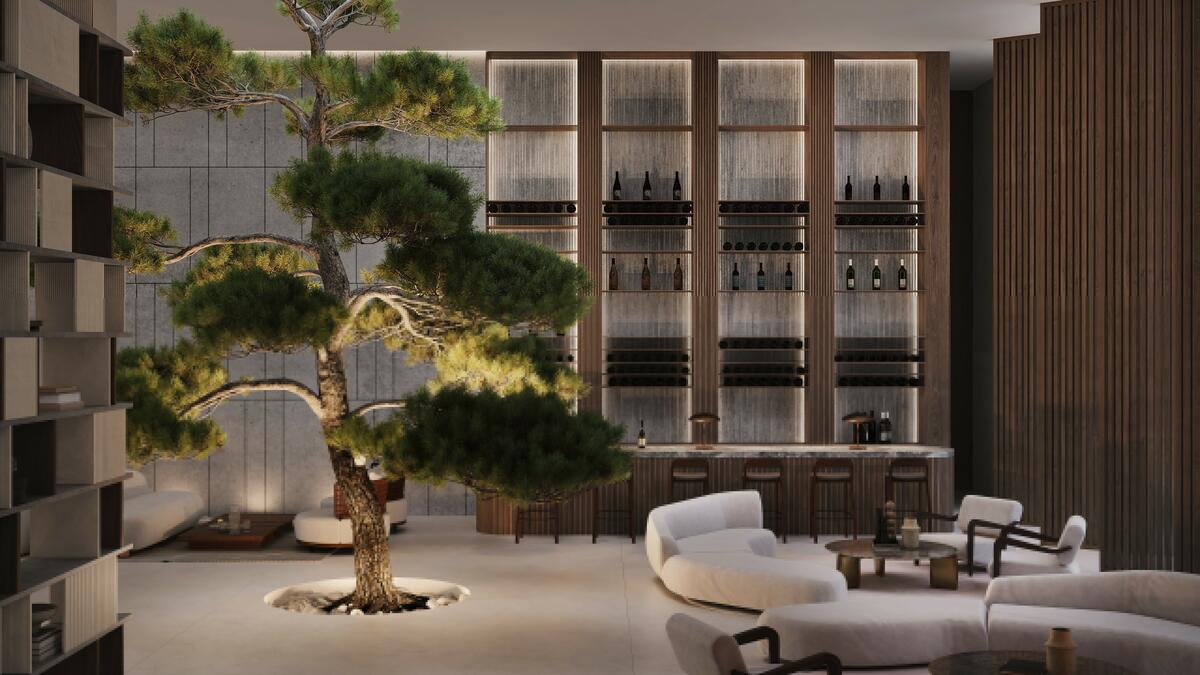 KRETA
A paler shade on the spectrum of grays, with a more controlled color uniformity than Bromo, Kreta recalls concrete, a staple material of modern, post-industrial interiors. The matte finish that's used across the collection reinforces this association. "Kreta can anchor so many spaces: a hotel lobby, a trad masculine bathroom. Or you can make it more feminine, depending on the fixtures and furnishings you pair it with," says Afshar.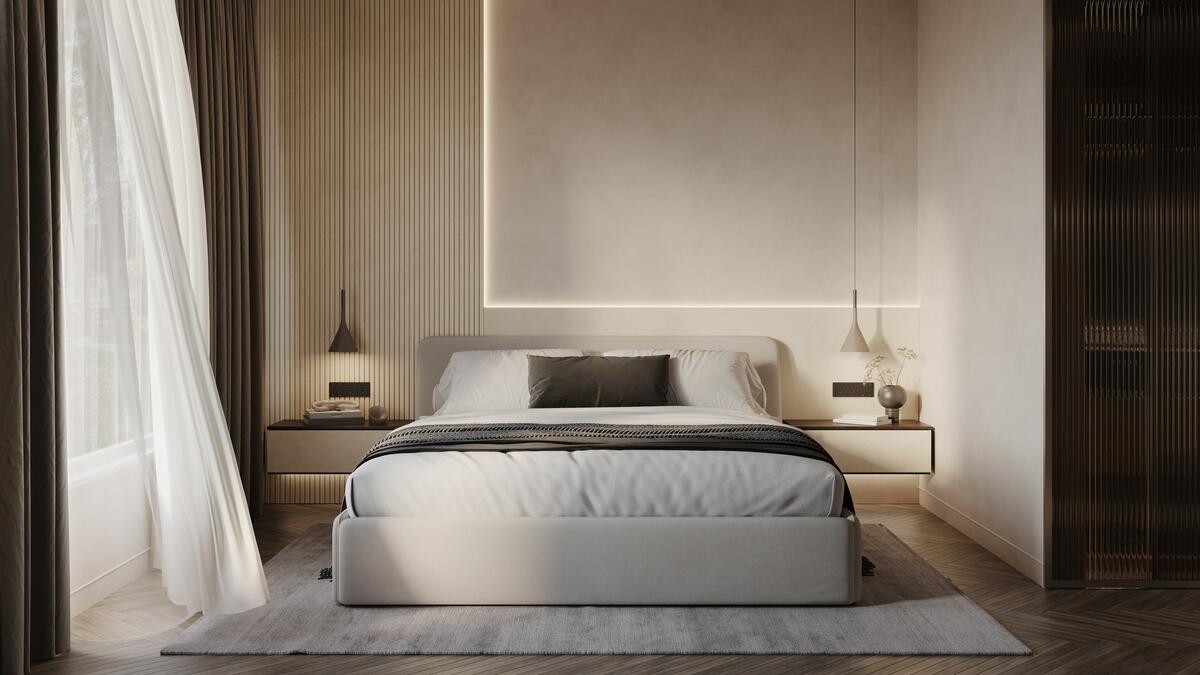 NACRE
Evoking the classic limestone surfaces that can be found from Giza's Great Pyramid to the Louvre in Paris and the Alhambra in Cosentino's native Spain, Nacre's creamy coloration goes so far as to suggest the trowel marks hand-applied by artisans, effecting a tactile interaction of shadow and light that lends movement and invites touch wherever it's placed. "Because Nacre is similar to crema marble and limestone in appearance, there's lots of pleasure and play to it," says Afshar. She pictures fluted Ukiyo wall tiles framed by honed Dekton borders in the same colorway for an enveloping aesthetic that would be right at home in Italy or Spain as an accent wall in a bedroom or a double-height, indoor-outdoor fireplace surround.
UMBER
The boldest hue of the bunch, Umber's warm terra cotta statement naturally brings to mind the ruddy, earthen plasterwork of Mexican haciendas and the adobes of the American Southwest—though Afshar reports that the vibrant colorway is already resonating in such faraway, cooler climes as Scandinavia and in retail and restaurant spaces. "The funky color offers designers and architects, as well as homeowners and contractors, a little flair—an alternative to typical neutrals and a way to add a lovely bit of charm," she says. Whether used in a monochromatic kitchen or throughout a spa and salon, the color can't help but be welcoming.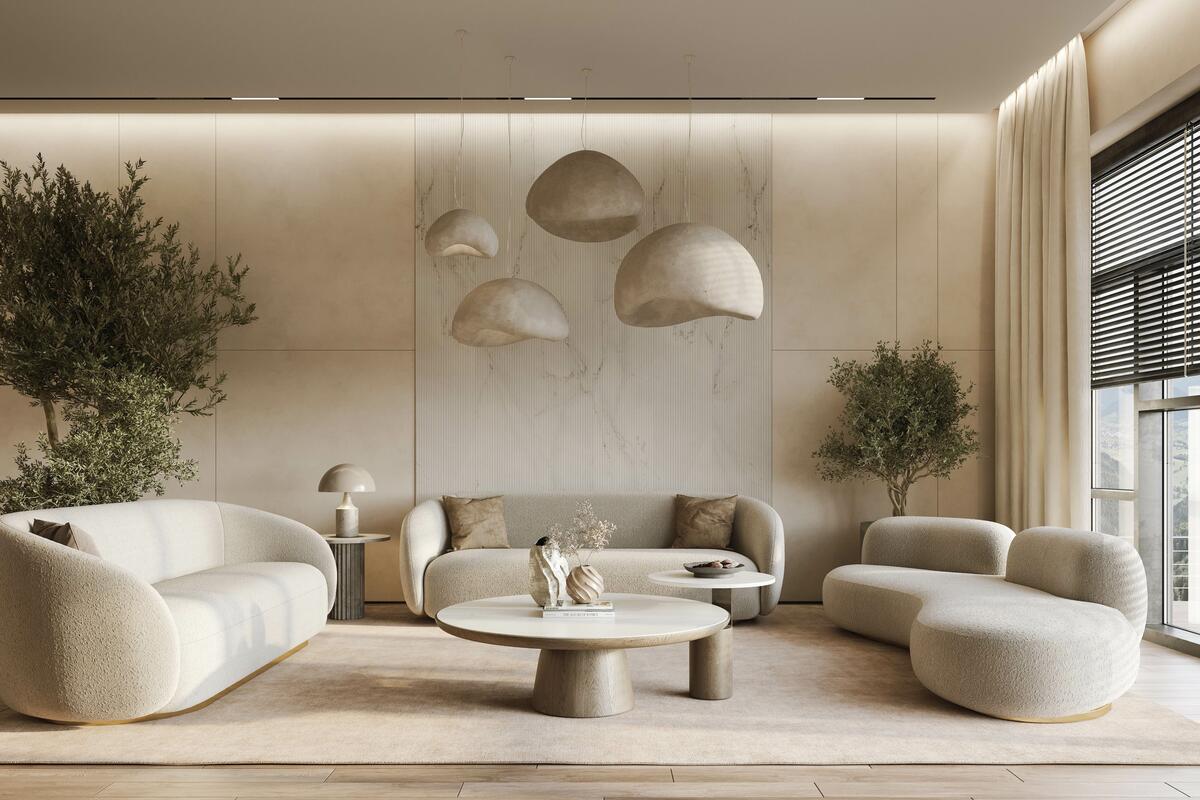 REM
Distinguished by brown and gray with discreet hints of gold, Rem's intricate veining travels across panels for a seamless look no matter how large the treatment. "As part of the production process, we're very intentional about how each piece finishes, so that it appears like a single slab when covering an entire wall," says Afshar. Ukiyo's signature fluting intensifies the sense of flow in a space, while its base off-white, Calacatta-like colorway creates that much-coveted atmosphere of quiet luxury. On its own or paired with burnished wood furnishings, "it feels both very organic and quite romantic."
This story is a paid promotion and was created in partnership with Cosentino.