From flagship debuts to brick-and-mortar introductions, this month's showroom coverage is full of firsts. In our November roundup, Business of Home has gathered all the expansions and openings to have on your radar.
SHOWROOM SPOTLIGHT: Brown Jordan kicks off luxury rebrand with its New York showroom
Legacy outdoor furniture company Brown Jordan opened a flagship space in the New York Design Center this month as part of a major rebranding initiative to bring the company's look and feel in line with its high-end offerings. The showroom, which is the brainchild of architect and interior designer Barbara Reimelt of the Ninety Nine Group, is designed to "wake people up to the beauty of something that they've seen before by putting it in a different dress," she says. For Brown Jordan CEO Gene Moriarty, the opening lays the foundation for the St. Augustine, Florida–based company's next chapter, which will also include the debuts of new collections and designer collaborations over the coming months. "We really haven't had the presence the brand deserves or needs in New York or the tri-state area," says Moriarty. "This showroom represents a very intentional move to capture the architecture and design business, and nothing sets us up for success as much as planting a flag very firmly in New York."
In a departure from the 77-year-old company's history, which had long involved a more straightforward approach to merchandising, the new Brown Jordan showroom subtly and strategically mirrors the aesthetics of its products. The 6,600-square-foot space's curved walls—clad in a custom, high-gloss pomegranate-inspired hue—take their cues from the iconic S-shaped Walter Lamb chaise lounge, while the screened room dividers that carve out additional vignettes throughout the space echo the bamboo motif of the Calcutta chairback. "Your imagination is supposed to run a little bit wild—like Alice in Wonderland," says Reimelt, who infuses the space with a sense of intimacy by dividing it into four smaller rooms that allow for more intimate furniture arrangements. "I created separate cocoons for the furniture that allow it to sit comfortably without taking away from its neighbors," she says. The four vignettes flow from one to the next, allowing clients to meander through each room and be surprised by the next space, like an outdoor kitchen display or a pergola inspired by the LongHouse Reserve in East Hampton, New York.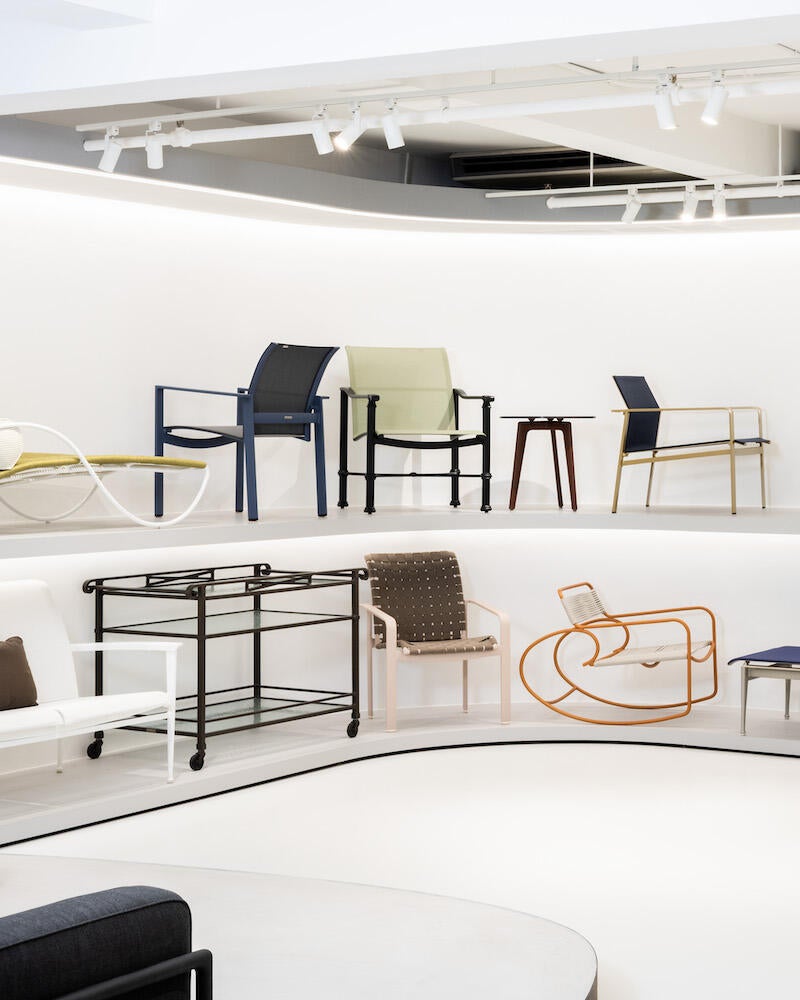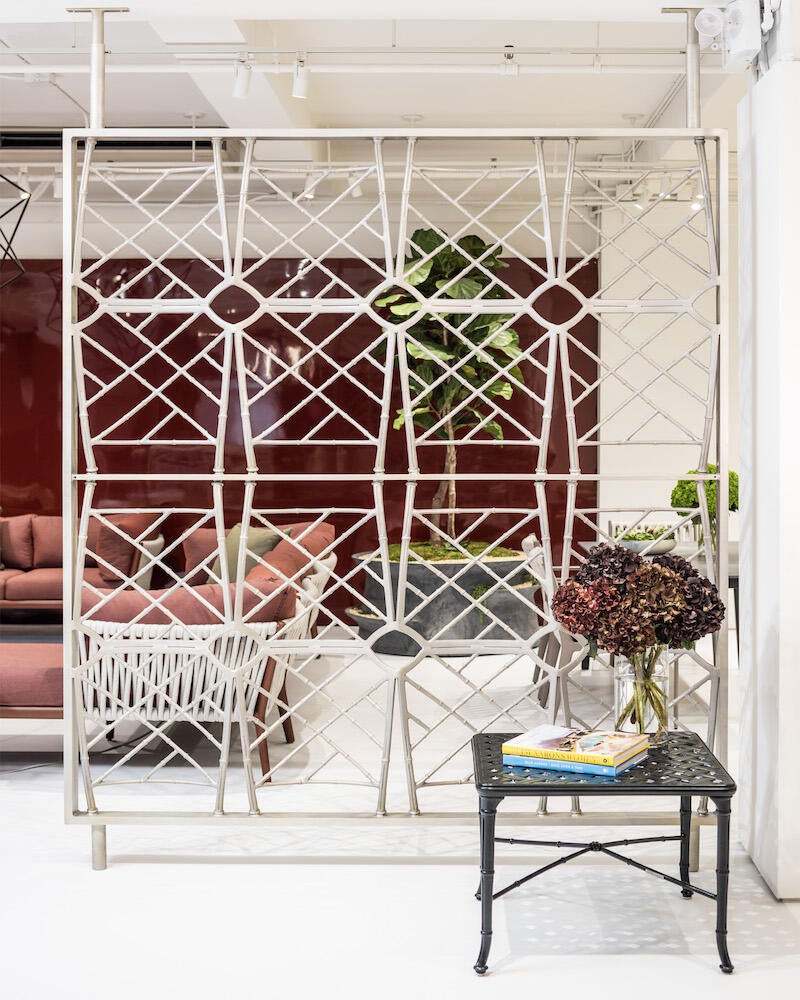 Reimelt's design choices highlight the evolution of the brand, celebrating its history of timeless design (the first chair the company ever made is prominently on display). But her design direction also illuminates the staying power of Brown Jordan's offerings, showcasing well-known creations in surprising colorways—the Calcutta chair in a bright yellow finish, or the Oscar collection in baby pink—to spark new ways to imagine how these decades-old pieces can be used in outdoor spaces today.
"This showroom really does represent the next phase of Brown Jordan," says Reimelt. It will also serve as a blueprint for other Brown Jordan locations opening across the country, continuing the company's focus on the brand's timeless take on modern luxury. "There's a bit of a preconceived idea of who Brown Jordan is because they're in the Smithsonian, they have furniture at the White House and The Breakers hotel—all these amazing collections from the 1940s, '50s, '60s and '70s. This is an opportunity for us to surprise people, and that's what the showroom has done."

200 Lexington Avenue, Floor 3, New York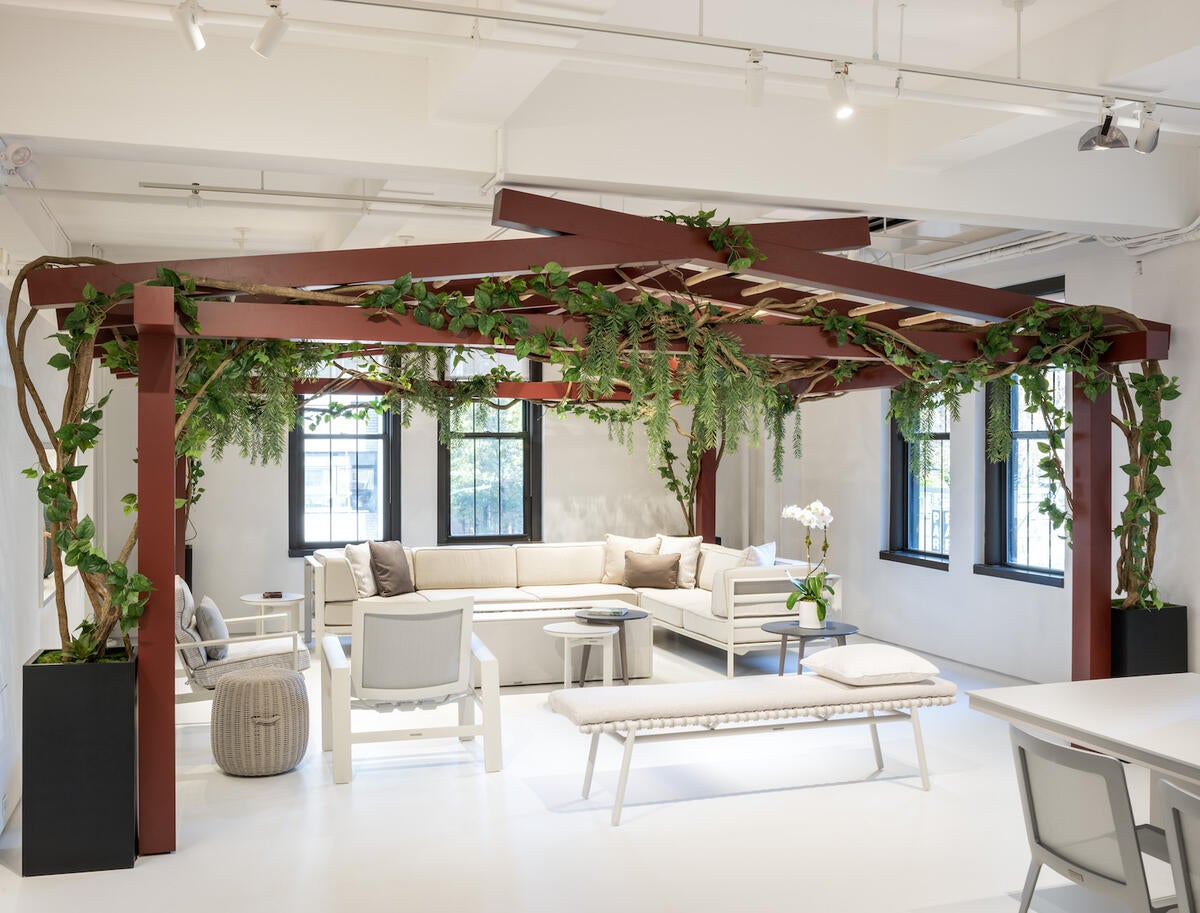 CALIFORNIA
Italian contemporary furniture brand Poliform opened a new and expanded showroom in San Francisco. The 9,000-square-foot outpost will also serve as a design office for the showroom owners' firm Applegate Tran Interiors, and will showcase the brand's six kitchen systems; a new selection of customizable setups for an entry, an office, a dining room, a library or a living room; and exclusive lighting from hand-blown Czech-based glass companies Lasvit and Bomma.
195 Rhode Island Street, San Francisco
CONNECTICUT
Heritage textile house Sister Parish debuted a brick-and-mortar storefront in the retail district of Litchfield, Connecticut. The 1,500-square-foot space was designed by Eliza Harris, the brand's creative director and great-granddaughter of the founder, Sister Parish. At the new location, clients can peruse hand-embroidered cornice boards, linen pelmets with needlepointing, the brand's rug collaboration with carpet manufacturer Tibetano, vintage upholstered furniture and seasonal finds.
7 West Street, 2nd Floor, Litchfield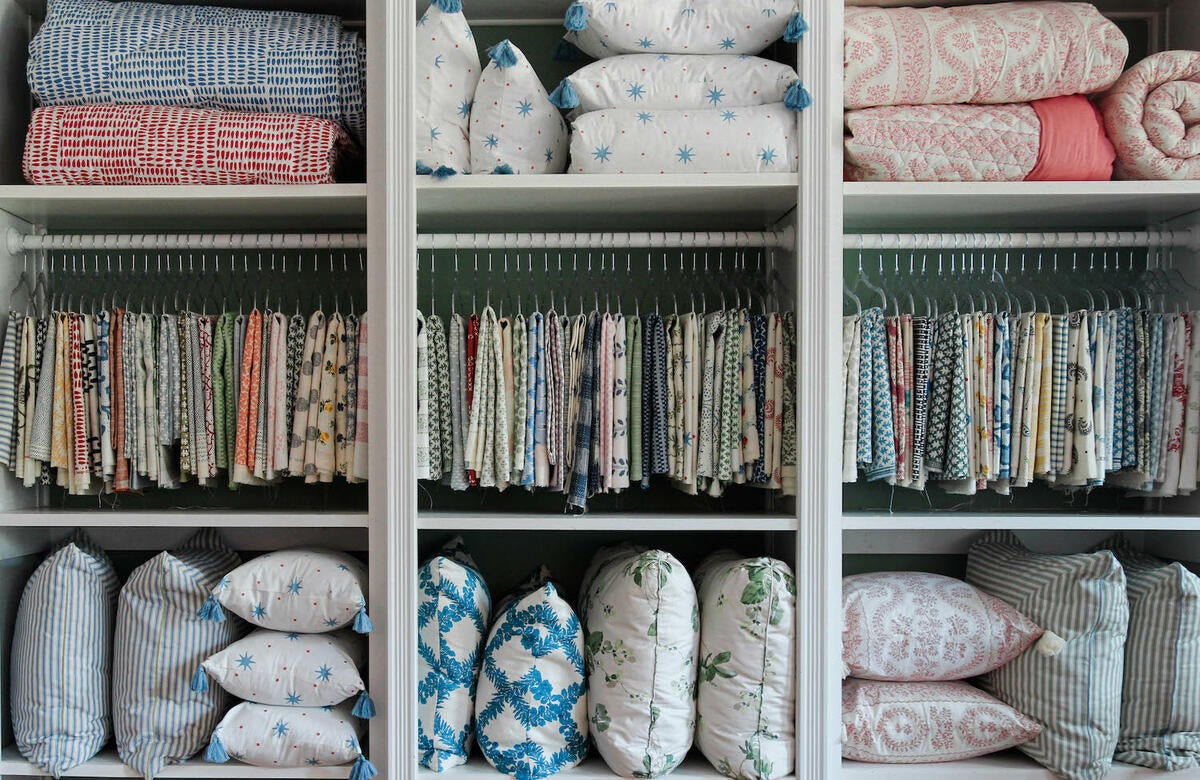 MASSACHUSETTS
Minnesota-based surface company Cambria launched a new distribution center in Milford. The 32,000-square-foot space has a showroom in the front, where trade professionals and consumers can access the brand's quartz surface designs.
357 Fortune Boulevard, Milford
NEW YORK
New Jersey–based home furnishings manufacturer Stylex announced the opening of its first New York showroom. Located on the 14th floor of the NYDC, the space will showcase the brand's new Dau collection, a colorful and contemporary variety of tables, upholstered sofas, benches, poufs and lounge chairs designed for the workplace and beyond.
200 Lexington Avenue, Suite 1402, New York
Bespoke Italian furniture manufacturer and interior design studio Achille Salvagni Atelier debuted its first gallery in the U.S. Located in a 4,000-square-foot gallery on the Upper East Side, the brand's namesake and leading architect Achille Salvagni partnered with owner of Maison Gerard Benoist F. Drut to showcase Salvagni's work. The gallery features a new edition of the Spider chandelier in pink, one of Salvagni's most coveted pieces; a pair of upholstered armchairs designed in collaboration with French textile atelier Toyine Sellers; and the Tutankhamun lounge chair, influenced by ancient Egyptian furniture pieces.

817 Madison Avenue, New York
Danish kitchen design brand Reform opened a flagship showroom in Brooklyn's Dumbo neighborhood. The company continues to expand its footprint in the U.S. market with this new space, which features kitchen furniture by international designers and architects, including the Copenhagen-based Bjarke Ingels Group and Norm Architects, Belgian-based brand Muller Van Severen and French architect Jean Nouvel.

39 Main Street, Brooklyn
Courtesy of Achille Salvagni Atelier
Luxury New York design house L'Objet launched a new boutique in the Upper East Side. Designed in collaboration with creative interior architecture agency Rigos Mills, the storefront features L'Objet's latest collaboration with American sculptors the Haas Brothers, custom pieces from Brooklyn-based designer Sourabh Gupta and Portuguese ceramicist Bela Silva, and an on-site apothecary bar where customers can sample and test signature candles and home fragrances.

950 Madison Avenue, New York
New York–based interior furnishing and design firm Ash Staging opened a concept loft in Tribeca to showcase the brand's work. The three-bedroom residence features a mix of bold, vintage furniture pieces, including a 1970s Italian travertine marble coffee table, Milo Baughman Cubic chairs and two-layered African Senufo stools.

153 Lafayette Street, Fifth Floor, New York; by appointment only
Houston-based architect and interior designer Lauren Rottet launched a new 3,900-square-foot showroom in New York to showcase her Rottet Collection of furniture. The new space is furnished with Rottet's Walking bench, Dichroic table and Ovo mirrors, along with her custom line of hide-on-hair rugs for Kyle Bunting and Fascio Collection of lighting for Visual Comfort & Co.

29 West 30th Street, New York
Belgian scented candle and home fragrance diffuser brand Baobab Collection debuted its first American boutique store on the Upper East Side. The 600-square-foot space will offer seasonal and limited-edition candles and perfume diffusers, resembling the decorative aesthetic of stores in Antwerp, Brussels, Paris and London.

1015 Madison Avenue, New York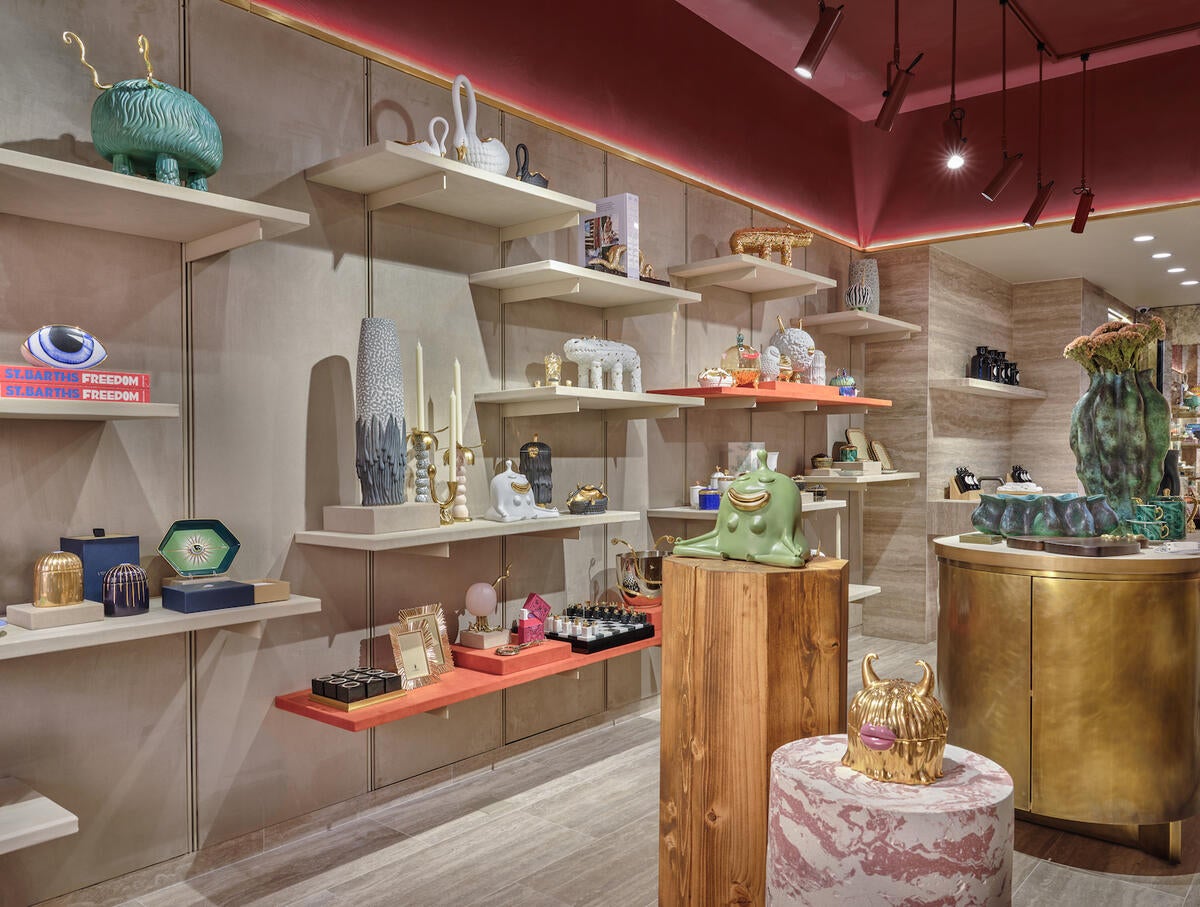 TEXAS
Houston-based home goods store Paloma & Co relocated to a larger space in the city. The concept shop features antiques and unique objects from around the world, spotlighting emerging artists and vendors with curated products that tell a story.
2509 River Oaks Boulevard, Houston
Minnesota-based surface company Cambria launched a new distribution center in Houston. The 22,750-square-foot space has a showroom in the front, where trade professionals and consumers can access the brand's quartz surface designs.

13939 West Road, Houston
UTAH
Ohio-based artisan-crafted furniture and home decor retailer Arhaus opened a new studio in Park City. The 6,415-square-foot space is the company's first store in Utah and displays Arhaus's newest collections, offering complimentary design services and customization options to customers through professional consultations, 3D room-planning software and touch screen monitors.
675 Main Street, Park City
INTERNATIONAL
Aelfred, a Scandinavian midcentury furniture showroom developed by Danish interior designer Nina Hertig, opened a space in London. The 980-square-foot location features a supply of Danish, Swedish, Norwegian and Finnish furniture and home accessories, and a curated flea market with secondhand furniture, cutlery, antiques, vases, accessories and glassware from the Nordic countries.
Autumn Street, Unit 2, Hackney Wick, London
Homepage image: The walls of Brown Jordan's showroom are painted in Almandine, a custom, high-gloss pomegranate-inspired hue developed by the brand | Courtesy of Jeremy Saladyga