When Amanda Pratt opened her Boston gallery, Salon, in October, she wanted to give emerging and established female designers a place to showcase their work. That mission was part of the draw for Aja Blanc of Ben and Aja Blanc, who created an exclusive set of mirrors for the contemporary design space's second exhibit, which opened last week.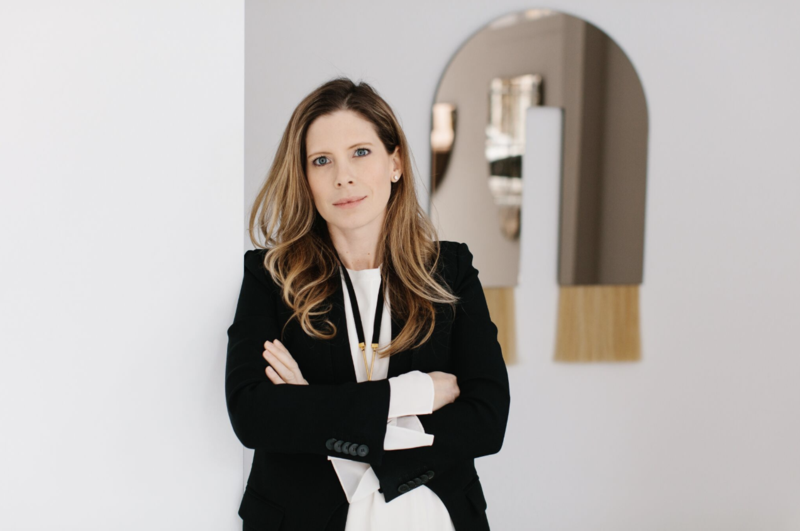 "I really appreciated [Pratt's] focus on female designers—which is one half of us," Aja, a Providence, Rhode Island–based RISD alumni, tells Business of Home. "We wanted to know more about Boston, and through that process, we learned more about her. Wonderful kismet in that way."
The Blancs, who are represented by The Future Perfect in New York, Los Angeles and San Francisco, noticed top designers opening showrooms in Boston, and were aware of the growth in economic and residential opportunities. They met Pratt during New York Design Week last May, where she approached them while they were presenting mirrors in Phillip Lim's showroom, and spent the summer sketching and designing thousands of models for what ultimately led to Salon's collection of 12.
The series aims to add warmth to mirrors—often a cold medium—through shapes and colors. The Blancs sourced from the only U.S. vendor of peach glass—a material popular during the art deco movement but that has fallen largely out of fashion—and worked with a family-run business that patinas the silver layer of mirror with chemicals to make an "antiqued" pattern on its surface. Their designs have resonated with the community: Three of the mirrors have already sold, and an additional four are in negotiations.
"Salon's first show, 'Lawless,' was on emerging designer [Ayako Aratani of Aratani Fay], who had never done a gallery show before, so she was focused on making enough content," Pratt tells BOH. "With Aja and Ben, we can take it to the next level, and it lends credibility to the mission of Salon, creating a platform for both emerging and established designers. This is the first time the Blancs have been able to show all [of their collection] in one place, so it's as important to them as to us."
Pratt was used to fighting through industries that haven't always opened arms to her gender. But she believes that the design industry is traditionally welcoming to women: "I chose to put Salon in a very historic district in Boston. Every aspect of the design work, any changes to the exterior, had to go through Landmarks Commission. I think putting contemporary design in spaces like these actually contextualizes them. In that same vein, I think that's what women are doing in contemporary design."
From the outset, Pratt's concept for Salon wasn't necessarily for a female-focused gallery—but the space and its mission naturally evolved in that direction. "What I found was, the designers I wanted to represent all happened to be female," she says. "I asked myself, 'Why is that?' And found that their work is more approachable—people can relate to it."
"Ben & Aja Blanc: New Work" is on view until January 27, 2019, at Salon's gallery at 126 Charles Street, Boston.