New York metro title Aspire Design and Home is expanding into new markets this season, including Atlanta, Boston, Chicago, Dallas, D.C., Houston, Los Angeles, Miami, New York and San Francisco.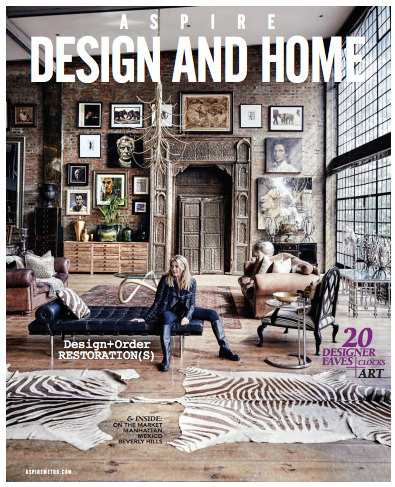 The interior design and real estate print publication is run by publisher Steven Mandel and his wife, co-owner and editor in chief Amy Sneider. "The magazine is resonating across the country as well as internationally," said Mandel. "This exciting success and growing demand from national advertisers made it the right time to expand our newsstand program to encompass all top markets. We are already in Barnes & Noble, airport retailers, at the cash registers of high-end supermarkets, and most recently, on newsstands in Germany and Italy."
Its current combined print, digital and pass-along readership is 461,094, says the publication. The magazine publishes quarterly and has featured designers and firms including John Barman, Neal Beckstedt, Kenneth Cobonpue, Kati Curtis, Jamie Drake, Glenn Gissler, Philip Gorrivan, Edmund Hollander, Rachel Laxer, Ashley Longshore, Gideon Mendelson, MAD Architects, Madcap Cottage, Fox-Nahem, Robert Passal, Kathryn Scott, Matthew Patrick Smyth, SPAN Architecture, Fisher Weisman and WOHA Architects.

"Aspire represents quiet and varied ideas of beauty and shelter," said Sneider. "Life is noisy and the aesthetics of some magazines have become noisy as well. We like to savor the subjects and the images, with large dedications to their art/talent and create conversations."
The fall issue is currently available online and on newsstands across the new markets.