The bedding world is rife with organic neutrals. Plover was an early bedding startup, founded by two women in search of an as organic—and colorful—home as possible: sisters-in-law Sheila Mulvihill and Marisa Kula Mercer (who is also wife to Shins frontman James Mercer).
In addition to being 100 percent organic, the brand works with nonprofit Save the Children and has created the One-of-a-Kind collection, which currently includes quilts, to avoid fabric waste. Mercer shares her story with Business of Home.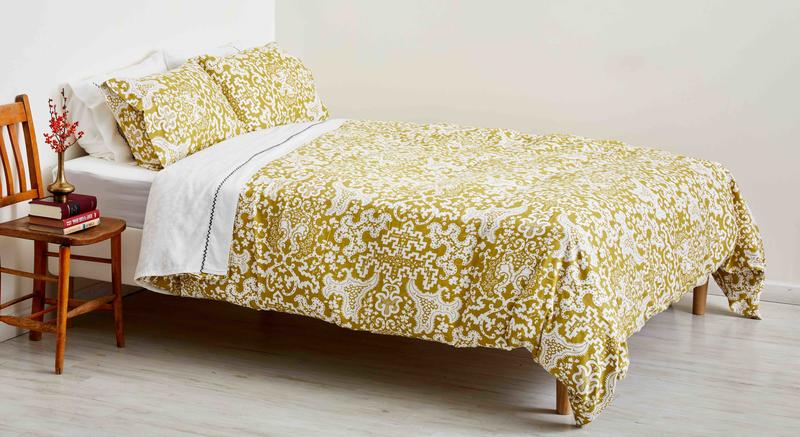 Walk us through the evolution of the landscape since you first decided to launch Plover over a decade ago.
It was 2006 when we started to think about Plover. There was almost nothing out there like Plover at the time—and we were looking, because we were both having babies and really focused on setting up our homes as naturally as possible. Not only was it extremely difficult to find organic bedding then, but when you did, there was no design element to it. Everything was plain white; a solid color if you were lucky. (And this was before the all-white linen bed became ubiquitous!) Everything was too boring—nothing we wanted to buy for our own homes. Plus, the options were all expensive!
Our favorite bedding brands were boutique lines that were heavily printed and colorful, but they were not organic. So Sheila and I thought, Can we create a line that's organic but fun? Responsibly made bedding that we actually wanted to own? That's how the idea came about, and we were the first ones to do it. But within the next couple of years, we noticed other brands start to do the same thing. It wasn't long before the market felt really crowded, and we were having to compete with huge companies like Target and West Elm, and it was difficult. Somehow, we managed to squeak by and survive while a lot of other small brands did not. It's interesting to note how things have changed since then. There are more responsible bedding brands now—which is amazing—but there's still that element of sameness to them all. Playing with pattern and color is still not the norm.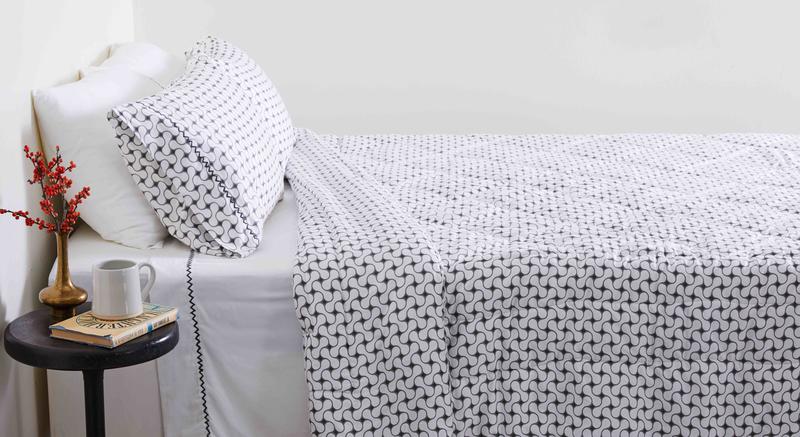 How have the bedding options changed since you launched, if at all? How do you continue to compete?
The addition we've been most excited about is our collection of One-of-a-Kind, handmade items—which are pieces made from leftover fabric, and are truly unique! We love coming up with new prints, and over the years, we've had so many that we have loads of extra fabric around. We've just been collecting it—we never throw anything away! We had been talking about doing pieced quilts and other projects with the scrap fabric for so long, and this spring, we finally made that a reality. We gathered the fabric we had, designed a few quilts, and Sheila sewed them together in her home studio. We just keep designing more as we run out of certain fabrics. Those items have turned into some of our best-sellers.
When we introduced our first collection back in 2008, we got such a tremendous response that we thought the answer was to go bigger. We threw ourselves into releasing new prints, increasing our inventory, offering new products. (We've done everything from aprons and oven mitts to laundry bags and shower curtains over the years.) But that was the wrong move for us at the time. Trying to compete with larger brands who had a lot more resources and infrastructure than we did exhausted us completely. I remember one production where the quality was just so far beneath what it should have been—that's when we knew we needed to regroup and focus our attention on what really mattered. We're a small boutique brand, and we needed to put our energy into doing what we do—making high-quality, well-designed textiles—even better. Not more, but better.
Do you have plans to add additional product categories?
We just added curtains for the first time this spring. (I was having such a hard time finding cool curtains for our house that I insisted we make them!) We are also bringing back baby quilts this fall. And we have some new throw pillows that we're really excited about. But in general, we don't plan to add too many new product categories. We've figured out what we do well, and we want to focus on making our existing products as good as they can be, subtly tweaking and improving them with each collection. That's where we're putting our energy these days.
What are some of your top-selling items?
Sheets have always been our best-selling item, followed by quilts. I think they sell so well because sheet sets are just something you can always use one more of! They're also an easy way to add a pop of color to your room without overwhelming it. They're an accent piece, really—especially since our sheets come in so many colorful patterns. I'd say our most popular pattern would be the Green Peaks sheets, followed by our Golden Cartouche pattern.
We've also always made our sheets to the highest quality. I have a few sets in rotation at home that are literally 10 years old and still going strong!