Karen McNeill, CEO of the American Home Furnishings Hall of Fame, knows a thing or two about leadership and service. She took the stage at Las Vegas Market last month to accept the Legacy Award, the highest award granted by WithIt, which recognizes a woman who has made notable, lifelong contributions to the home and furnishings industries. She tells EAL about career highlights and challenges, and what keeps her going.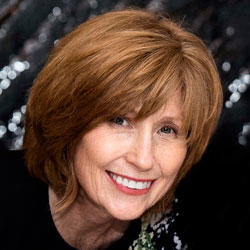 Share some highlights of your career. What stands out as your biggest success thus far?
Having been in the public relations and marketing field for more than 30 years, there are so many that probably don't really translate. The most rewarding are those for companies who are unable to "break through." That could mean by reaching a new class of customers, getting a team solidly behind the leadership in the midst of extreme corporate changes, or in guiding a company through a crisis that threatens the very existence of the company. Interestingly, the biggest achievements that our team experienced with clients is generally covered by a confidentiality agreement.
With one company, within months of 9/11, our promotion tripled their market attendance at a time when overall trade show attendance was down by 60 percent. In another situation with a full-blown, very public, celebrity crisis, we convinced the client to stay with the celebrity, preserving a multimillion-dollar revenue stream that became one of their most profitable product lines. The plant closings were always bittersweet, but in the end, we brought heart to the companies and always kept a focus on helping the employees who were losing their livelihoods. Those are the greatest accomplishments: to know that our talented, engaged team together made a significant difference in the lives of many other people—who have no idea we even played a role.

Those are the greatest accomplishments: to know that our talented, engaged team together made a significant difference in the lives of many other people.
How do you approach challenge?
I love a challenge! That probably gets my juices going more than anything. The biggest challenges are to get clients and others to adopt the whole plan, because cutting corners can end up destroying the very foundation of an extraordinary plan. It is often those special little touches that are the keys to success in marketing and can turn a routine event or product introduction into a memorable brand that sparkles. One thing I have learned is that if the relationship is difficult in the introductory stage, it will only get worse. It is far better to back away than to enter into a demanding relationship that ends up draining the energy and creativity of your whole team.
What accomplishment are you most proud of, among your charitable work?
Years ago, as a volunteer, I saw a need for [a program for] sexually abused children and played a strategic role in establishing a pilot project that became a national model for interdisciplinary care for traumatized children. It tremendously impacted my life and gave me a greater appreciation for our law enforcement officers, social workers, volunteer groups like the Junior League, and organizations like Family Services of America and the Salvation Army. These are the unsung heroes who on a daily basis help ... those who most need our collective help and support.
Karen McNeill, whose industry career began with her role as director of marketing at the Southern Furniture Market Center (known today as the International Home Furnishings Market), later served as director of The Design Center in the IHFC, in addition to serving on 30 nonprofit boards in three different cities, including president and chairman of WithIt. She has been a leader in the Furniture Fellowship Prayer Breakfast, the Furniture Discovery Center, the Salvation Army Advisory Board, the Chamber of Commerce of High Point, Family Service of High Point, United Way of Greater High Point, the Rotary Club of High Point, the Atlanta Cystic Fibrosis Foundation, and the YMCA of South St. Louis, among others.