What began as a "retail test" last year, selling $1 million worth of product in a pop-up shop, is now up and running. Yardbird, billed as the inaugural direct-to-consumer outdoor furniture brand, launched earlier this month—online and in a Minneapolis-area showroom—with 10 collections crafted from aluminum and eco-friendly resin wicker.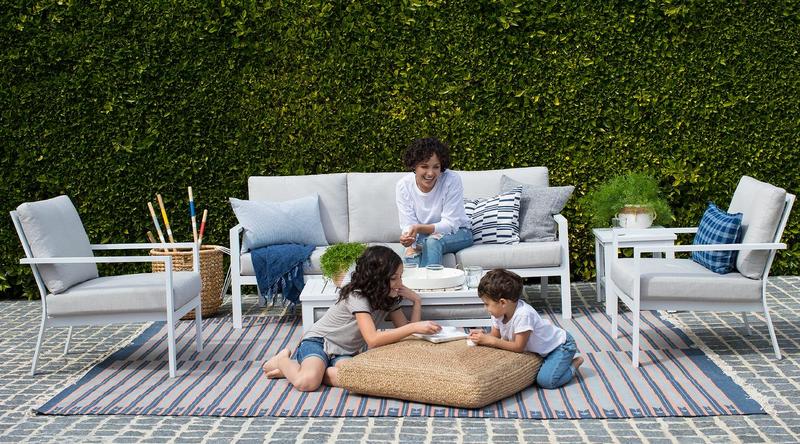 "The idea of Yardbird began when we looked at the industry and realized the price disparity in the outdoor furniture industry," says co-founder Jay Dillon. "We didn't think that disparity was justified, and we saw an opportunity to bring the same high-end product to consumers at a fraction of the cost by simplifying the industry model and cutting out the middlemen. We're importing product ourselves, we warehouse it ourselves and we ship it ourselves. When you combine all of these factors, Yardbird offers a buying experience for the customer that is easy, efficient and affordable."
Dillon and his co-founder and father, Bob Dillon, are based in Minneapolis. Part of Yardbird's ethos, they say, is their commitment to sustainability; the first launch includes a resin wicker collection composed of 50 percent intercepted ocean plastic.
"Yardbird is the first outdoor furniture brand to make sustainability a vital part of our mission," says Jay Dillon. "We're committed to an ongoing journey to reduce our carbon footprint within our entire supply chain, and we're already making great strides in other areas, such as our packaging by using bubble wrapping and cardboard made from recycled materials."
How did it come about? Entrepreneur Bob Dillon had a background in the home and garden industry; when he and his son decided to "penetrate the $4.7 billion outdoor furniture industry with a direct-to-consumer model," as the Yardbird notes, Jay Dillon moved to Hong Kong to learn more about Asian manufacturing. While there, he realized the omnipresence of the plastic litter found in waterways and other locations—and part of his sustainability mission was born.
The brand's launch includes loveseat, sectional, and dining sets with Sunbrella sling chairs and cast aluminum frame designs, as well as fire tables, ottomans, covers and throw pillows. The resin wicker collections use intercepted ocean plastic from Asia; 50 percent of each handmade set is made of this recycled material and the company intends to increase the content to 70 percent in 2019. To date, Yardbird has collected over 30,000 pounds of intercepted ocean plastics from the Philippines.