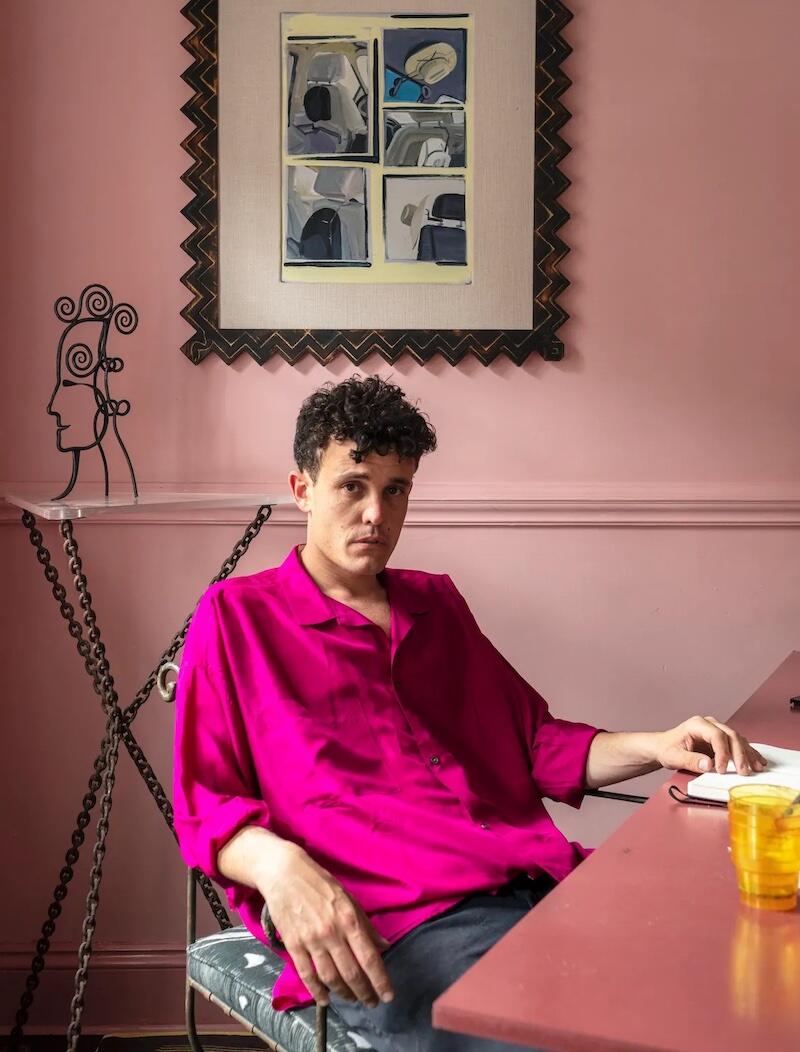 Jermaine Gallacher was vacationing on the island of Ischia in Italy when he discovered the crumbling summer home of film director Luchino Visconti—a perfect subject for the new magazine Gallacher was planning to launch. The only obstacle: getting inside. "No one has ever shot that house for publication," says Gallacher. "We had to pay the housekeeper, and then we ended up calling the mayor—so it's never going to be seen again."
That's the spirit of Ton, the new U.K.-based biannual design magazine that launched last month with Gallacher at the helm as founder and editor in chief. As evidenced by the inaugural issue, he has set out to capture the undiscovered side of the design world—from once-opulent forgotten estates to homes in progress, along with a swath of artisans and creatives making their print debut.
As a veteran of the design industry, Gallacher knows this realm well. He got his start running an antique furniture booth in London's famed Spitalfields Market, eventually expanding into pop-up exhibitions in showrooms across the city. During the pandemic lockdown, he ventured into making his own furniture pieces and started to tackle interior design projects. Not long after, Gallacher took on his first editorial work—first as a home columnist for AnOther Magazine, and then for British Vogue.
An avid reader of shelter magazines himself, Gallacher had his favorite titles (including The World of Interiors, which served as a chief influence on Ton), but had begun to grow bored of the existing offerings. He set out to launch a title that would platform new voices, many of whom are plucked from his own world—including British makers like welder Barnaby Lewis or glassblower Miranda Keyes.
"In a culture where everybody wants to be a brand, it's refreshing to see there are still people out there who do love making things," says Gallacher. "I really wanted to champion those people—and I think there's a lot of those people all over the world who need championing."
A similar ethos also applies to Ton's editorial team members, who were recruited to reflect the magazine's freewheeling energy, in contrast to some of the industry's more established titles—many of which are "too posh, too grand, which means the photographers and contributors are like that as well," says Gallacher. Ton's cohort includes art director Rory Gleeson, who has worked with fashion designer Molly Goddard; editorial director Ted Stansfield, who serves in the same role at AnOther and Dazed Digital; fashion and interiors stylist Madeline Thornalley, whose other day job is a milliner; and photographer Oskar Proctor, a longtime collaborator of Gallacher's.
"Having people from different worlds doing different things and cross-pollinating is really important. It elevates things and makes things interesting," says Gallacher. "I think it gives a different point of view from somebody who spent a whole lifetime in publishing."
Part of the team's editorial approach includes embracing a rough-edged style to interiors—such as in the case of a London apartment owned by Dave Baby (an original member of the 1980s-era punk collective House of Beauty and Culture). The home includes both a stunning array of creations—spanning metal- and woodwork, printmaking, sculpture, painting and clothing—and an abundance of everyday clutter like art tools, stray books and clothes strewn about. Another example of Ton's aesthetic: the magazine's inaugural cover spread, featuring British singer and songwriter Celeste in her not-yet-finished home near London Fields. The cover star's outfit, meanwhile, was borrowed from Thornalley—after the stylist showed up on the day of the shoot, Celeste liked the ensemble so much that the pair decided on a spur-of-the-moment swap.
As for the future of Ton, Gallacher wants to go bigger in all directions—more contributors, more locations, more shoots and definitely more printed magazines (the publication's initial run of 1,000 issues sold out online in days). What Gallacher doesn't want is for the magazine to become overly dense or unreadable—the thought of Ton becoming a large-format tome nearing hundreds of pages is enough to make him shudder. Instead, he's intent on striking a delicate balance: uncovering the hidden side of the design world and offering a glimpse for the everyday reader.
"There's a massive subculture of designers and people wanting to have a fresh approach on things," says Gallacher. "We want to bring it to the surface—make it part of the mass culture."
Homepage image: A layout of Ton magazine | Courtesy of Ton