These days, our kitchens are filled with gadgets that can do just about anything—but despite all the technological wizardry, it's still a drag to have to bend over and pull a yoga pose to grab the last plate out of a dishwasher. It's precisely that problem Fisher & Paykel has focused on with its trademark DishDrawer, a dishwasher that feels more like a convenient, elegant piece of cabinetry than a hulking, low-slung appliance.
"At Fisher & Paykel, we design appliances by observing how people use them in their own homes," says Jennifer Bradley, the New Zealand–founded luxury kitchen brand's vice president of product management for the North American market. "One thing we noticed was that with a typical 'drop-down' dishwasher, you have to stoop over to open it. Our designers said, 'Wait a minute. Why not raise the height and make it more like a cabinet drawer with a catch basin?'"
Why not, indeed. The resulting soft-close Series 11 DishDrawer, available in single and double versions, houses its touch-sensitive control panel inside the unit, so that the exterior—offered in commercial-grade stainless steel or contemporary panel styles—blends seamlessly into the surrounding kitchen cabinetry. Doing the daily dishes is as discreet as sliding open a drawer.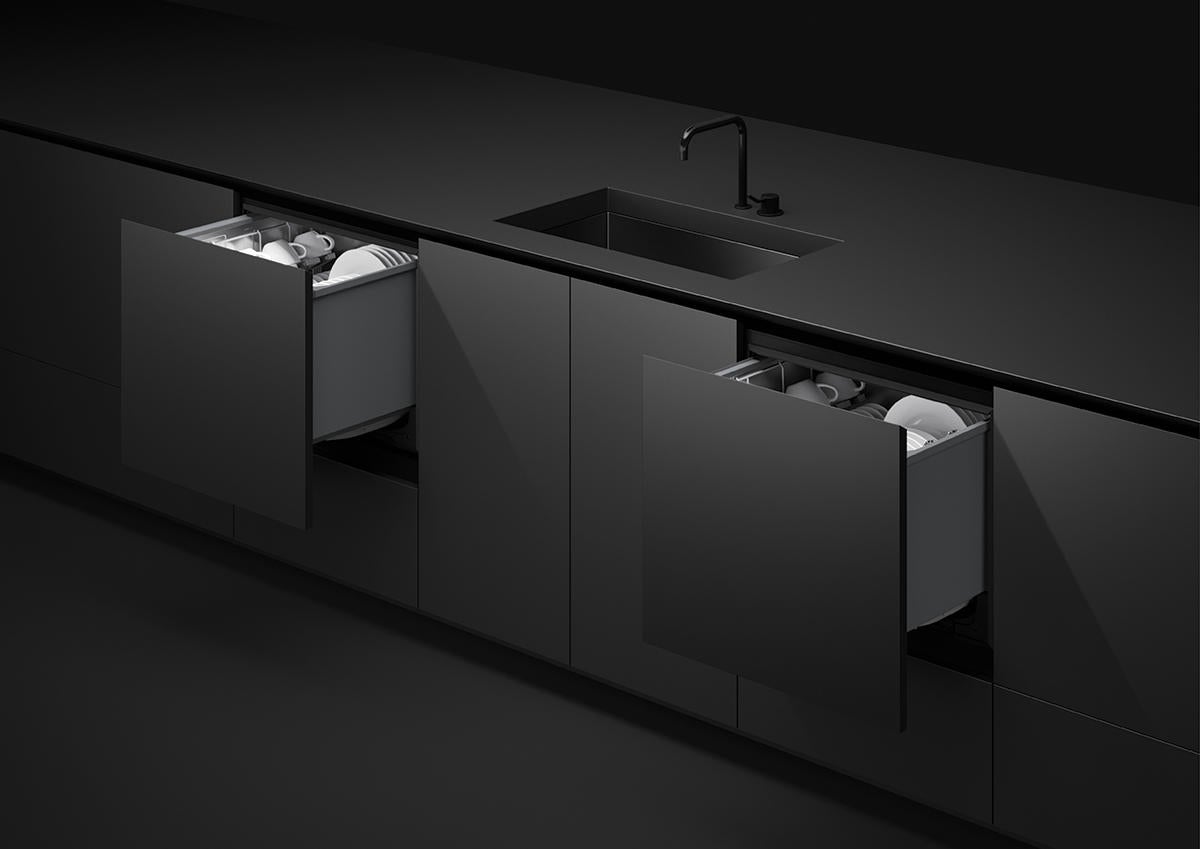 Courtesy of Fisher & Paykel
"It's more human-centered, more comfortable and functional for the way people live," says Bradley of the pullout drawer's design. "Some customers may want two single DishDrawers flanking their kitchen sink. Or, in a more compact space, the stacked, double DishDrawer makes a smart choice." With the double DishDrawer, the user can program a true half load per drawer, as opposed to running a complete cycle for a few stray dishes. Because each drawer operates independently, a wash cycle can be running in one while the other is being stacked, or two separate cycles out of a possible eight can be underway simultaneously.
Each cycle suits a different situation. "When you're entertaining, you'll likely have a bunch of glassware to clean after, so there's a targeted cycle just for that. The automatic cycle adjusts according to the load, while a 60-minute cycle provides a longer, more robust wash. Conversely, an eco option conserves water," explains Bradley. Each of the DishDrawer's eight wash cycles can be further modified with sanitizing and drying settings. At a decibel rating of 44 dBA, the DishDrawer is already a low-noise machine; its quiet mode further reduces the sound of some cycles without impacting performance—perfect for late at night when the party's over.
No matter the choice of wash cycle, one step that homeowners can confidently skip is prerinsing sticky dishes in the kitchen sink—another water-saving plus and a win Bradley witnessed herself when she first tried the DishDrawer in Fisher & Paykel's showroom. "We'd cooked risotto with Parmesan cheese, vegetables, scallops—a full meal," she recounts. But when, out of habit, she went to give her plate a quick scrub before loading it in the machine, the design team shut off the faucet. "They said, 'You don't need to do that. Just put the plate in as is, and it will come out clean.'" True to their word, the technology that controls how the product's motor balances water temperature and power, detergent and airflow throughout the wash cycle produced spotless dishes. "I was blown away by the outcome," she says.
Courtesy of Fisher & Paykel
The top drawer of the double unit fits dinner plates up to 12¼ inches, with adjustable racks to add larger cookware and grips that secure delicate drinking glasses. "That's such a cool little feature, one of my personal favorites—I can't tell you how many times I've broken a wine glass in my old machine," says Bradley. Other amenities include durable, easy-to-clean stainless steel interiors; a spray arm sensor that halts the wash cycle when the occasional rogue spoon slips out of place and causes a jam; and a convenient knock-to-pause capability that does just what it says. "If you've started the wash and you realize there's a dish you forgot to put in, just knock on the front panel to pause the cycle, open up the drawer, add the dish, then resume by pressing the start button," says Bradley. Wash cycles can also be stopped and started remotely via Wi-Fi by using Fisher & Paykel's SmartHQ app, which is set to launch later this year.
"Our mantra is that the DishDrawer is the ultimate cleaning solution," says Bradley, who emphasizes that Fisher & Paykel pioneered the dishwasher-as-drawer concept way back in 1996 and was the first to market with it. She's renovating her own kitchen right now and is planning on adding the stainless steel double-drawer Series 11 model to her farmhouse-chic space. Whether it's for quick, top-drawer-only cleanups after weeknight dinners with her husband or double-duty wash cycles when their grown kids come home for the holidays, she's looking forward to how adaptable the DishDrawer will be to her family's needs. "The flexibility is amazing," says Bradley. "I can't wait."
This story is a paid promotion and was created in partnership with Fisher & Paykel.
Homepage image: The DishDrawer by Fisher & Paykel | Courtesy of Fisher & Paykel