The 50 States Project is a series of candid conversations with interior designers across the country about how they've built their businesses. This week, Sioux Falls, South Dakota–based designer Chelsey Preuss tells us why she loves designing rental properties, how wellness became paramount to her business, and how she built a low-stress business that blends seamlessly with her deeper life purpose.
Did you always want to be a designer?
Growing up, I didn't know interior design was a thing. Back in high school, I would dabble in it and paint my room different colors, but it didn't become apparent until I started working for a hardware store in my small town. They carried some home decor, and part of my job was to put out new items and style them so that people would buy them. I had a lot of fun doing it and just felt very passionate about it. After a few people came into the store and were like, "You should look into interior design." I was like, "OK, apparently this is the universe pushing me in this direction." That's when I looked it up online, and I instantly just knew this is for me. The balance of the analytical and mathematical side with the creativity—that all spoke to me.
I went to college for design and I've never looked back. After graduation, I got offered a job in Marshall, Minnesota, which had a population of maybe 13,000. It was really small, but I got so much experience. After about three years, I moved to Minneapolis to work for a firm there. Those projects were fun, and a little bit more in the design industry—more full service, but also the styles were drastically different. It was less "We want to make these oak cabinets from the 1990s work" and more "We want to fully redo our space, and our inspiration is from Europe."
What were you able to take away from that experience?
I got so much more creative—it stretched me as a designer and allowed me to actually use everything that I had learned. It also taught me so much about places to source from and really opened my eyes to how a design business works, because the company I worked for was very structured, organized and successful. I felt so good being just a designer there, and not having to handle literally everything the way I had at my previous job. I could really take inspiration from that for my own company.
Did you always know you eventually wanted to launch your own firm?
I actually never thought that would ever happen! In school, I would kind of ignore those parts—when they were like, "OK, we're going to talk about what you need to know if you own your own business," I would tune out. It was like, "Well, I don't want that." But looking back, I was always an entrepreneur as a kid. I was making beaded things and selling them on the school bus.
What was the final push that made you think, "I've got this, I'm ready to go out on my own"?
I started playing around with the idea of having my own business, mostly because I love the idea of having freedom—more time to live life, more than a week of vacation and free rein with my creative ideas. Then my job at the firm ended in 2018. I wasn't really ready to go all in, but I just was like, "Well, I've got to figure it out from here." I got thrown into the water and I swam.
I moved to Sioux Falls, South Dakota, because I wanted to be closer to family and because I knew I had something really different to offer in South Dakota. And that's when I started my own business. I started doing custom home designs for builders; I also had people find me through Google who wanted timeless designs with character for their older homes. So I had a lot of projects right away, which felt good.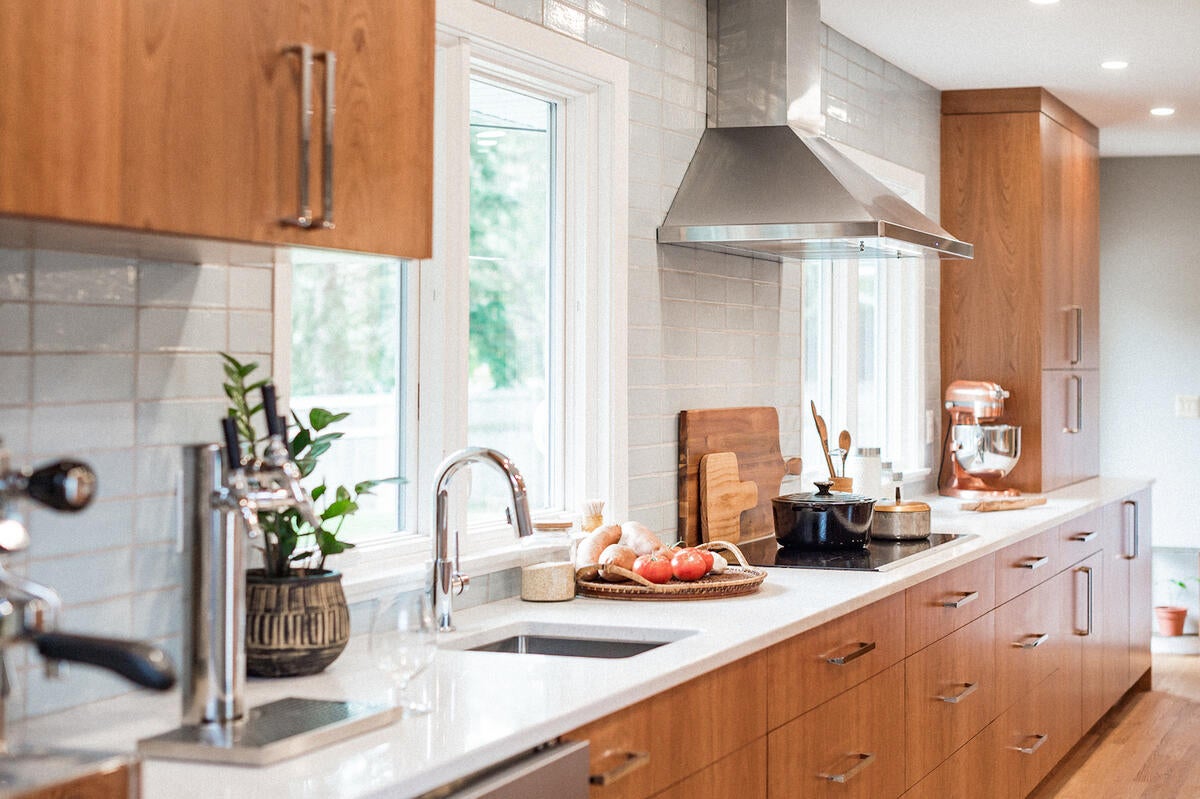 Courtesy of Chelsey Preuss
Did you get that freedom you were looking for?
I did. But it was also hard to get used to because I had always known structure. I didn't realize what it would mean to not have any structure, or to have to create it for yourself and stay disciplined. How do you have freedom but stay structured and manage everything? It was hard to figure out at first.
What was the secret to getting that right?
I'm still working on it. What helped was to take some downtime—to be OK with not working and get more intentional with things like: How do I want to start my day? What hours am I the most creative? How many hours should I put toward my business? I also had to get more intentional about allowing myself time to not work. That's what I had wanted in the beginning, but when it's your own business, it's easy to get sucked into that fear of failure and the mentality that you have to keep going.
These days, I use a planner for my tasks and weekly goals, and a CRM [customer relationship management] workflow tool for each of my projects. From there, I kind of stick with the hours of when I need to be doing my work.
Your business has evolved over time—I know you're taking a lot of remote work and doing short-term rentals. What made you start to pivot?
It evolved as I evolved. As I allowed myself more freedom, I discovered my love for travel. After I bought my house in Sioux Falls, I turned it into an Airbnb—and in doing so, found my love for hospitality and creating spaces for people to stay in while they travel. Those two worlds intersecting—that, really, is my passion. I still love to design personal homes, but I've developed a more holistic approach to homes in general, and if I can design someone's personal home and the vacation properties that they want to make income off of while they're away, that's so cool.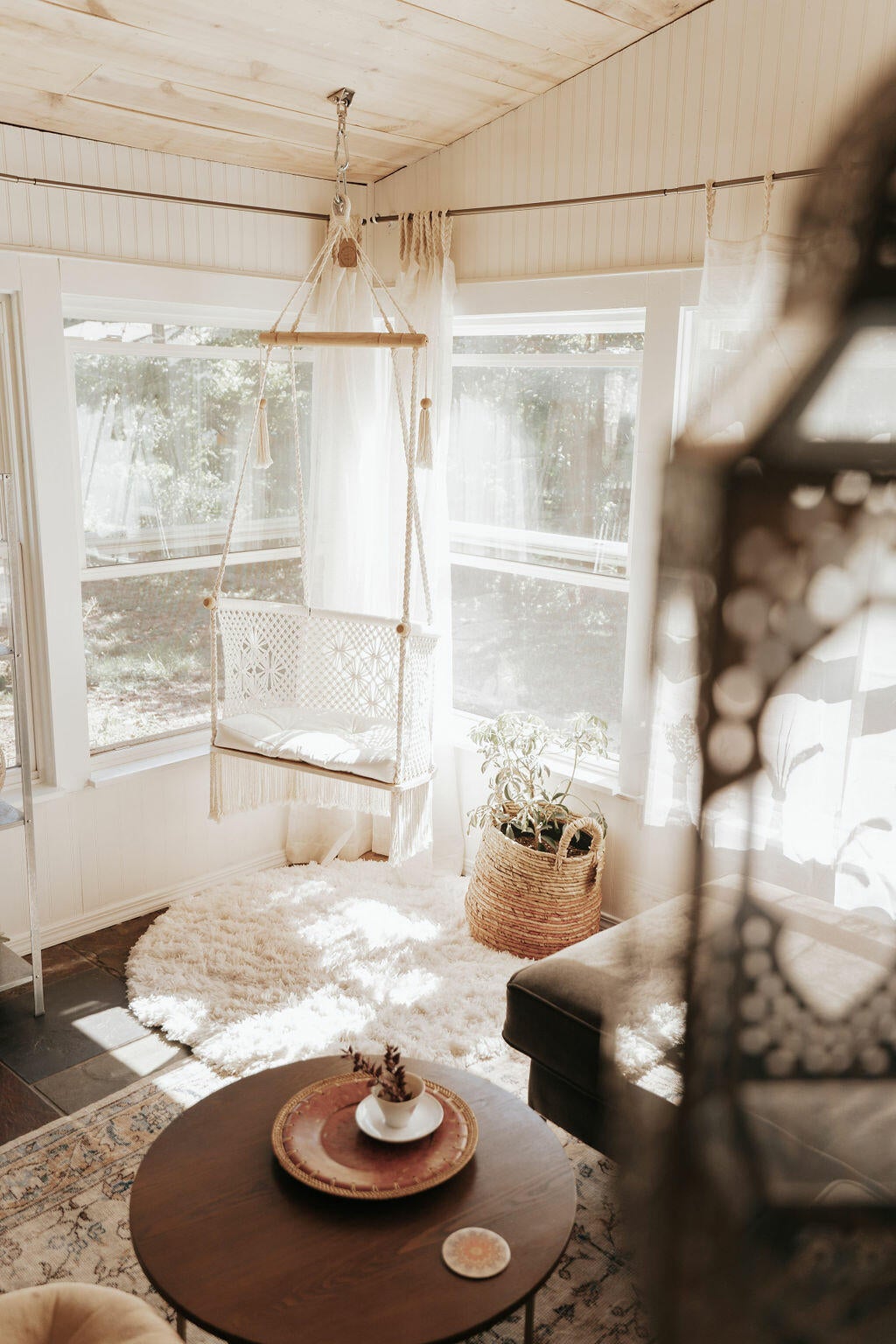 Courtesy of Chelsey Preuss
What is the holistic experience you're delivering for clients?
I prioritize wellness—over aesthetics, and sometimes even over functionality. Bringing that third aspect to what I already know as an interior designer means thinking about sustainability, ethics or even things like how can we make the most out of the space by using the least, or prioritizing their time over their things. I ask what their goals are and we set up their house to support those things—like a vision board for their life. If you create your house with so much intention, and it works for you and it flows so well, it can subconsciously alter your life. That's what happened for me when I designed my house: I kind of intuitively designed it to support what I needed at that time, emotionally and physically, and it helped me transform and become better.
How do you pull that out of clients? How do you work with them to really tap into what they're going to need for their transformation?
A lot of the time, I can feel it. But it always starts with specific questions: where they're struggling, what they want more of or less of in their life. I challenge them to think about creating more space in their home for actually living—I feel like the less clutter you have, the more you will not be mentally cluttered.
Does it take convincing with some clients?
Yes, definitely. I am trying to use my website and my social media to educate people on that so that when they come to me, they've already got that understanding. It can be hard to get clients to prioritize interior design as more than just being a beautiful space. Yes, that's the first step—it should be beautiful—but it's showing them that if they take it another step, they can also feel really good when they are utilizing their home. That's a big wow moment for them. And more than that, it's showing them you can even transform your thoughts and your actions by being in the right space.
When clients are on board, what does the most successful project look like?
I'm not sure I've gotten there just yet. My business is evolving as we speak. But what that looks like in my mind is getting to know a client on a deep level, and having the design of their home become a collaborative process where I'm helping them heal—through design, but also by asking the right questions and encouraging them to think deeper. In the end, I want to see that not only do they have this home that fits the house, but it also fits them so authentically. I've realized that my passion is interior design, but I feel like my purpose is to heal others through it.
How do you find the right client for that work?
I think that's where it comes back to the website, branding and social media. I think I have to show people how this can happen in order for them to find me and reach out. A lot of my business is already virtual, and I think that will continue—I do some local client work, but I feel like it's going to be even harder to find clients like that in South Dakota. In the beginning, my messaging was more just focused on interior design, and I really let myself get sucked into giving what I thought South Dakota wanted versus being true to myself.
"Here's where the market is, so I should be that."
Exactly. But it didn't allow me to differentiate myself and I wasn't pulling in my dream clients. Maybe to an extent, but not fully—I still felt like there was more.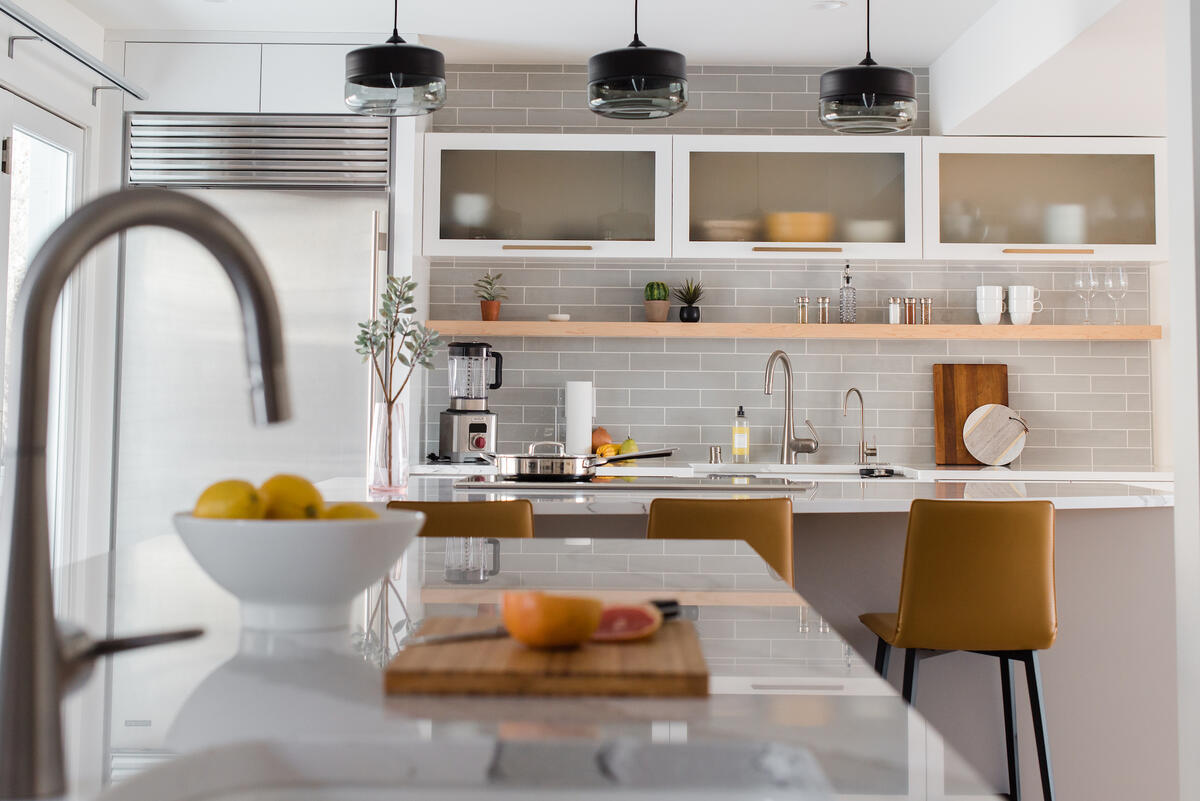 Courtesy of Chelsey Preuss
When did you start looking for virtual work?
My work was probably 50-50 when I started, but I was definitely scared to be completely virtual. It's a different ball game—it's harder to find clients and harder to convince them to work with you. But when my partner and I moved to California for a couple years, I knew I had to be completely virtual then, so that was my push forward to just do it. I love experiencing different places, different cultures, different landscapes, and being virtual gives me that freedom. Right now, I'm working on converting a van into a camper van so that I can visit all the national parks and work from there.
What does being virtual require you to do differently than at the previous firms you worked at?
It requires a lot more marketing. When you're working locally, you already have something in common with a client because you both live in the same place. You can meet them face to face, and you're involved in the same community. When you're virtual, it's such a different process because it's all strangers. You have to be both more strategic and also authentically yourself. I think about someone finding me on Pinterest or Instagram and going to my website—how is it nurturing them, educating them and showing them how I can help them and why it's worth it? And they probably have all of these other people that they have found in the same way, so how do I differentiate myself from the rest of the world?
You have divided your services into three packages. Is that part of the education process?
It is. I wanted to simplify what I offer in order to make it really clear. I knew the different [services] people need, and by [having] different price levels [I can tap into] what people are wanting to spend. I started offering a consultation where I spend a couple hours with someone—I do some prior research on the short-term rental market where they are or assess their questionnaire about their personal home, and then we jump on a call where I give them a ton of information to get them started and give them direction. That's someone who wants design but has a lower budget, so they can't have me do everything.
At the mid-level, I still do everything virtually, but they're also getting drawings, design and furniture selections to implement in their space. And then my fully custom package is if someone were to hand something over to me, and I just take charge—style it, photograph it [for their Airbnb listing], the whole thing.
What's the most popular?
Clients definitely gravitate toward the first two, which is my goal for staying virtual. I would love maybe one project a year where I'm fully immersed in it. But for the most part, I just want to keep it all online.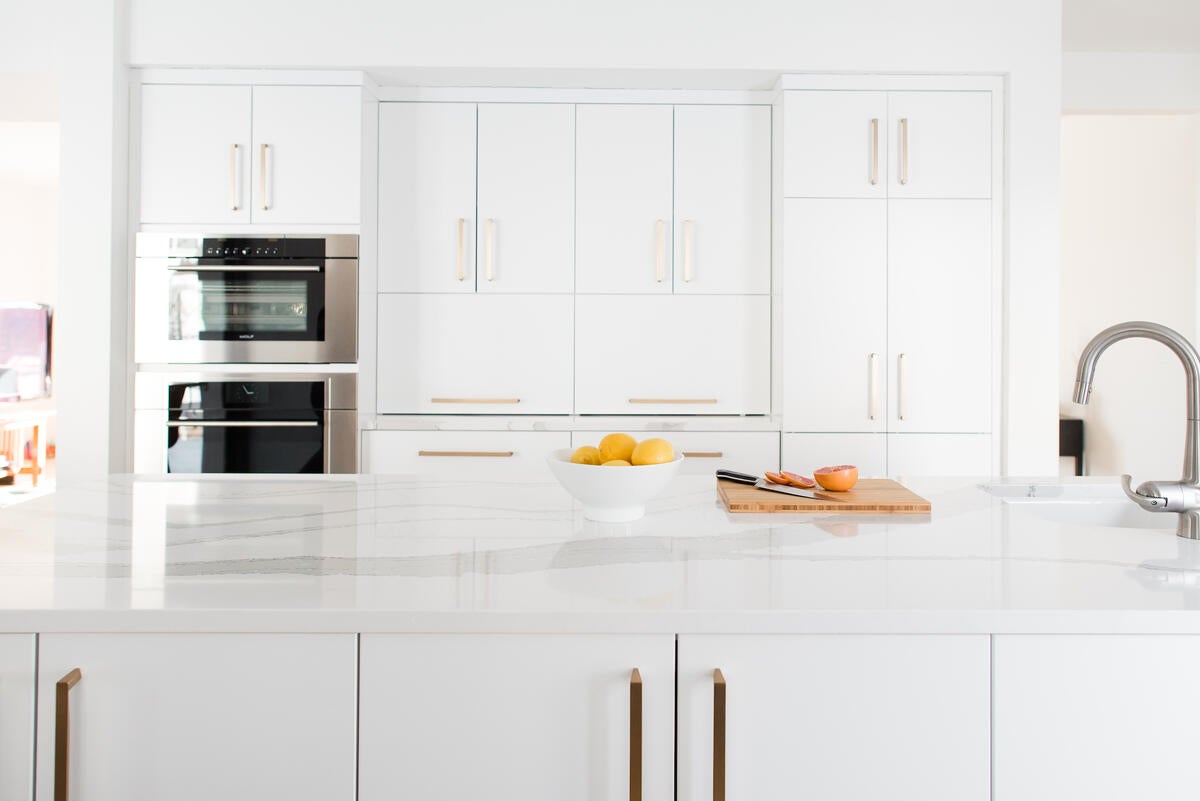 Courtesy of Chelsey Preuss
How did you approach billing for your work—especially setting and publishing the rates for your packages?
I started out hourly and I hated it because it was so hard for me to track. So I switched to flat rate and learned strong boundaries around offering a price and [being firm about] what you get for that fee. I especially had to set boundaries around communication—like, no texting. If clients are overcommunicating, it can quickly take over your time. Sometimes I'll offer a hybrid, where it's a flat rate for the design work, but they can add on hourly for additional communication, more revisions or project management guidance.
What are your go-to resources when sourcing virtually?
A lot of my past work was kitchens and baths, so I'll often source a specific brand for quartz countertops or cabinetry—I just do the design, source a color, and then they can work with local makers; or I've shipped cabinetry via a company I work with. For things like faucets and fixtures, I send them to Build with Ferguson [online]. With furniture, it becomes a little bit more tricky. For short-term rentals, I use a company called Minoan, which has all of these discounts on the brands that they work with, like West Elm and Pottery Barn. My design is in the affordable luxury [zone] where it looks nice and things are of quality, but not necessarily designer [quality].
I really try to source products from companies that prioritize sustainability, that are more ethical, and where I know that the products are going to last a long time. I also try to source secondhand, thrifted or antique pieces—I feel like that's the best way to be environmentally friendly, offer a unique product and look, and keep the costs down. Especially with short-term rentals, it's always like, "How can we maximize the look, the efficiency and the design, but for the lowest cost?" I try to show people that valuing design and my time saves them on the products themselves.
So you don't charge a markup on product?
I do not. It's just my design fees that I profit from. I chose to do it that way for simplicity—I don't want the products coming back at me. I also feel like clients are willing to spend more on my time and design if they know that they're not paying a markup on products. It might change in the future, but I really like how I have it now.
So all of your clients are purchasing on their own and coordinating their own deliveries?
Yes. I have done project management in the past, so I guide them on how to do that. But I want to keep my business model as simple as possible and just do design, so I give them a shoppable list and they deliver and coordinate everything. It also saves them money in the fees they would have paid to have me do all of that. To simplify and save myself time, I've created a guide that takes them through the process of remodeling a home—what comes first, when you need to have things sent to you, the whole process.
What does success mean to you?
That has changed a lot. Success used to mean awards and being published and having lots of money. Now, it means slowness, peace, collaboration, being authentic to myself, freedom and having my work be so intertwined and integrated with my personal life that it all feels like one—just helping others and helping the world in some way, with a deeper purpose. Inspiring others to better themselves and better the world around them. That's what it means to me.
To learn more about Chelsey Preuss, visit her website or find her on Instagram.