In a historic corner of San Antonio, things are heating up—and it's not just the Texas sun. There, ceramicist and designer Sunshine Thacker's home studio is ablaze with the fire of not one but two kilns, the necessary arsenal for the gravity-defying furniture that she crafts by hand in clay.
From a young age, Thacker was drawn to ceramics, an interest that, while nurtured in high school, lay dormant for much of her professional life. "I didn't want to be a poor starving artist coming out of high school, and that was 1995—back then, you would have had to navigate the gallery system, and that was really scary as an 18-year-old," she tells Business of Home. "I grew up in a small rural town, and there weren't a lot of opportunities for kids, and I had the opportunity to go to a big university far away—that was a big deal."
So Thacker studied architecture at Texas A&M before diving into a commercial real estate career. After 15 years, though, she was ready for a change. "I had my own company, had a partner, but I burned out," she says. "Thankfully, I was in a position where I could take a break and figure out what I was going to do. I always loved clay—it was my first love. It was what I wanted to do in the first place."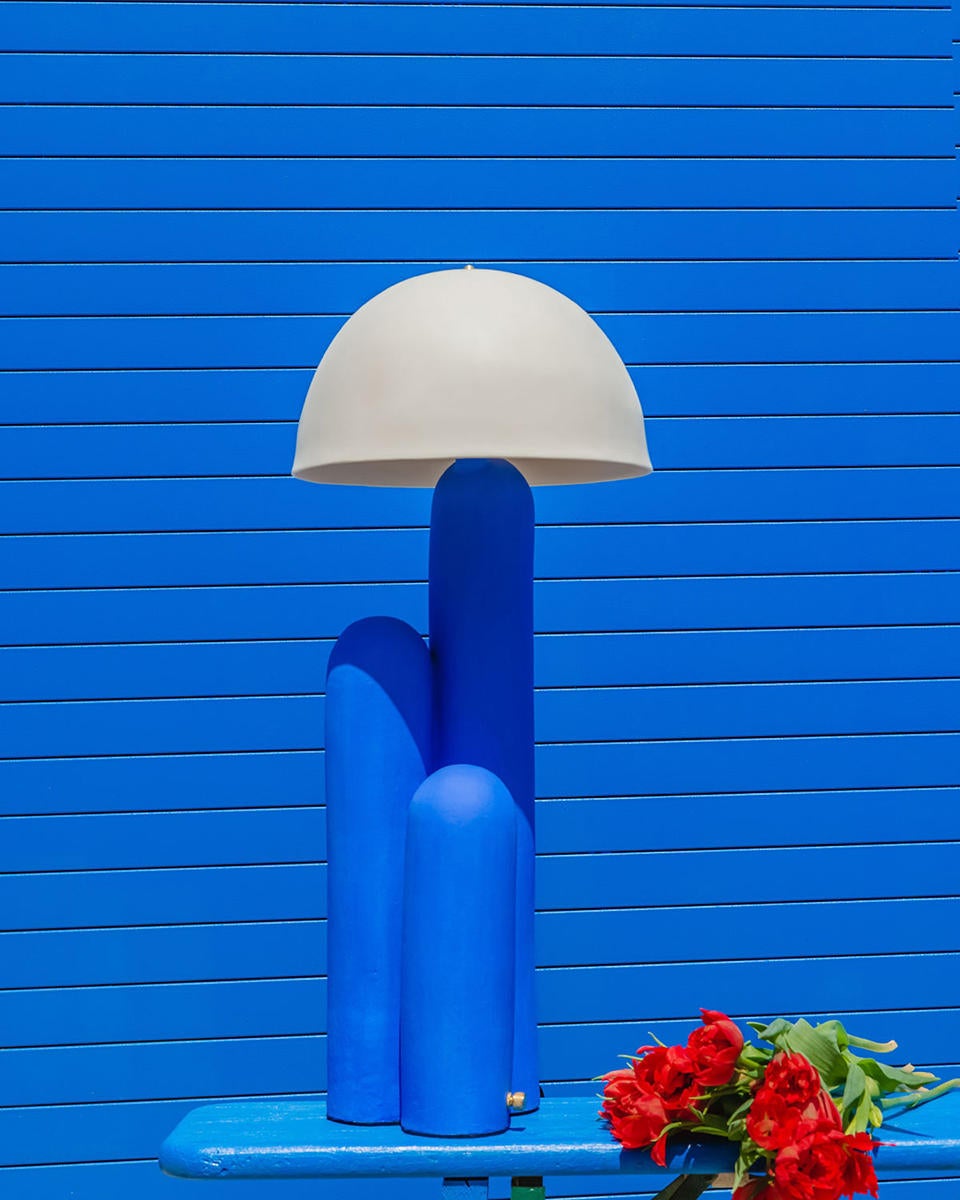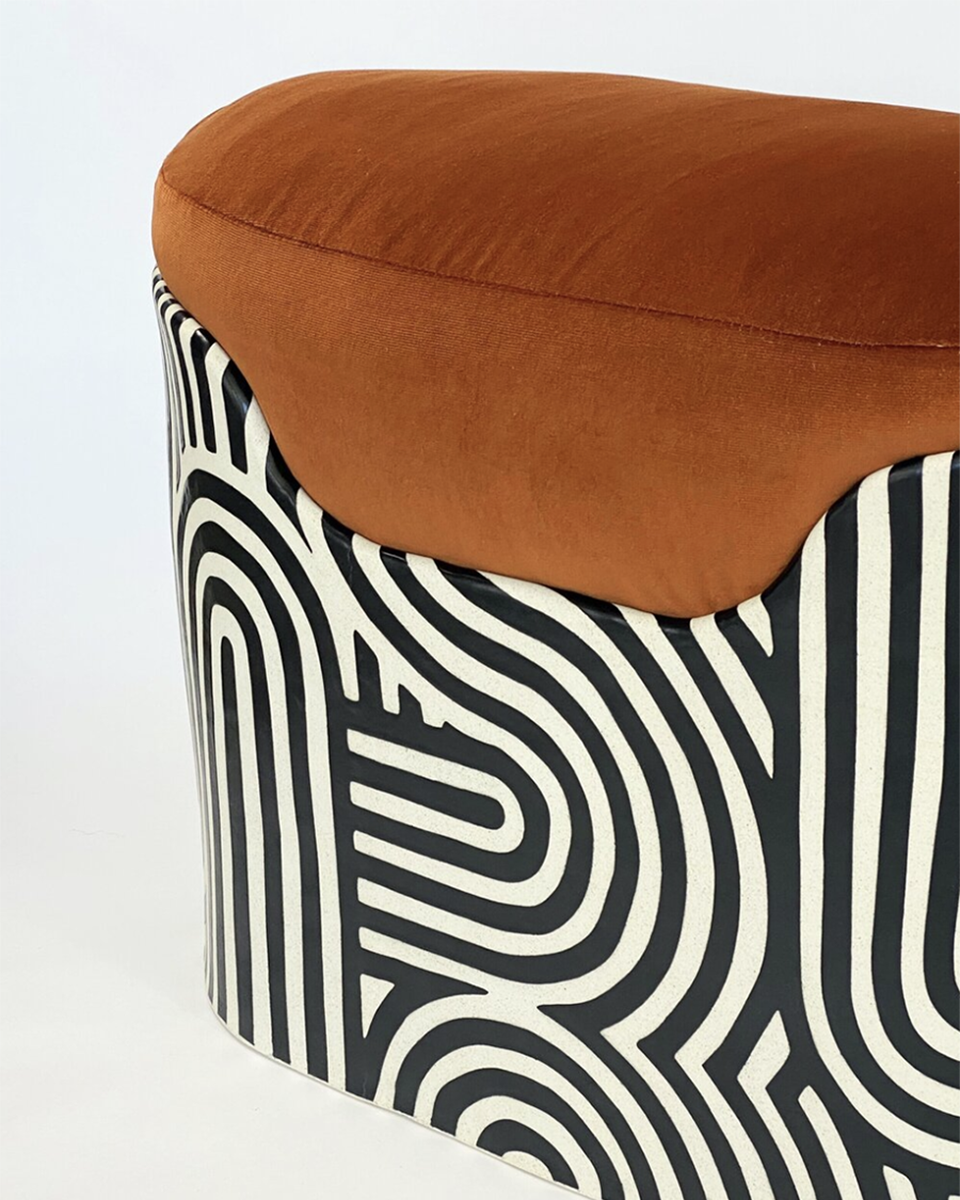 She started small, building objects by hand, but it wasn't until the summer of 2019 that she hatched a bit of a wild idea: "I was like, I'm going to see if I can create a collection of ceramic furniture and lighting and take it to ICFF," says Thacker. "I'd never done anything large scale at all. Of course, the first few pieces broke like crazy." So she threw herself into reading all that she could about the mechanics of clay construction, and found that the designs she was attempting to execute would require some serious engineering—not only so that the pieces could survive the firing process but also to make them functional, load-bearing furniture.
After four months of intense R&D, Thacker finally cracked the code: Using a choreographed system between custom-made armature and a caster table, she allows the pieces to dry fully supported until they're ready to be fired. "I asked myself, How do you support the full mass of the piece when the clay body is in flux?" she says. "It's like glass encased in earth, and that weight would make the legs splay out." And, because the table can be rolled, Thacker saves herself from the risk of back injuries presented by lifting these pieces on her own. One of her smaller molds weighs 65 pounds, plus the six gallons of porcelain slip that it takes to fill it. So she has devised a process that takes each component of her designs and brings them together, piece by piece, before they're transferred to the kiln for firing.
Thacker's first collection, a smattering of table lamps, stools, ottomans and side tables, didn't make the ICFF debut that she had hoped for—the pandemic got in the way of her New York trade show plans. But while registering for the 2020 edition of WantedDesign, her work caught the eye of the team at Brooklyn-based showroom Love House Inc. "I sent some work to them," she says. "And they sold some of my work! It's kind of crazy. For ICFF, I wanted to bring a collection that had this cohesive look. It all started with these cylinders that I extruded, and then I was like, I'll dome them and assemble them together."
Across her portfolio, Thacker's cylindrical bases add an animated look to the pieces, as if they could start dancing right in front of you. And ever since those initial sales with Love House, she's been experimenting with new designs and fulfilling orders for her existing pieces, from the impossibly thin ceramic shades of her Torpedo lamp series to the high-contrast lines painted on her Le Seat ottoman.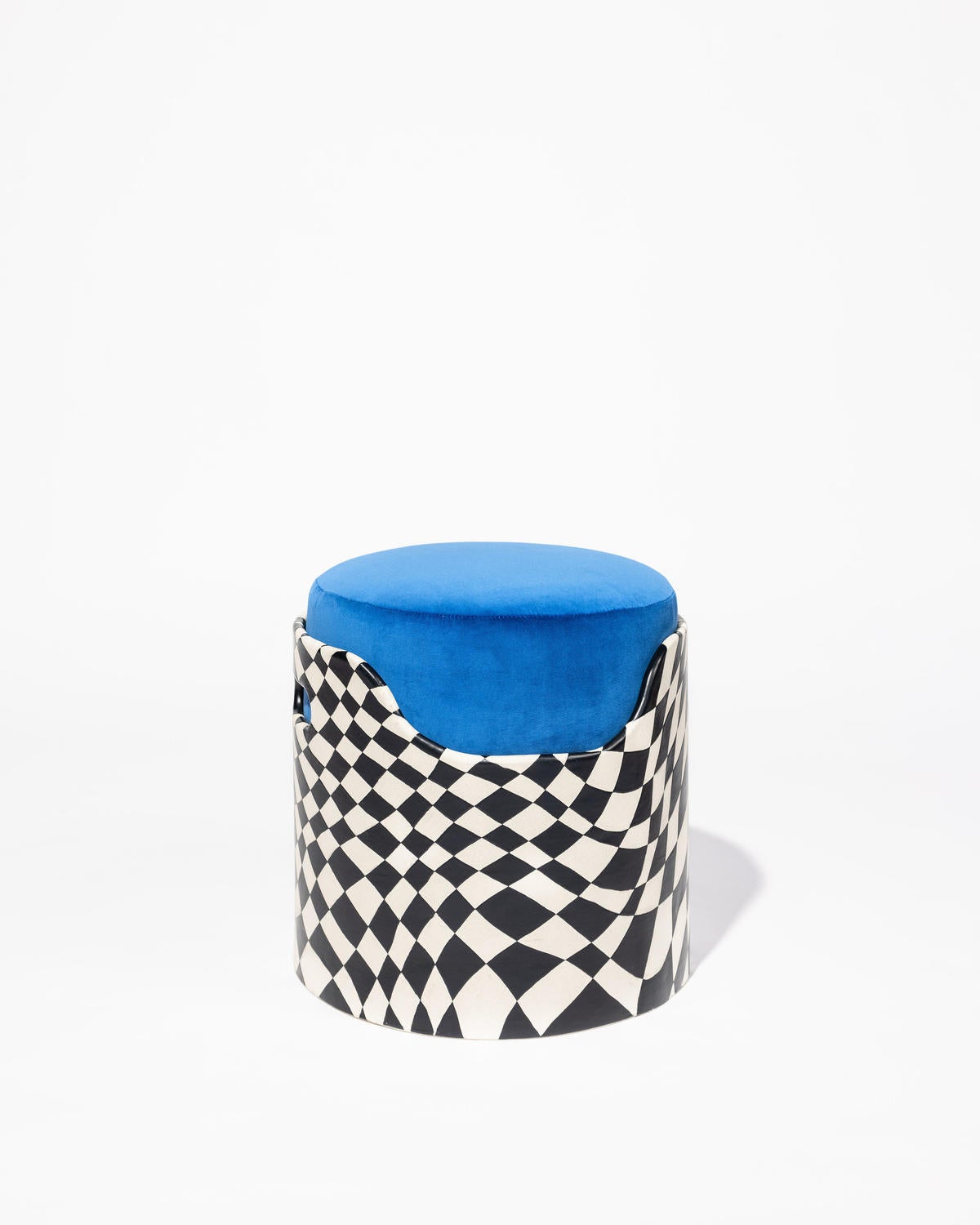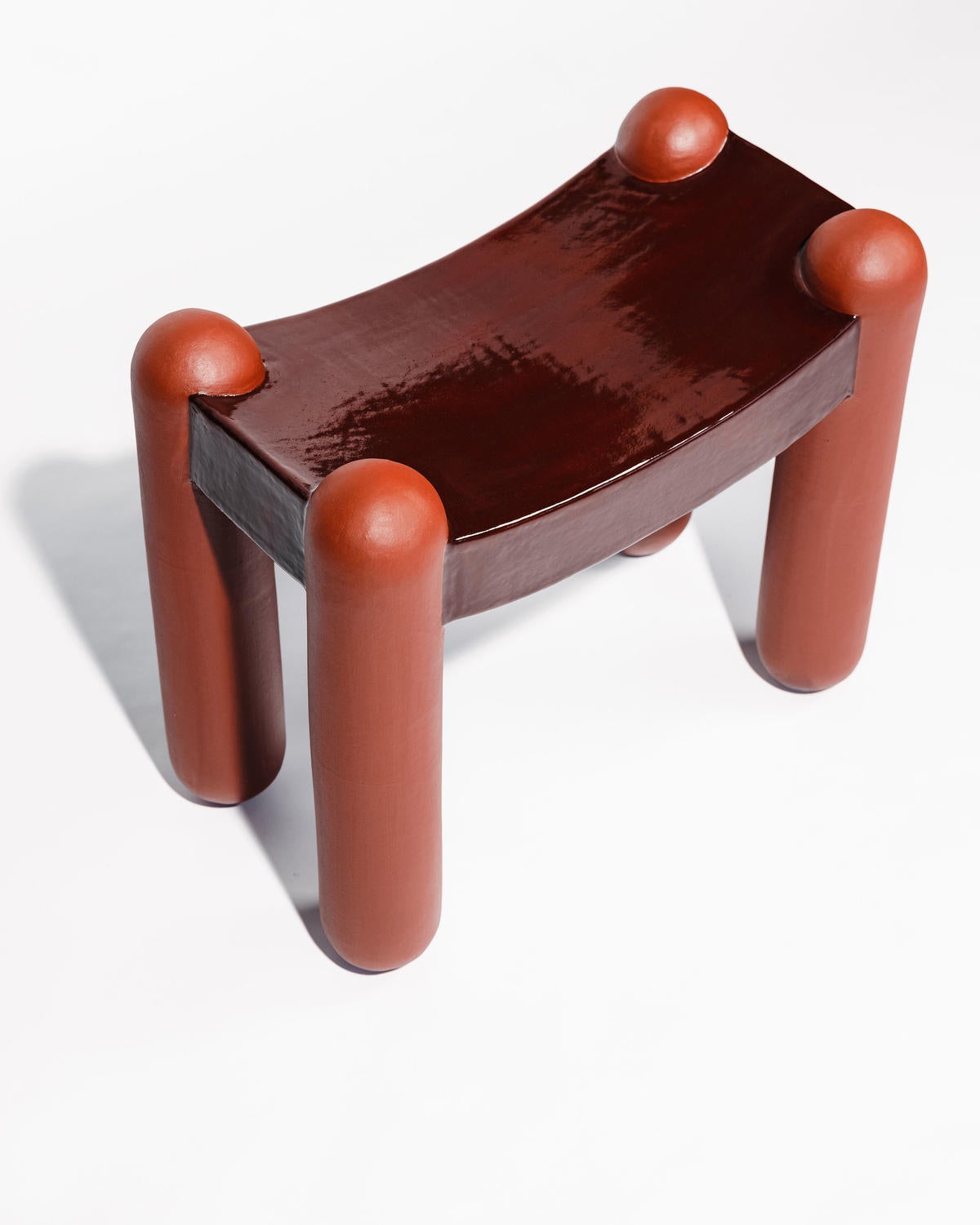 Now, she is selling mostly through her website, taking custom orders from designers like Kelly Behun, but from consumers as well—and Love House is still selling her pieces through their retail showroom, including her Revolver chair, constructed from 11 aggregated clay cylinders and finished with a round velvet cushion.
Thacker's daring pieces don't blend in—not that she would ever want them to. Her signature lamp design, for instance, is a serious construction feat, the technical difficulty of which is downplayed by the cleanliness of its appearance. "Maybe it's because of the architecture background, maybe it's because I like to push myself, or maybe it's that I'm a masochist—I'm not sure—but I decided to make a 16-inch porcelain lampshade so thin that it's transparent," she says. "Throwing clay so thin you can see through it … That's a big deal." For her less disaster-defying pieces, expect electrifying glazes with high-profile finishes, each conveying a commanding sense of solidity—think the assuredness of artist Keith Haring's brushstrokes, but in 3D. From matte cobalt blue to a distorted black-and-white checker print, it's a pop art revival that's pushing the boundaries. "And I'm about to go even crazier," says Thacker.
To learn more about Sunshine Thacker, visit her website or find her on Instagram.
Homepage image: Sunshine Thacker | Jana Cantua Photography