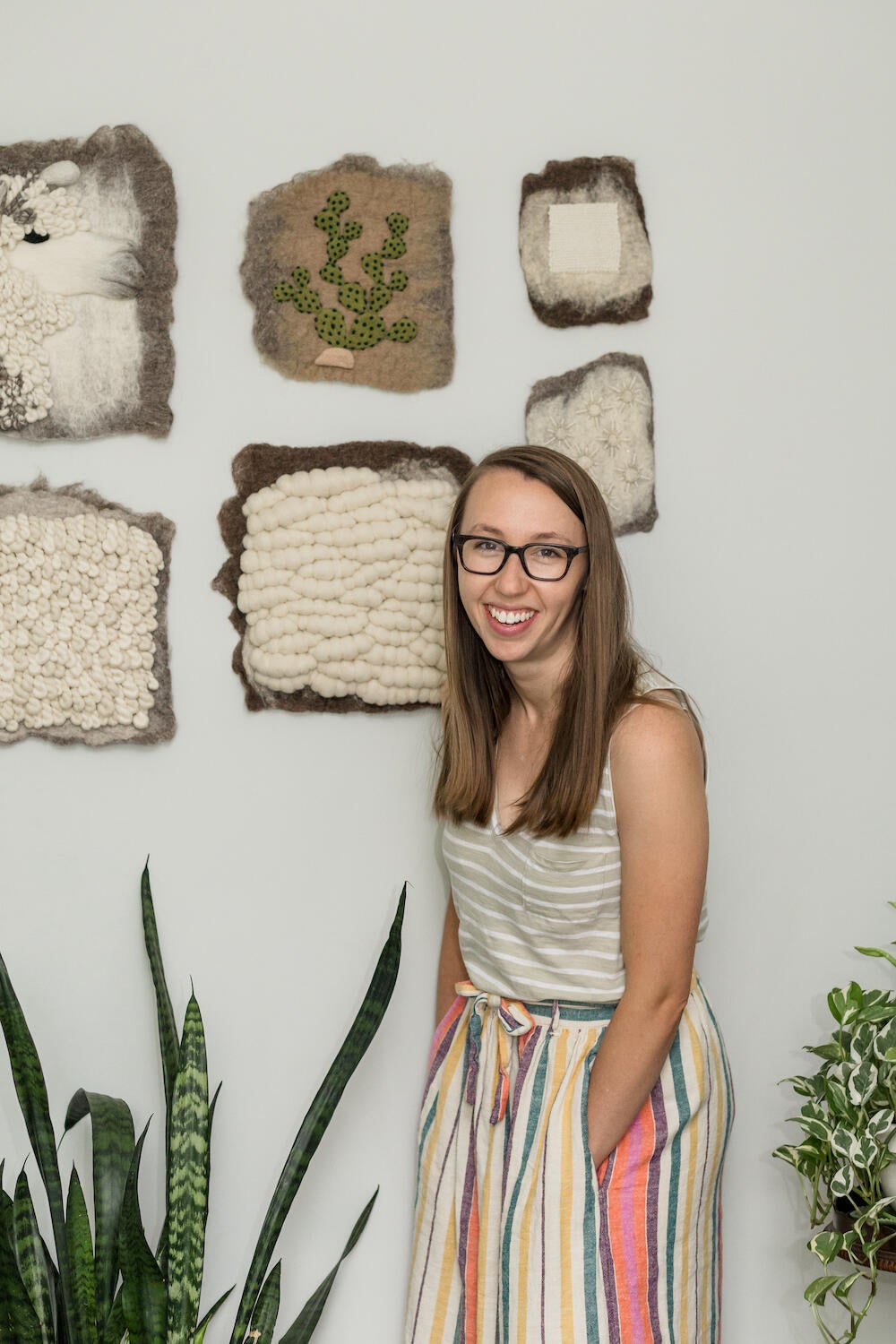 Erin Ingraffia Photography
Above all else, Holly Guertin is moved by wool. Whether she's crocheting a large-scale wall hanging or applying beaded embroidery to pure felt, the Lansdowne, Pennsylvania–based founder of Ernie and Irene draws inspiration from the material in its most unruly form. "When a sheep's fleece is laid on the skirting table in the early stage of fiber processing, the viewer can see evidence of its environment, stress and emotional levels, diet and favorite places," she tells Business of Home. "Shepherds can attribute those specific qualities to individual sheep because of the intimate way they know and share life with them. I want to explore this concept of intimate 'knownness' on a deeper spiritual level."
Born and raised in Salisbury, North Carolina, Guertin was always drawn to textiles. "From loving the toile wallpaper in my childhood dining room to the fabrics I'd worn as a kid, I've always been attracted to patterns and decorated surfaces," she says.
No surprise, then, that she opted to study fiber arts at the Savannah College of Art and Design, where she honed everything from her weaving, knitting and crocheting skills to her embroidery, dyeing and screen-printing. "I'm still amazed at the breadth of possibilities in textiles and the history behind each process," she says. "Textiles also have a unique way of seeming to slow time. In a world where everything seems to be moving faster and faster, I find such peace and rest in these processes."
After graduation, Guertin took a job as a print designer for Lilly Pulitzer, where she experimented with hand-painting prints and patterns. "Lilly taught me how to let go and create more freely," she says.
Courtesy of Ernie and Irene
In 2013, she launched her fiber art and textile design studio, Ernie and Irene—her husband's and Guertin's middle names—with a handful of crocheted wall hangings and felted artworks. "I also work as a freelance surface designer for boutique apparel brands," she says. "Having both fiber art and textile design in the mix helps sustain the business financially and keeps my creativity fresh."
A mother to four young sons, Guertin hand-makes all of her artwork inside her in-home studio or at local coffee shops. She describes her process as "fluid and ever-changing" and often created amid her "sons' Hot Wheels toys and baseball games, or during naps or while supervising wrestling matches."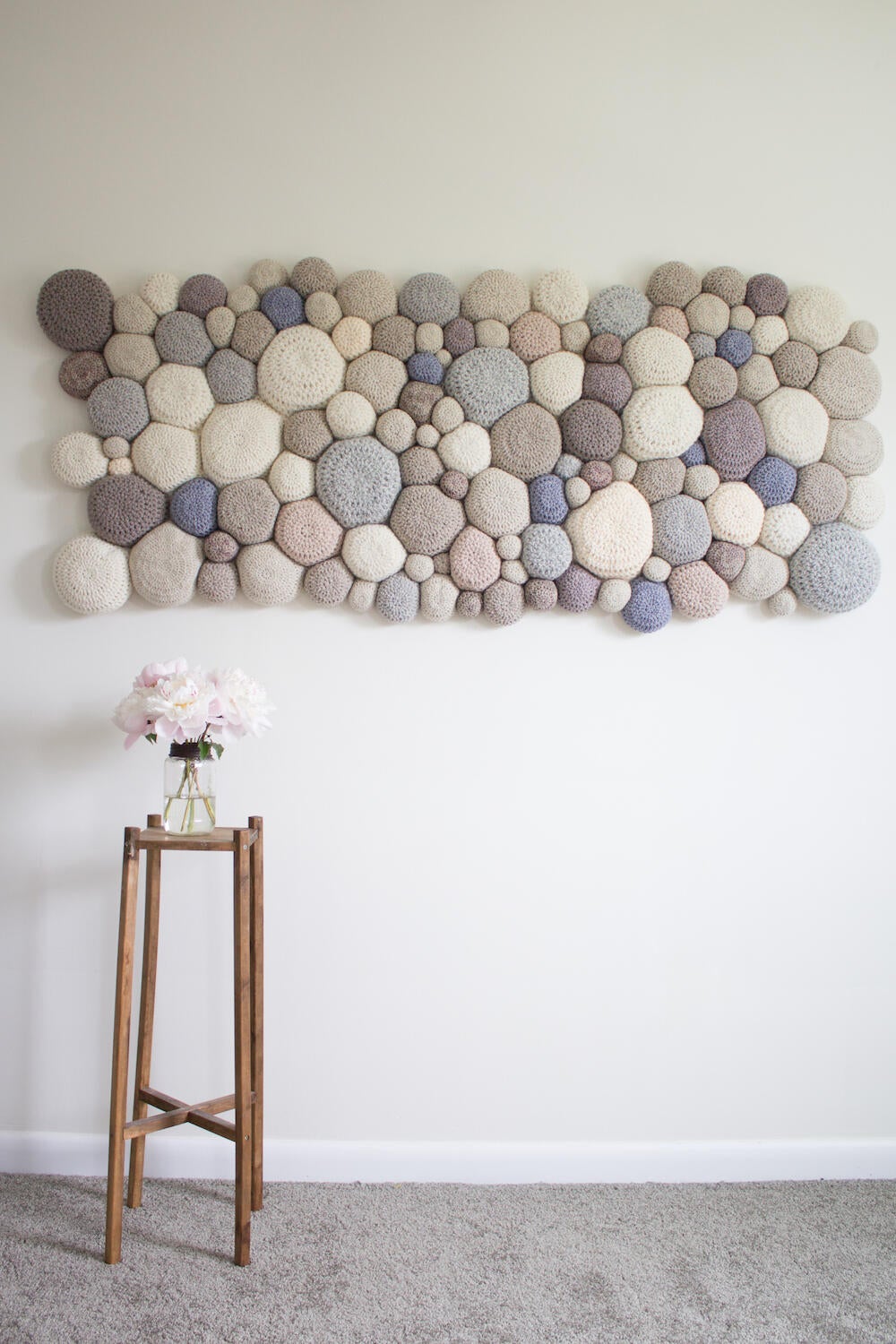 Courtesy of Ernie and Irene
Instead of following set patterns, Guertin intuitively forges the forms of her pieces. In the case of her crocheted works, she arranges a series of hand-brocaded domes into an aesthetically pleasing configuration before stitching them together and filling the final design with wool. "In my felted artworks, the process is similarly flexible," she says. "I wet-felt the flat base using wool and then needle-felt the sculptural, dimensional motif so that each piece is particular to the time and place of creation."
For Guertin, both the inspiration and the focal point of each piece is the material from which it's made. "The multifaceted, unique qualities of a sheep's fleece is shown in the various tones and yarn types," she says. "This way, the wool determines much of the final size and shape. I find great comfort in releasing control and allowing changes to develop organically as the piece is developed."
Her latest debut, "Our Very Nature"—a wall hanging composed of dozens of crocheted circles in gradient tones—is the first of three fleece artworks she plans on rolling out over the next few months. "This collection most accurately showcases and explores the reason for my adoration of sheep and their wool," says Guertin. "They were first domesticated in 10,000 B.C., and wool has been integral to the development of textiles throughout history, so being able to participate in and contribute to this legacy is deeply inspiring."

If you want to learn more about Holly Guertin, visit her website or follow her on Instagram.
Homepage photo: Holly Guertin with "Our Very Nature" | Courtesy of Ernie and Irene