The 50 States Project is a series of candid conversations with interior designers across the country about how they've built their businesses. This week, New York–based designer Rodney Lawrence tells us how he carved out his own identity after working for major names in the business, why he's pushing himself to delegate so he can explore product development and why his vision of success includes more free time for creative wandering.
Was a design career on your radar as you were growing up?
Interior design was absolutely nothing I ever considered. My family is from Trinidad and we're first-generation immigrants, so a high amount of emphasis is placed on academics—everyone wants to be a doctor, lawyer, engineer or something like that. I was always sort of artistic and took art classes, but I also love the sciences, especially biology and botany, so as I was getting ready for college, I thought I was going to wind up being some sort of research scientist. As I continued to take art and art history classes, I realized just how much I love being involved in art. And by the end of school, I had a triple major in biology, art history and studio art. I was like, "OK, now what the hell do I do with this?"
By chance, I came across this graduate program with the Cooper Hewitt at the Smithsonian [Design Museum] for the history of decorative art, and it seemed like something I wanted to do. I started thinking I wanted to be an academic with a focus on decorative art. So I got into that program, moved to New York and had this amazing and eye-opening experience with the art world here. All of our classes were held at different museums—if we weren't at the Cooper Hewitt, we were at The Met, The Frick, the Museum of Fine Arts Boston. During that time, I interned for Christie's for two summers, and I really loved it. But also, at the end of it, I decided I didn't want to be an academic.
That had to prompt a bit of a career crisis.
Right. It's like, "OK, what do I do now?" A friend said to me, "Hey, have you ever thought about interior design? I know an interior designer that's looking for an assistant." And I said, "I am totally unqualified for that." But he argued—he said, "Not really. Why don't you try it?" So I went and I interviewed with Paul Siskin, and for whatever bizarre reason, he decided to hire me. And that's how I figured it out: This is what I wanted to do. You know, I come from a very humble background. I never thought that interior design was a career. But in Paul's office, it made sense to me why I basically majored in sculpture and collage as part of my studio art degree in college—it's because I like putting things together, and I can do that with art, furniture and lighting, too.
That role was my introduction into this world. Paul was a fabulous teacher, but I felt that I also had to quickly scramble to get myself all the technical knowledge I needed in order to really succeed in this.
Maybe some people are coming at this from an earlier age—I was 25 or 26 when I finally figured this out. But my path also exposed me to a lot of really interesting things—opportunities that people who already knew what they wanted to do right away didn't have. They weren't in the back rooms of The Met, or in the depths of Christie's cataloging Russian furniture. I came to realize that mine was sort of a roundabout way, but I actually learned a lot from it.
How long did you stay at the firm?
Three to four years. Paul was an incredibly talented man but he had a very small business—it was really just himself, an assistant and an office manager.
There's not room for growth, then.
Not a lot of room to grow. But we did really cool things. Kenneth Cole was one of his clients. I remember one year, I installed a project for Tom Clancy on my own. It was a really fun place to work and he had great clients. I learned a lot but at some point I realized, "This is my only experience, and I need to know more." That's when I moved on.
I started working with Thom Filicia, and I worked for him for seven years. When I joined the firm, he was just starting his own business—he might have been a year, or maybe less, into his firm—so I was able to learn a lot from him about how an interior design business worked.
And how it gets off the ground, too, I'd imagine.
Exactly. And working for Thom was almost too easy—his taste and my taste, or at least our understanding, was very similar. You know when you're in a relationship for so long, and you start to say something, and the other person is just like, "OK, I get where you're going. You don't have to say anymore." It was very much like that. The only reason that I finally decided to leave was not because I didn't like it there. It was because I knew that if I didn't leave then, I never would, and I may never be challenged enough to find a voice that was totally my own.
What made you realize that it was your moment to leap?
It was 2006 and Thom was finishing up [Queer Eye for the Straight Guy]. I had been running a lot of projects on my own, and I thought to myself, "You know what? He doesn't 100 percent need me anymore. He's going to come back and be working full-time." At about the same time, a friend of a friend coincidentally introduced me to someone who had a big job. I knew it was a good time for Thom—I'm not, like, stranding him—and I had an opportunity to go out on my own with a great first project.
What surprised you about launching your own firm?
It was the first time that I didn't have to think about what someone else would do, or what someone else would prefer. I did not have to consider someone else's taste in the choices I made, other than mine and my client's.
What was the process of finding your own voice once you had that opportunity?
It was hard to pull away from Thom's aesthetic in those first few projects. But once I did, that's when the projects started to get good. By the third and the fourth job, I really started thinking about things in ways that were significant for me—what are the things that inspire me? I really love nature and biology and botany, and I take a lot of inspiration from that, so now I bring a lot of that into my work. The further I got into it, the more I started getting clients who identified with that part of me.
Fast-forwarding a bit, what does your business look like today?
In addition to myself, the firm includes an office manager and six designers. The way that we're structured is that we always have three designers, and then we have three design assistants, all of whom are on a path to one day become designers. I've been through various recessions, so I've always grown very gradually and tried not to grow too fast—I feel like, in addition to an obligation to my clients, I also have an obligation to my employees to make sure that they're taken care of. We've been at this size for like the last couple years. With eight of us, it's very comfortable for me to still be involved in every project, which is important to me. Right now, we're trying to figure out how to venture into other things, like product design, but I've found that it's very hard to break away from the client projects. I think that's the next step of growth that I'm pushing myself toward: I've got a great staff. They're fully capable of working without me, so now I just have to get used to them working independently of me.
How do the projects run today? Where are you hands-on in the process, and where is your team taking over?
At the moment, I take the lead in a lot of the conceptual design: What is the look that we're going for? What's the feeling? I am involved in the initial design and layout, the materials selection, and then I hand it over to the design team to fill in the blanks. But at the same time, everything is passing through me, so I'm always aware of what's going on. The one thing I've never wanted is to be in a meeting with a client and not know exactly where the project's at or what we presented to them—to me, that is the biggest mistake a designer can make, is to not know every detail of his or her project.
That conflict between being involved and stepping away makes that next step of growth really challenging, I would imagine.
It does. But at the same time, I also very much foster relationships between my senior staff and clients. I have a lot of long-term clients, so they are used to that team of senior staff—they are at a point where they can have meetings without me once in a while and it doesn't seem strange. I have a lot of team members who have been with me a long time, as well, and I want them to develop that relationship with my clients because it allows me to take that next step into developing other things.
Your office is in New York's Financial District. Can you tell me a little bit about centering your business there?
Our old office was in Gramercy Park but I was forced out by the tech boom. I really loved it there but I'm also a creature of habit. The landlord wanted me to take the whole floor, and I just wasn't ready for that yet. And so my partner was like, "Why don't you just open yourself up to looking at other places?" And it just so happened that we started looking down here in the Financial District, and there were all of these amazing spaces available. At the time, the area was still sort of in the shadow of 9/11—it was just as people were beginning to come back—and we lucked out with the space we found. It was totally within our budget, and the new Fulton Street train station was opening directly across from my office.
That had to be a game changer! I feel like it's always a win here to be near a transit hub like that.
I'm telling you, I rarely take cabs anywhere because transportation to every single part of the city is so easy from here. We have clients on the Upper East Side, on the Upper West Side—it's so easy to get to all of them. We also do work in the Hamptons and Connecticut, and it's also easy to get out of the city from here. We're near all the bridges and all the trains—truly not by any strategic planning of my own, but by chance.
During the last couple of years, and especially when the city shut down during the pandemic, our clients started dispersing. They were buying homes in other places, so we wound up doing a lot of projects [elsewhere]—Florida, Pennsylvania, Connecticut, Maine, Boston. Now, a good 50 percent of our work is still in the city, but the other half of it is up and down the Eastern Seaboard.
What does that change for you in terms of how you work?
The biggest thing is coordinating travel and being much more organized in advance with my schedule. There have been times this summer when I have been in four states in one week. That's sort of the extreme of it. Usually, it's one or two states every two weeks. So it requires more planning so that you know where you are relative to where you need to be next.
For this series, I often talk to designers who are a seven-hour drive from the nearest design center, and they fantasize about having the resources we have here in New York. But I always wonder if it feels like you have the world at your fingertips when you're here, and if you actually find yourself in those spaces to source and shop.
Totally. There are so many resources in New York that I can't find in other places. For example, when we started working in Florida, we had to bring some of our people down there to do installation. It's somewhat better now, but believe it or not, there is literally one decent carpet installer in southern Florida. I'm not naming names, but there is one high-end upholsterer. And then there are some cities, like Boston, that already have great resources.
In terms of the design centers—[about] 60 percent of our work is sourced from showrooms and about 40 percent of it is totally custom. Even though there's so much that we can do online now that we couldn't before, I am a big believer in seeing something in person before I purchase it, or even before I recommend it to a client. I don't care if you have all the dimensions, a shop drawing, a CAD file—there's just some stuff that you need to see to understand, even if you've been doing it a really long time. And I don't care what anyone says, it's impossible to do fabric resourcing online. You will spend half the time and be 200 times more successful if you go to the D&D Building to actually find a fabric.
How do you approach talking to clients about money?
I have a lot of established relationships with clients—they know what my costs are, they know what they're getting into—so in those cases, there's rarely a discussion about budget. But when we start a project with a new client, it is super important to discuss budget while negotiating the contract. It's really important to understand the client's budget so that you know you will be able to do the work that you want to do, and that you have a proper budget for it, and so the client is not blindsided when they love what you do but they can't afford it.
How are you billing for your design work and your team's time?
We have a design fee that takes care of our conceptual design and all of the upfront design work, and then we bill on a commission basis. Our projects have fairly sophisticated budgets. Once we have a design established, we execute all at once—we do not do a piecemeal approach to things.
I have tried time billing, but I find that you spend so much time recording what you're doing that you spend less time actually designing. It also means you're justifying to a client, like, "Yeah, I spent 20 hours looking for the perfect toilet for you, but I only spent five minutes finding the perfect rug." For me, billing on a commission basis is very straightforward. Maybe for some things you're just not making a lot of money on them even though you're spending a lot of time, but when there's a big ticket item, it's cut-and-dried.
What is the biggest challenge that you see for the industry at large?
There are a lot of galleries that are really pushing the concept of furniture and decorative pieces as art rather than home goods. That's not necessarily wrong, but it's taking really unique and interesting things and only putting them in the sphere of the super wealthy. I'm seeing a lot of limited-edition furniture. But sometimes it's like, the really beautiful thing should be available to more [people] than just the super wealthy. Coming from the background that I do—I mean, I worked with people like [sculptor and furniture-maker] Wendell Castle when galleries were representing guys like that, and back then, [their work] was still affordable to people. Now, it's sort of not. That's troubling to me.
Is there an easy path out of that?
Well, there's so much more good design out there than there was when I started in this business. When Crate & Barrel opened here [in 2002] it was such a big deal, because they have such nice, tasteful stuff. Or CB2 now, which is so on trend—they are copying those limited-edition pieces as fast as they can push them out. So it's like, "That piece looks like something I could have gotten at Twenty First Gallery, but it's CB2." So I see the two things happening in conjunction. One is this elevation of decorative art to fine art, but I also see some retailers so hard on the heels of them.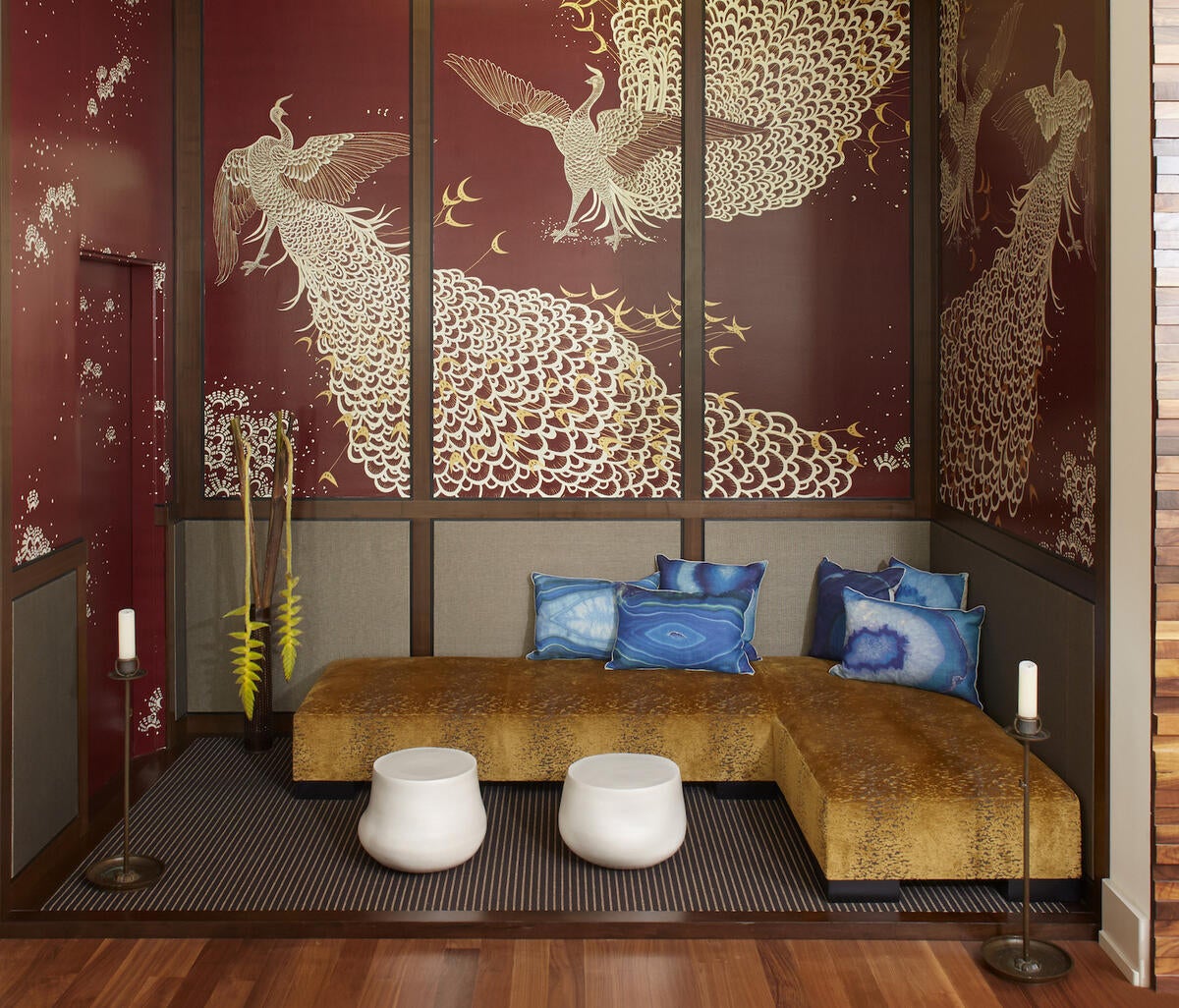 When you look ahead, what does success look like for you?
I really love what I'm doing; I don't ever see myself not doing it. But success for me is my company continuing—not necessarily with me at the helm of it, and [me] being able to step back and do more creative things that are not necessarily [relegated to] the realm of interior design.
You mentioned product design earlier. Is that a major focus for you moving forward?
I would really like to explore that more. I love new materials, and the process of constantly working on things and reworking them. Have you ever been in a studio with painters and sculptors? No one ever does anything and is done with it. They're always grappling with: Is it done? Is it not done? Leave it alone and come back to it. It takes time to get something to the point where you really feel like, "OK, it's finished." I don't have that time right now.
What keeps you inspired these days?
I love going to junk shops and flea markets. That little bit of free time I have to do that kind of thing gives me the thrill of discovering something cool that is not in my normal [sourcing] realm for clients. It's outside of that rigid structure that I have for my design projects in order to make them work for me and my staff. So that's how I spend my free time.
How much of what you find makes its way into your projects?
I am sort of an obsessive collector, and I've gotten one or two of my clients involved in certain collections. So sometimes when I see something that I know they will like, I just get it for them. I do love it when I can find something that they're going to be excited about. I have one client, for example, who really loves these midcentury Danish wooden toys. When I see something that I know he doesn't have and I get it, he gets so excited, and that makes me so excited. But for the most part, it's really more about inspiration for me. I roam.
To learn more about Rodney Lawrence, visit his website or find him on Instagram.