The 50 States Project is a series of candid conversations with interior designers across the country about how they've built their businesses. This week, Montclair, New Jersey–based designer Julieta Alvarez tells us how she invested in SEO to get clients closer to home, why her process doesn't involve a big reveal, and why she believes you should learn the rules before you break them.
Growing up, did you always want to be a designer?
My mom always had nice furniture, and I think that really woke up my interest in interior design when I was young. I grew up in Argentina, where there's virtually no interior design [training]. But by the time I finished high school, my brother was already living in Manhattan. So that was a great opportunity for me to come and do interior design here.
I moved to New York to pursue interior design, but I was mostly bartending to make money, surfing and having fun. But in my late 20s, I was like, "OK, I need to get serious about my life." I had been working for a real estate developer, designing his model apartments. This was 2002 to 2005, when the market was incredibly hot. It made me realize that I should do design, because nothing in my life came as easily as designing rooms. So I went to the New York School of Interior Design and got my bachelor's degree.
Was design school what you expected?
It was, and more. I mean, I knew NYSID was a great school for interior design. It's very specific—they don't teach anything other than interior design, which was exactly what I wanted. It gave me the basic tools—color theory, furniture styles, fabric content—all those things that you don't really learn on your own. I needed to go there to learn those things. Now, I like to break the rules sometimes when I design. But you need to know the rules to break them, and that's what school gave me.
After graduation, I interned for Alex Papachristidis for six months. Then I did another internship, this time for Jeff Lincoln, who hired me as one of the firm's junior designers, and I worked there for six years.
Working at that level—it must have been so different from the academic experience of design.
Not only different, but super high-end. The clients that they have are so wealthy—it was fun to be in that world without fully being responsible. I was helping, but I was seeing how stressful it could be when you're dealing with that amount of money, and with [that level of] clients. It's a different world. We were designing projects where people were spending, say, $50,000 for a little custom side table.
In the very first article I wrote when I first started in the industry, I remember writing about a drinks table that cost more than I was making in a year. It can be kind of mind-blowing.
It's insane. But it was nice to see that part of the industry, and to be able to order custom furniture—to always be able to choose the finishes and colors in the perfect size that you need.
That's such a perfect example of what you gain working at the high end: You're always able to put the exact right thing in the exact right size exactly where you want it. And that product doesn't have to exist already.
That's exactly it, and it's amazing. It gives you so much freedom. And you get to be even more creative when you have more freedom, because if you have all that freedom, you can't just do the same little side table that you see everywhere. What's the point of having that much money from your client if you're doing the same little table that you've already seen in Elle Decor? It was nice to see how Jeff had to push himself and get really creative—and he's really good at that. If you compare that way of designing to the way that I'm designing now, which is with budgets that are a little more realistic—I don't do custom all the time. I do it, but not all the time.
What did that change about the way you work?
You have to change your methods. You have to start with the biggest item, and then work your way down—first we choose the sectional, then the rug, and then the chairs and the side table. I choose the paint for the room at the very end because there are thousands upon thousands of paint color choices.
So you're making choices by going from the least flexible to the most flexible categories?
That's exactly it. It allows me to make the most of my options, because I might only have a few fabric options for that sectional, usually. I don't have the whole D&D Building to choose from.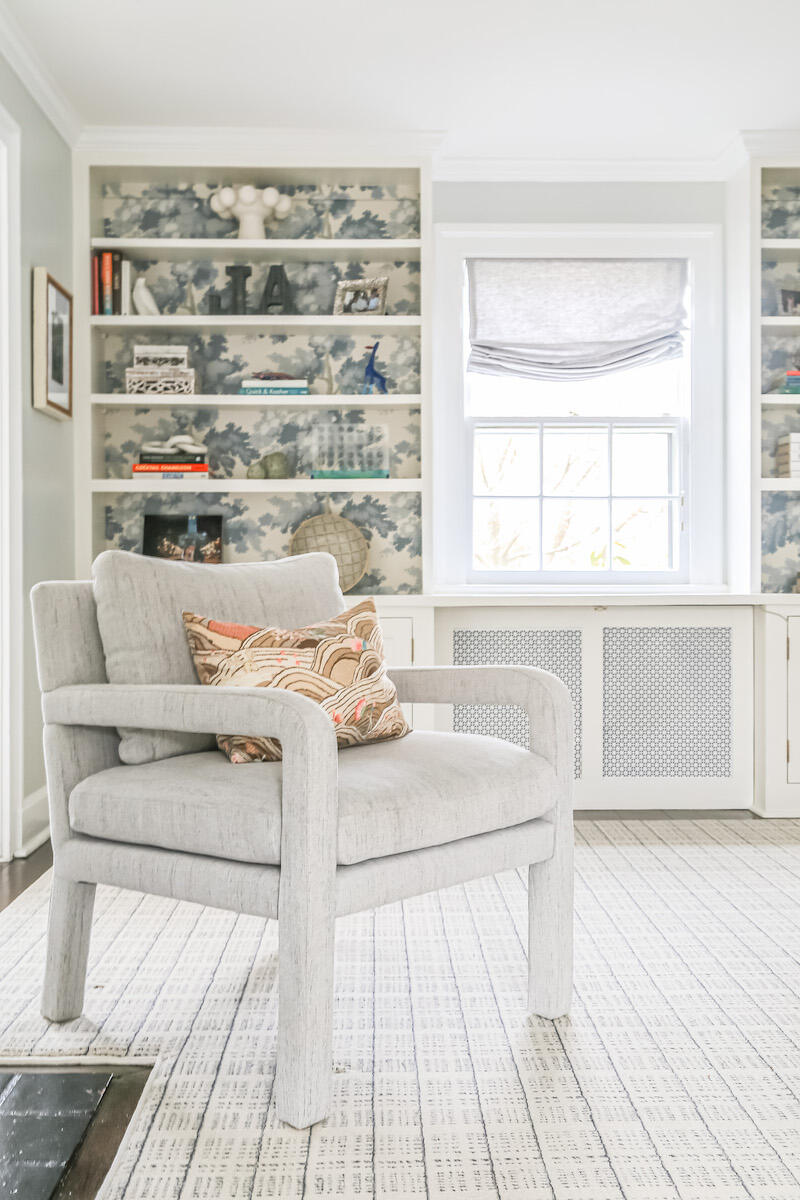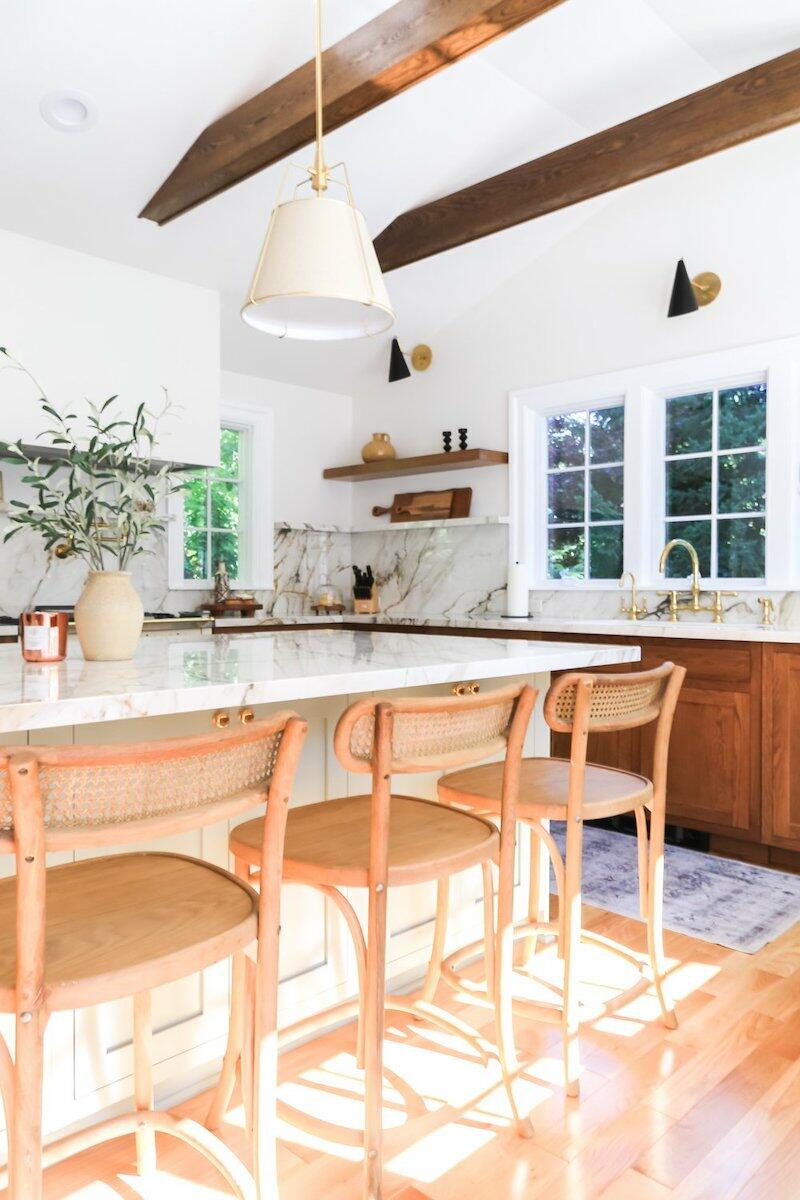 After six years with Jeff Lincoln Interiors, what made you want to go out on your own?
I had my daughter, Olivia, in 2016, and that's when I decided to do it. The fact that I had a baby just gave me more responsibility, and it gave me that drive. I've always wanted to have my own company, and I've always had a passion for interior design, and I realized that I didn't want to go back to work for someone else. It was hard in the beginning, and then Covid hit and it was nonstop.
Where did your early clients come from?
I was in West New York in New Jersey for the first two years of my business, and then I moved to Montclair in 2018. The way I got clients, honestly, was [by working for] friends: I did a house in Connecticut for a good friend of mine, and I was so thankful that he trusted me because otherwise I didn't have anything to show. Then I did an apartment for another friend in Jersey City. So then I had two projects, which I photographed and put on my website. I'm still the photographer—I've only hired a photographer once, for a really great project in Scarsdale, New York, that I finished last year. That has been one way to save money because I already had a little experience with photography.
Another thing that helped was mommy pages on Facebook. I posted one time saying, "I'm a new mom and I'm trying to open my own business. If you need an interior designer to design your home, I am available." I was just very honest, and I got a nice response. Moms tend to be very helpful when other moms are trying to open their own company.
So that post led to project leads?
Sort of. They weren't projects that could be on my website, but I could take at least two good shots for a before-and-after and put it on Instagram, and even that helped. Obviously, the budget for those jobs were so low—I was dealing with Ikea beds—but I was able to make a room look great even with that. When people would see those before-and-after [photos], they were like, "OK, I've got to ask how much she charges and see if I can work with her." People go nuts when they see before-and-afters.
I don't do them now as much as I used to, because the people who hire me are buying an entire house and they're usually empty—so not really much of a before. But before, when I was getting this mom with a very low budget, they had a room that was completely cluttered with Ikea stuff and baby things, which made for a great before picture. Even with the Ikea bed, you can make that feature wall look amazing, add great bedding and a little throw at the end of the bed. Those little things [add up] when you compare it to what they had before.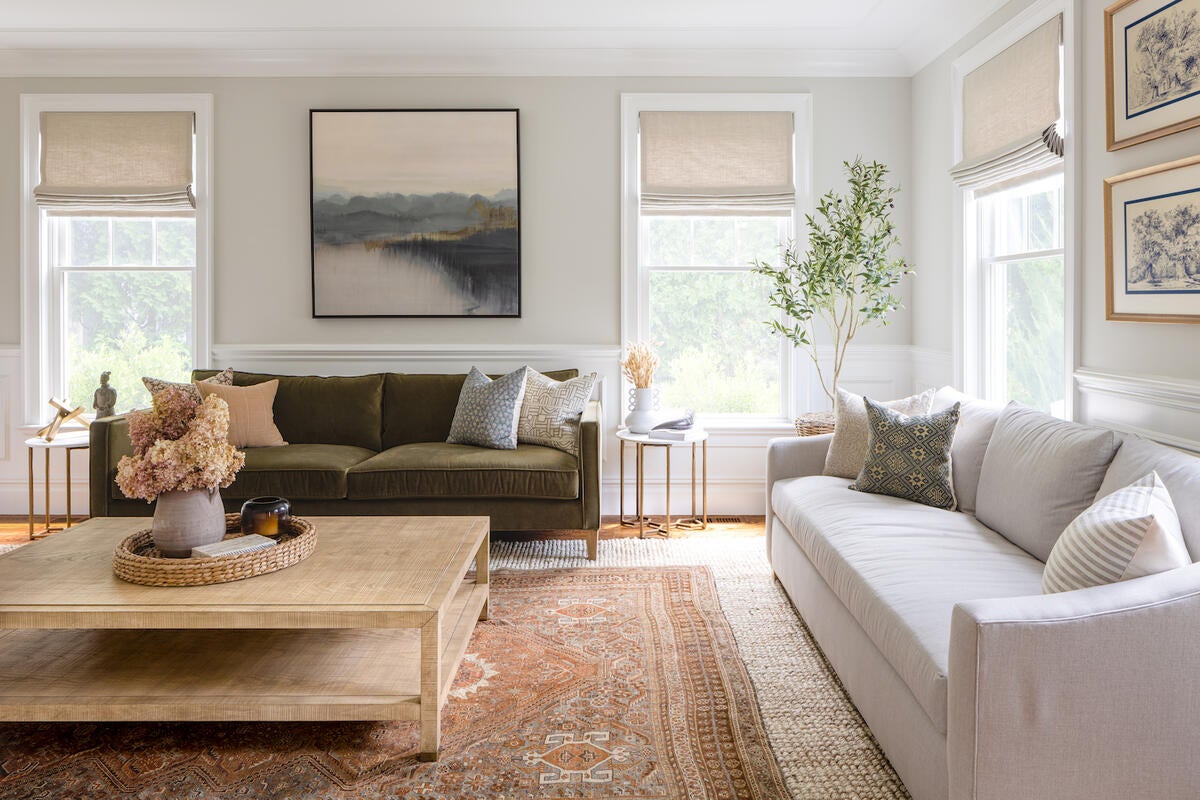 Fast-forward to today: What does a full plate look like for you now?
Right now, I have eight projects. It's summer, which is slow. But during Covid, I had at least 15. It was insane.
You're doing it all solo, right?
I have one part-time junior designer who helps me source items. I'll show her the design board and tell her, "I need a square coffee table that is 42 inches, and I want it to be brass and glass," and she will go and find me that piece. But otherwise, I'm pretty much alone.
How do you decide what you say yes to now?
I always want to get on the phone with someone and see how we connect. I still get a lot of inquiries, but I'm trying to be better at not accepting every single project because that gives me less time to work on the really good ones—not to mention less time with my family. I don't want to be working as much as I was working during Covid. It's a fine line between being overwhelmed and not taking enough projects, though.
What are you looking for in that call?
I want to see what questions they ask. An example can be if they're very particular about the hourly rate. If I tell them, "A typical living room would take anywhere from 12 to 17 hours—maybe up to 20 if we're doing window treatments or wallpaper," and they ask me, "But is it 12 or is it 15?" Like, if I haven't even seen the space and you want me to tell you exactly how many hours it's going to take—it's only [a difference of] three hours, so that's not a good sign. You're probably going to be very picky and just not realistic enough. Little things like that let me know what type of person that is. Other people are super easygoing, or they'll mention a particular project of mine. That lets me know that they genuinely like my work, which is usually a good sign.
I know pivoting from the ultra-high end to a client base with smaller budgets has changed the way you source. Has it changed the way you complete a project, as well?
I only warehouse when I order from vendors that only sell to the trade. For example, I order a lot from Four Hands—for that, I buy through them and I have two warehouses. But for an order of Visual Comfort lighting, that comes directly to the residence. Or sometimes we end up ordering side tables from West Elm, and that also comes to the house. It depends on the item, and on the budget of the client. If I have a bigger budget, then I'm able to order more to-the-trade items, so that would go to the warehouse.
So the clients are opening the boxes and living with the pieces as they arrive.
Yes, they open the boxes. And because I also have clients in New York—in Westchester, Brooklyn and Manhattan—it's hard for me to always get to clients' houses just to open a box, [plus] I charge hourly, so, you know.
They don't always want you to come to open a box.
Exactly. And now that FaceTime is so common, it's just a matter of picking up the phone and showing me the box. Or just opening it and inspecting the piece yourself. My clients do things like that on their own because they understand that they're paying for my time. Sometimes if we have two pieces of art that we need to hang, we'll even do a FaceTime with the handyman—the client puts me on the phone and I can say, "Up, down, left, right," and then the handyman can mark it up and hang it. Otherwise, I'm driving two hours for that. With an hourly rate, clients don't overuse my time, which is great. They appreciate every minute of it.
There's no big reveal with that approach—the client's home is just evolving gradually over time, right?
I see those reveals on Instagram all the time, but I don't do it that way. It just doesn't happen because things come when they come—a West Elm piece might come in two weeks, but the custom sideboard takes six months. And usually, people who just bought a house are like, "OK, I just want to start enjoying my living room." I'm not going to tell them, "No, I have to have a big reveal, so let's keep it all in the warehouse and you can sit on the floor."
And you can pay for the warehouse.
Right. Forget it!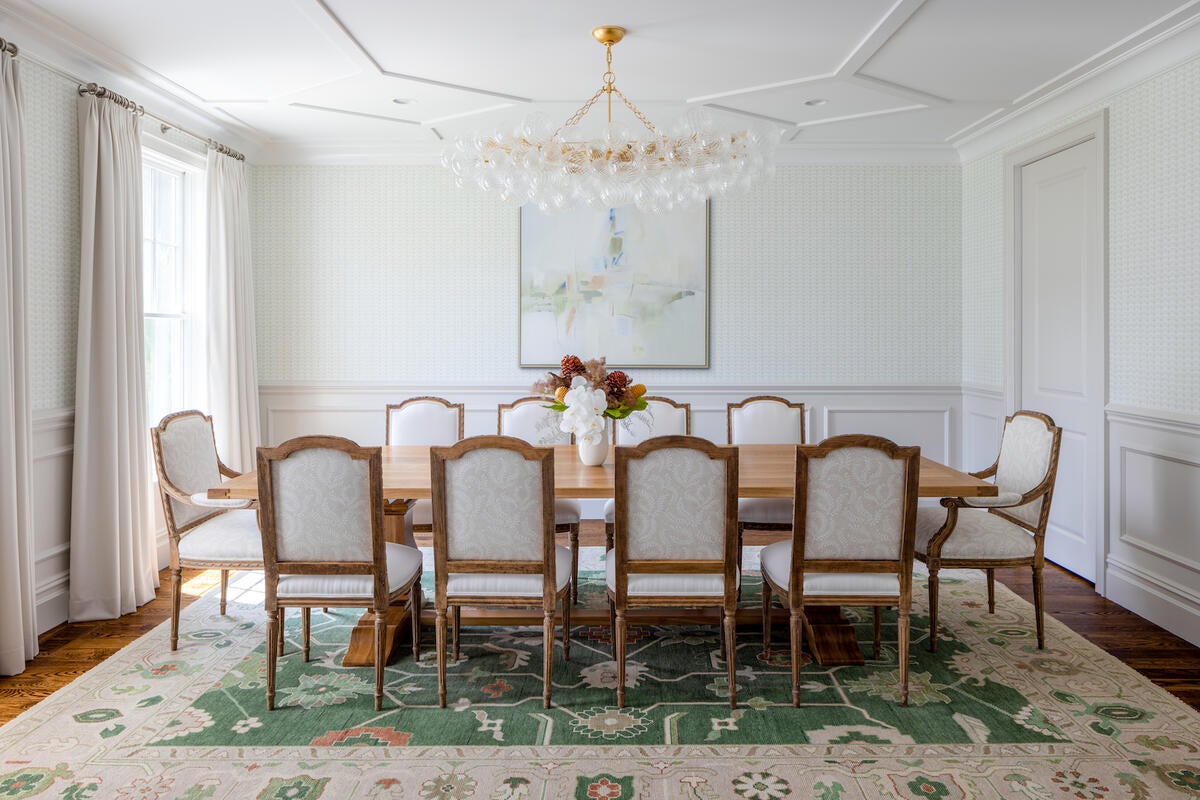 You mentioned that hourly billing has worked because it inspires clients to respect your time. Are you also charging a markup on products?
I am. For anything that is $2,500 or more, I buy it myself and the client will buy it at retail [pricing]. So if we're considering a chandelier from Visual Comfort, where the client can go to their website and see that it's $4,000, they're going to pay me $4,000. They pay the retail price, and I would process it with whatever the trade discount is at that brand. For brands like Four Hands, which I buy from a lot, the client usually pays whatever price Burke Decor has on their site, and then I'll buy it through trade pricing, which is actually a big difference. For things like wallpaper or custom window treatments, I do a 35 percent markup because there is no retail. That's all trade pricing.
Are clients understanding of that model, or is there friction in the purchasing part?
Sometimes they are—there are clients who just send me a check, no questions asked. It really depends on the client. Some people want to see every single penny.
Is that the client you're trying to identify early on and say no to?
That's one of them. I try my best to read a person before I say yes, but you really never know, and if that friction happens, then you deal with it. If the client is getting mad at me, I'm often like, "You know what? Pay whatever you want." I don't like confrontation. More than that, the most important thing for me is keeping the client happy. That's number one. I don't want them to be unhappy with me because people talk. I'd much rather not make money on a few items and just get the project done than have that person telling somebody else that I'm not a good designer. I know some designers are like, "No, that's in my contract. I am going to charge you this and that's how it is." I just think that the client is still going to be mad at the designer even though they're correct, and the client is going to talk. They might write a bad review online—you never know.
Are referrals the main way that you get new clients today?
Yes, it's mostly word-of-mouth. That's why it's so important to make sure people are happy. I also invested in doing SEO work so people can find me on Google. I'm not really doing the Facebook thing anymore because the clientele is not as good—it was good for starting out but not anymore.
What prompted you to invest in SEO?
I was getting a lot of projects in Westchester and Manhattan, so it was a lot of travel time. I wanted projects closer to home, so I invested in SEO. I'm not very tech-savvy, so I hired someone from Fiverr—he's based in India, and I've hired him a few times a year to do all that background work with keywords. And it works! Now, if you're searching for "interior designer Montclair," I'm the first one.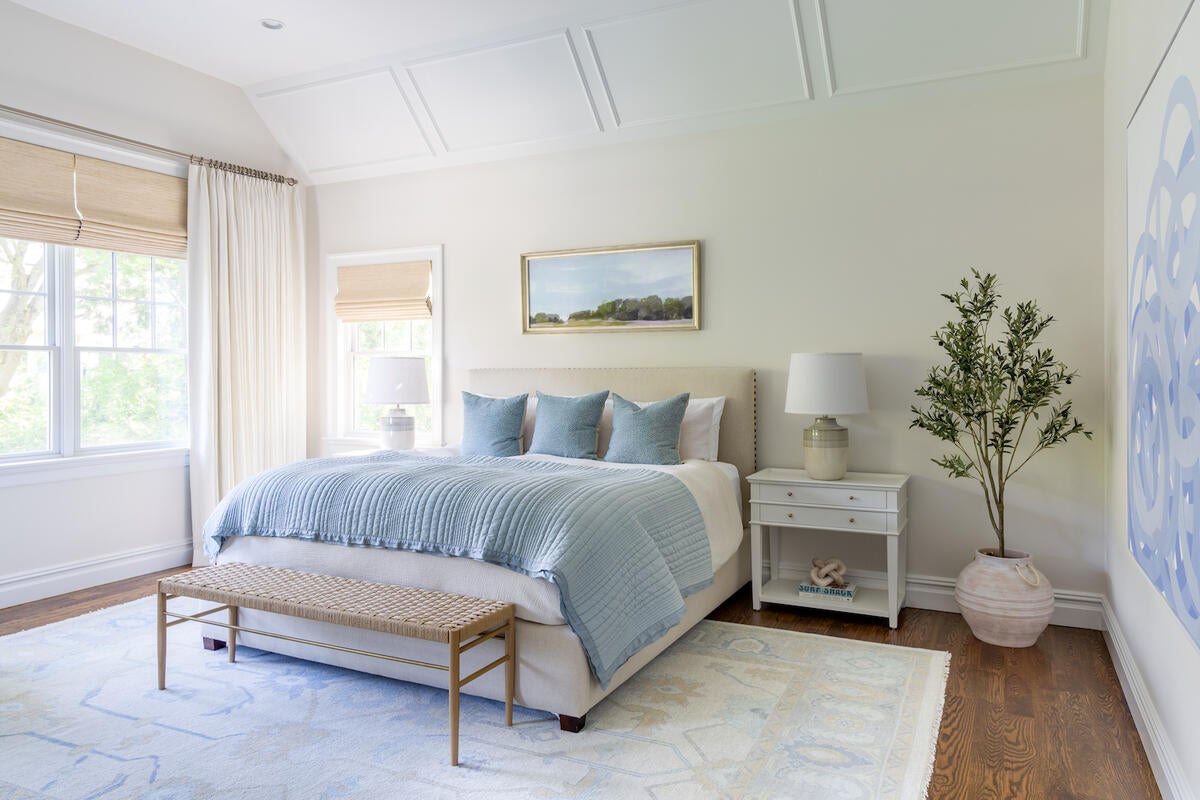 Can you tell me about the projects you are taking in the Montclair area now?
It's usually empty houses. The clients might have some pieces that they come with, like sectionals or chairs or rugs, and if they work in the new space, that's great. If it doesn't work, they usually put those pieces in the basement or attic. They're mostly parents of young kids because the schools here are very good. And there are a lot of people from Brooklyn here—I feel like people in Manhattan tend to go to Westchester or Connecticut, but people from Brooklyn move here or Maplewood. They're often new parents in their first house, and they usually do either the whole house or they do the main rooms, or sometimes they do an addition to the house with an architect, and I help them with that. I've been doing a lot of kitchens and bathrooms lately.
You mentioned the balance between sourcing retail and trade brands. Is moving toward more trade resources a goal for you with your business?
That's actually a place where I'm very conflicted because I know the high-end world and I don't want to go back to that, but I also don't want to be in the low end. I've got to find the right point in the industry that I can comfortably and happily be in—that's something I'm still working on. Right now, my projects are half-and-half. Some are custom—custom window treatments, wallpaper, vendors that I have to warehouse—but there are other projects that might start that way and then the clients start finding things online. And I can't say no to all of these things. It's their house and their money, so it's ultimately their decision. My number-one [priority] is to keep them happy, so I'm not going to fight with them because they don't want to buy what I tell them to buy. I know some designers do it but that's just not me. For me, it really depends on the client. That's why I'm focusing on trying to say no to the wrong project.
That's a really interesting middle ground to find.
It's hard. I know most designers strive to do what Jeff does, and to be at that level, but I was there for six years and I know that it can be very, very stressful. I don't want to be stressed out like that. I'm not good when I'm stressed out. And I don't want to hate my job or get burned out because I'm getting too greedy and trying to make money. This is my passion, and I don't want to ruin that. I don't have to be super rich. I'm OK with where I am. So why take on all that stress? That's not my thing.
Another thing that I'm struggling with is the question: Do I grow more? Do I hire people—a renderer, or a junior designer? But that's going to give me headaches, too.
Your junior designer is currently part-time, right? How did you find them?
I needed help during Covid. She used to work as a purchaser for Oscar de la Renta, so she has a good eye. She's professional and she had a serious job, and that's all I really needed.
How did that streamline things for you?
I would create a design board [with] the sectional, the rug, the coffee table, the chairs—I have the vision for that. She helps with all of the little things that were hard to find but easy to describe. I already knew how I wanted the room to look and what materials I wanted to use, so it was easy for me to communicate exactly what I needed. That's the way I can work with other people—I don't know how I would delegate something that is so creative and so in my head.
Have you ever thought about outsourcing the admin stuff? The purchasing, the accounting, the invoicing, the bookkeeping?
That's something that I might want to do—but it's actually not that hard to do, either, and it doesn't take that much time to do at this point. I already have a system that I understand, so it doesn't feel like a pain point. If I was super busy, taking every inquiry that comes my way, then maybe. But that's not what I want to do.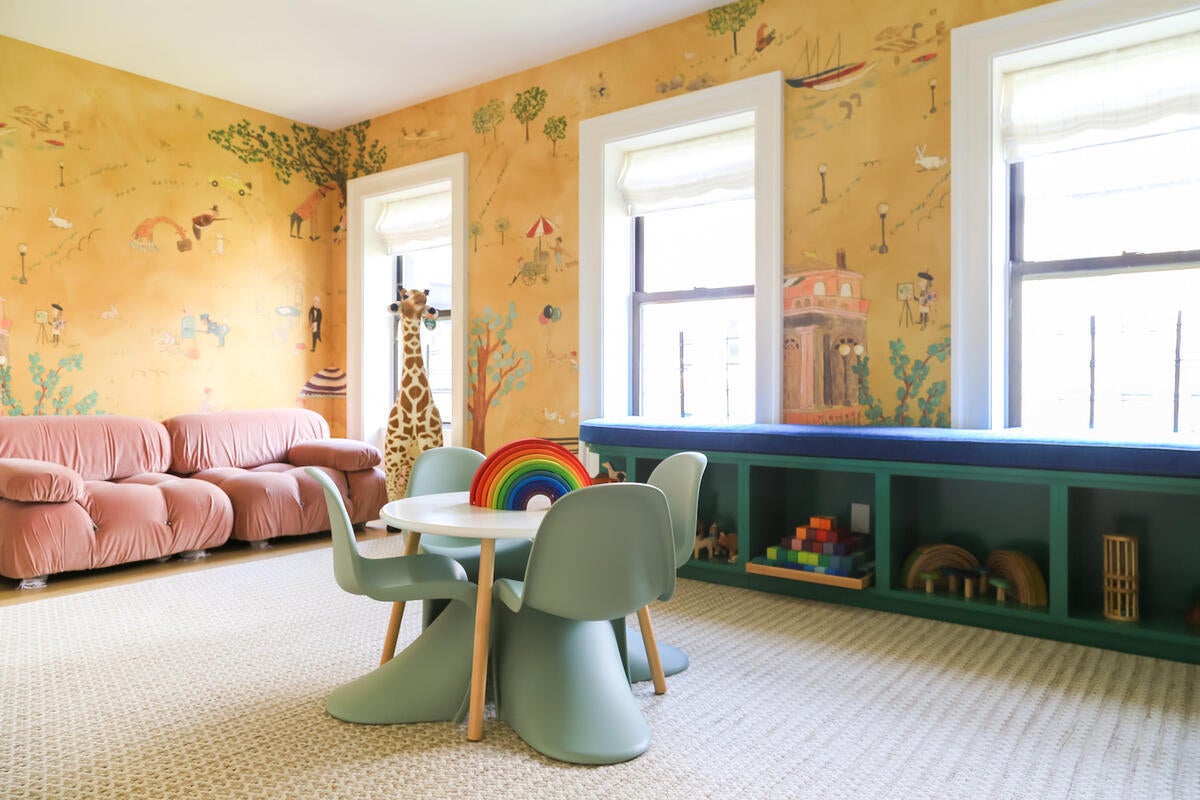 Courtesy of Julieta Alvarez Interiors
What is the biggest thing you know now that you wish you had known when you started your business?
That it's more about dealing with people than designing. If you don't know how to deal with people, it's going to be hard. You're going to be working with a lot of different personalities, so you need to have a clear sense of how to deal with them. I didn't know that at the beginning. Well, I kind of knew from working with Jeff, but he was the one dealing with them—I would hear him on the phone with clients, but I wasn't responsible for keeping them happy. I wasn't feeling the stress like he was.
What does success look like for you?
Ultimately, I just want to be happy and keep loving what I do. I don't want money to ruin my passion. I want to spend time with my family, play tennis and be happy. I worked so much the past three years that my mindset shifted a little. I am still very hungry, but I'm not greedy or as desperate as I used to be. Before, I was like, "OK, I've got to take every single project that comes my way, and I've got to get the pictures. I have to make it." Now, I actually feel good saying no to projects sometimes because I know that there's another one that is going to come by. I'm more relaxed, and I want to keep being that way.
To learn more about Julieta Alvarez, visit her website or find her on Instagram.