The 50 States Project is a series of candid conversations with interior designers across the country about how they've built their businesses. This week, Omaha, Nebraska–based designer Tara Miller of The Heartland Interior Design firm tells us why she paused her design career for a sales job, why authenticity is key to her firm's identity, and why a cake is her go-to metaphor for design work.
Did you always know that you wanted to be a designer?
I knew at a really young age that creativity was my strength. By high school, I knew [my career] was going to be either graphic design or interior design, so I started researching all the college courses for both. I was looking at the different computer programs I would have to learn, and I saw that there was some overlap, but also that there were a lot more computer programs in the interior design degree programs, so I decided I would go that route. I thought that if I learned all the computer programs and then felt the need to switch to graphic design, I would have already learned those programs and I wouldn't be behind.
The other thing that was pivotal for me was a trip during my senior year of high school. For his 60th birthday, my grandpa flew our entire family down to a Four Seasons hotel in Costa Rica. I had never been exposed to hospitality design at that level before. When I came through the threshold of the hotel, my eyes were popping out of my head. In that moment, I knew that hospitality design was my goal. I signed up for Four Seasons emails and researched their properties around the world. I started subscribing to a lot of different interior design magazines and getting on email newsletters, just doing a lot of my own research.
I went to the College of Architecture at University of Nebraska-Lincoln, and hospitality design was never really the focus. The program was very focused on commercial design, and especially health care, so I just tried to search out my own influences online.
How did you pivot to residential from such a commercially focused program?
We were required to do an internship, and then I worked at a local residential firm for seven years after college. College was great because I learned a lot of computer programs, but I think the best learning experience is real life. That first job is where I learned the most—a lot of positive things and a lot of things that I didn't want to take into my own business.
How did your role evolve at that local firm?
My job did not evolve there, and that's why I left. The firm had been around for 50 years and specialized in high-end residential. If there was room to grow, I might have stayed there forever, but I was a junior designer the whole time. I was doing a lot of library work, putting away samples and assisting senior designers. But no one at the firm had computer capabilities—none of the senior designers could use programs to draw floor plans, elevations, reflected ceiling plans, sections, and none of them knew how to produce renderings, but I did. Some of the senior designers would ask me to do that for their projects, but even then, they wouldn't provide me with the software or the program. I would use my own personal computer and software.
I knew right away that the programs I had learned were a big skill, and I still do our drawings and work on renderings today for our clients. That's a big reason why clients come to us: Not only do they want our expertise in the design and the construction realms, but they know that we have a vision. We can see it, and I love how renderings can help them see it too.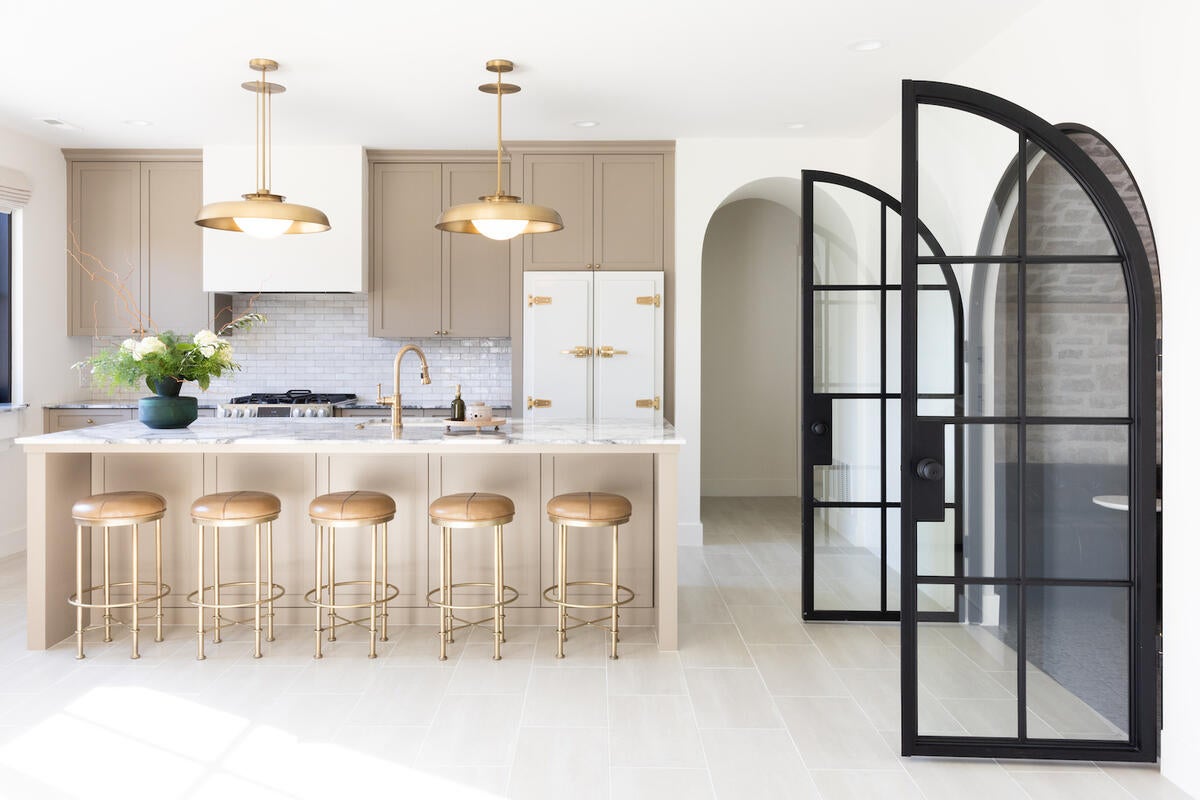 What prompted you to launch your own firm? How did you know you were ready?
I don't know if I would ever have considered myself ready. There are a lot of things I wish I would have done differently. Number one, I wish I would have gone to business school! But I left that firm because in the whole seven years that I worked there, I never got a raise—I had repeatedly asked for one, but I was getting $14 an hour for seven years, and I was doing so much drafting work that other people weren't able to, so I knew that I was skilled in a way that was valuable to the firm. I knew I was adding value, but I didn't feel like it was being reciprocated through the firm, and I wanted to grow. I also wanted to explore the commercial sector. That firm was so heavy in residential, which I love, but there are so many small business owners in the Midwest. And the community here—especially around female small business owners—is so incredible and so strong. I wanted to lean into that with my work as well. So I went looking for commercial jobs, but no one was hiring. Instead, I took a sidestep in my career and became an A&D rep for a local tile, cabinet and setting material company. I traveled the Midwest selling these products and meeting all these different architects and designers—and I was getting paid crazy well to do it.
That's so great. I've heard designers say that taking a showroom or rep job really helped them develop their skills. Was that part of your goal?
Yes, it was intentional. If I couldn't get a job at a commercial firm, I still wanted to learn more outside of the residential sector, but in ways that would help me gain more wisdom and knowledge. I thought that having a better understanding of not only the products, but also the product application and installation, would be huge. As designers, we love to think outside the box—and then contractors love to tell us that it can't be done. Having the technical knowledge of what products can withstand as far as moisture, and how they can be installed, and what different types of adhesions there are, and different types of installation tools, and how you can actually work with materials—it just adds another tool to our belt as a designer to be able to say, "Hey, I know this can be done." Here's a product, or here's the installation method, to make it happen.
While I was there, I went to multiple training programs, as well—I went to a [free training workshop] called "schluter school," which is all about tile edging and the different profiles; and I went to a gauged porcelain panel workshop with [tile company] StonePeak down in Nashville, where I got to see these 8-foot-by-4-foot panels being made. I've now used that product in showers and tubs.
Especially now in the digital age, everyone can see the newest and hottest design trends that are popping up—but they show up in Europe or on the coasts, and then the Midwest is like, "How did they do that?" Our clients see it and want it, so I think it's our job as the designers to learn how it's done. But I don't necessarily think that all trade members are wanting to change their ways or implement new practices. The mindset in the Midwest, especially with contractors and installers, is often, "If it ain't broke, don't fix it." It's, "We've always done it this way, and it works." And I'm like, "I get you. I hear you. But there are these new things that are also very exciting." What I love is at the end of the project, when they have actually taken the time to do something different, they look at it and they're so proud of the work that they did.
While I had that [regional sales] job, I started setting up the fundamentals of my business on the side. I was working full-time as a rep throughout the week, and then I was designing for friends and family on nights and weekends. People who knew I was a designer started reaching out. The tipping point was in 2017, when a developer approached me to do a multifamily development—an apartment complex and all the amenities, from the ground-up conceptual schematic design to development, construction, documentation, administration, FF&A and procurement. I knew that was going to be a huge time commitment.
Did you know right away that that was your moment?
I knew I wanted to do it, but I had to convince my husband that I should take this job and really pursue owning and operating my own business full-time. He's a structural engineer who sees things very black-and-white, so he was like, "You're making good money as a rep. You have insurance and health care and all the things. Let's stay there." It didn't feel like a safe choice to him. But I knew this was where my heart was, so I said, "I want to do the thing, and I want to do it big." I've always said I want to be the Kelly Wearstler of the Midwest, and I thoroughly believed in myself. I knew that I could do it, so I quit my rep job, said yes [to the multifamily development] and officially founded the business in 2018. When it was done, that project actually won an International Interior Design Association award. So it turned out pretty well.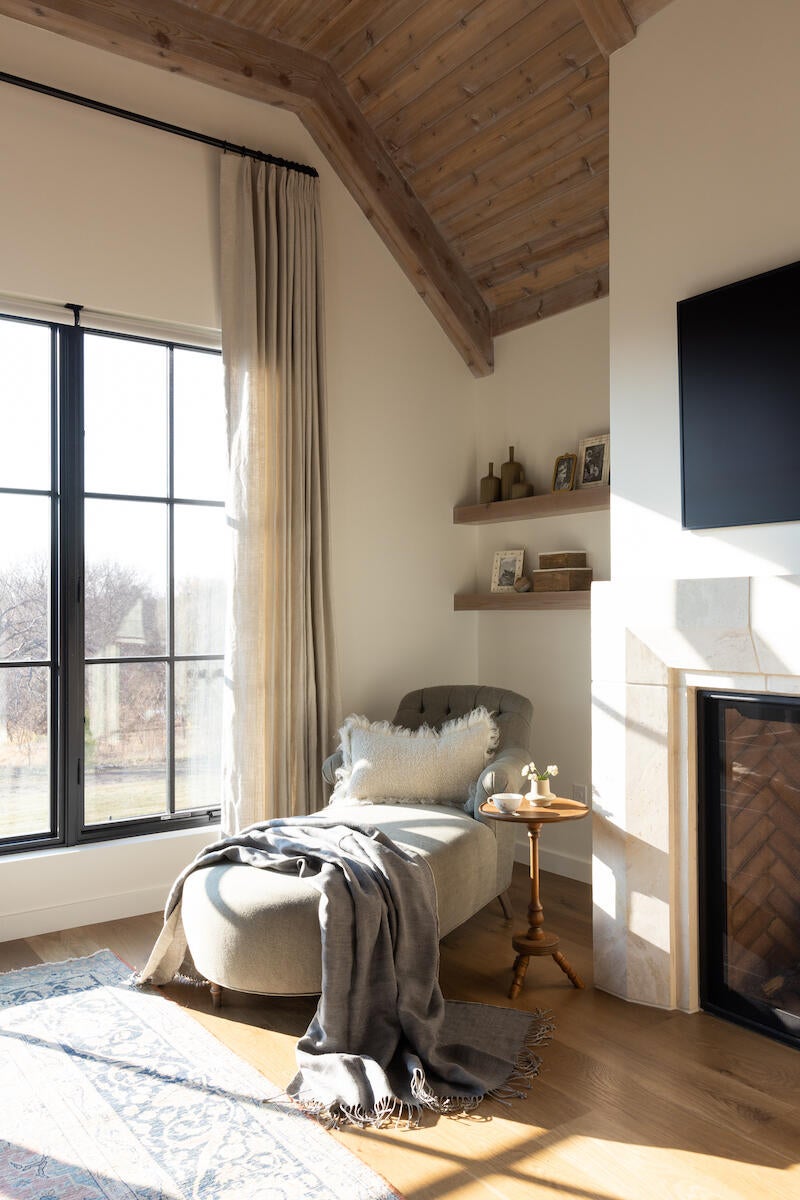 How much of your job today requires you to keep pushing contractors and subcontractors out of their comfort zone?
Pushing the envelope is part of my creative drive. I love to take elements and use them in a way that hasn't been seen before, or even just use products that are new. And maybe they might not be new in other places, but they're new here in the Midwest. Even things like using plaster—plaster hoods and plaster walls aren't really done here. We're still very drywall-based, so that's something I had to get an artisan for. Roman clay, the wall paint, is something that I love, and that everyone seems to love, but there are not people to install that here.
On a beautiful Nebraska home we just did, we wanted to create a wine room that didn't feel like your grandpa's wine cellar. We were talking about our travels, and how we really wanted this wine room to feel like you're beneath a basilica. So I designed this "wine grotto," as we called it, that is rocky and has vaulted ceilings. We have Roman clay on some of the walls, and it's textural, and there's this irregular mosaic on the floor. I had drawn the floor plans and elevations, we had rendered it, and the clients loved it. Then we showed the builder and the architect, and all of them were like, "We don't get it. What is this room?" The whole time during construction—and I do love his honesty—the builder was like, "I still don't get it." But after we moved in the club furniture and the room was complete, he came back and was like, "Wow, this is my favorite room of the house. It's so unique."
Back when you were still working on your business on nights and weekends, dreaming up what this firm was going to be, what were those dreams?
I'm still very aligned in my vision: I want to be the go-to interior designer in Nebraska and the Midwest for both residential and commercial design. The first steps were small—I needed a website landing page and a logo. I needed headshots and some type of marketing arm, which is very easy with social media these days. But my long-term thinking includes having a product line and a TV show about our residential side. Once we have a large enough portfolio, I definitely want to publish a book. I've been dreaming big from the start, but they're not just dreams. I'm really goal-oriented, so I love trying to make the strategic steps to eventually get to the places I want to be.
One of the things I invested in early was Suzy School with Suzy Holman, whose entrepreneurship program helps business owners clarify their message and market themselves specifically in the social sector. And while I don't have a gigantic Instagram following, I have a strong community on Instagram that has been really [important] in establishing my firm and getting our name out there. The first couple jobs that we did were commercial—a local hand-poured candle company [called] Wax Buffalo, and a local hair salon and art studio. But after that, things started really taking off and we started working on larger residential and commercial projects.
I love the way you talk about having big dreams, big goals and really chasing those. How did those aspirations shape the look and feel of the firm's branding?
The look and feel of the firm has more to do with being in alignment with me. That's a really big part of Suzy School—we had to do a lot of work to make sure that our brand was in alignment with ourselves so that we were transmitting the most authentic message possible to our potential clients, so that it doesn't ever feel fake or forced.
The three things that heavily influence The Heartland are nature, travel and authenticity. Being outdoors is a huge inspiration for me, and I spent so much of my childhood being creative and playing outside. And I've been beyond blessed that I've been able to travel all over to see some amazing historical sites and museums, which have really informed my design eye. Authenticity comes from my love of sourcing locally. Wherever we work, I love finding local artists, woodworkers, metal artisans, ceramicists and craftsmen on every project, because then I really truly believe that the fingerprints of the community are all over that project and it makes it so special.
How does that change the way you work? Do you still have your go-to craftspeople, or are you trying someone new with most clients?
We love trying something new. When we were working on a project down in Texas, I spent so much time researching local woodworkers, artists, glassblowers, muralists, hide companies, ceramicists and tile makers—for me, that's part of taking the job to the next level. It does take more time to search those people out, but I think it truly makes the project more unique than just going to some mass-produced manufacturer.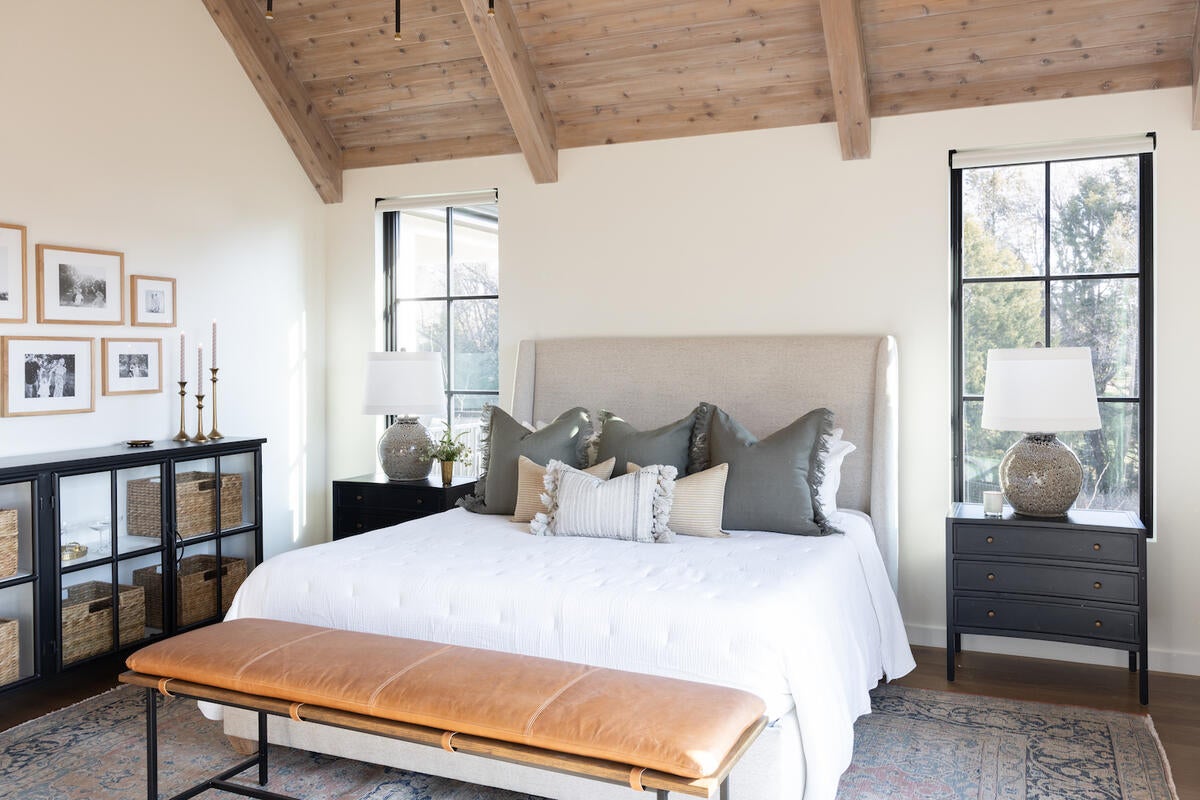 How do clients find you these days? How are you building and maintaining that pipeline?
The majority come from social media, word-of-mouth and repeat clients. Instagram is the biggest contributor to brand awareness and new clients. But it can also be exhausting—I'm doing it all myself because I don't want to lose that connection to the end user.
Right now, I'm trying to grow in three different ways. First, I've been deep-diving into Pinterest. I recently changed from the standard account to a business account, so now I'm getting analytics. And while I do have curated inspiration feeds, I also have a board specifically for our work and a board specifically for our blog posts, and it's been really helpful to see what people are liking there. It's also good for our SEO to back-link that to our website.
What metrics have surprised you the most?
Our top-performing post was this little shot from a vegan restaurant that we did, which blew me away. You do so much different work, and you're so proud of the stunning homes with custom light fixtures—and then the thing that the algorithm loves is a vegan restaurant?
Pinterest also has this new thing called an Idea Pin, which is kind of like Instagram Reels or TikTok, and those have been performing better for us than just hard pins, probably because their algorithm is pushing it. What blows me away is the monthly views—it's so much higher than Instagram because it's a more captured audience. People are on Pinterest to find more creative ideas, so the audience is a little bit more focused. But even though the monthly views are way higher on Pinterest, we still haven't gotten business from it yet.
I'm also exploring YouTube. We have been posting there for a while now, but only at the end of a project. Lately, we've been filming some of our bigger projects room by room. I mean, as a designer, I feel like I could talk about our projects all day long, so it's fun to give that quick overview of, like, "This is why we made these decisions. These are the important details that create this whole." And it has been fun to walk people through a project on a more intimate level. We also have YouTube Shorts, where we've been recycling our Instagram Reel content for now. That's a whole different ball game that I haven't totally figured out yet.
Historically, video production was so expensive. How are you navigating the production?
It's true. But now iPhones have really good video quality, and there are a lot of cheap editing apps that you can get on your phone. The main one I use is InShot, which is way easier than editing a video in Instagram or YouTube Shorts—plus, then you have the raw file and you can upload it to the platform, and you don't have your username on it if you want to recycle content on different apps. I usually add text to the video in Instagram. And then if I want captions, I use CapCut, which is a separate app.
Who is your audience on YouTube—or who do you want your audience to be on YouTube?
I'm hoping it's potential clients who want to do new construction homes, which is what we have been focusing on recently. We just finished an 8,000-square-foot home—it was a dream-of-a-lifetime project. And I'm trying not to let that be my standard, but the clients were so open to trying new things and wanted to invest in quality, hand-made pieces. It was just a dream. So I'm trying to promote that and pursue like-minded people.
How does having that dream project, or a dream client, change the way you think about the future of your business?
First of all, it was a huge blessing to work on such a high-end, detail-oriented project. Whether a space is large or small, those custom details that make it so unique to the client are my jam, and highlighting that in our marketing has been really important. For me, a big thing is showing people that there is good design in the Midwest. It is possible to have this elevated, textural, luxurious feeling here in Nebraska!
The spaces we design are very livable and family-friendly, but they still look nice. I think a lot of people here think, "Oh, if it's nice and beautiful then our family and pets can't be there." And I think this project really proved that wrong. We used performance fabrics and durable textiles, and this family lives there. Their kids spill jelly, the parents spill wine, and the fabrics are still fine because we thought about that upfront.
As someone who grew up in the Midwest, that totally resonates. I feel like teaching clients what they can wish for must be a huge part of your work, but no one really talks about it.
Yes! Exactly! I believe in the heart of my being that Nebraskans, and Midwesterners in general, crave good design. They travel for it a lot—I think that's a huge indicator. So I'm trying to bring that to them and show that it can be done here.
The majority of my job is education, and that's both online and in real life. There is a big misconception about interior design here, where we are very strictly seen as paint pickers and pillow fluffers. Even architects and contractors have said something to that effect on job sites. But I studied really hard for my NCIDQ exam—I've been tested on fire-safety codes, ADA accessibility and structural, electrical and mechanical integration, all so that I can be a better team member. I'll often talk about it like a cake. You might think of interior design as just the pretty frosting that goes on top, but I think of it as every single ingredient that goes into the cake itself—and the shape of the cake, and if there's filling inside of the cake. You have to make a lot of decisions and get that strong base before you frost it—that's integral to the final project. There are so many details before you fluff that pillow!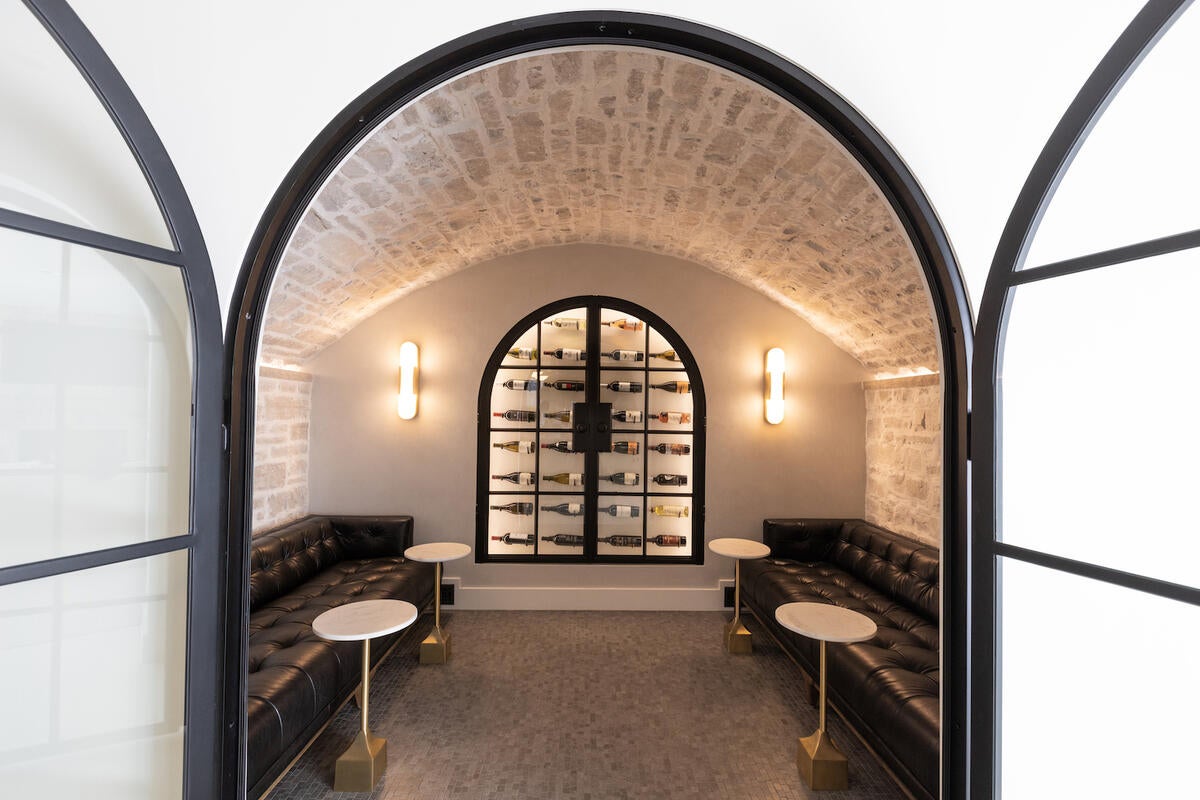 How have you approached billing for your work?
We have two signature services: our full-service package, where we bill hourly for residential and small commercial work; and a virtual or e-design package. We call that "design direction" because I truly believe that's what it does—it takes the stress and the option overwhelm out of it. We give those clients the building blocks for their space and point them in the right direction, and then they can either implement it themselves or with their builder or contractor. That's priced by the room, and that's all listed on our website.
Why is hourly the model that makes the most sense for you?
When someone is approaching us, we don't know what they'll need. I like when someone comes to us with their floor plan about 75 percent done so we can see where their square footage is, what the level of detail is on their home, how many rooms we'll be designing, and if it's an open floor plan or closed. If you have a lot more walls, there are more details to work on, so that means more technical drawings and renderings. We bill hourly for our full-service residential because of those unknowns. We don't know how many edits or iterations the client is going to want, or what we're going to run into with construction, or how often they'll want us at the job site. I've found that keeping it hourly keeps it really honest and upfront.
We give monthly summaries to our clients, like, "Hey, this is all the things that we worked on." They know that anyway because we're in such close communication, but it's nice for them to see that when they get the bill so that it's not just a number. It's like, "Hey, we did these mood boards, all of the floor plans for these rooms, along with the millwork and electrical drawings, and we started 3D renderings on these rooms that we presented to you." I think it's nice for them to see the value of our time in that way.
I know not all firms do this, but I would rather be more straightforward and honest about billing for my time than have a huge markup on furniture. I view the pieces that I sell as more of the pieces to the puzzle—but I'm the one building the puzzle, and my time is my most valuable asset.
Do you have a markup?
I do. When I worked at the previous firm, they had a 100 percent markup on everything—whatever it was, they would double it. But they didn't put a heavy lean on hourly at all. They were like, "People don't want to pay for your time." That was always a hard mental thing for me to get over because I'm like, "Wait, but I'm valuable." So I've done the opposite in my firm.
When I started the firm, I did not really know what I was doing on the furniture side; I just knew I didn't want to double it, so I was adding 15 percent. But then I did three mentoring sessions with designers through The Expert, and the ladies I met with were all unanimous that I needed to have a minimum of a 30 percent markup. They felt very strongly about it. So now I'm doing that.
Does that fundamentally change the finances of your firm?
It definitely made a difference. Where it helped the most was covering the cost of product delays and construction delays during the pandemic. What impacted me the most was that my warehousing and storage fees went up exponentially. Say our job was supposed to be done in March, but it didn't get done until November—well, I have an 8,000-square-foot home's worth of furniture in a warehouse, and they're charging me by the piece by the day. Having that little extra increase in markup is helpful so that I don't want to die when I get a bill for $10,000 in storage fees.
You aren't passing storage fees on to clients?
Well, I wasn't; I covered it this time. And again, with The Expert, they told me I shouldn't have—that I should have passed it on to the client. But that's where I struggle as a business owner. I always want to be improving our process, systems and client experience. But I also feel like a lot of things aren't my fault, and they aren't the client's fault—especially with the pandemic and all those delays, I would rather pay. I mean, I estimate our storage costs upfront, obviously. I just was not on the mark with this one. But I still felt like I didn't want to put that on the client—I wanted to maintain a good client relationship, so I decided to cover that one.
Will you change that moving forward?
Yes—and thank you to Jake Arnold for making The Expert so that I can talk to these amazing people. They said I should put a clause in my contract that estimates shipping, freight and warehouse storage, and then explain that you'll be billed on actuals. That gives me more comfort—more of a safety net—and I will definitely be implementing that in the future. You live and you learn.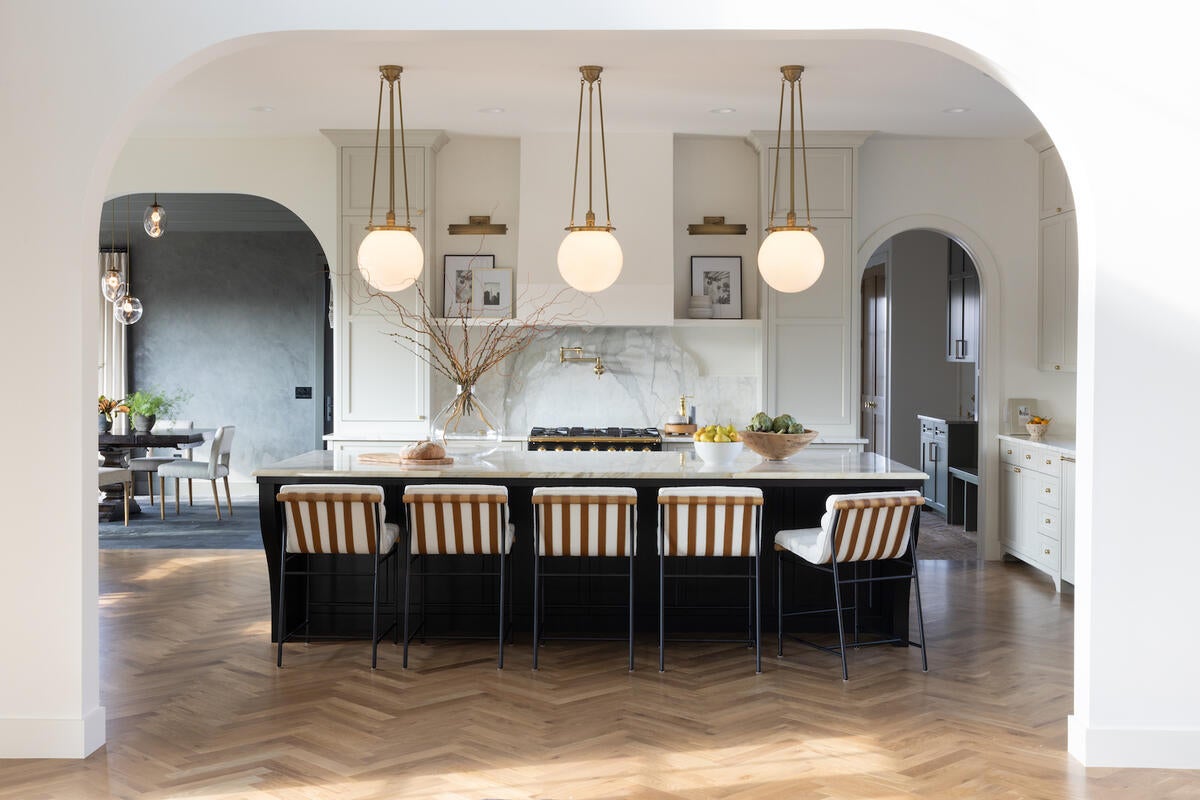 I wanted to ask you about your team. When did you start hiring, and what does your team look like today?
Early on, I had interns, which was nice because it was temporary—I wasn't locked in to pay them for a whole year, and I had help when I needed them for projects. I hired full-time team members in 2019 and 2020 for the technical drawings, and then it grew to more of the furniture procurement. Right now, we're back to just two of us—it's me and one junior designer. But depending on how this year goes, I might be hiring an admin position to handle some of the in-house things like ordering [supplies], client [vetting and] onboarding.
Your first job was in a role where you weren't allowed to grow. How did that inform the way you think about your team's growth?
I'm big on giving my employees real-world experience. If they want to travel, then let's go to the Round Top antiques show together—let's go shop and explore a new city. Let's feed our creativity. Whereas when I was at the old firm, they were like, "Oh, you can't go to High Point Market with us because you would be too overwhelmed. You wouldn't know what you're looking for."
I've also been impressed by [tech and media entrepreneur] Gary Vaynerchuk's approach to employees. He says that your job as the business owner is to know your employees, and to make sure they're happy with what they're doing, and I've really taken that to heart. A lot of it is just paying attention. Are they into baseball? Taylor Swift? And also, what do they like about the design process? Some people like doing the computer-based stuff like renderings; others like the more client-facing part and want to be more hands-on. So I want to know what part they like because that's their strength. If people like what they're doing, they'll work harder at it and take pride in what they do so that they can grow from junior designer to senior designer.
What is the biggest thing you know now that you wish you had known when you launched your business?
That I am worth investing in, and I have good ideas. Sometimes you have to be your own biggest cheerleader. Yes, there are a lot of unknowns in business, but it just takes time and research and you figure it out.
What does success look like for you?
I feel like happiness is the new success. My parents' generation worked to earn a paycheck to feed their family—they never once considered if they enjoy what they do. Today, I feel like the biggest luxury is that I'm able to love what I do. I mean, I still bust my butt, but I'm so lucky that I get to actually do what I'm obsessed with. That, for me, is such a blessing.
Success is also finding that balance—I don't just want to run a profitable business, I want to be successful in my marriage and successful as a parent as well. I want to be able to get on the floor with my son and play cars—to do things that make him happy, and encourage him to pursue things that spark his interest the way I've been able to follow mine.
To learn more about Tara Miller, visit her website or find her on Instagram.