The 50 States Project is a series of candid conversations with interior designers across the country about how they've built their businesses. This week, Atlanta-based designer Erika Ward tells us why she started doing her own receiving, how she uses calendar blocking to carve out time for creativity, and why she always spends clients' money on paper first.
Was being a designer on your radar when you were growing up?
My grandfather was an architect, which is unique, because there weren't a lot of Black architects back then—there are still not a lot of Black architects even in 2022. He was licensed in three states, and he worked for the federal government. He wasn't working on a residential level, but he designed and built the home we lived in. His brother was also an architect, and he lived in the neighborhood as well. And besides the two of them, I grew up with a family of creatives: My mom was a hairstylist, my aunt was a floral stylist, and we had a seamstress in the family.
I've always been a pretty decent writer, so I had decided that I was going to study either journalism, architecture or interior design. But my grandfather said, "No, you're going to major in finance." Our family had some real-estate holdings, and his plan was for me to come back and manage that side of the family business. He passed away my freshman year of college, but I did what he told me to do and completed my bachelor's in business administration and finance at the University of Georgia. He was a very smart man, and I trusted his plan for me. When I graduated, I worked for my uncle—my grandfather's son—and his flooring business.
So you were able to dip your toe into the design world?
He was a flooring subcontractor, and I was their estimator and project manager, so I had a foot in design, but I wasn't designing. While I was there, I started taking interior design coursework in the evenings at American InterContinental University with the intent of getting another degree. Then my uncle had to let me go when the recession hit—things were just awful at the time—and I got another job working for Heery International, a full-service design-build firm here in Atlanta. I was working as a project accountant, and my project was the Georgia Aquarium, which at the time was the largest aquarium in the world. It was a $325 million project, and that was my budget to manage.
That's a huge number.
I was terrified. It wasn't the project itself that was stressful—I really liked the people that I worked with. They were very organized, very efficient and excellent communicators, and I learned so much from being on that team. It was more the numbers and the level of responsibility I had that was the scary part. But I also had to go to work every day as if I were not terrified, so I would sit in my car and cry before going into the office. On the surface, though, it looked great: I had a parking space with my name on it right in front of the building, and you had to come through me to get clearance to get paid. It was a big deal, and I really wanted to do a good job.
How long did that process take?
It probably took five years including the planning process, but I was there for three years working on that project. After that, I worked for a company called Carter & Associates doing development accounting. It was nothing sexy like the aquarium project, but I was working closely with architects and project managers on facility work like pools, banks and high-rise buildings. All the while, I was taking on small projects.
By this time, I was married and had two children and I was pregnant with the third. I knew something had to change. I didn't have enough clients to completely supplement my income, but in 2009 I started writing for Houzz. I was one of their first paid writers, and I've written over 200 articles for them.
Why was that appealing to you?
I had been writing a design blog called BluLabel Bungalow. I took what I learned from the classes at American InterContinental—the history of design, space planning and drafting—and combined that with my business acumen, and hung up my own shingle. Writing my blog gave me exposure, and it gave me credibility in the industry. Writing for Houzz, I was putting out a few articles a week and that was supplementing my income.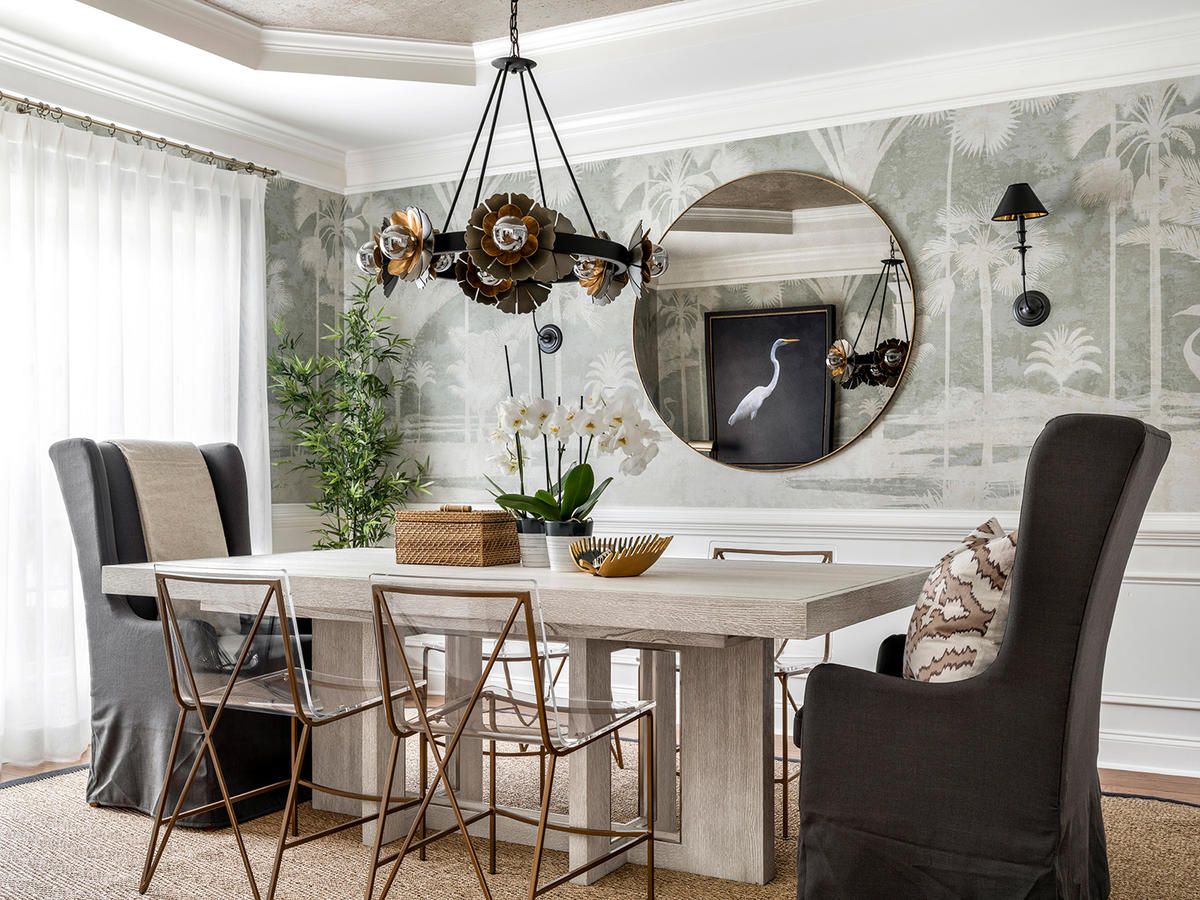 Robert Peterson, Rustic White Photography
Were the design courses you took helpful in starting a business?
I always ask new or aspiring designers, "Do you want to just design, or do you want to also be a business owner?" If you decide to open up a business because you can't get hired somewhere, know that the business part of it is the majority of it. I tell people, "If you're going to take some design courses, take some business courses, too—accounting, marketing and communications classes." If you have a good bookkeeper and you can communicate, other things can be forgiven. The fact that I understood and practiced business and finance prior to being a full-time interior designer is why I'm still here.
Your grandfather's advice was sound!
It was. A lot of people looking to make a career change ask me for advice because I did not start in design. I tell them: "You may not be a confident designer, but be confident in the things that you do know." For me, not having a design degree was one of the things that I was so insecure about in the beginning—I found every way to write a bio for my website and not have to say that I didn't have a degree in interior design, even to the point where I would cut out that I had a business degree. But at some point, I was like, Why am I doing that?
Think about it: If a kindergarten teacher wanted to transition into the design world, she could decorate a kid's room. She understands children and their behavior, how to get them to put things back and that certain organization systems have to be in place because of the way they understand life at that age. Suddenly, your experience as a kindergarten teacher can really help you own a niche in the design world.
Fast-forwarding a few years, what does your team look like?
I have two other designers who work with me. One is a junior designer who assists me personally with design projects. I have another interior designer that works on the team. We have someone who just does client services, and she is the gatekeeper. She's the first point of contact, places orders for us, and helps with procurement and tracking.
What have you decided to keep for you, and what have you delegated to your team?
The client interface. You're either going to see me in person, see me on a video call, or see me via email. I send gifts to clients for birthdays or anniversaries. I try to maintain those personal connections with them and have different touch points in the process to make clients feel important.
I am also the lead designer on the project as far as communicating the vision and sourcing. I feel out the buyer and decide which brands we're going to work with. And I still do a lot of oversight of my books because I'm not going to let that go—I'm not the bookkeeper, but I review what's going on as far as the financial health of the business with the bookkeeper every single week. I am really taking on more of a CEO role now than ever before, but you really have to have some strong designers to be able to transition into that role.
Are you still looking to grow?
I do feel that there's a place in my business for an operations manager. That will be my next hire, to offload some of that project management and people management. I want to set some healthier boundaries and not be so accessible. If I'm always your immediate contact, when will I get my work done?
How do you manage that now?
What works for me is calendar blocking. I block time for everything. I even give my team blocks of time when I'm available to them. My employees know that between 1 o'clock and 3 o'clock, you can ask me what you need to. After that, I'm off the clock again. I'll put my phone on "do not disturb" and close my email so I won't look at it. I need quiet space.
You opened a showroom, as well. How does that fit into the business?
We have a studio and a showroom that were built out to feel like a one-bedroom house. It is not staffed, it's just for our clients. When you come into the showroom, you're able to sit on the sofas, touch the window treatments and wallcoverings, see the different lighting styles. We've even got a kitchen built out. I signed the lease right before the pandemic hit, so it still hasn't been utilized to the maximum, but every client since then has had their presentation in the studio and has made decisions based on experiencing the furniture that we have there on the floor.
That's great. How did creating that showroom change your business?
It put a feather in my cap from the standpoint of, Oh, wow. She's doing enough work to be able to have a storefront. I made a really great investment, bet on myself and the business to make this thing work, and it's working.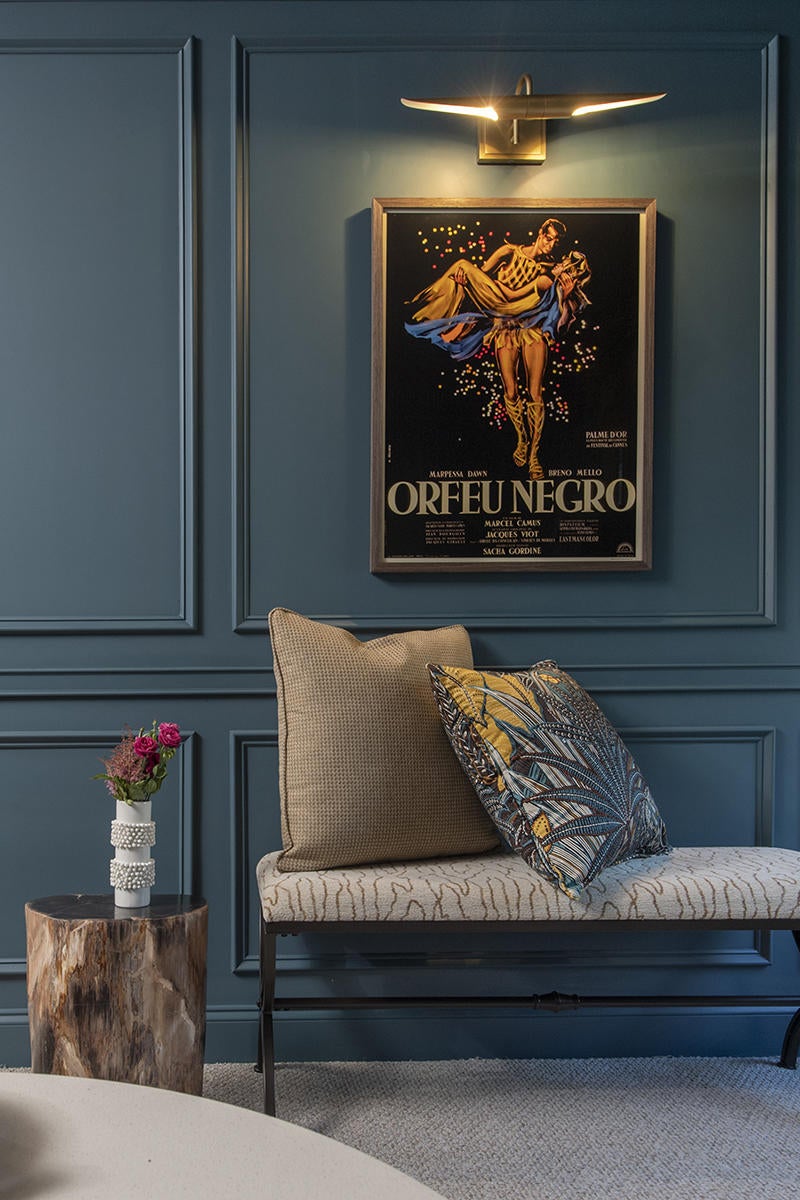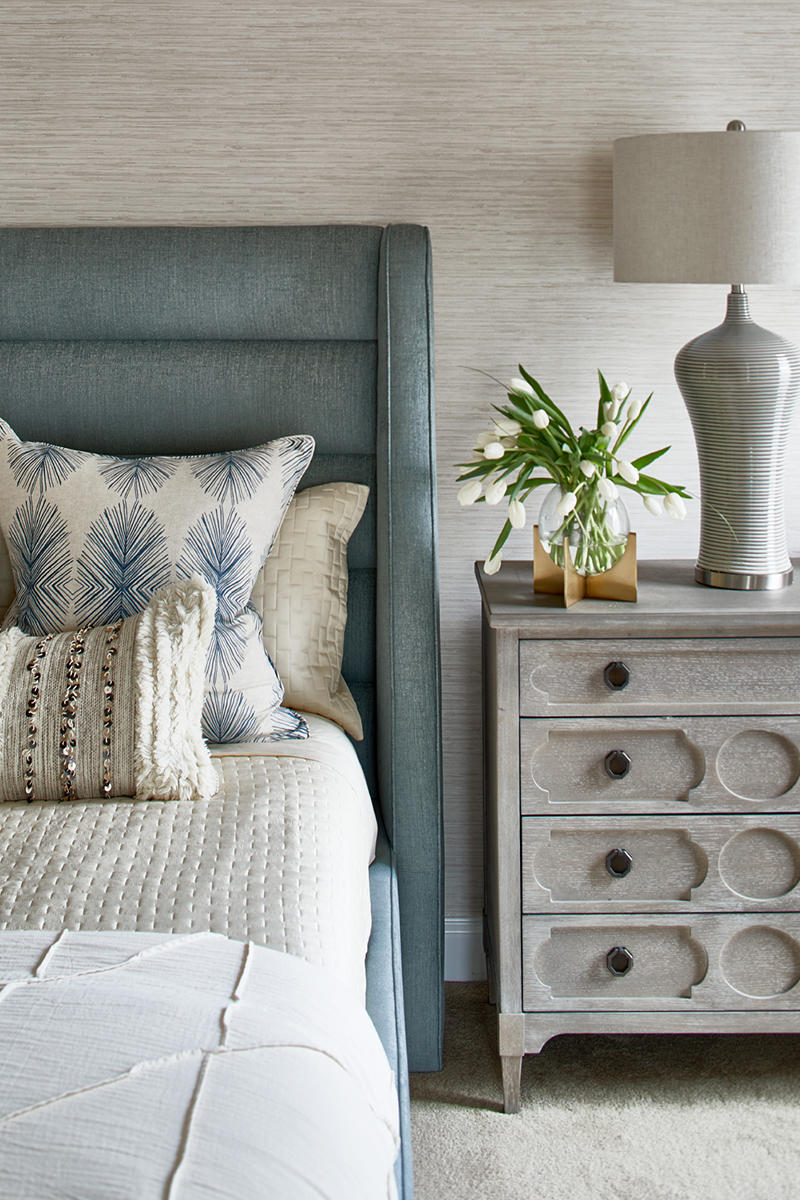 How did your understanding of how projects come together on the financial side shape the financial health of your business?
I think it had more influence on how I manage my clients than my business. In both corporate roles, the firms worked as the owner's representative—we always worked on behalf of the client. It really influenced how I handle my clients and help them understand how far we're going to get with a budget.
I do an exercise with all my clients. I tell them, "We're going to spend this money on paper first." If you're spending it on paper first, you can manage their expectations of what gets done and how the end results are going to look. You also give them an expectation of what they're going to spend to get what they want.
So you're mapping out the entire project and expenditures before they even see a design plan?
Yes, I've done this for 13 years now. I already have clues from the client as to what they value, and what they can afford. I think what has to happen is that initial money conversation—whether it's something that becomes part of the agreement, or it starts the conversation—helps to establish trust with your client that you know how to manage their money. You know how to spend their money, and they know how you're planning on spending it.
Are you really involved in that conversation every step of the way?
Oh, yeah—you're definitely talking to me about money. If you just want to design, why not pair up with another designer who you like and go work with them? Everyone is trying to be an entrepreneur right now. I think social media and pop culture have glorified entrepreneurship, but it's not that glamorous.
How do you bill for your work, and how do you talk about that with clients?
I tell clients that my design fee is how we get paid for the work that we do. We establish the scope of work first, then I give people an estimated design fee. I try to do a flat rate, then I bill hourly for project management. If we go outside of the scope of work, then I let them know in advance that it is outside of the initial scope and that it will also be billed hourly just like project management. We bill for product as well. We've got the storefront, and I've got a warehouse facility offsite where we're doing all the receiving.
You're doing your own receiving, too?
The uncle I worked for also has a warehouse, so for a long time I leased office and warehouse space from him. Eventually I wanted to open a space that was more client-friendly, but I still kept the warehouse space. Then the receiver that I used changed his business model—he wasn't receiving any more, only delivery—and I had some negative experiences with other receivers I tried. Also, as a recovering control freak, I like to go open the box up and look at it myself. I don't always trust their assessment, or that they even received the product. Now, our office space and warehouse are in the same area, so we're doing the receiving. Sometimes one of my designers will go work from the warehouse if we know that we've got something coming.

Are you fine-tuning your billing model as you develop your firm, or is it pretty set in stone?
I'm really trying to make sure we're billing for our time. We're on a flat fee, but a recent challenge for us is that the flat fee we established was assigned to a certain time frame. What happens when that project goes beyond the time frame? That has been a pain point in my business. Luckily, the amount of products that we sell has helped to balance out that situation for now, so the shortcomings in the fee have been taken care of by product revenue.
What's driving that change? Are people just spending more and wanting more, or are the projects you're getting changing?
I think I shifted, actually. I'm finally recognizing who my ideal client is—it doesn't have to be my easiest client, but ideal in the sense that they are the ones who are getting the most satisfaction from me. I've drilled it down to female attorneys.
So many people define "ideal client" as the easiest client, but you've turned that on its head: It's about who enjoys you the most. Why is that?
If that client has fond thoughts of you, they're going to refer you in a heartbeat. They're going to tell all of their friends, and their friends are in the same income bracket. Coming into it, they already know what to expect. The other thing is that when I'm dealing with female attorneys, they read my documents. One said to me, "Well, you might want to include this in the agreement, as well." So I'm getting free legal advice too!

Most of my attorney clients are to the point. I think there's an element of them needing someone to help them make a home even though they aren't available to do it. I recognize it, and I don't make them feel bad about it. I'm working to help them look good at home, and it's always a collaborative effort. I ask them, "How much do you want to be involved in this? No answer is bad, but I just want to make sure I copy you on the emails if you want to be included in everything."
That's another thing: Everybody loves my emails because they're organized. They can easily look at my emails and scan them for the important information—I've bolded and highlighted and underlined things. I think when somebody can give you a document that helps you get the information, but it doesn't interrupt your day, they appreciate it. Those are my people.
You just said you don't make clients feel bad about whether or not they want to be involved. Is that something clients have guilt about?
I think so. These people also appreciate that I can recognize that they may not always have the best attitude if I catch them at the wrong time, and I won't take anything personally. I also have to give people grace and recognize that other things are going on and these people are busy. I'm always rooting for my clients—for their successes, prosperity and overall health. The fact that I can play a part in that is so humbling to me, and it gives my work so much more purpose. I feel like I've had some part in helping them become whoever it is they aspire to be. They don't have to be every person, they just need to know who to hire. I tell them, "Hire me to manage all of this for you and together we can get to where you want to be."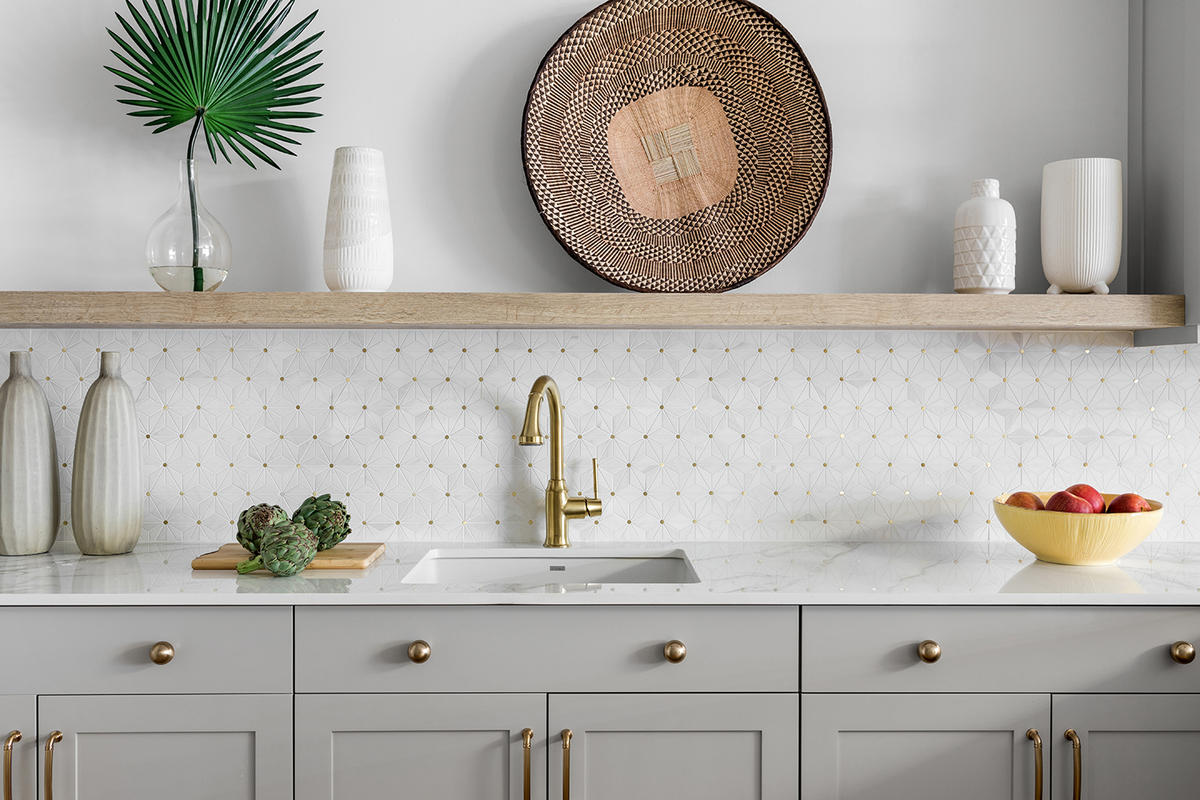 Robert Peterson, Rustic White Photography
TKTK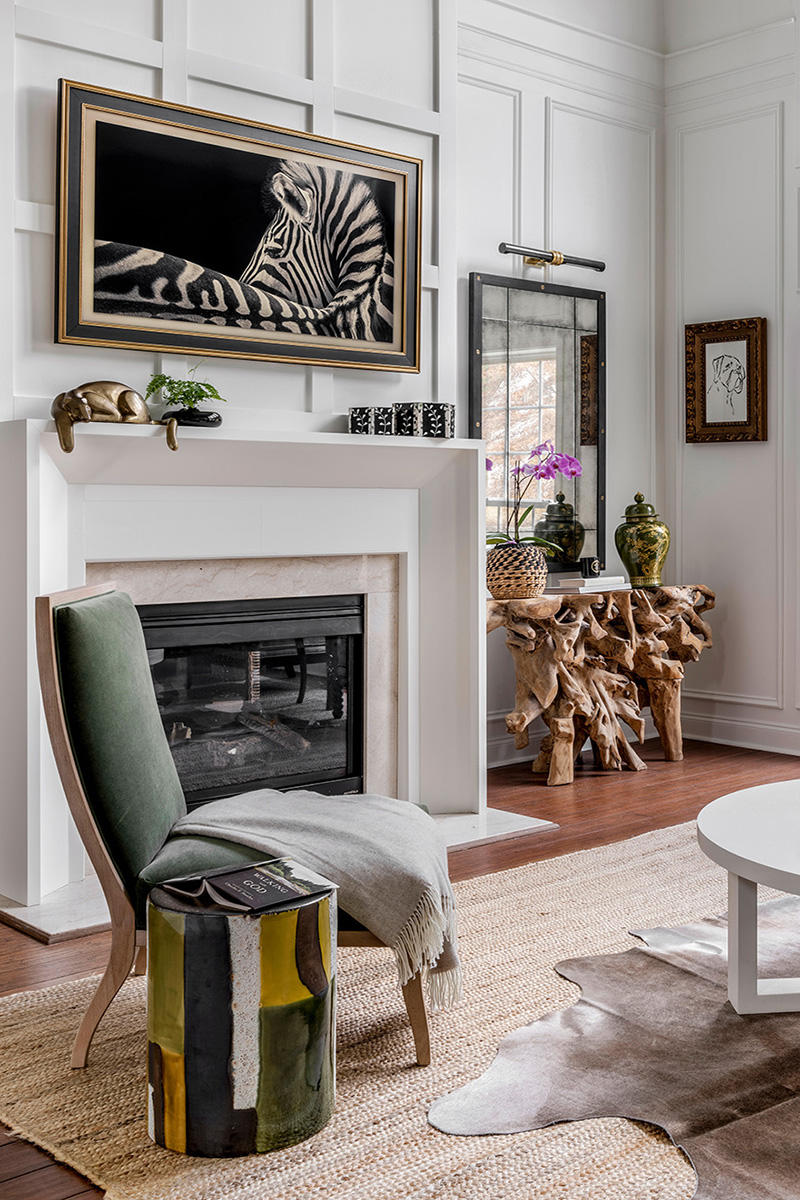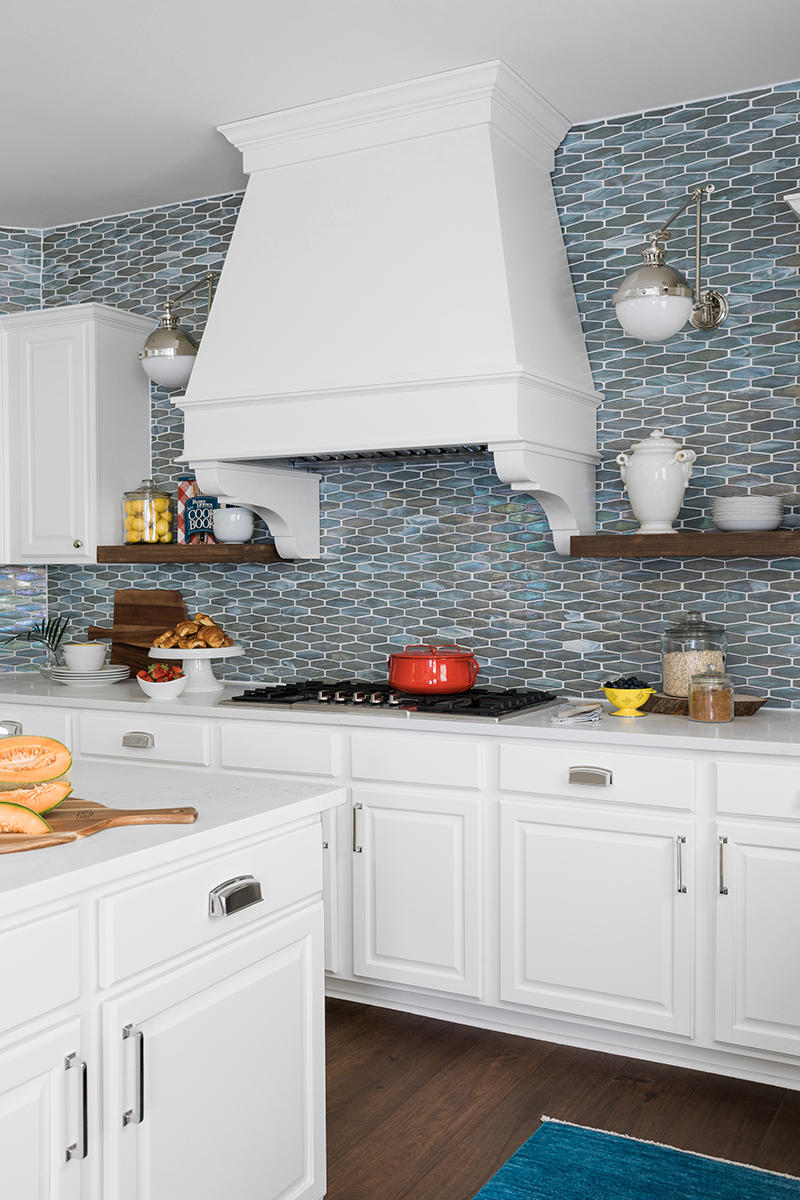 How many projects are you working on typically at one time? What's the right number for you right now?
The right number would probably be 10, but we are working on 18 right now that are in varying stages. The other thing, too—which is really a blessing—is I get some scope creeps. If you're not a regular, you're really trying to get a feel for how this whole interior designer thing works. Then you finally understand how it works, and you like who you're working with, and you're like, "OK, let's do more." And I'm like, "Wait a minute. I can't do it right now!" So dealing with scope creeps has been like, "How do we get to a point where we get that person's full trust in the beginning, so they can give us the whole job instead of one room?" It's not a bad problem to have, but it's still a problem if you don't have a plan of action.
Are people willing to wait when that happens, or are you doing backbends to fit them in?
It's both. I want to please them, so that's another problem I'm having. But you can't do that because it compromises your integrity and your work as a designer. There's a balance. My grandfather would always tell me, "People don't want to know what you can't do. They want to know what you can do." If you lead with, "Here's what I can do right now: I can work on some concepts for you. Then, maybe in about three weeks, I'll come back to you again." That's often enough. All they want to know is that there's a hope to get this started.
You've built your business in Atlanta. How have you seen the design community change in the past decade?
I'm an Atlanta native who's in my early 40s. I've seen our city change to the point where I'm starting to need a map. We have a lot of transplants now, and sometimes I do miss the sweetness of the people from here. I've seen so much wealth come through Atlanta, because you're going to get so much more for your money here than you do in other places. But on the flip side of that, it's become more difficult for Atlantans to keep their homes because they're being driven out due to the increase in property values. There's still so much land to be developed here in Georgia, so you've got new communities popping up outside of the city limits to accommodate those who can no longer afford to live in the city—but that means all of that beauty that you had there is being cut down to accommodate the urban sprawl.
I am happy for the business because it has not slowed down, and it is not going to slow down—there's so much work. There's a lot of design talent here in Georgia, as well. You've also got other people who are moving here who take advantage of that. So I don't ever see a lack of talent or a lack of work. The personalities of the clients that I'm working with are also interesting. Each client is different, and they're coming from different states with different attitudes about things and different ways of doing things. Just when I think I have people pegged, I find that I don't really know.
Beyond attorneys, are there any commonalities your clients have?
I have clients who are my age, or they're empty nesters. I don't have a lot of millennial clients, and I've never had a client in their 20s. Most of my clients have families like me. They're often people who are C-level executives or entrepreneurs that also have a multi-generational family. That's another common thing that I've seen with my clients—they either have a parent living in their home or they bought a home for their parents. I love that, because I have a tremendous respect for our elders. It's also challenged me to get more familiar with design for aging in place.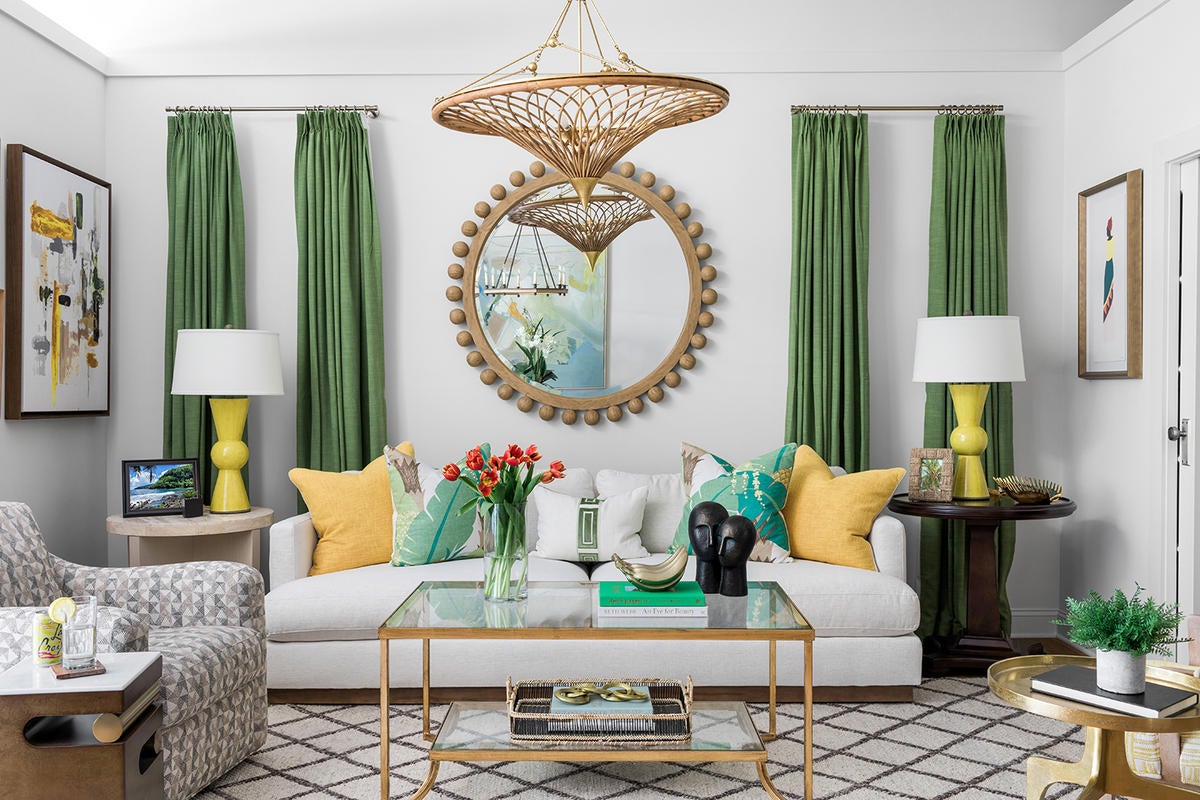 Robert Peterson, Rustic White Photography
You have such a reputation for mentoring—so many people I've talked to for this column alone have said you helped them through tough times in their businesses. How do you approach giving advice to other designers?
I think it's being able to listen. If somebody asked me a general question—like, "What's the path to becoming a designer?"—I know that doesn't actually matter. That's my story. What is your current situation right now?
Is mentoring an official piece of your business?
No, ma'am, and I've been running from that. I have the heart of a teacher, and I don't like people to hurt, but for me to do it formally at the level that I would want to do it, it would have to be my full-time job. What I've tried to do instead is give people enough information to empower themselves to take the next step, and not so that they rely on me and come back to me again. It's more, "Let me give you what you can do now, and here's the next step after that." Some people who come to be are desperate to be designers, but they're not ready, and I tell them that, too. More than anything, I'm giving them advice on how to build a foundation. Just like my grandfather said: "Don't tell people what they can't do, tell them what they can do."
When you look at your business now, where do you see the most opportunity to grow?
I'm most excited to grow in the quality of projects. I also want to become a referral-only type firm. I've built these relationships, and if you think about the statistics as far as how often people move, I'm in that cycle where I've moved several clients at least twice. Those people know other people, and they're referring me all the time. If I can get to a good place where I can have a set number of clients or types of projects, then maybe I can also have an opportunity to do other things, like more product design. But you have to have that creative space and that quiet time to be able to even develop a product and find the time to be inspired. If you're bogged down working in the business and on the business, when are you going to find that blue-sky time to dream?
To learn more about Erika Ward, visit her website or find her on Instagram.