The 50 States Project is a series of candid conversations with interior designers across the country about how they've built their businesses. This week, Atlanta-based designer Giana Shorthouse tells us about the work-life balance epiphany she had earlier than most, how she remedied a big billing oversight, and why she doesn't apologize for changing her systems as she goes.
What are your earliest memories of being drawn to design?
I have wanted to be an interior designer since I was 12. I come from a family of creatives—my dad is an art director and appreciates all aspects of design, and we used to watch Trading Spaces together. That was my first introduction to interior design. Then, when I was in middle school, I took a career quiz and one of the results it gave me was to go into a creative career such as interior design. That stood out to me because it was something I already recognized that I found joy in. From that day on, I stuck with it. When I told my dad about it, he was like, "Oh, then you should go to SCAD [Savannah College of Art and Design]," and I was like, "Cool, that sounds great." And that's what I did. I was so decisive as a child and knew exactly what path I was going to go down, but that's changed as I've gotten older.
How did your experience at SCAD hone or shift which aspects of design resonated for you?
It opened and broadened my worldview of design and what was possible—it was inspiring to be so engulfed in this creative culture. They get that part right. The one downfall was, because we were so focused on concepts in school, I wasn't quite as prepared for stepping into the real world as I felt like I should have been. I also graduated not long after the [2008] market crash, so a lot of companies were laying people off and very few were hiring. [In that environment,] I wasn't sure what my path was going to be. I left school and went off to travel for a little bit. When I got back, I had an offer from the employer I had interned for during my last year in school to be their marketing manager [because of my] interest in photography, branding and web design. I didn't know what I was doing, but it sounded fun, so I took it, and that turned into a five-year job as a marketing director, and it really grew their business.
It also led me into my next career, which was in styling. I had started styling that firm's photo shoots and kind of fell in love with it. A photographer I was working with was like, "You're really good at this. You should consider doing this." We had a four-day work week [at that company], so I spent my Fridays building up my styling portfolio and eventually got to a point where I was able to express that interest to them and shift my schedule so that I could take on freelance jobs on the side while still working there. I did that for about two years until I built up enough work, to the point that I was so busy that I was turning down work. That's when I realized, "Heck, I should just go off on my own and do this."
But eventually, styling turned into designing.
That happened just before the pandemic. I had been styling for about six years at that point, and I just got burnt out. It's still something that I love to do, but it was my only job and I was working my butt off, shoot after shoot after shoot. I had an agent, so they pushed me to take on jobs that I wasn't necessarily excited by over the years. When I first started, I could do really cool, fun portfolio work. Then, as I started gaining clients and momentum, I found myself taking on advertising jobs for companies that were not related to interiors, and that quite honestly didn't give me any creative outlet. I was just another number on their list of crew, fulfilling a checklist. I got to the point in 2019 where I just had to sit back and reevaluate.
There were people every now and then who would be like, "I want you to design my space," so I had been taking on a few clients here and there—but it was super tiny projects, like, I'll help you pick out a few pieces of furniture, or I'll help you source bedding and soft goods and draperies for your house. It was nothing that impactful, but it did show me that I could still do it. I finally decided that I was going to make the switch back to interior design in 2020.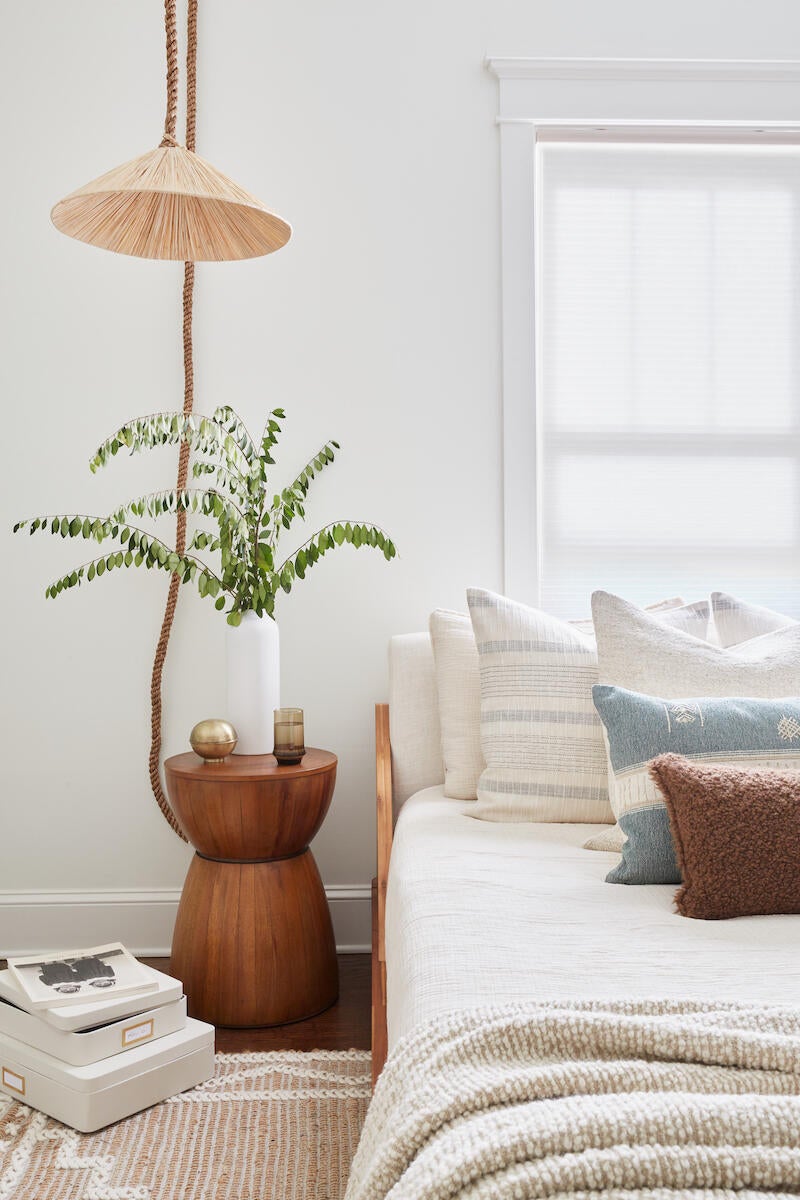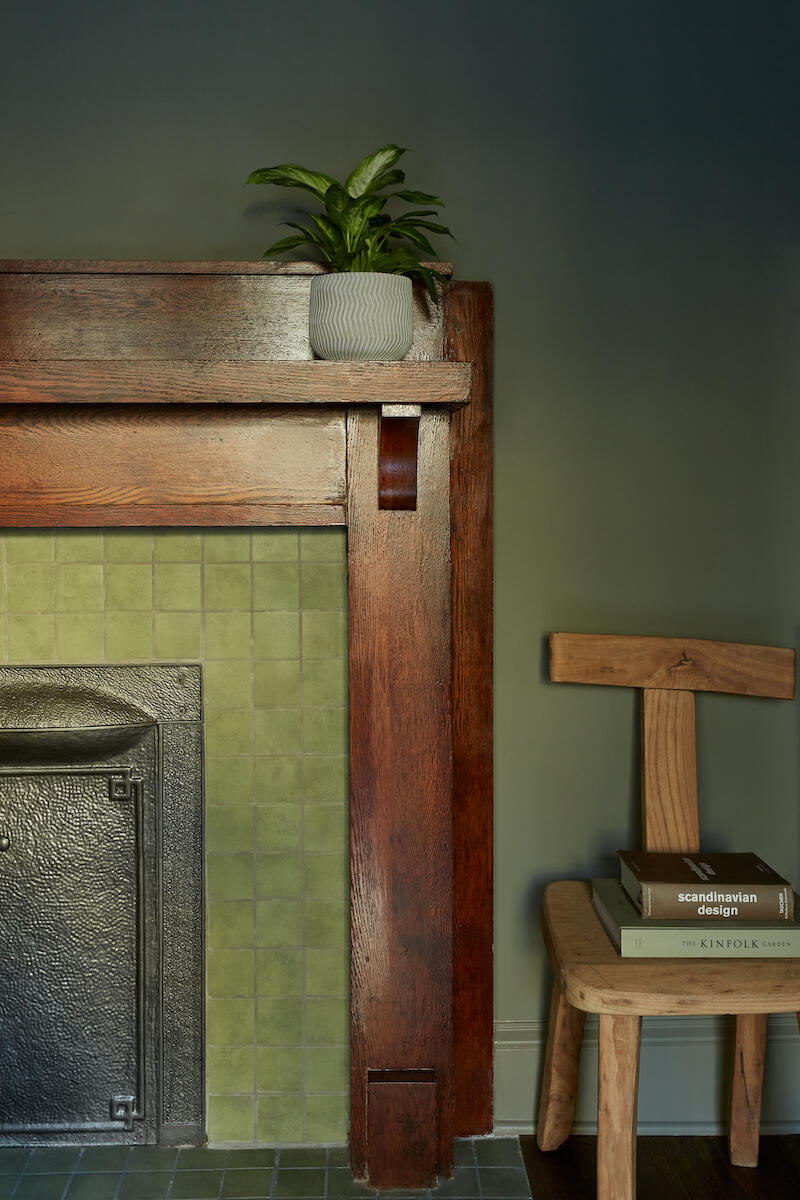 What was the confidence-builder that made you ready to officially launch your business?
Redoing my website. I said to myself, "If I want to get more design clients and see where this goes, I have to switch my website," because at that time, the only people who were hiring me were people who just knew me. If you Googled me and went to my website, it was all commercial styling work, and you'd have no idea that I had a background in interiors. I decided to rebrand and try to incorporate both of those avenues into my website. As soon as I launched, it was like my business just grew overnight. In a few months, I had more interior design clients than I could handle, and I was having to turn down the styling work. Within six months, I had hired two people on my team just to keep up. It was a rapid shift but also a very validating one.
What made you feel ready to make those early hires?
I don't know if my answer is the best piece of advice because I honestly wasn't sure if I was financially ready to hire people. But what it boiled down to was my mental health, my physical health and my ability to take care of myself. I knew if I was going to be able to work while also tending to my own needs, I would need support. And as I found [staff members], I realized that I could financially make it work. I've had small dips—like, the beginning of this year was really hard, just after the holidays—but I still see so much value in having people that I can delegate to. It really clears my mental space so that I can focus on me, because at the end of the day, that's what I value most. I wanted to work for myself so that I could have freedom and autonomy to listen to my body and do what works for me first, before having to answer to anyone else, and it's something that I value for anyone who works with me too.
That's such an amazing, honest, incredible answer. It's also rare for someone to come to that conclusion so early in their business.
Thank you. I mean, it's very necessary for me. I have a history of mental health issues and an autoimmune condition that I was diagnosed with within the past four or five years, which has made it really hard for me to feel like I'm capable of keeping up in a world where we are constantly being told that we have to produce and, you know, show our work. So if I'm going to have a business, it needs to be so that I can support my own lifestyle and not feel like I have to conform to what everyone else is doing.
How do you create a company culture where work supports wellness?
I think the first way you create that is just by being honest and communicating that. When I was going through [my initial staff] hiring process, I walked them through why we work the way we do so they understand that it's not just black and white—I want you to be happy as much as I want me to be happy; these are the things that we value—and I try to make sure that they're on the same page.
The other way that I think [that culture is] supported or fostered is through day-to-day interactions and flexibility. The designer who works with me knows that if she's running late or sick, it's not going to be an issue as long as she communicates that. It's about the way employers choose to handle curveballs. We are all human, and things happen and come up. As long as there's open communication, and you choose to respond with understanding and grace, then that's the way that you foster [that kind of culture]. If I'm having a bad day, I want to be open to my team about that, and to communicate when I am going through times when I might need an extra day of rest, and I want them to feel empowered to do the same. Work is not everything, but that's a truth a lot of us are just now starting to wake up to.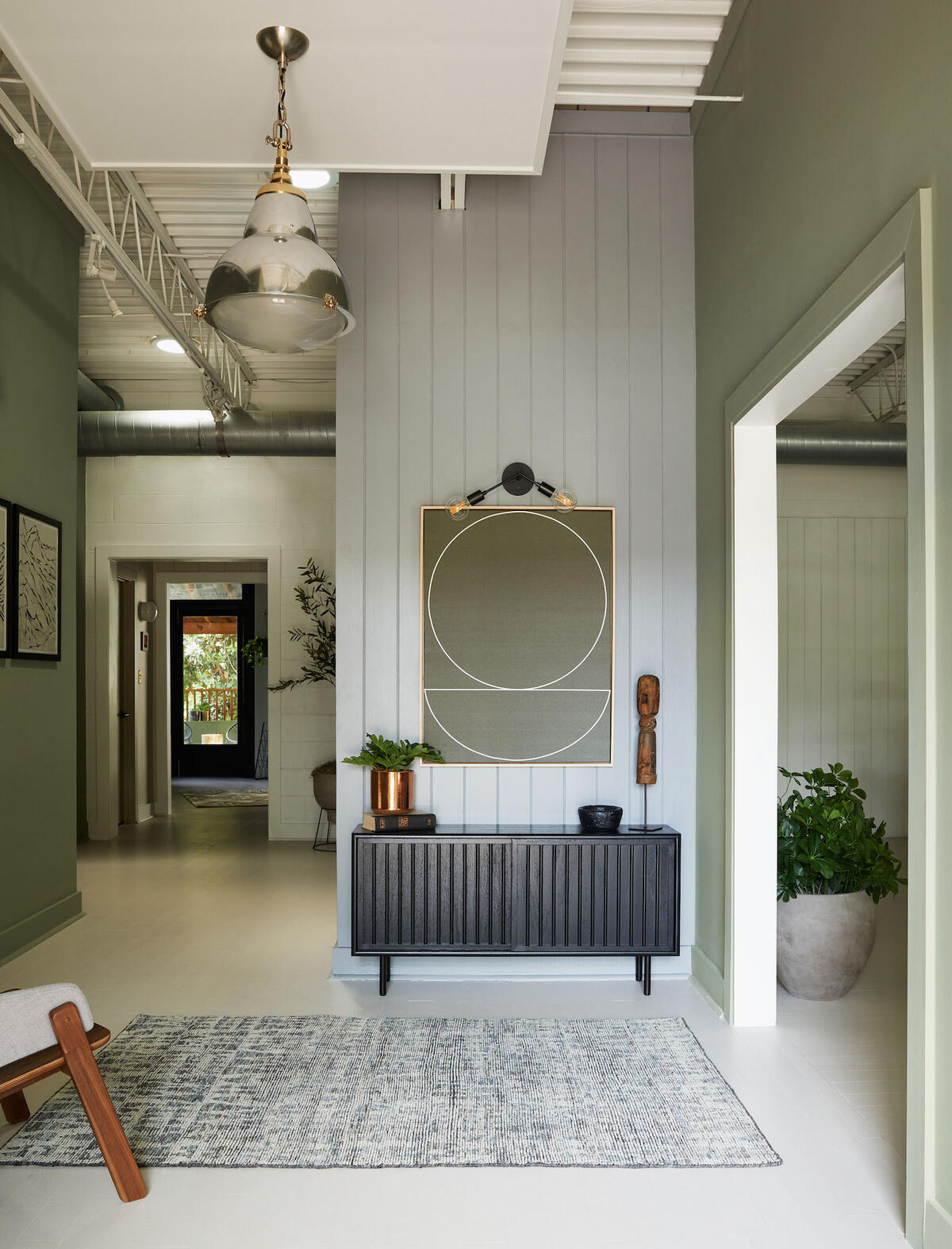 What was the first role you were looking to fill?
The first role was a junior designer because I knew that I needed help with tasks like getting samples, dropping things off with clients and making selections for smaller projects. But as soon as I hired that person, I realized that I also really needed help with the back-end logistics of the business—I was so overwhelmed with placing client orders. As soon as I hired a junior designer, I immediately hired someone else to come on board in an admin capacity, so now they handle scheduling and logistics for orders and purchasing.
How has that changed your experience in your business?
I don't know if it really makes a difference from the outside looking in, but I have more patience and grace to be able to interact with clients in a way where I don't feel bogged down. When I go and meet at a client's house, I feel more at ease—I know, OK, if this takes me two hours, that's totally fine because my team is handling other stuff and I don't have to rush back to my computer. It's been more of an internal release, to be able to know that I can take my time, be more attentive and manage those client relationships better.
I think clients also feel more confident knowing who they can go to for certain things. By having someone whose role is specifically managing orders, my clients can go directly to that person. That way, I can work with them on design stuff, and we can get really inspired together—I have some clients now who just text me when they see something cool, or are watching a cool show on TV, and that [evolution in our relationship] has been fun and eye-opening.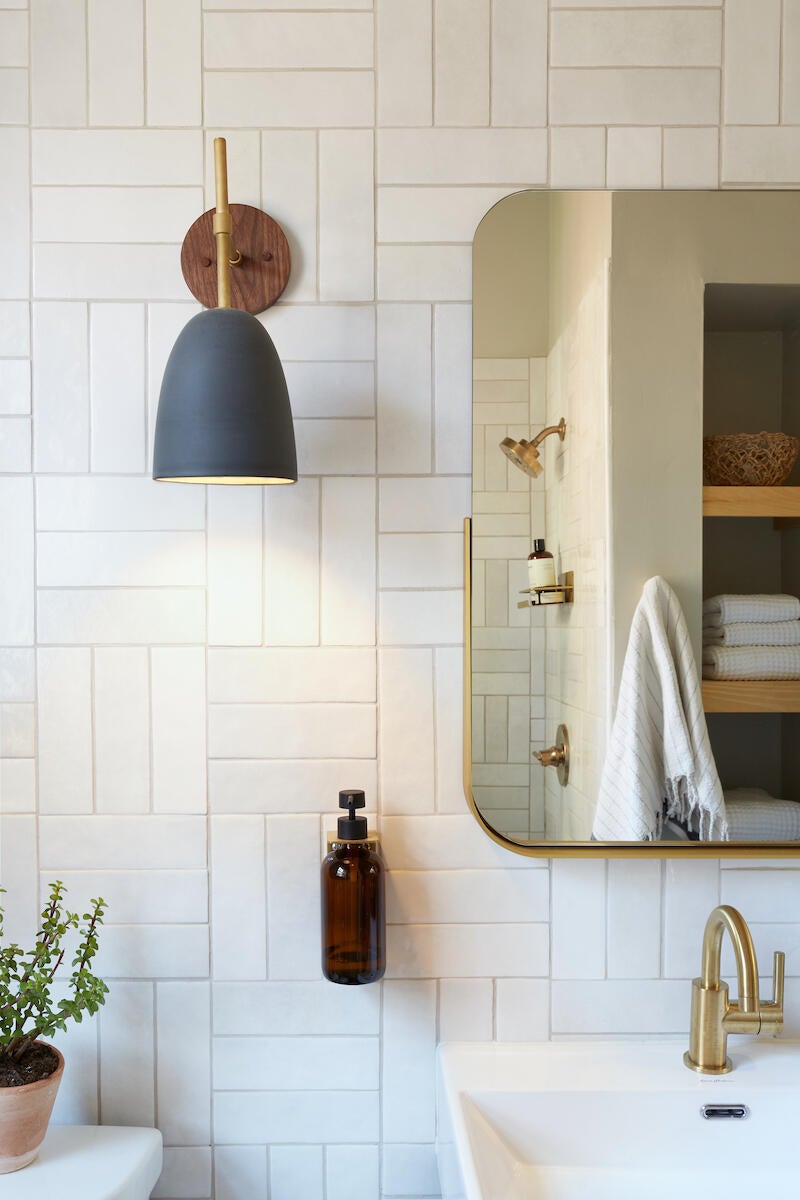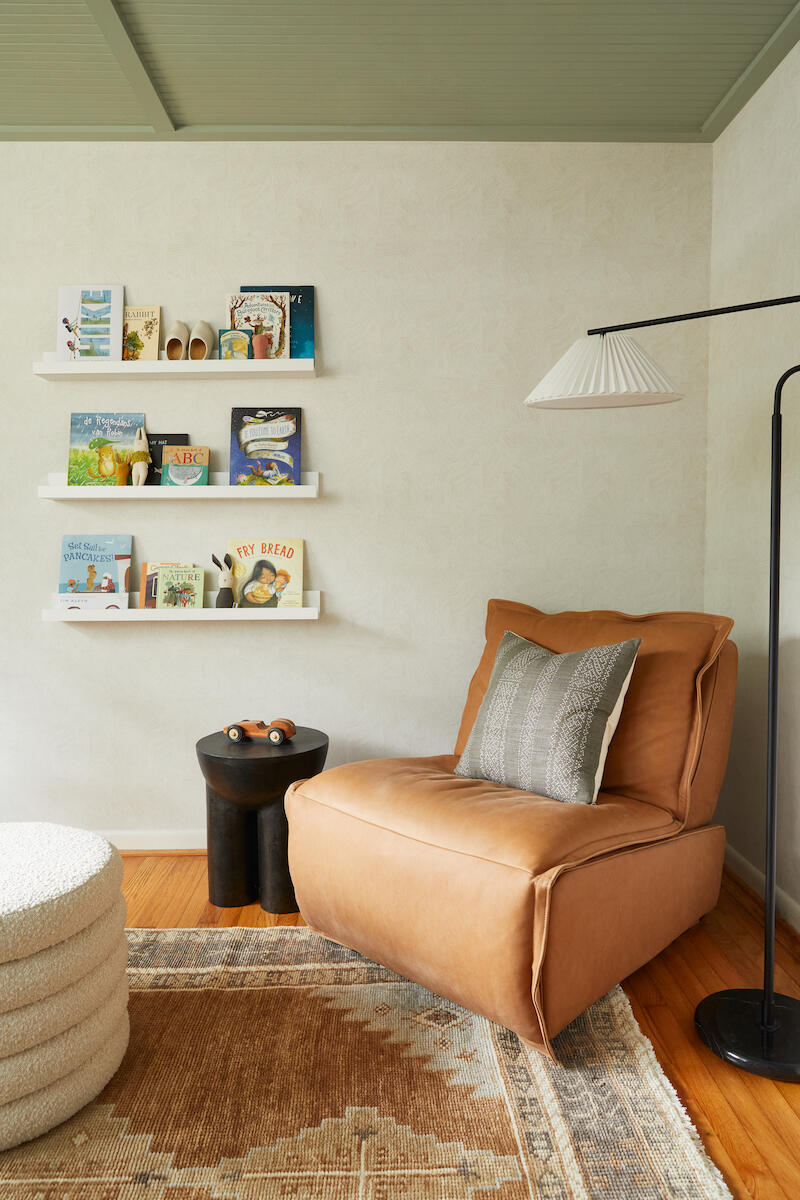 How many projects are you currently working on, and is that the right amount?
In the fall, I had 12 projects and it was way too much, but it kept the machine going. Right now, we have six or seven, and that feels good. Trying to find that balance is really tough—knowing that some of them are shorter projects that will turn over quickly, while the other ones linger on throughout the years.
When I started out, I was saying yes to small projects, but as I've gotten busier and some of those small projects ended up being delayed, the next thing I know, I'm too busy and I feel bogged down by giving energy to this project that I'm no longer making money on. I've realized over the past year that I can't help everyone. It hurts to say that, but those projects have been the hardest to manage, and have inspired me to try to rework some things in my business so that I can find different ways to help those people, even if it's not in a full-service capacity.
What does that look like?
I just launched on Intro. It's very new and has not really picked up any traction yet. But before that, I launched these work sessions where I block off one day a month, usually a Friday, to take on four clients. It's $395 for a two-hour session, and they can bring whatever they want to me, as long as they have documented photos. We just sit down and work through whatever design dilemma or challenges or questions they have. It was immediately super successful. I did the first round last month, and I was able to get so much done with each of the clients. They had all wanted to hire me, but I knew the projects were too small—and because they knew that, but were excited to just get it done, they came in very focused, and we were able to come up with solutions they can go and accomplish on their own.
Is that something you'll keep doing?
We have the second one coming up this Friday, and I've decided to do it the first Friday of every month going forward.
Could someone book with you three months after that first session and say, "OK, we got this far? Can you help me again?"
Absolutely. That's the point—because, truthfully, projects do not go that fast. Like, let's be honest: A lot of people think, "Oh, I can do this in a week or two." But it's always going to take more time than you plan for. When they get to that next step, a month probably has already passed, and they can book another session if they want additional guidance. Maybe they got to a point where they're stuck or where they got more inspiration, and now they want to pivot. They can come back and do that—and it still costs less than hiring a designer for a full project.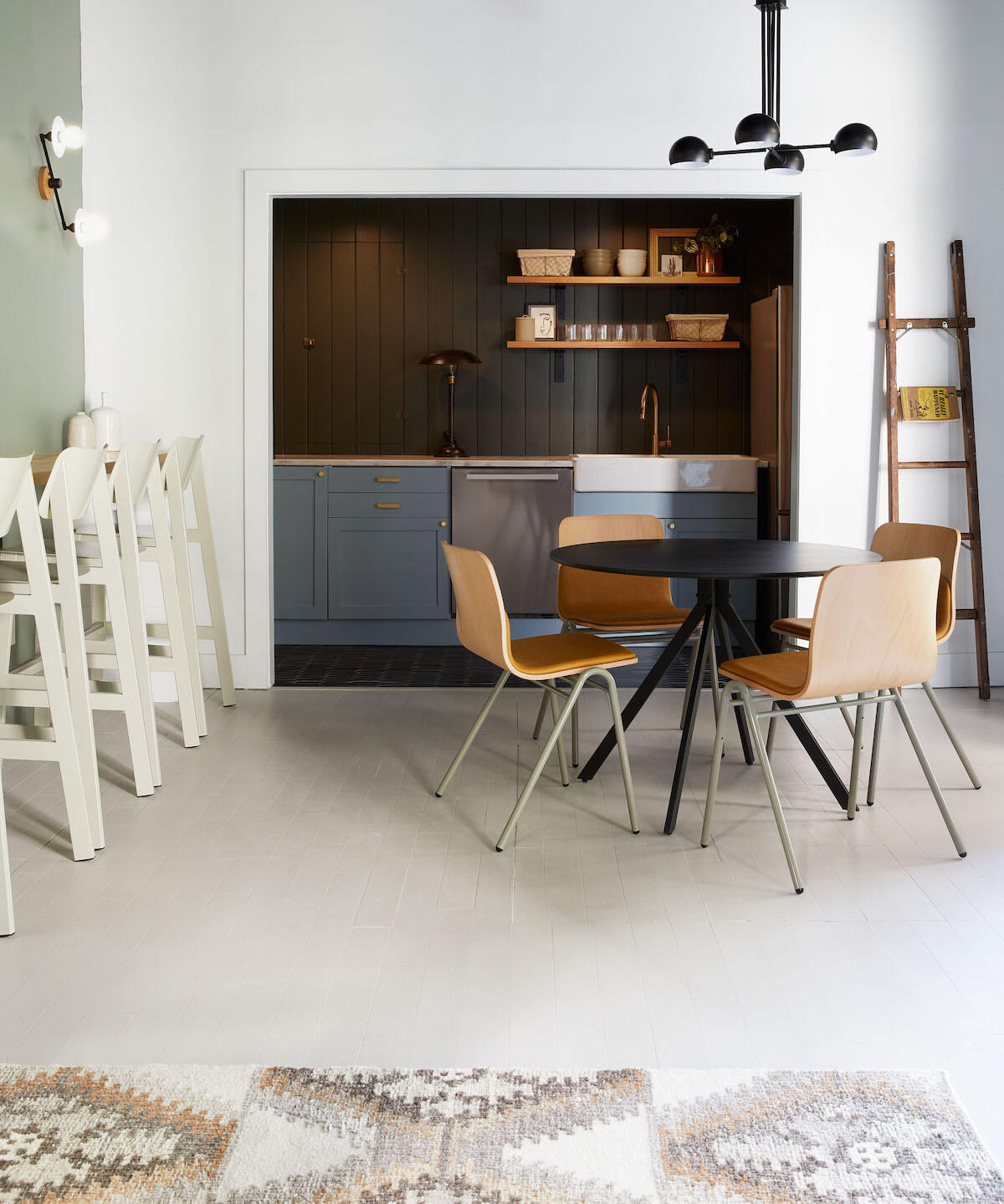 How did you approach billing for your full-service work?
It was daunting to step into because I was used to being booked and paid by the day as a stylist, so I've been tweaking it along the way. I picked an hourly rate that felt comfortable for me based on what I was making as a stylist and stuck with that. After a year, it felt like I needed to up it a little more.
At the beginning, telling people that it was going to take 50 or 60 hours just seemed like a lot, so I started breaking it down into phases. I'll say, "For the concept, it's going to take this long," and so on for selections, ordering and install. That way, they have pockets to look at—it's not just 125 hours; they can see where those hours are being allocated. We require a 50 percent deposit before starting the project, and then we [bill against] those hours as we start working. By the time we get to that 50 percent mark, which is usually when we're starting to place orders, we start to bill hourly on a month-by-month basis for however long it takes. Sometimes we end right on budget, and sometimes we go a little over if it takes a little longer, but it's been working for us.
As I've done more work and the hours have gone up and up and up—and the more I've seen that people are not worried or bothered by it—the more confident I have gotten to bill what I think it is going to cost. I've actually had a lot of clients [for whom] I estimated a project price based on the hours I think it will take—and by the time we are close to done with that scope, they have added on so many other things, and now it's been over a year and we are just working together month to month with me billing them hours, and I find that for most people, that's been fine.
Are you billing similarly for your team's time?
I am now. Originally, I wasn't billing for my ordering person's time—I don't know why, I just considered them in-house and I was footing the bill for that, which didn't make any sense. But I don't have an issue with tweaking along the way and explaining to clients why I'm making those changes. I have had to learn to be more precise. I've had to create systems to track hours and make sure that everyone is reporting those hours, and I'm pretty sure this process is going to continue to evolve as I evolve. We use Houzz Pro internally, so that's where we track all of our hours, and then I send out the invoices every month. We have a bookkeeper too, but I think it's just easier for me to do it, and then our bookkeeper manages our QuickBooks and things like sales tax, which was honestly the biggest curveball for me.
Did you have to pivot anywhere else when it comes to billing?
I was hesitant about markups when I first started out. At consults, people always asked me, "So I hear designers mark up products. Are you going to do that, or are you going to give me a discount?" It made me terrified to mark anything up—I felt like I had to give people a deal because they were asking. But then I started explaining it to people instead: When you go to a doctor's office, and your doctor sends you home with a prescription, you don't ask them what they paid the pharmaceutical company. I explain that some designers do give discounts, but we don't unless it's from a big-box retailer. If it was something from West Elm, then fine—they can probably go into West Elm and find a discount. But it's been a learning process. Month by month, I have tweaked my policy based on what I've seen work and not work, and what's best serving me and the business. I'm just very matter-of-fact about it when I explain it to clients, and they tend to understand.
Are you shopping mostly online, or are you going in person?
Mostly online. Showrooms are great when I need to take a client who is struggling with seeing the vision or understanding materials or color, where they feel like the only thing that will give them a little bit of confidence to move forward is to see it. But otherwise, I don't really shop showrooms unless it's for one-of-a-kind pieces like rugs or vintage accessories.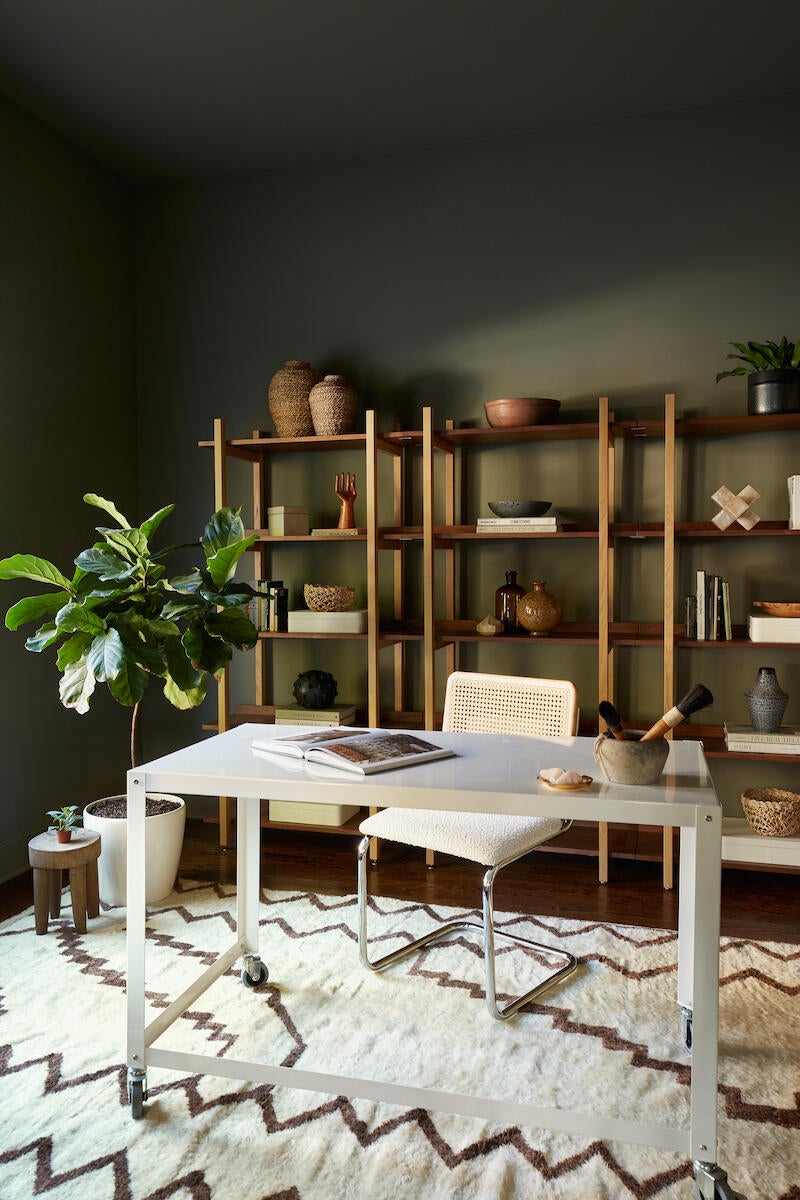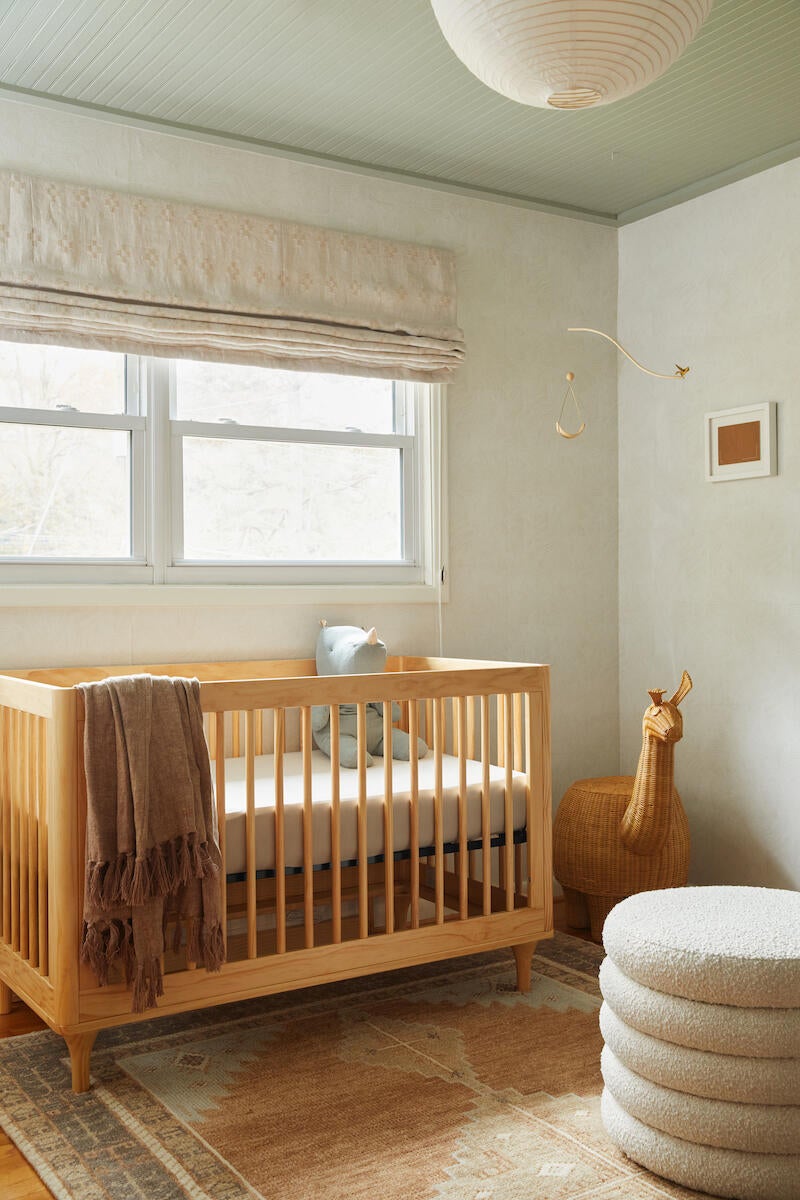 Can you tell me about the Atlanta design community and the local aesthetic?
To be honest, I don't feel as tapped into the local design community as I was when I was younger, when I was going to all of the events, was a member of all of the associations and knew a lot of designers. Through that time, I found a lot of relationships that matter to me on a personal level, and I've kept in touch with those designers. I also think social media has played a huge part in that too, because you always know what everyone else is doing. But also, the Atlanta design community then was very traditional, which has not really inspired me to stay as tapped in, because my style just doesn't really fit that.
There are a lot of luxury designers here in Atlanta, and they have great work, but that's not generally my interest. I'm more interested in work that's approachable, a little younger and more accessible. I often don't think my design work compares to what other designers are doing here—and I mean that in the most genuine and complimentary of ways. I haven't been doing this that long, my work is not at that caliber—but also, I'm just not really into it. There's a lot of focus on doing work that's cool and big and what's next. And that's not me. I just want to do fun, simple, accessible work that inspires the everyday person.
Is that a direction you want to grow your firm in, or are you very happy in the niche you've carved out for yourself?
I mean, it always helps to have clients who have more funds for bigger things, right? But stylistically, I like where I am. I think it's authentic to who I am, and that's why people hire me. They see that I grew up in Atlanta, I am very familiar with the style of the homes here, and I'm not necessarily looking to force a certain look on them or change who they are. I'm just there to enhance what they already have, and I think that my clients see the value in that.
When you look back, what is the biggest thing you wish you had known when you launched the business?
Coming from styling, I thought that shopping was going to be the easiest part. But it turns out it's not—it's so complicated. I wish I had known how much time and detail goes into the ordering and logistics. I also wish that when I had been a little more confident about doing custom work for clients, whether using wallpaper or custom upholstery. I didn't have a whole lot of experience with that, so I shied away from it at first. Now I feel so much more confident incorporating a lot of that into my projects, and I've learned that's where you make the biggest impact.
What does success look like for you?
Success for me looks like it looks now. I think a lot of people assume when you start a business that you're just constantly wanting to grow it. But for me, it's really just about lifestyle. I want to be able to make life choices that are not dictated by what I do for a living, while also enjoying what I do. Being able to wake up every day and get to choose how my day is going to go is my ultimate meaning of success.
To learn more about Giana Shorthouse, visit her website or find her on Instagram.