In Business of Home's series Shop Talk, we chat with owners of home furnishings stores across the country to hear about their hard-won lessons and challenges, big and small—to find out what they see for the future of small industry businesses like theirs.
This week, we spoke with Brigid Beaubien, owner of Detroit home goods store Urbanum. Growing up in a merchandising family, she was seemingly destined to shopkeeping, and opened two craft beer and wine stores with her husband before turning to home. Here, Beaubien discusses the importance of Instagram for finding new customers, why she's eschewing e-commerce and how she defines growth now.
What was your professional background like before the store?
Totally different. I was a kindergarten teacher for many years in Detroit schools, and I have a Ph.D. in education. My mom worked for Greenfield Village in the Henry Ford Museum of American Innovation [in Dearborn, Michigan] in their merchandise department, and then in my early adulthood, she and my father opened their own home store called the Kindred Spirit. I was really fortunate to learn firsthand from her. She would take me to shows, and I got to the point where I would help with buying and display. My dad, in the 1960s, was the head of merchandising for a Sears in the local community. And so both of them had very clearly defined ideas of what being a shop owner should look like. I was really steeped in that, so it came really naturally.
Prior to Urbanum, my husband and I owned two high-end craft beer and wine stores. When we opened the one in Detroit, I used all reclaimed materials from homes or buildings that had been demolished here in the city, and I was nominated for a UNESCO design award. It was at that point that I really started thinking, I can probably do this. Then there was this moment—my mom wasn't living in Michigan anymore, she was coming to visit and I couldn't find sheets and a lamp in a store within the city limits of Detroit. I had to go to the suburbs. I really, frankly, got pissed. That was the final step [that made me decide] I'm going to do this. We opened in September 2018.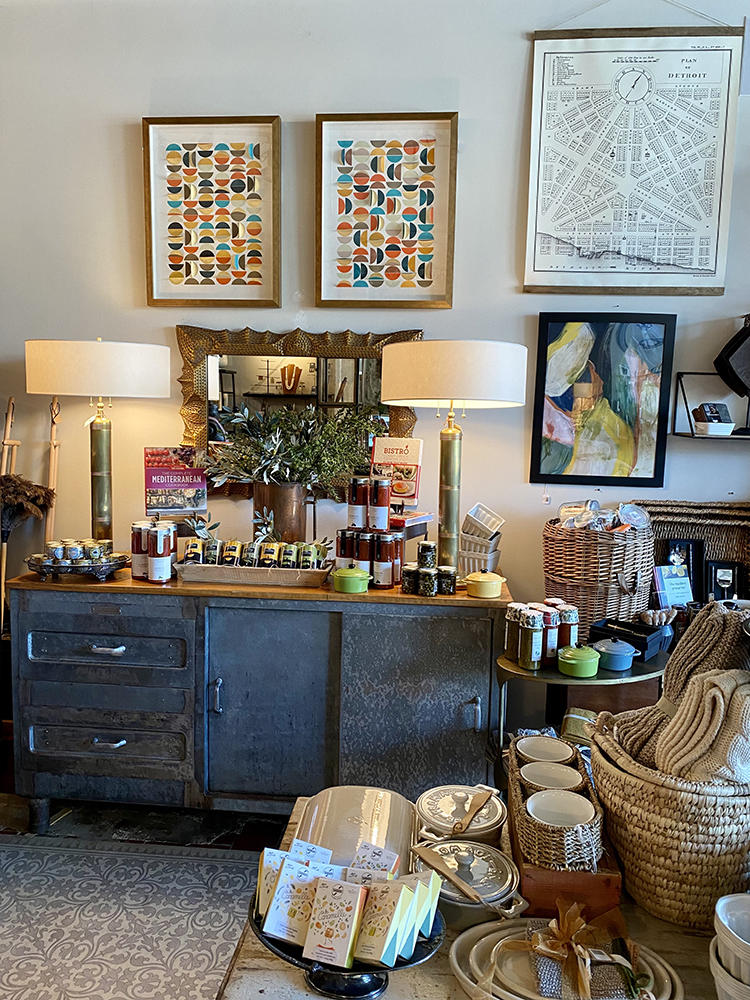 How did you figure out your vendors and begin that whole process?
Again, I had a lot of experience going to shows with my mom, so that helped substantially. And as we were designing the beer and wine stores, I would go to shows like NY Now to buy chairs, tables and display pieces. I had kept abreast of it—I knew what I was doing, and I had a pretty clear idea of the direction I wanted to go. The one thing I did that was really beneficial was a tour in High Point with two women who actually gave you the rundown, showing you around High Point and how to do it. If I hadn't done that, I would've missed so many things.
What's the general vibe of the store?
It's the familiarity of industry with the comfort of found objects. It's very eclectic. We have a combination of very, very modern [products] and found objects and antiques—everything from high-end antiques to farmhouse antiques.
Who is your typical customer?
I had a really clear customer base in mind when I started, and it has developed. We have a wide customer base, far wider than I thought we would appeal to. We have a lot of empty nesters here in the city of Detroit, and we have a lot of young professionals.
Do you have any idea of how they find you?
Instagram. Hands down.
Really! How do you know?
They tell us. If I post a piece on Instagram, whether it's a pillow or a plant, my supply is usually gone by the end of the week. They come in and tell me, "I saw this on Instagram and I wanted to hurry right in and get it."
Did you have a strong Instagram presence right from the beginning, or is it something that you built up over time?
I figured it out over time. We call it "feeding the beast," because it does take a lot of time. Now that we've been in business over the years, we have honed a certain look. We only have good lighting in the front half of the store, so there's only so much we can do in there; I had done most of [the social media] myself, but I now have a team that helps me take pictures.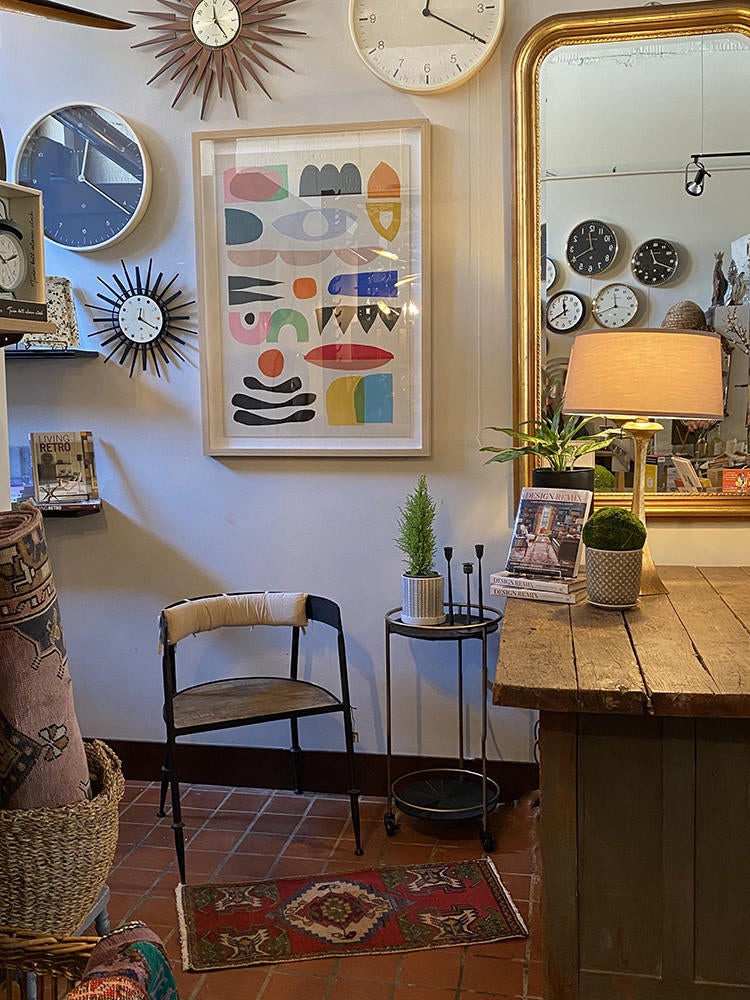 Do you have a favorite vendor that you work with, or a great vendor relationship you'd like to shout out?
I do a lot with Regina Andrew. They are another Detroit-based company, and I love their lighting. But in general, I find I really need to pick from a variety of sources—I didn't go deep with any one company, with the exception of Regina Andrew.
What's one of your favorite items in the store right now?
Oh, my recycled wool blankets. They are amazing. They flew out of the store during the holidays. When we send our clothing to charity organizations, much of it ends up in India and it ends up in their landfills, and there are women in India who actually reclaim the wool sweaters, jumpers and socks before they make it to the landfill, and they create products for companies made from the recycled wool. These blankets are 70 percent recycled wool and 30 percent recycled fibers from other clothing, and then another company—also owned by women—hand-tassel the bottom of each. They're washable and soft, and they become softer over time.
Is there another object that everyone just seems to leap for?
Plants were so hot last year, I could not keep them in the store. This year they've slowed down. People are really interested in home books and cookbooks. I do a lot of research to make sure that I'm getting what has made the "best of" lists in June and December. I keep pretty updated on that.
What is the advice you would give yourself if you could go back to opening day?
I had been involved with three other small businesses at this point, two of which were my own, but this one took so much more work, so much more time. In part, that was because of the polar vortex in January 2019—I opened, six days went by, and no one even walked into the store. That was so demoralizing. And then the pandemic hit [the following year]. It took way longer than I thought to get stable.
What's your biggest everyday challenge, and what's your biggest existential challenge?
I think in any small business, it's cash flow. Now it's cash flow and keeping up with the growth, because the growth is there but the income isn't always there to fuel it. The much larger issue is how to balance everything.
What are you trying to balance?
People see you standing there waiting on them, and they see that version of the store and how beautiful it looks. What they don't see is the hours and hours and hours that go into planning the stories, shopping for the merchandise, creating the vignettes, changing the vignettes. We change our store over almost completely four times a year, and that takes so much time behind the scenes. And there's the small business aspect, and then there's all the social media and marketing. A lot of hats.
How are you thinking about growth? Are you feeling good about where you are? Do you think about what's next?
If you had asked me pre-pandemic, it would've been several stores and my own lines. But the one thing the pandemic taught me as a business owner is who and what I was as Urbanum, and what I wanted to do. The biggest thing about Urbanum is: I want it to be part of the community. I want to be deeply, deeply embedded in the city of Detroit, and service the city in a way it's not being serviced. So my growth is going to be deep, not wide.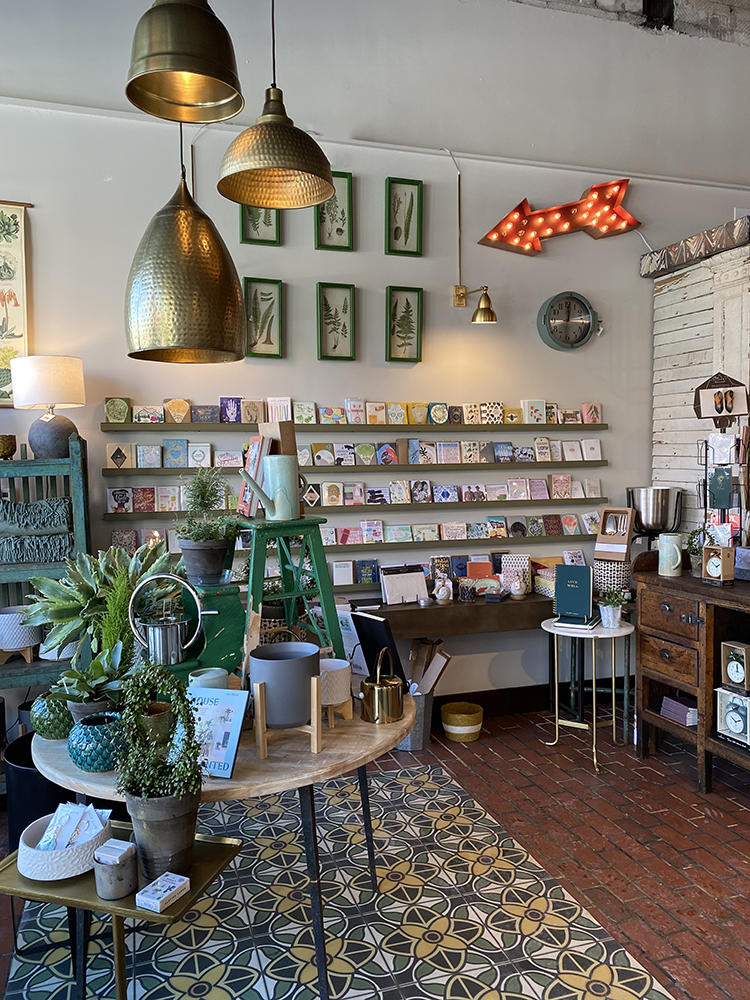 How do you convince customers that what's in your store is more valuable than big-box stuff, or cheap things from the internet?
That there's quality over quantity. My pieces cost a little more because they're better quality, and most of the time, they come with a story or with social good. They're usually made by artists or craftsmen or small-batch companies, where [people making the items earn] a livable wage. All of that goes into my pricing.
What are some challenges that are specific to Detroit?
I don't think Detroit has any challenges other cities don't have. If I could, I'd flip that sentence around to what opportunities Detroit offers that other cities may not be aware of. I think Detroit is uniquely positioned to help small businesses and entrepreneurs grow and thrive. There's opportunity here I don't think can be found in any other city in the United States.
I feel like we're always hearing that Detroit is this incredible up-and-coming place for creative people, but it's usually framed as, "The city's not doing great, so it's really cheap to live there and be a creative person."
It's not cheap anymore. I couldn't even afford my own house at this point. What is unique about Detroit is that there are systems in place other cities never even thought about, and a lot of that was because of where we were prior to and during the city's bankruptcy. For small entrepreneurs like myself and my husband, there are funding opportunities that you don't find in other cities, and small business incubators that help you find space. There is legal help and support at nominal cost, alternative sources of funding, substantial grants—all of these things allow people with really good ideas and creativity to thrive if they're willing to take the risks.
What's the future of small businesses like yours?
In the pandemic, I decided where I could thrive and what I was best at was creating an experience that folks wanted to emulate in their homes. And so when you walk in the store, it smells amazing. It's got live plants everywhere. It has beautiful pieces of furniture and exquisite lighting. Because it's the city of Detroit, it has a lot of building foundations exposed—my ceilings, the brick walls. I found that by creating these experiences and making the store a destination, I was growing at a really rapid pace. I decided I couldn't compete with the big-box stores online; I couldn't even compete with other home stores online! So I decided that I wasn't going to do an online piece—that instead, I was just going to focus 110 percent of my energy on creating the experiences that drove the growth.
People just want to be charmed right now, I think.
They want to feel like they're invested in it. I mean, the one [online] thing is Instagram—they talk to me all the time on Instagram because they want to feel like they're part of it, because it's part of their community. In so many ways, it's something we're all building together.
What's your favorite kind of day in the shop?
I have two: One favorite shop day is when the store itself is closed and I am creating new stories and displays. I love the work. That's what I love more than anything else. Then the second favorite day is when the store looks exactly the way I want it to, and I can just enjoy my customers.
Homepage photo: Brigid Beaubien | Photo by Laurie Tennett