The 50 States Project is a series of candid conversations with interior designers across the country about how they've built their businesses. This week, Venice, California–based designer Mimi Shin tells us about avoiding the interiors equivalent of fast fashion, why seven is the magic number of projects for her and why she wants to transition to a flat fee.
You had a decadelong career in fashion journalism before pivoting to design. What prompted that shift?
I always had a propensity toward the arts, but my eyes weren't open to it until I got to college [at Smith College in Massachusetts]. I went down to the Museum of Modern Art in New York, and my mind was blown. I studied art history, and after graduation, fashion photography was for me the closest career I could think about. Most of the time when I was in New York, I was working at Harper's Bazaar under various editors: Liz Tilberis in the late 1990s—she was an angel—and then Kate Betts and Glenda Bailey. When I started, I was interning in both the fashion editorial department and the art department. I was offered roles in both departments and chose editorial. Sometimes, I'm like, "Oh, maybe I could have gone the other way..." Even now! But it was a great ride. I got very lucky in my career there. It used to be very stagnant: It was very rare that people moved, and when they did, it was like musical chairs.
And then everyone would move up one job, right?
Exactly. I jumped from assistant to associate in a few weeks because my boss saw my work ethic and fired the other girl. And when Liz passed suddenly [of ovarian cancer], which was so sad, I got promoted very quickly. I was also over at Vogue briefly, but it wasn't a great fit for me. It was a lifer kind of position, and I was like, "This is not where I'm meant to be." I could see in the eyes of a lot of my colleagues [at both magazines]—editors like Kristina O'Neill and Samira Nasr, who are still doing so amazingly now—that they had that love for all of it. You could see that they just had it forever, and while I loved the work, I didn't have that.
Was it weird to realize that?
It was. I was really young, Vogue was paying pretty well, and lots of Manolos were being thrown at me for years—what do you do? I had golden handcuffs on. Everybody would say, "You have a dream job," and I kept thinking, "Not really. This isn't exactly what I want to do." As a magazine editor, you become kind of figurehead-y. It's a lot of lunches, and I missed the practical part of the work.
What finally made you want to take the leap to design?
I had this epiphany that I could see three-dimensionally. I didn't realize that not everybody could do that. I found out from someone much later that it's actually very common in people who work in fashion and architecture—that you can see a space in your head. I just assumed everybody could do it. When I finally realized that, I knew I wanted to design spaces and go back to school to study architecture.
A few people [warned me against it], including Kate Betts—I didn't realize [at the time] that her father and grandfather had the Betts Auditorium at Princeton's School of Architecture. When I asked her for a letter of recommendation, she was like, "Mimi, it's really hard." And she was right. It was a very hard transition. I didn't quite know what I was getting into, but I think as a woman, as an architect, and maybe even just at the time—I went back to school for my master's in 2004—I felt like I needed to be so secure in my base knowledge to feel comfortable and be able to achieve what I want. I wasn't going to fake it, I really had to know.
That sense of, "No one can question it if I know all the things."
Yes, that's exactly it. I felt like I had to know more than enough to feel good about it, but it was a hard slog and then I graduated during the recession. I was offered a few jobs but decided to start a furniture line right away, which was certainly expensive amid the recession. Then I had a baby, got married and pivoted to interiors a couple years later, and since then it's just been steady. Actually, it was steady, steady, steady, and then COVID hit and everybody was obsessed with wanting to do more.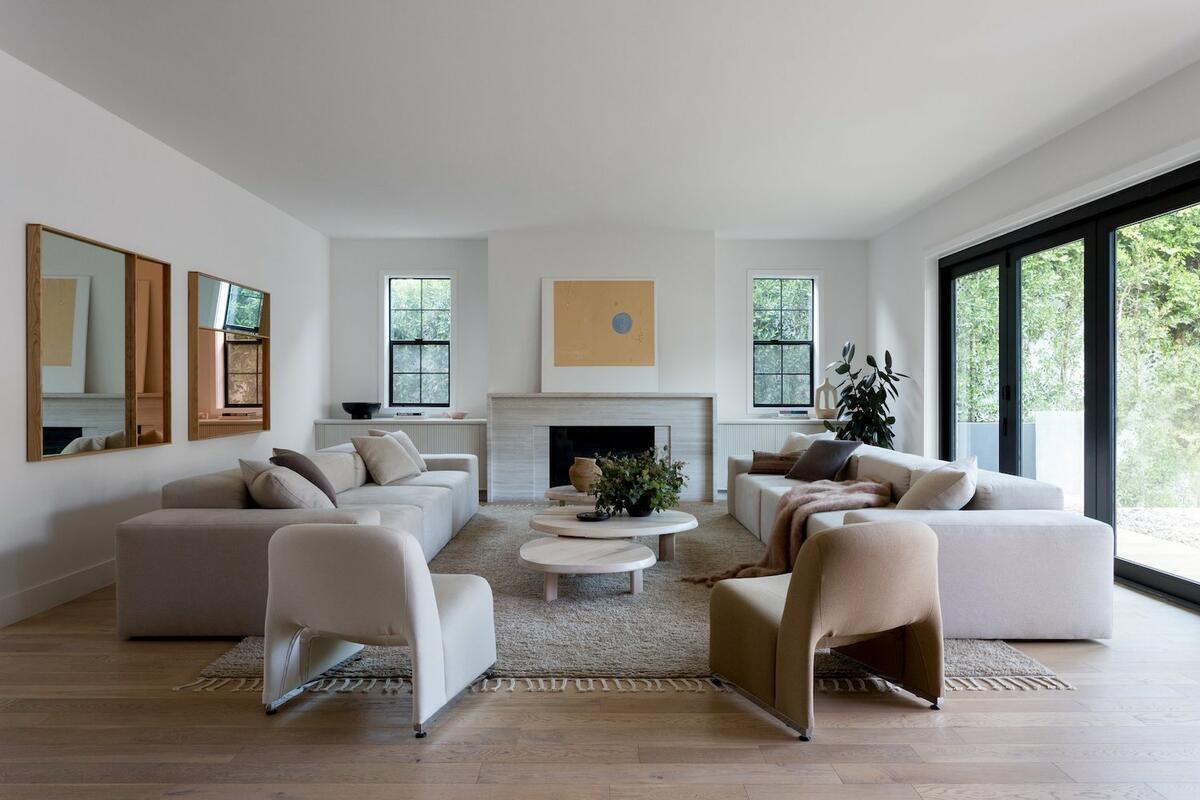 What made you want to stay in Los Angeles after grad school at UCLA?
I've been in L.A. for 18 years, shockingly. My husband makes fun of me—he's like, "You know you're not a New Yorker anymore." But I love it out here. I moved here because this is where it seemed like artists were moving to at the time. Michael Govan was coming out here [to be the director of Los Angeles County Museum of Art] with his wife, Katherine Ross, who used to work at Prada. I just remember thinking, "It feels like there's a lot more creative freedom in L.A., and you won't feel so bound by what's already happening."
Do you still feel that way?
I do. I used to work surrounded by a lot of the same type of people all around me. I definitely feel more of a freedom to do what I want out here. I'm friends with so many architects and other designers here—some of the clients I have now are referred to by other designers, which I think is so sweet. It's a design community that's generous. That's something I see in other business owners—their support for one another—which is not what it used to be like back in the day.
Jonathan Entler of Entler Studio is a good example of that. He makes these beautiful lights—I'm staring at four of them in my house right now—and I love how he runs his business and how he talks about his team. He took so much time walking me through his process in his showroom and then introducing me to each of his employees. I just loved it. I think that [work culture] feels very modern. I was talking about it later with a girlfriend of mine who has a huge company in New York, and she was like, "You don't get to run a business any other way now if you want to retain younger creatives."
How does that translate to the way you approach your work?
I think people feel good when they get to play to their strengths. When you give everyone the opportunity to do that, we're all happy.
Why a furniture line first?
I had a great professor in grad school, Neil Denari—he did a beautiful project [in New York's park] the High Line—and he always said, "It's the same, just a different scale." I think that so much of design overlaps that way, and I still do so much custom furniture work now. But financially, that original line went absolutely nowhere. We were doing stuff that was going to be at a BDDW level of pricing—[which was] easily a $10,000 dresser back in the day, so even more now. UCLA had all this technology, so we were experimenting with the CNC mills and all of that super techy stuff, and it was great. We went to a furniture fair, and they're like, "You were the best in the fair." But with the recession, it just wasn't a great time—I knew we would have to dig in for probably three to five years in the red, which I wasn't ready for.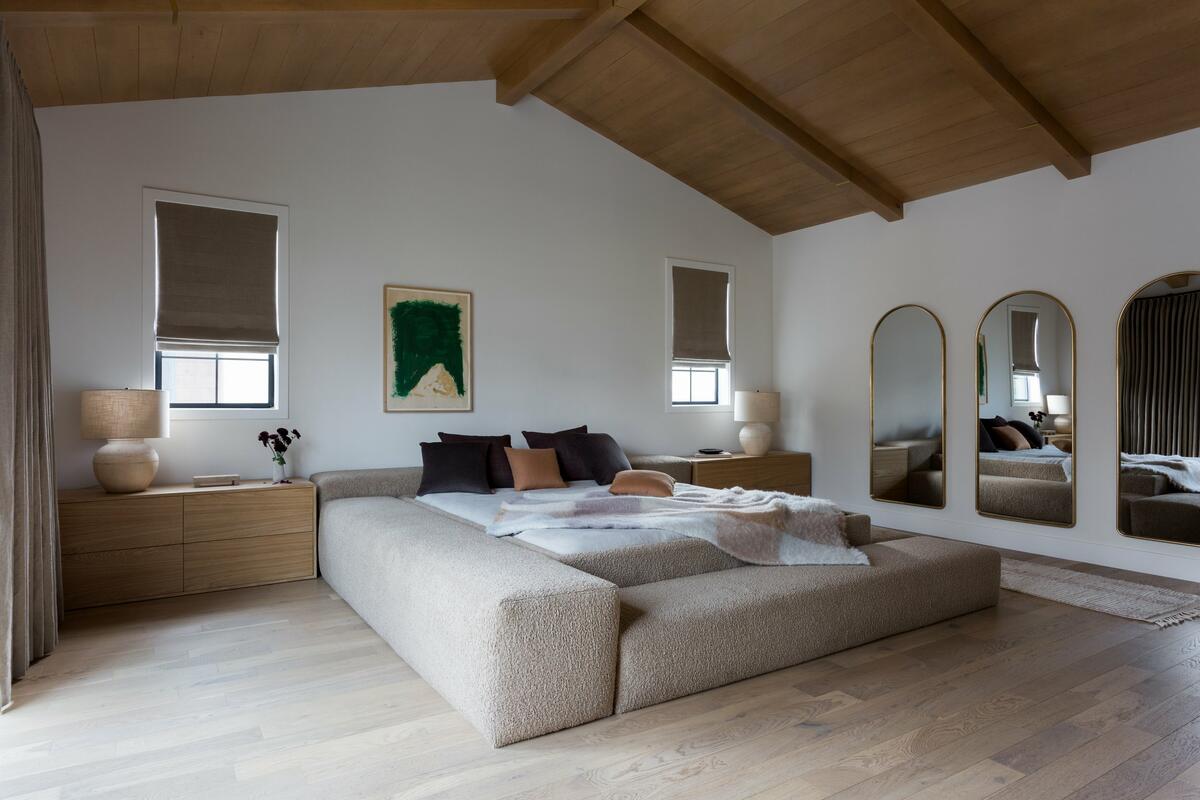 How did you make the switch to interiors, and where did that first client come from?
It was through my kid's preschool—I'm still friends with them—and then they referred me to probably five or six of their friends.
I worked alone for the first two years, and then I hired one person to help me part-time. Since then, I've always had one person, but at varying levels—like right now, the woman I'm working with could easily be running a massive firm on her own. She's just so talented.
And it's just the two of you?
It's the two of us, but I outsource a lot of my work. I typically do a lot of the drawings on my own in Rhino, but if they're larger projects, I'll have them further developed by other draftspeople.

On the ground-ups, I'll bring on a thousand different subcontractors—engineers, lighting designers. I want to rely on someone that's only looking at that all day, every day. In the last decade, I've gotten really good at delegating. When someone I trust tells me what to do, I'm like, "OK." Someone gave me that opportunity about four or five years ago: He was a creative head at an ad agency, and he was my first client where I felt really good about having the budget that I needed, and he said to me, "Let's just play with your idea and see what happens." I've never forgotten that.

The trust in your vision?
Yes. Letting go a little bit can really help. You can tell on projects where it's just too—someone has been strangled too hard, you know? And then there's not a cohesive solution at the end.

How hands-on are you throughout the process?
I'm very hands-on. I don't know how I'll be able to scale the business to the point where I'm not that person. I can't imagine [doing something like hiring an architect for a project]. I feel like [my design] role models like Kelly Wearstler are always evolving, which I love. And I don't know how you don't do that if you're not actively involved. I think you just get better and better at communicating with your team, and also hiring the right team. Scaling up to the point where I'm no longer in touch with the clients or getting a sense of whom they are would be difficult for me.
I've been really intentional about not growing [too fast] and taking on more than I can handle. In California, you're also choosing a lifestyle where so many other parts of your day are really important too. I have an awesome 12-year-old, and I want to work out, that kind of thing. It's not just work for me.
How many projects are comfortable for you at one time right now?
Typically seven, and they're all at varying stages. I don't know why, but I feel like that's where I max out. I said that number to another designer, and she goes, "Of course it is. That's the only number you can retain in your head." Like a phone number, I guess. She said that to me like she knew right off the bat that's what I was going to say. I was like, "Oh, I didn't know that. It took me a long time to figure that out." No one showed me.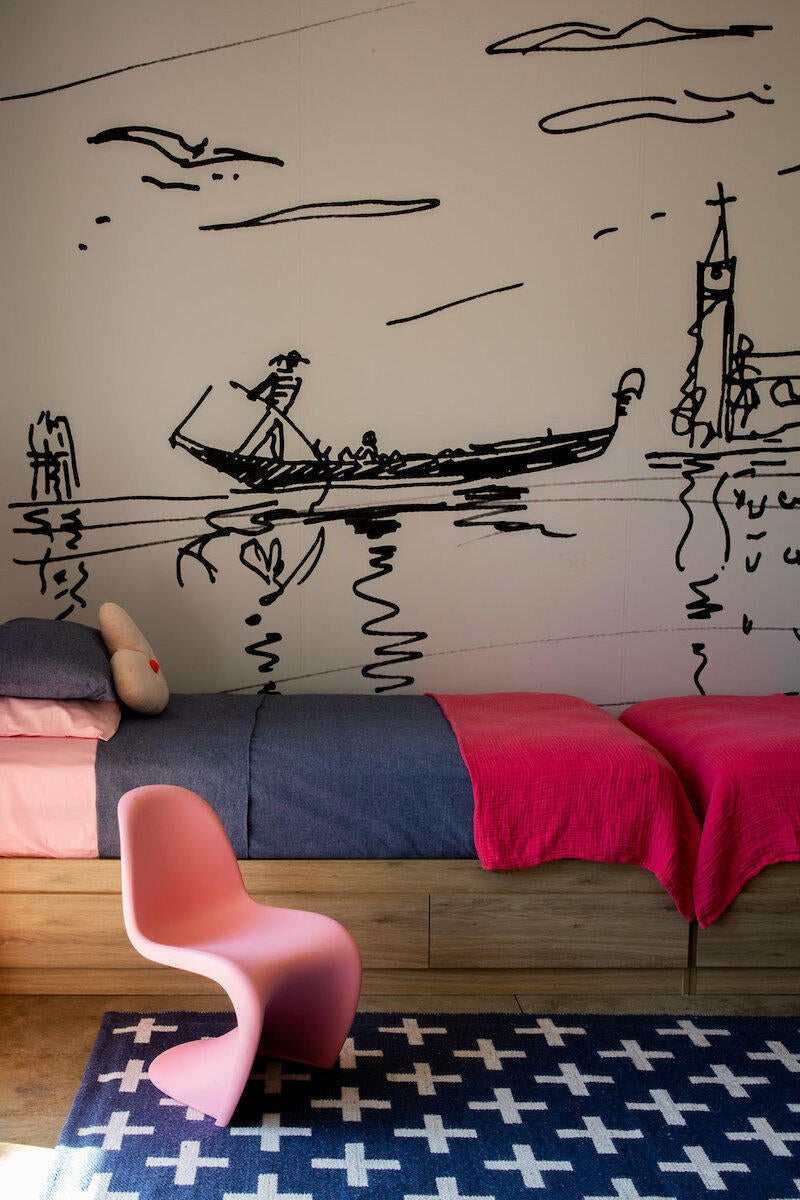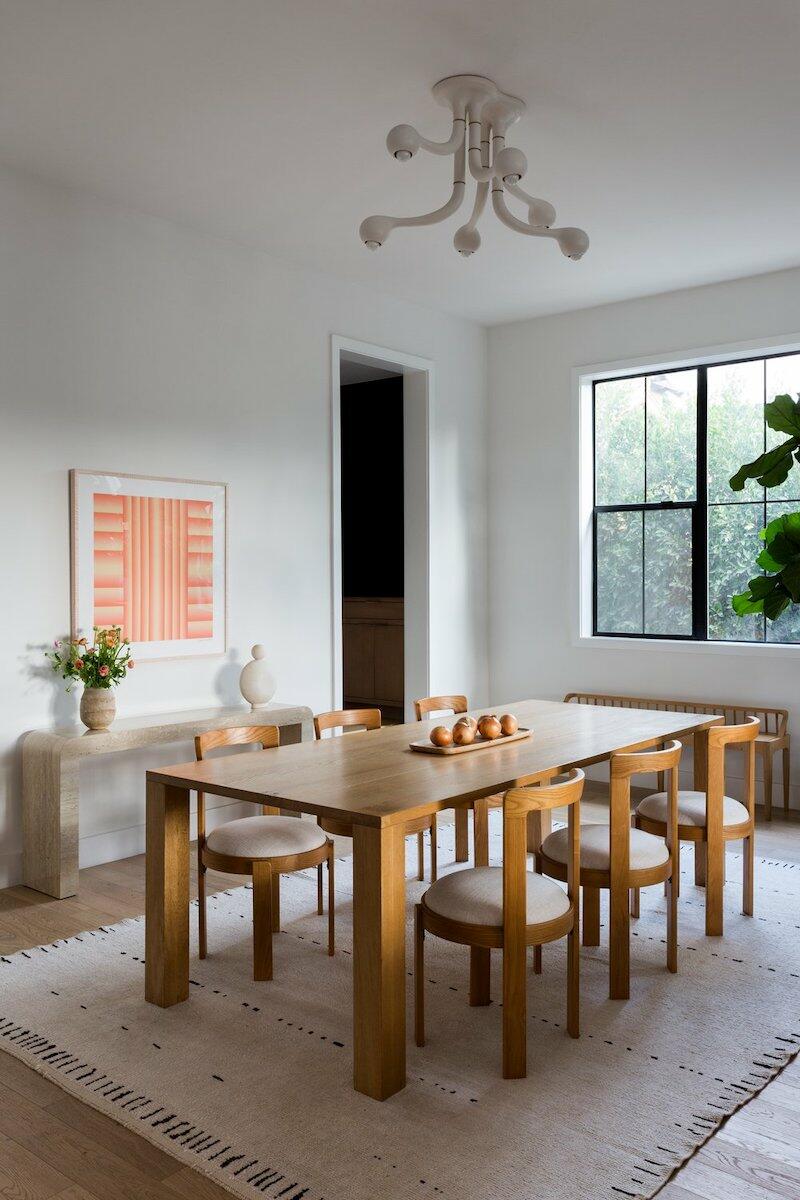 How have you approached billing for your work?
I have gone through so many changes with that. You can't hand a massive contract to clients without the experience [to back it up] because if you can't execute it at the level that they want, it's not a good fit. I used to write my own contracts, and I'm sure I shortchanged myself constantly. But back then, it took me five times longer to come up with the bathroom layout until I [figured out] the top three [templates] that always work. And then you can use them like a recipe, and then riff on them and tweak.
Three or four years ago, I was in touch with a great headhunter, Billy Clark. He said, "You don't need me, but you should see this person," and he introduced me to someone I work with now on a business side who's awesome. He writes my contracts for me, and now our billing is moving toward flat rates. Clients are still very comfortable with hourly, but [the final cost of the project] would probably be the same, if not less, if they had agreed to the flat fee at the beginning.
Are you looking forward to that transition to a flat fee?
Kind of. I've tried to tell clients, "Half the time I'm thinking about your projects, I'm definitely not billing—I'm thinking about things in the middle of the night." I'm horrible at billing. It's not my favorite part of my job—I think most designers hate that part of their job. I think I heard that Peter Marino bills you for every single second he thinks about the project. That could work too. You just have to be really good and have every minute of your work timed.

As someone who came from a background that doesn't include hourly billing experience, that has to be such a hard mental leap.
It is. And I think as a woman, you don't know how to ask for it. My business partner is great at pushing me, [even when I'm] like, "I'm not ready to ask for that much." He has a lot more experience in the industry, so he knows how certain projects are structured and how various designers are billing, so he's really helped me. He's writing contracts for huge designers who are, you know, getting Gwyneth Paltrow's spec house. I don't have Gwyneth's spec house, so I don't want to bill as such. But I also know I'm not always billing enough. I'm just trying to do this slow and steady. This is a career for longevity, so I'm not in a big rush. I'm enjoying the ride.

I love that mindset. How are you transitioning from hourly to flat fee?
Right now, the larger projects are flat fees. But the smaller projects, sometimes people just don't realize how large they are—they think we can get something done in like a month or two, which is not really possible. Very rarely can you get something like that done. Maybe on one of those house shows where you have like 60 people working for you, and things fall apart when you walk away.
The invisible army.
Exactly, which we just don't have. And you're also just at the mercy of all of these subcontractors, who are so pressed. Most of them are just, you know, trying to get it done, trying to keep their head above water and make sure everybody's happy. There was a boom, but the interest rates are reflecting a bit of a slowdown, and you can feel it—a lot of subs are showing up miraculously now.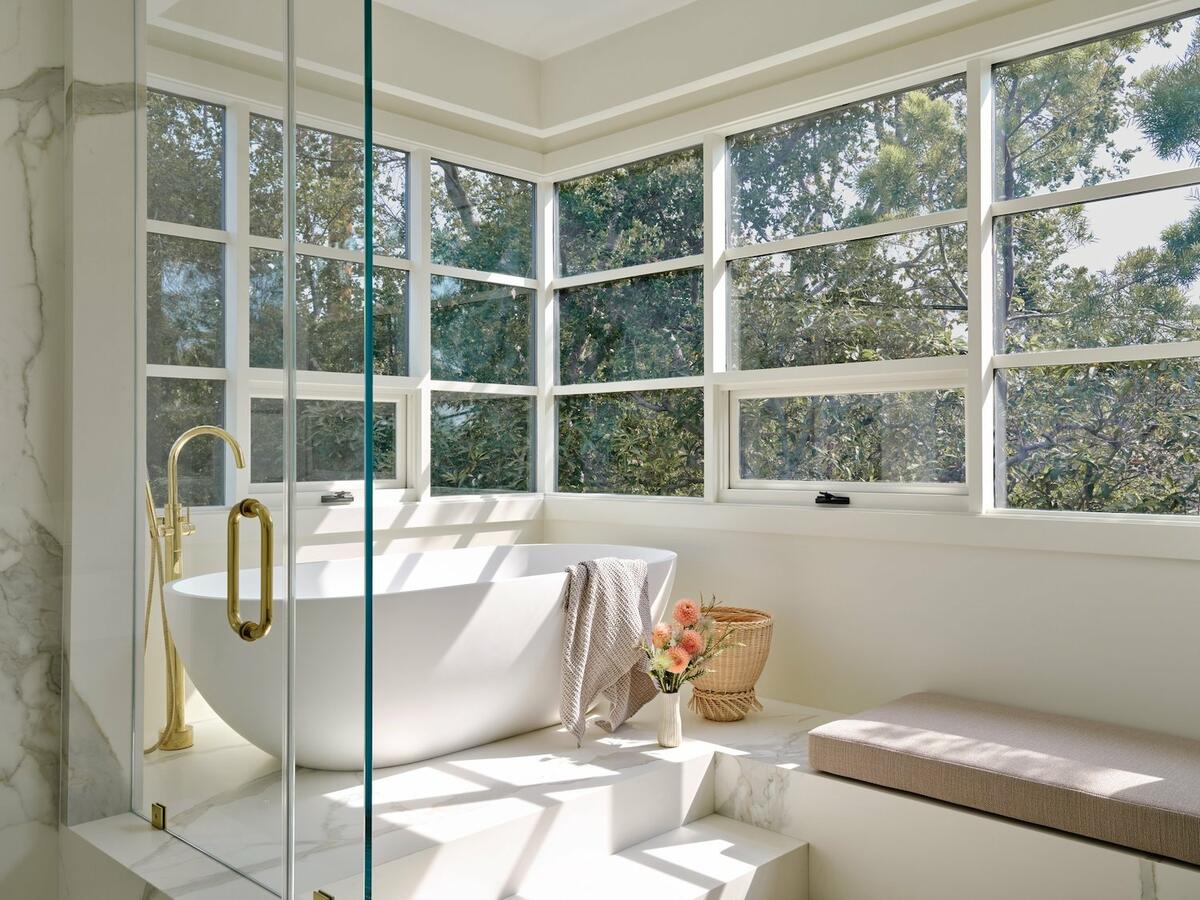 I know you incorporate a lot of custom pieces, but how do you shop for your clients?
When you go into a room where everything is all new, it just feels so wrong—so tinny and cheap, like I'm just giving you a full fashion look number 34. It came down the runway and it doesn't look like you at all, so it's wearing you. And that sucks, you know? In fashion and interiors, I've always wanted it to be a representation of you. One of the clients I was talking about earlier used to wear these super cute wide-wale corduroy overalls with a tiny little printed floral button-down underneath, and I definitely used that as a starting point [for her home]. I found a great vintage sofa, and then a fabric that I knew she'd like to wear.
How do you unlock what's going to feel personal to your clients?
I'm a visual person, so I'm looking at what they wear, who they are as people, what they do, what gets them excited. I've tried to do a questionnaire, but it did not work for me at all. I feel like they were giving me what they would like to be.
That's an interesting distinction: How do you live versus how do you think you should tell people you live, or how do you want people to think you live? Those are all so different.
And I remember getting this back thinking, "OK, I know you like art films, but I don't think you're watching them. It sure doesn't look like it."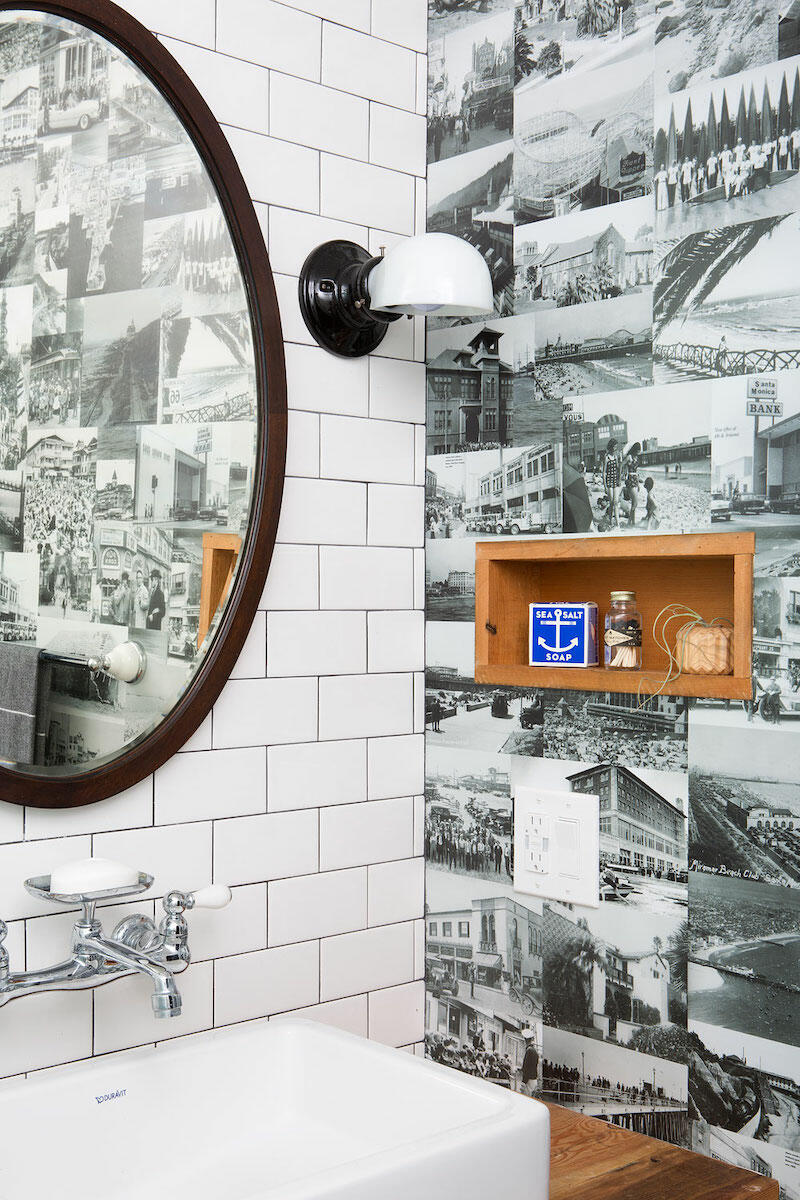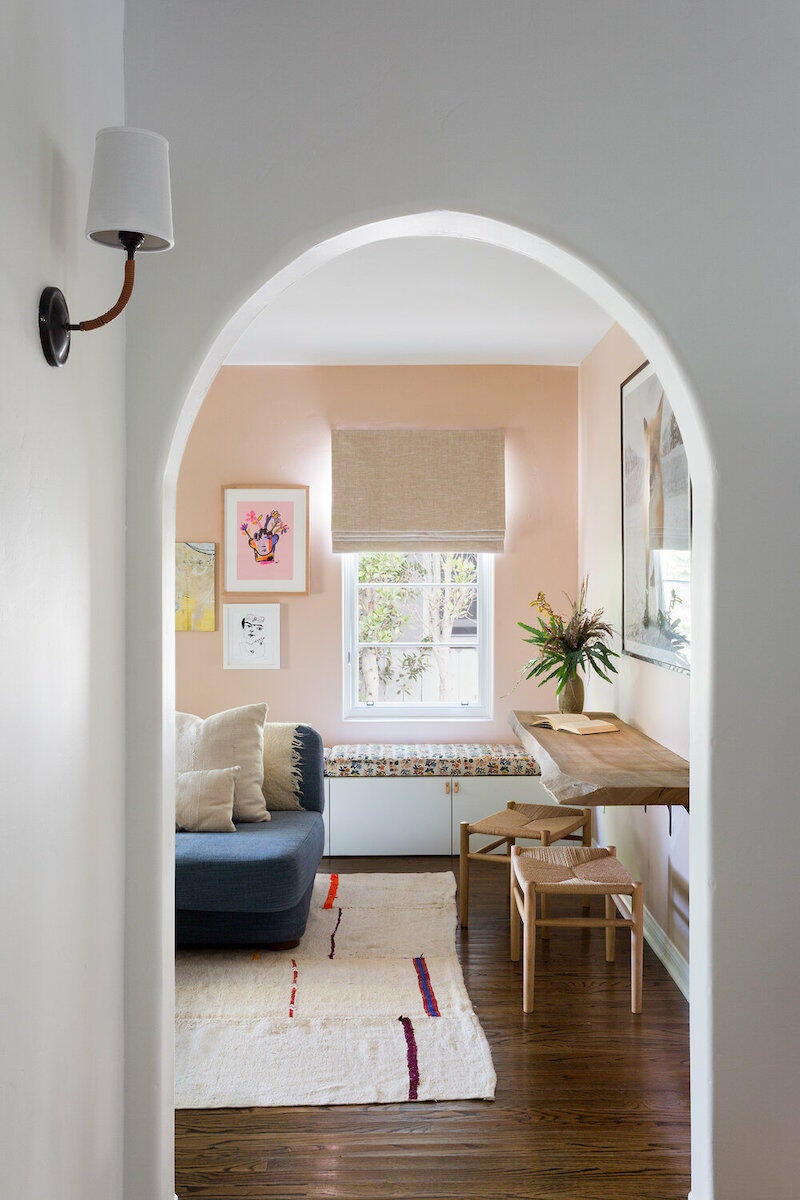 When you look at your business, where do you see opportunities to grow?
I'm really excited to photograph these last few projects—I've already reached out to photographers and am getting ready for those shoots—and I'm excited for the next round of clients who are going to do something different. I'm always trying to play out some fun dream, you know? And then once you get it out of your system and get to see something realized, it feels so good.

And then you're ready to do something new?
Yes. That gets tricky when people want to see you doing the same thing—and it's certainly easier to sell a business that [is more consistent]. I definitely look up to [French architect duo] Studio KO. They're so talented, and I love how different their projects look, but they're all consistently good. I aspire to that. I don't need it to be something where you're instantly like, "Oh, that's Mimi Shin." And I definitely don't need to live in all of my clients' houses either, but I'm super happy they love it. It's the same thing with fashion: I certainly can't wear a crop top, but I'd love to see you in that one.

What does success mean for you?
The ability to pick and choose clients—that, forever—and the ability to have control over my time. I know some people work hard all the time, but I like to keep my sanity in my day-to-day. My parents are immigrants, and they've really driven that into me. My dad has told me over and over again, "Don't wait til it's too late." You know, "Spend time with your kid when she's this age." So that's really important for me.
I'd certainly like to have more flat-rate projects, just for peace of mind and so that I don't have to track my hours. I'd like to bring one more person on to help me draft because that's so time-consuming. That's something I'd like to learn how to delegate more.
When you look at your business, what is the biggest thing you know now that you wish you had known when you started?
Follow your instincts.

Did you not at the beginning?
Even in fashion, I remember making a misstep with my very first presentation to an editor. I presented exactly what I knew they would want to see, and I just saw on her face, "This is not what I wanted from you." Now, I try to put out the best possible scenario that I want to see first, and then you work your way around that. I feel confident enough in my own ability to see what the final product is going to look like, so I'm going to lead with that rather than trying to show something that I think they might like—to be honest, that's always actually gone wrong for me. That's backfired several times, and I feel like it doesn't help anyone, really. They're asking you for your expertise, not for a reflection of something you think they might like.
To learn more about Mimi Shin, visit her website or find her on Instagram.