In our series What I Love, we're asking designers to build us a mood board of what's inspiring them right now.
Tineke Triggs lives for a good sunset. The San Francisco designer draws inspiration from the soothing tones that fill the sky at dusk. "After the sun sets and the glow is over, you are left with this ember of dark blues and rich plums," she tells Business of Home. "You are at such peace, and there is a joy and satisfaction of that moment that you want to last."
Her current flat lay brims with deep earthy hues meant to evoke the colors—and mood—of nightfall. "Sometimes palettes are just a feeling, like a paintbrush on the canvas," she says. "So I added grounding neutrals and warm textures to help stimulate the senses."
Much like the night sky, the final design showcases a medley of dusty pink and aubergine hues surrounded by gradient shades of dark blue-gray. "The blend of materials—leather, velvet and marble—all reflect light differently while bringing interest to the room," says Triggs.
Here, the designer breaks down the details—from watercolor floral fabrics to cast bronze door knockers.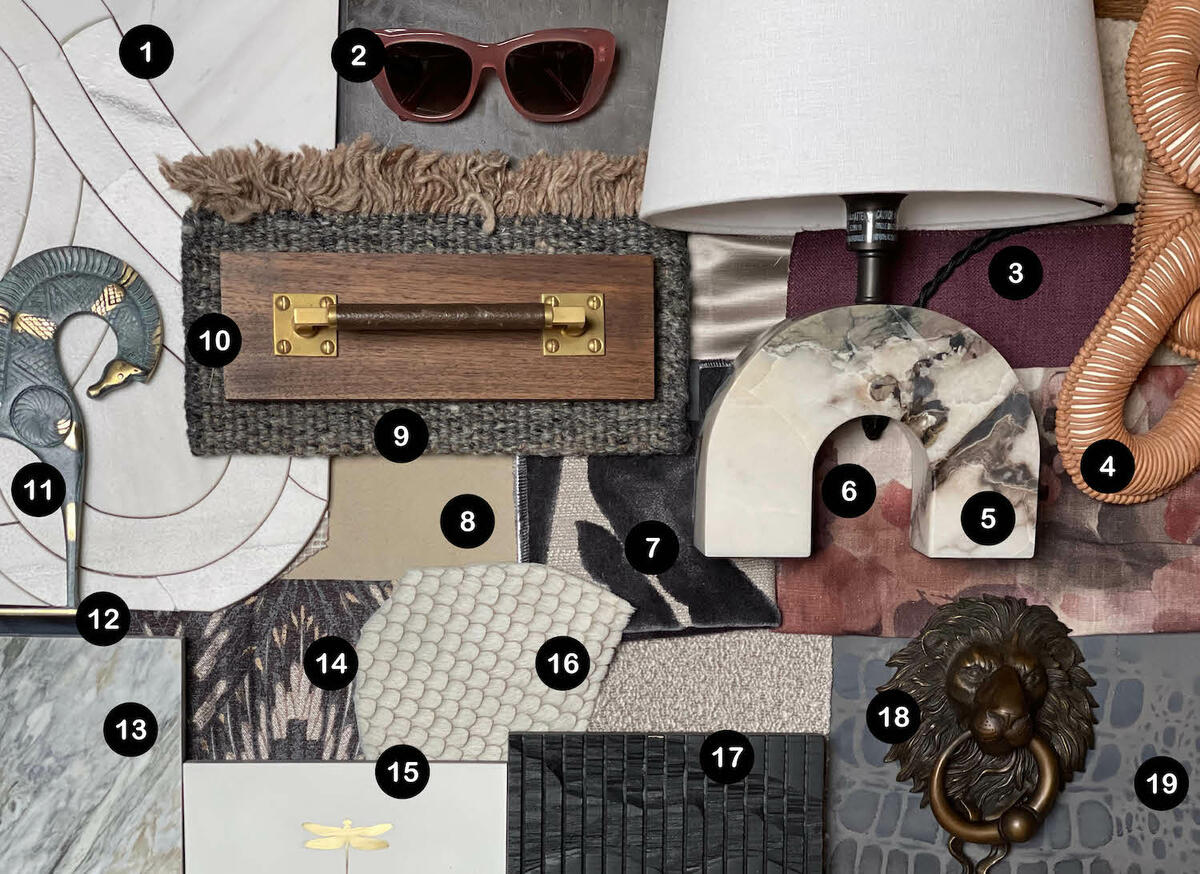 Courtesy of Tineke Triggs Interiors
1. TALLULAH TILE BY TINEKE TRIGGS FOR MAISON
"This was my very first tile design from my Muziek collection for Maison Surface. It all started with Tallulah, a custom design I created for my room at the 2015 San Francisco Decorator Showcase—now I have over 36 different patterns and three different collections."
2. SUNGLASSES BY CELINE
"I just love a little bit of pink in my life."
3. BERLIN HIGH-PERFORMANCE FABRIC IN RAISIN BY POLLACK
"This is an amazing workhorse of a fabric."
4. THREE-LINK LEATHER CHAIN BY ADRIANN LEIGH
"Adriann Leigh is an artist who works with leather, ceramic and other materials to make unique wall and tabletop objects. This leather three-link chain is one of my favorite pieces of hers."
5. VINTAGE HORSESHOE LAMP BY ARDEN HOME
"I found this cute marble lamp at my favorite shop, Arden Home, in Hayes Valley. It is perfect for a little bedroom desk or a small console. Lighting should be the jewelry of the room, so don't be bashful with it."
6. EFFLORESCENCE FABRIC IN 01 BY S. HARRIS
"This is a beautiful watercolor fabric. It's a contemporary take on a traditional floral pattern."
7. ACDC FABRIC IN GRAPHITE BY OPUZEN
"This is a great geometric pattern but also still has a soft organic movement."
8. ITALIAN ALCANTARA FABRIC IN BUFF BY HOLLY HUNT
"This amazing Ultrasuede performance upholstery looks like the real thing—but no cows were hurt in the process."
9. MODERN DHURRIE RUG IN GREY/BROWN BY WOVEN
"This woven rug adds a warm textural element to any room."
10. GROPIUS LEATHER PULL IN SATIN BRASS BY WILMETTE HARDWARE
"Wilmette Hardware makes some of the most elegant, timeless door and cabinet hardware around—all made in Wilmette, Illinois, just outside of Chicago, a town I love and lived in for many years."
11. ANTIQUE HORSE FROM ANTHEM
"I found this amazing antique in one of my favorite shops in San Francisco, Anthem. I love horses, and when I find a unique horse object that catches my eye, I have to have it."
12. VALLETA NEPTUNE WASHABLE SATIN FABRIC BY VILLA NOVA
"This is a cotton-poly blend fabric that is perfect for drapery or a soft accent pillow. It looks like silk but is washable and comes in a double wide width."
13. CALACATTA BLUETTE MARBLE FIELD TILE BY ARTISTIC TILE
"Calacatta Bluette is an amazing marble with this touch of blue and green. It adds a soft color tone to any space. It also comes in a beautiful slab."
14. LOLANA MIDNIGHT FABRIC BY ROMO
"This pattern has a little art deco vibe, and it captures the beautiful glimpses of detail from a butterfly wing in an intricate jacquard weave."
15. DRAGON CEMENT TILE IN DRAGON 1000 BY LILI CEMENT TILES
"Dragonflies symbolize new beginnings, and I love to incorporate them into a project."
16. SCALLOPED HAIR-ON-HIDE LEATHER BY JAMIE STERN
"I love the texture and scale of this lasered cowhide."
17. SHALE FINISH SAMPLE BY SIMON JOHNS
"Simon Johns's Shale collection is inspired by the cliffs outside his studio in Quebec. They are art pieces and add interest to any room."
18. BRONZE LION DOOR KNOCKER BY KARL SANDERS AT DAY IN THE LIFE GALLERY
"I found this amazing cast bronze door knocker by Karl Sanders on a trip to Portland, Oregon, a couple of years ago. It's like an art piece for your front door."
19. SIGNATURE PLASTER MURAL BY CAROLINE LIZARRAGA
"This textural mural by Caroline Lizarraga has a hand-applied plaster and wax finish to look like crocodile skin. It is so sexy and unique that it can go in a lot of fun places. I have used it in powder rooms, stairways, bedrooms and libraries."