In Business of Home's series Shop Talk, we chat with owners of home furnishings stores across the country to hear about their hard-won lessons and challenges, big and small. This week, we spoke with Stacy Borocz, the founder and president of EtúHome, a retail brand of European-inspired homewares.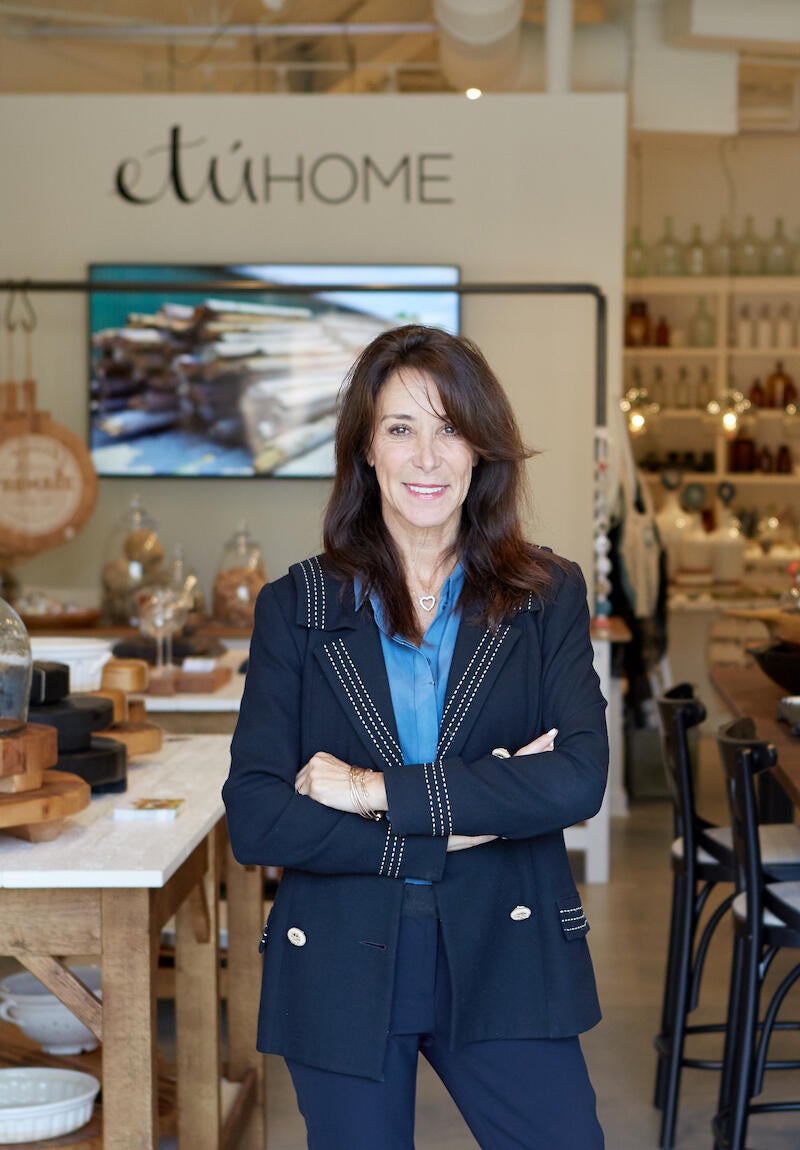 Two decades ago, a job opportunity for her husband brought Borocz's family to Budapest. With a long resume in merchandising, she saw an opportunity to import European style to the American market and launched the wholesale business Europe2You, selling to big-box stores, tiny boutiques, designers, the hospitality industry and more. In 2018, having returned stateside to Georgia, Borocz began offering direct-to-consumer products via EtúHome (which is "kind of the acronym for Europe2You," she says), and opened the brand's first two stores in the Southeast just in time for the pandemic. Ahead, she explains why she wanted a physical location at this stage of her business, which products make sense for retail versus wholesale, and how she parlayed a small network of European antiques dealers into a global retail brand.
What was your career like before you moved to Hungary?
I was basically a merchant my entire career. Early on, I was with Federated Department Stores [now Macy's Inc.], in the training program, then an assistant buyer, department manager, up through the training ranks. Then I went to WHSmith, a big British retailer, as a divisional merchandise manager for quite a long time. It was a great opportunity to work and buy for a global company—a lot of importing, travel, overseas containers. I understood the playing field very well when I started EtúHome.
Were you looking for work, or did you see the need for this brand in the market? Which came first?
I would say it evolved. Hungary was a really interesting place to be in the 1990s and early 2000s because it was just coming out of Communism. I started exploring, taking in the city and the surrounding countryside, and there were so many hidden treasures. [For example, our store currently carries] an apothecary from the 1800s with old oak drawers and porcelain-laden signs. There were beautiful pieces [like that] everywhere, and it was also incredibly well priced. I started collecting, and through the process, I met people who'd say, "Oh, let me take you to this city," or "Let me take you to the north shore of Lake Balaton, I know a guy." It was really incredible. It's a small network of antiques dealers, and I've known them all for 20 years now. It turned into a business. I loaded a 20-foot container and sent it back to the U.S., to our driveway. My kids helped me unpack it.
When did you begin the wholesale business?
The company started totally wholesale. It's still a very strong category for us, even though we are moving a lot to direct-to-consumer because of the demand. I did some trade shows in New York and Atlanta. The customers we still have today were some of our first: Williams-Sonoma and Pottery Barn. We sell to most major companies, but often you don't know it because it's private label, so I'm not totally at liberty to share. We also sell to boutiques across the U.S. and Europe. We sell to a big designer base, and restaurants and hotels. If a new hotel is opening in New York or San Francisco and they have a European vibe, we might do their breakfast bar—cake stands, cloches, domes, things like that.
For something like that, are you connecting to tons of makers across Europe?
We have a factory partner in Europe that does most of our glass and wood pieces. We outsource different elements of that: If we decide we want a cast iron handle, or a hook on the board, those things are outsourced. We're vertical in that we design and create product based on authentic antiques, so everything is classically inspired or has classic European roots. But then we take the piece, and we update it for the modern home.
If you came into my kitchen, I could say, "This is the original farm table plank. I hauled it from Aix-en-Provence back to our factory." We re-created it; maybe we changed the handle, or made it a little bit bigger or smaller so it would be practical for the modern American kitchen.
From the '90s to today, how has the idea of what is authentically "European" changed? I'm picturing the Tuscan kitchens of the aughts, the Scandinavian aesthetic more recently and the French country of my teenage home.
I mean, those heavy Tuscan kitchens that were everywhere, that's not a real Tuscan kitchen! What we try to do at EtúHome is be truly authentic. [Take] the antique dough bowl: It's been around for 200 years. People think, "Oh, it was just for rising dough." No, actually; it was for making pasta pellets to feed workers in the field. We focus on key pieces that are utilitarian, that had a purpose long ago. Like what you think of as a pizza board, it's really a Bavarian German bread board from the Auxais region of France and Germany. It's not Italian. We're more edited in our approach, and everything has a purpose.
After so many years of success with the wholesale side, why did you open brick-and-mortar locations?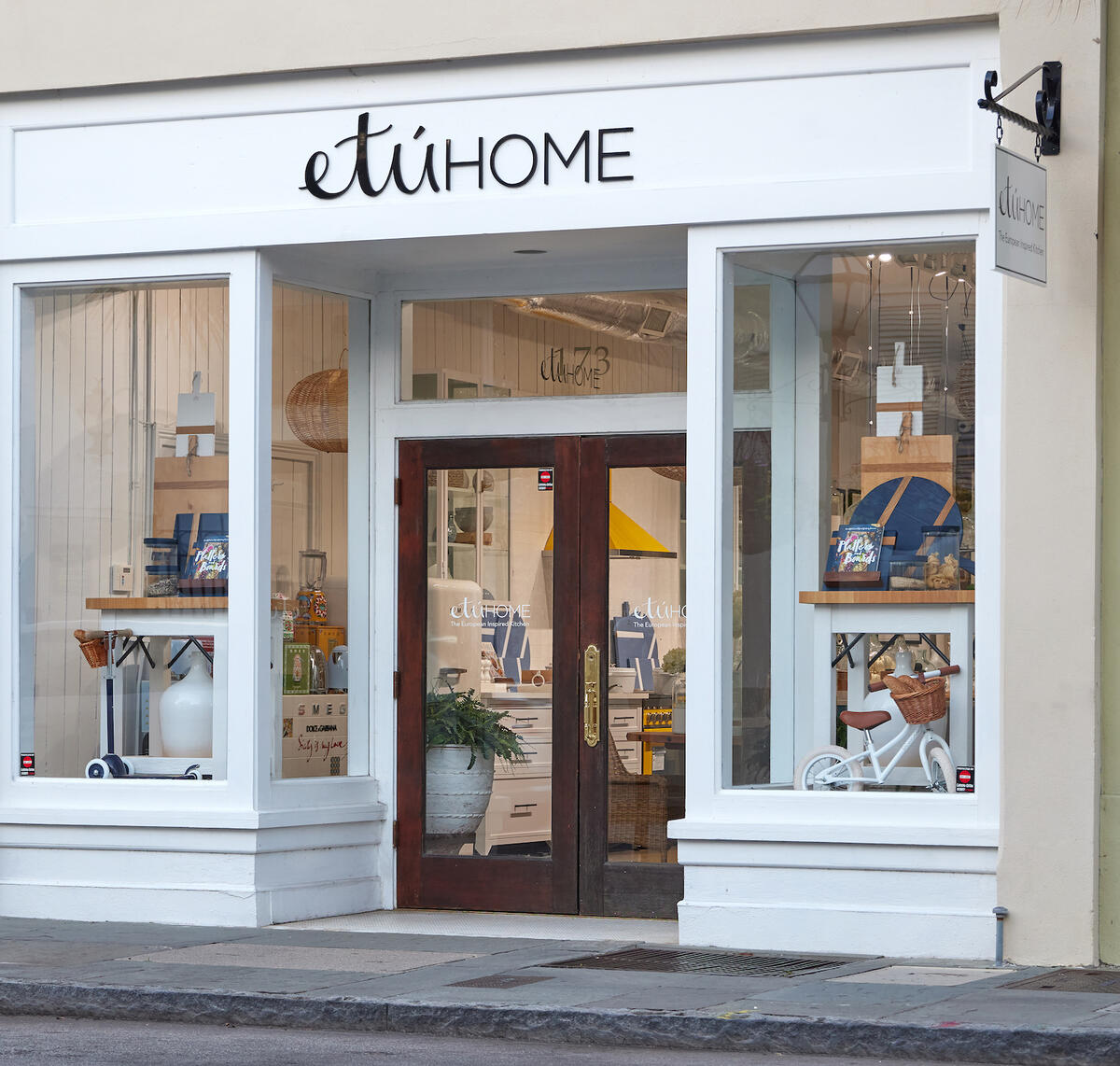 It was really to lend the appropriate credibility to the brand, to say, "Hey, look, this is an EtúHome store." Our first store was in Atlanta, our second store was actually in Budapest, Hungary, near our office, and then we opened Charleston a year ago and it's our largest. I think that people walk in and they're like, "Oh, my gosh, where am I? I just want to move in. Who is this brand? Can you tell us about the store?" There's a proper kitchen; we're an authorized Smeg dealer in Charleston and New York, so there's this amazing Smeg fridge and this beautiful yellow Smeg stove. They're just sort of mesmerized walking around, because you are somewhere very, very different. You're not in a box; you know you're somewhere really thoughtful, unique. I'm proud of the brand when I see our stores.
What just arrived in the Charleston store is 204 pieces of a pottery collection that we purchased from Soufflenheim, in the eastern corner of France. It was from a collector with this gorgeous hand-painted pottery, and now you can feel like you're in this little tiny town in France. You wouldn't see that anywhere else. You can buy the best European salts, the best pasta sauces. We sell sardines from Portugal, which is the best place to get sardines. We have the top-of-the-top of our favorite European accents.
Why did you choose Charleston and Atlanta?
With our first store, we decided to open in our own backyard in Atlanta. Our current plan is regional growth, hence Charleston. We're really looking to populate probably four or five locations in the Southeast first. Then the question is, should we move to the Northeast or do we head toward Texas and California?
What is the process of sourcing like for the store versus the wholesale business?
There are certain SKUs that we develop only for the stores. The stores have some really fascinating pieces at great price points that are solely found in the stores, from wood to pottery to glass vessels and found objects. There are a ton of found objects that we just can't source enough of, so those go direct to the store. For instance, we have embroidered French linen found napkins; they're pristine, beautiful, with embroidered initials on them. The idea is a mix and match of embroidered initials at your dinner party, so you don't know who you're going to get and each embroidery is different, so it's just a wonderful piece of the past. We can only source a few hundred of those at a time, so those go directly to the stores.
Then, there are other products that are an edited choice of our favorite European vendors. The best salt and pepper mill, which we think is from Pujo in France—we offer that in our stores, but obviously they're their own company. We've done the buying, edited it, and we believe you're going to get the best of Europe as far as kitchen and home.
And the stores are arranged in vignettes?
There's a section that's all about kitchen tools, wooden ladles or vintage cooking spoons, wine openers, cook's tools. Each store has its own kitchen, and we sell the modular kitchen cabinets, which is a quickly growing part of our brand. Designers can bring their clients in and see what the kitchen would actually look like, like a showroom. It's accented with our dishes, our pottery, our famous charcuterie boards. Then there's a section that's more bar related, with wine glasses, martini glasses and things like that, and there are linens. There's a found section.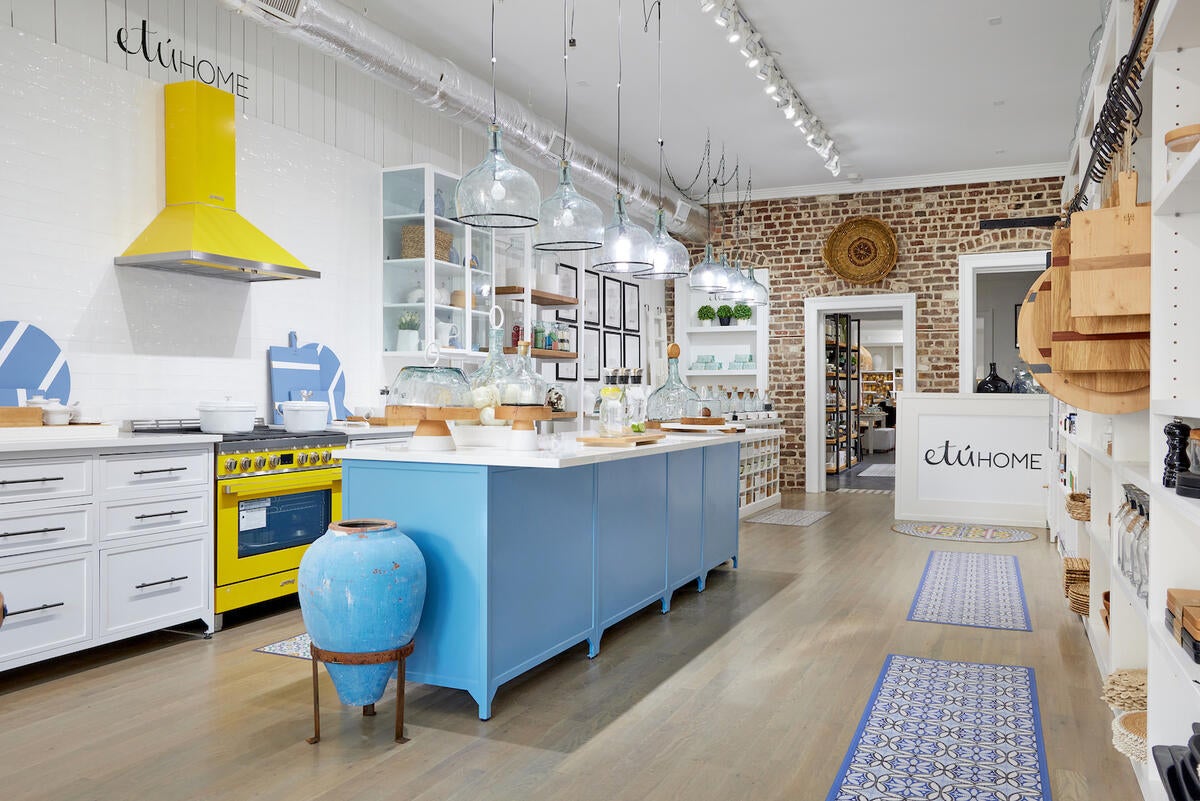 What was it like to finally open a physical store and then the pandemic hits?
That was not fun. We opened our first store in Atlanta in October 2019. I remember I was at the Ambiente fair in Germany [in February 2020] and all the Asian pavilions were shut down, the masks were starting, and it just felt so uncomfortable. I was like, "I cannot wait to get home!" I don't know why I was so naive, especially for somebody who travels, to think that it wouldn't spread so rapidly.
But as you know, the online sales just went crazy. We couldn't believe what was happening. The spring was tough, especially as a wholesaler. That first week in March, I remember we stood on the dock counting something like 168 FedEx boxes that were returned because the stores had shut down so FedEx couldn't deliver. That was obviously a very scary moment for everybody. But as people started working at home, we were just so surprised, like, "Who is sitting around deciding they need this 50-liter wine barrel in the middle of their dining room table?"
Obviously, it wasn't great if you were selling stilettos in that moment, but it was really great if you were in the home business. The online sales completely took over the revenue the store would've done, though it was very tricky reopening with all of the parameters, guidelines and cleanliness. It was not easy or fun.
How have you handled other pandemic-era issues like inflation and shipping delays?
We were not that affected. Europe was really not as challenged as the Asian countries were, so we did not struggle with shipping. Because 80 percent of our product is vertical and we have these partnerships, we control our supply chain pretty well. We did have price increases and shipping surcharges, but we did not have a supply chain problem. We were very, very fortunate. We've eliminated that surcharge now. And we've been very transparent with our wholesale customers, which I think has paid off nicely for us. I don't know what will happen going forward.
Have you had any problems finding or maintaining staff in the last year or so?
We did during the height of the pandemic. We were growing and it was challenging to find the right people, but we've also been fortunate there. I would like to think we're a great place to work and a great company to be part of.
How often do you go back to Budapest at this point?
I used to go about four times a year. I was there in June for three weeks and in August for three weeks. My husband runs the business with me, the live logistics and ops, and he's going back this month. I have a really solid team there now, so I don't have to go as often as I once did. I love to go, but the time zone change gets me!
Which parts of your work do you dread, and which do you look forward to?
What I don't like is the day-to-day, the operations, logistics, IT, finance. Some of it I don't even want to know about, I just want it to work! I have a great team that I trust, so I don't have to get involved because it's not what I love and it's not what I know.
I am a creative, so my favorite is product development and design. That's what I'm all about. On the retail side, I love merchandising the stores. I love the aesthetic of the product coming together. I was just in Charleston for a week, and we had a floor reset, which was so fun. I loved every minute.