Design careers rarely fall at the end of a straight line. For New York–based artist Liam Lee, his road to crafting wool-based wall hangings and furnishings was no exception. "It was a circuitous path to where I am now, but I've always been really interested in design, and there was a lot of creative energy in our family," he tells Business of Home. "My dad was a painter, his mom was a painter and his father a photographer, plus my maternal grandfather was an architect."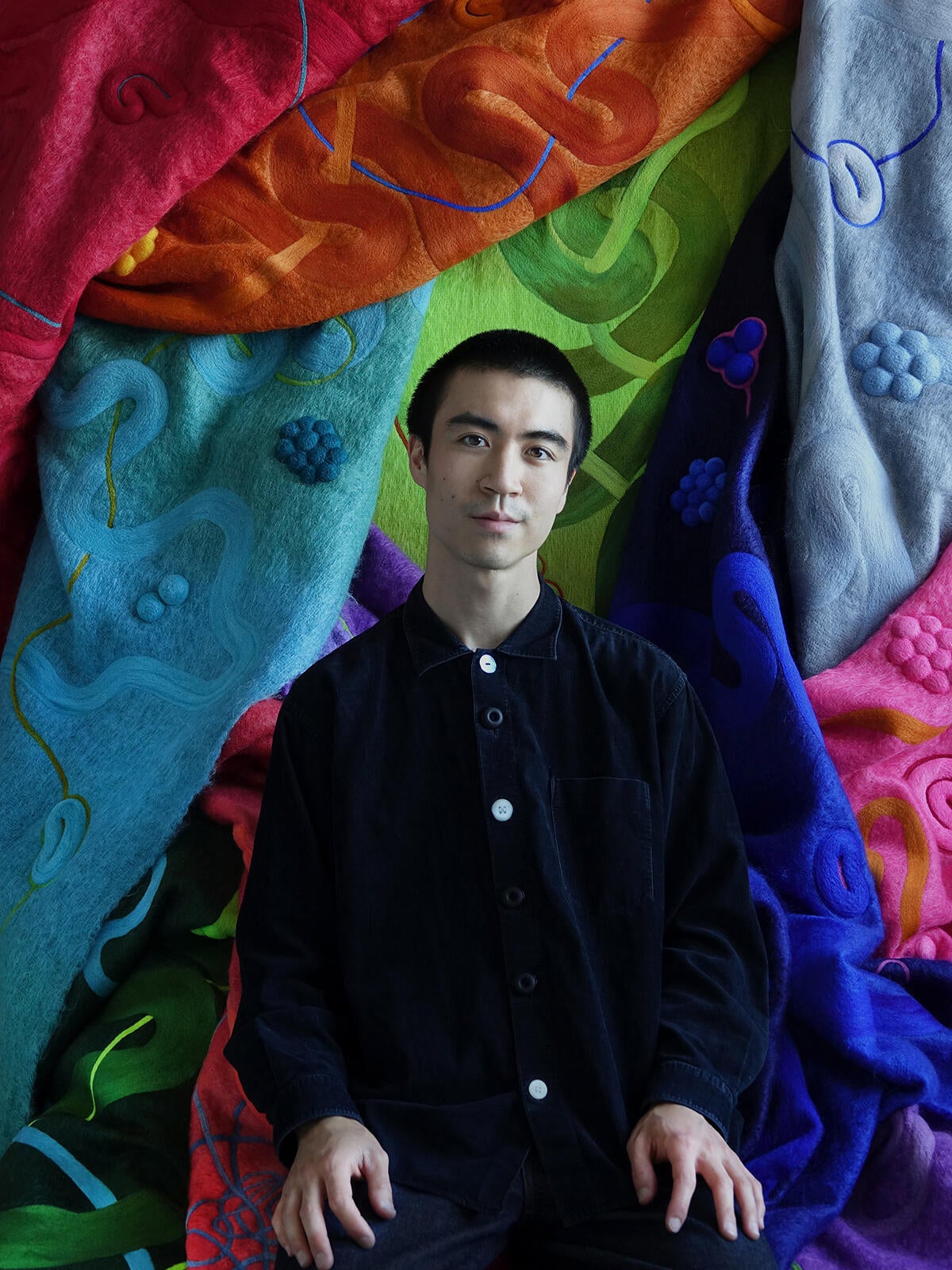 Courtesy of Studio Liam Lee
After graduating from the University of Chicago in 2015, Lee's English degree led him to New York–based architecture firm Reiser+Umemoto, where he worked on the company's monograph. Two years later, Lee took a job with set designer Mary Howard, who is known for working hand in hand with photographer Annie Leibovitz across several Vogue shoots. There, Lee developed two crucial skills: transforming materials and following client design briefs. "My interest in architecture translated well to [set design] because even though it's a flimsy, fake space, you're still focusing on color and texture, trying to mimic the look of a material," he says. "But I didn't have full creative expression. We were executing what the client wanted. So I started thinking about how I could express myself outside of that."
On his own time, Lee began experimenting with textile art, dyeing wool fibers before converting them into throw blankets and wall hangings. Along with ample structural potential, wool came with a practical consideration as well. "It can become this super dense, sculptural, even rigid surface," he says. "You can manipulate it in ways that you can't do with fabric or foam. And unlike ceramics or woodworking, where your studio needs specialized equipment, I was able to keep an easily contained mess within my apartment."
Lee starts the design process by dyeing raw merino wool fibers with exuberant pigment before felting the pieces together. The hangings are colorful landscapes in their own right, some ultrabright and others more subdued, but each one an earthy, abstract addition to a space. He likes to think of the hangings as maps or constellations, in that there is no one "right" way to orient them, and rarely is there any symmetry. The precision in Lee's work comes from needle felting, a technique that came to prominence in the late 20th century for industrial felt production (as opposed to traditional felting, which uses water, soap and agitation to tangle the fibers together).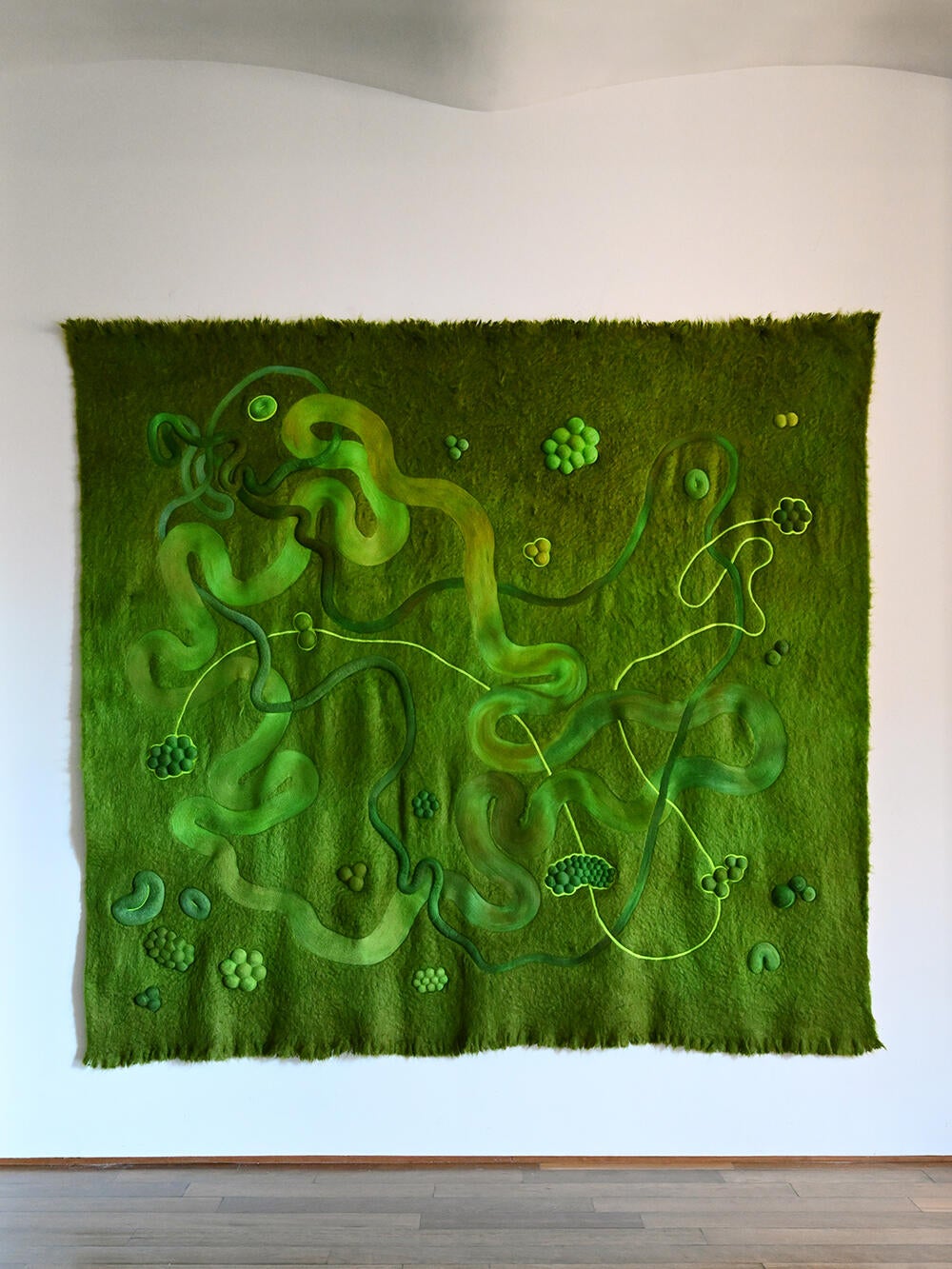 Courtesy of Studio Liam Lee
Like many contemporary artists, Lee began posting his work on Instagram, a move that ended up landing him his break into the design industry. In 2018, Evan Scott, the shop director of the Noguchi museum in Queens, New York, reached out to Lee through the app asking to sell his work in the museum store. (Originally, the pieces were marketed as throw blankets, but because of their structural nature, they function better as wall art.)
After two years of selling through Noguchi, the pandemic brought a premature end to Lee's job in set design—which ignited his next level of wool art. "I decided to really push the work I was doing with wool fiber into more three-dimensional, sculptural pieces," says Lee. "I landed on making furniture, and I kept going with that."
To create his furnishings, Lee layers hand-felted wool atop a simple wooden substructure. Whorls of wool take their inspiration from the natural world, informed by everything from marine coral and fungi to various seedpods and mosses—a byproduct of their pandemic origins. "What drew me to make these incredibly vibrant yet organic pieces was that I stayed in the city for the bulk of the pandemic," says Lee. "There was a lot of anxiety about leaving your house, and so I began expressing natural forms through furniture and domestic objects."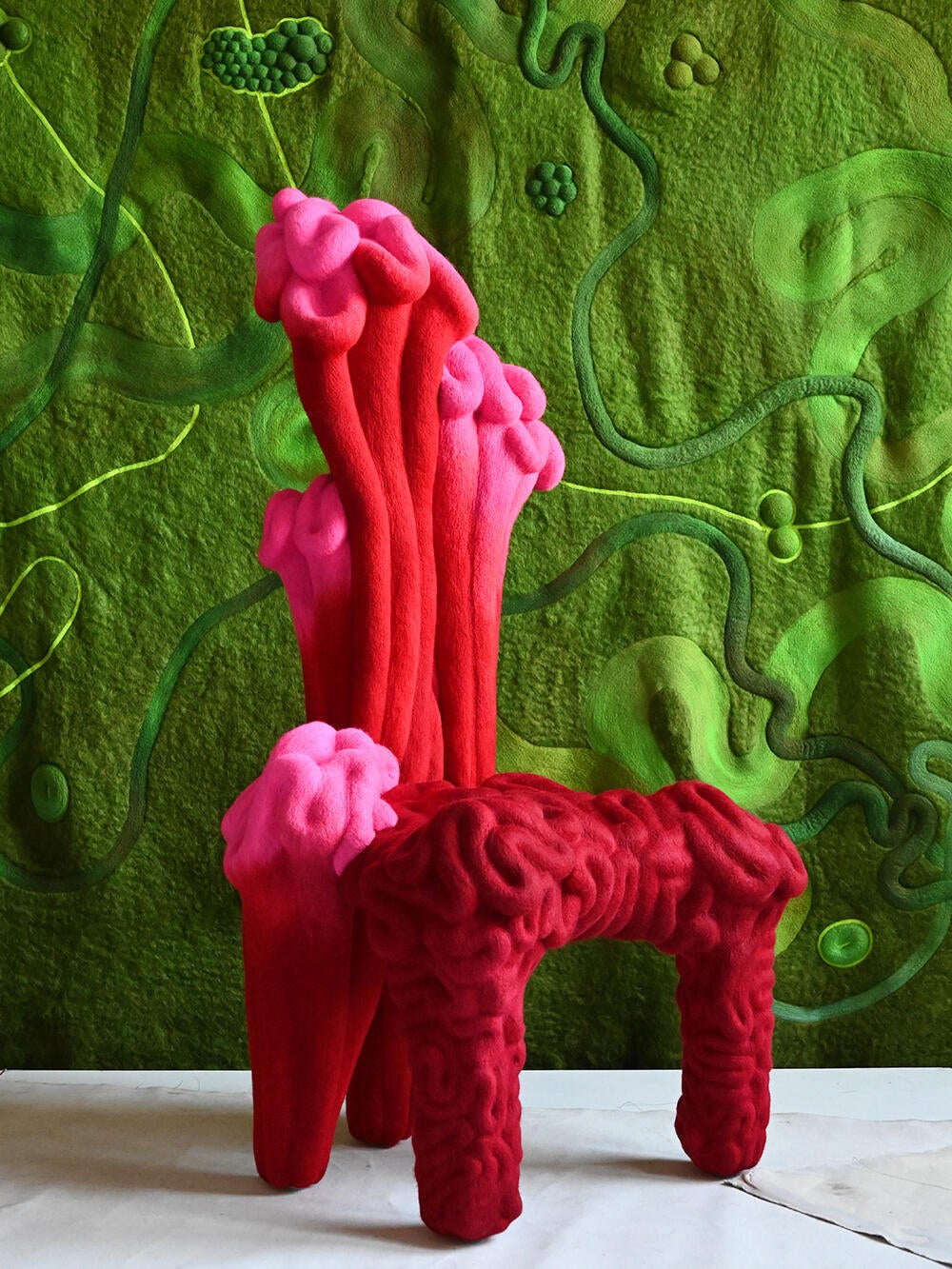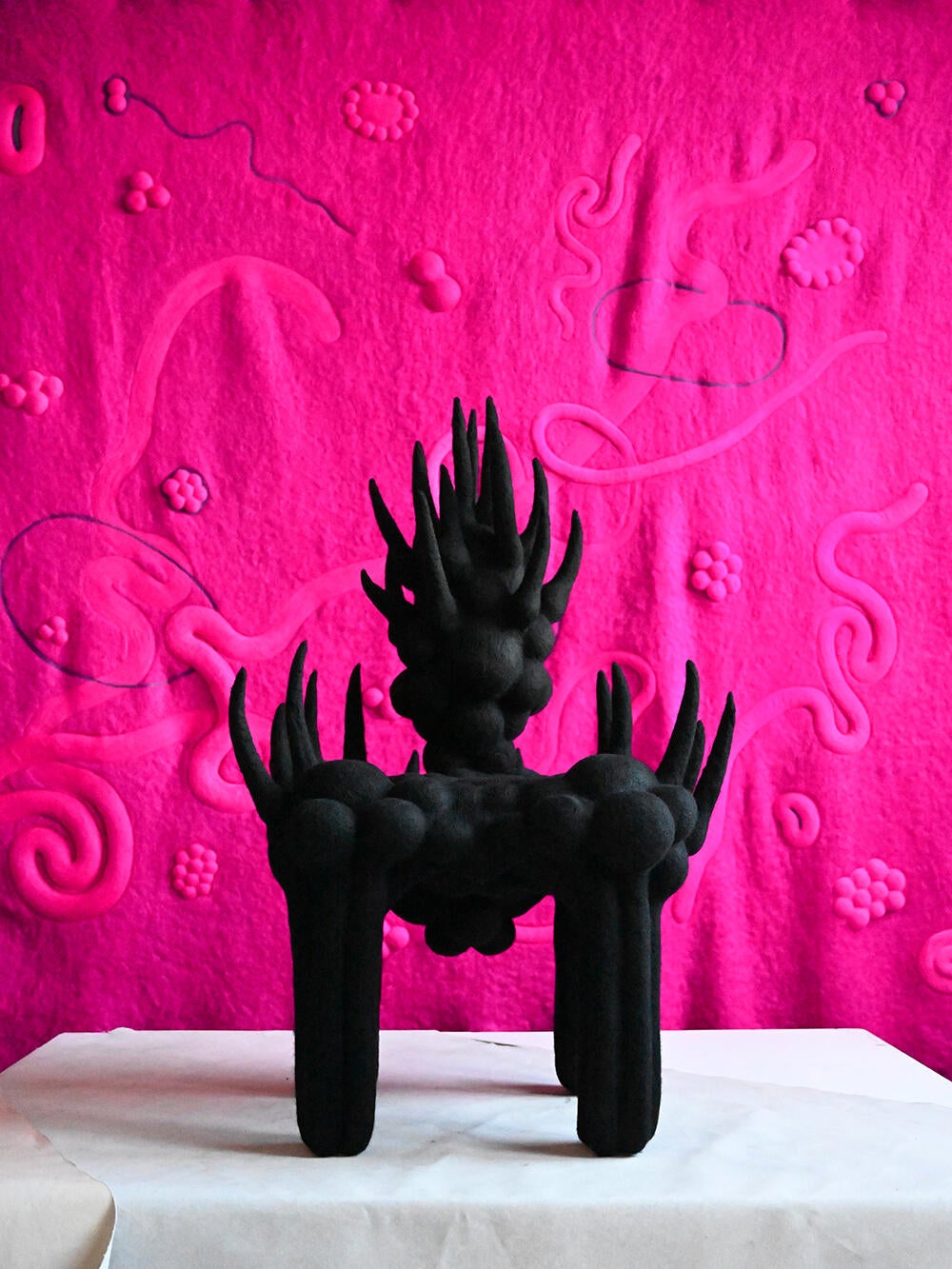 This time, Lee's Instagram posts caught the attention of Patrick Parrish gallery in Tribeca. With gallery representation, Lee showed his furniture at New York's Salon Art + Design event in 2021 before taking them to the San Francisco Fog Design + Art fair earlier this year, accepting custom commissions along the way, selling each chair for anywhere from $16,000 to $18,000, depending on the size.
To complement his artistic success thus far, Lee recently collaborated with home brand Heath Ceramics (who found him—you guessed it—on Instagram), pairing ceramics with his sculptural wall hangings. Looking ahead, the artist is preparing for his first solo exhibition in June 2023 at Patrick Parrish, which will showcase his furniture works and hopefully spark more commissions. "I think a lot of people don't know that I'm excited by custom projects too," he says. "What interests me about working with wool is I can really sculpt it, and I want to bring these natural elements into interiors."
If you want to learn more about Liam Lee, visit his website or follow him on Instagram.
Homepage image: A group of Lee's chairs sit against one of his wall hangings in cobalt blue | Courtesy of Studio Liam Lee