The fantasy of working from the beach, mountains or an exciting new city can be a reality in a world where many still have the option to work remotely. But what if people fleeing the monotony of their homes could leave their unoccupied spaces to someone they trust and earn a (nearly) free stay in return? New house-swapping startup Kindred is centered on building a network to make it happen. A key, the founders say, is great design—and a sense of communal reciprocity.
"We want Kindred to be a place for people who are like-minded and have similar values," co-founder and CEO Justine Palefsky tells Business of Home. "People who really lead with generosity, people who are worthy of trust, can come find each other here. If you really lead with the Kindred values of being involved in a true give-to-get marketplace, you'll be a really fantastic member."
Launched publicly in April, Kindred requires members to join as both a host and a guest. Though the service is designed to be an affordable alternative to digging up an Airbnb, it is not entirely free. Members pay an annual fee of $300, a cleaning charge for every stay and a nightly cost of $30—Kindred provides a guest kit with sheets, towels and a lockbox. When they are hosting, members are entitled to an insurance protection plan of up to $100,000 per stay and will earn travel credits, which are used to book stays at another Kindred home at a later time.
The inspiration for the San Francisco–based startup came from feeling trapped at home during the pandemic—and from the potential for flexibility a work-from-home lifestyle could allow. "We wanted to be able to travel a little bit more and, honestly, just squeeze more life into our life," says Palefsky, who worked with co-founder Tasneem Amina at online residential real estate company Opendoor before starting Kindred.
The pair wanted to make travel more affordable for themselves and their friends. But with flight and hotel prices soaring, finding a cost-effective way to spend a weekend in Lake Tahoe or Mexico City was not easy. "We ended up organizing among our existing friends and friends of friends, and realized within our extended network, there are a bunch of people with really beautiful homes all over the country—even all over the world—that are also sitting empty for days or weeks, or sometimes even months, at a time while they travel." A solution quickly emerged: What if they filled one another's vacancies?
The co-founders created a private Instagram account where they accepted close friends and referrals, posted their homes and swapped back and forth. This trial period helped the early members of the Kindred community realize that within these trusted networks, they could all "unlock really radical access to longer-term stays in really beautiful homes across the world for a tiny fraction of the cost," says Palefsky. To get their idea out of the DMs and out to a broader audience, Palefsky and Amina raised a seed round of $7.75 million led by Silicon Valley heavyweights Andreessen Horowitz and began building their site.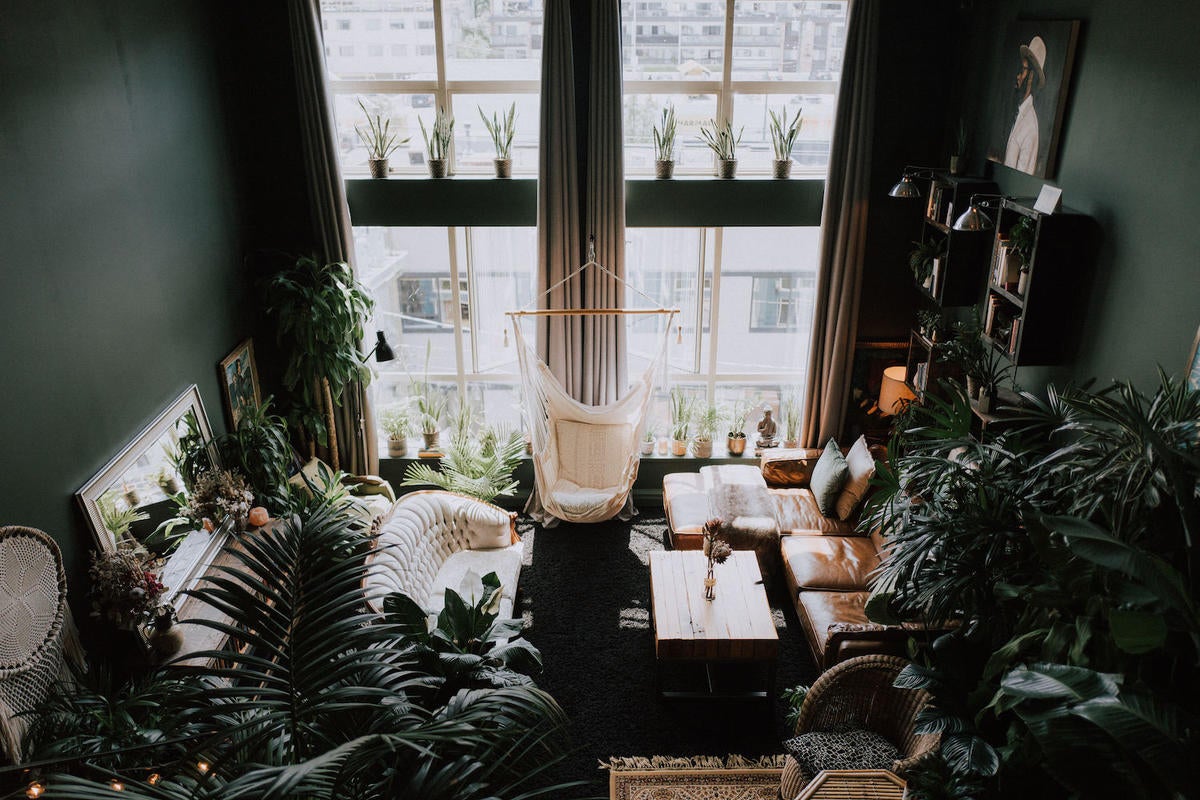 Kindred is not the first startup to bring the idea of house-swapping online. In 2003, Couchsurfing sought to connect global travelers with locals willing to host them for free in over 200,000 cities—it has raised $22.6 million and now has 12 million users. On the luxury end of the spectrum, Tennessee-based company Thirdhome launched in 2010 to help people leverage their high-end second homes ($500,000 and up) by renting them out to other members in exchange for travel credit. Palefksy and Amina's concept sits somewhere between the two: There is some infrastructure and service built into it, but you don't have to fly private to join.
It does, however, help if you have a cool house. Notable Kindred listings include a studio in Vancouver with an abundance of houseplants and a hanging swing bench, a 1970s-themed bungalow in Austin and a workshop in Denver belonging to a designer couple complete with a floor made of pennies. "These beautiful spaces have a tremendous amount of personality. That's part of the reason why I think a lot of people like Kindred—it feels like homes with souls," says Palefsky.
Kindred homes differ from those on other rental apps like Airbnb because they are almost exclusively people's primary residences. But in seeking beautifully designed homes, the company is not alone. As much as a good location and desirable amenities, great design drives bookings and revenue for the likes of Vrbo and Airbnb. The latter is aggressively pursuing design as a sales strategy, shifting its search tools to allow users to sort by style and launching a $10 million fund to give designers, architects and DIYers $100,000 to turn their wildest property ideas to life.
In addition to good design, the company looks for homes that are clean, safe and functional—and those that have great remote work setups. "So many of our members are looking to squeeze this trip into their work life and take an opportunistic trip and be able to work remotely," says Palefsky. "Homes with workstations, standing desks, monitors or a treadmill desk have demand because people can go there and not have to take vacation and work comfortably."
Although Kindred is still new to the market, members are already starting to build relationships and participate in repeat swaps, including Palefsky herself. She recently began trading homes with a woman in Manhattan who lives only three blocks from Palefsky's college friend. "It turns out I live in San Francisco down the street from her best friend from college. When we swap, it's so fun," she says. "Now, I feel like I have my home away from home that I feel really comfortable with. I can have the experience of feeling like I have a second home without having to buy a second home."
Homepage image: This Vancouver studio has a lofted bedroom and swinging chair | Courtesy of Kindred