In Business of Home's series Shop Talk, we chat with owners of home furnishings stores across the country to hear about their hard-won lessons and their challenges, big and small—and to ask what they see for the future of small industry businesses like theirs.
This week, designer Michael Del Piero discusses the oasis of neutral furnishings she maintains in Wainscott, New York, a hamlet next to East Hampton. Opened in 2018, the store, Michael Del Piero Good Design, is stocked with her own merchandise as well as finds from all over the world. How does Del Piero, who also runs a design firm with locations in Wainscott and Chicago, balance it all? With a good team and loads of texture, she explains.
What led you to the design world?
I started out in nursing and quickly realized that was not for me. I went back and took some postgraduate courses and then started an executive coaching business, which I did for almost 20 years. During that time, I had a friend who moved to the Netherlands. I had an interest in cool objects and antiques, and she and I went all over Europe, buying really great things for our own homes. I had this idea that I would love to have an empty home and style it up full of things that I bought and then have a sale, so I bought a container full of lighting, rugs, furniture and accessories, and I got a [real estate agent] to let me use a home. Three days later, I had sold all of it.
I did it again, and on the second or third time, I got a request to do an interior design project, which I declined because I'm not formally trained. I didn't feel comfortable. But I continued to sell art and antiques and then eventually that became my full-time job. This woman who had bought many things from me continued to pursue me to design her home, so I finally did and it got published, which led to an interior design business. My studio started in Chicago, and then I opened a second location—the shop and another design studio—in the Hamptons.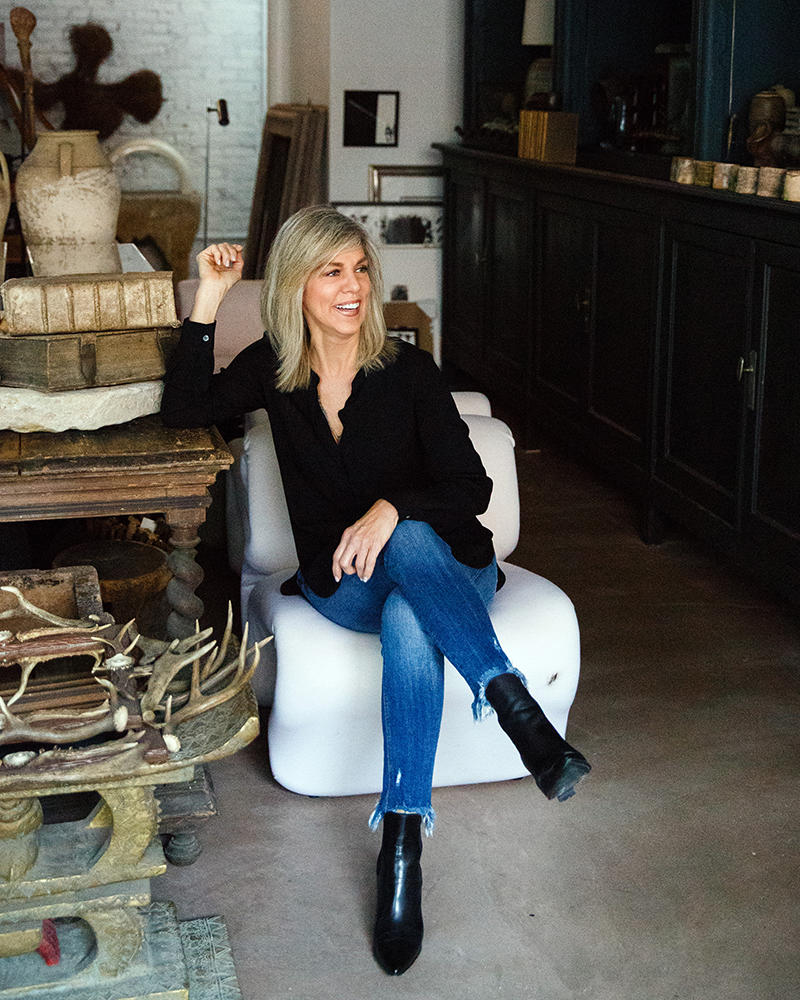 How do you split the work?
We have an incredible Frenchman who runs the shop. He's an unbelievable salesperson. But I do all the buying and the styling, and come up with the schemes for each season and that sort of thing. Then [with] my interior design business, I have a team of designers, and I guess at this point, I'm a business manager. That's sort of how I'm managing two or three businesses.
What is the vibe of the store?
It's a little difficult to describe, but it's a unique mix of ancient and modern, traveled and textural. I have a book coming out in the spring titled Traveled and Textural. It's a big part of the concept, what I'm attracted to. I'm not really much about color. But when you work in neutral so much, you really do need patina and texture in order to give it life and soul; otherwise, it's sort of flat and boring.
Who is your typical customer?
Designers and architects are our primary customers, although it's a retail space, so we have just as many end users. The kind of people that shop with us have a high level of sophistication. They're all on the hunt for the unusual—never the precious sort of items.
Do you have a favorite item in the store right now, or a favorite corner that makes you smile every time you see it?
Yes, we have a relatively new artist, Seth Fite, [who has] a very classical style. And we have a massive old-world painting of his paired with a black, round, modern table that I designed. They look really cool together. It's a vignette, let's say.
Is there any advice you'd give yourself if you could go back to opening day?
The brand and what I'm attracted to is so not cookie-cutter. When I first opened, I thought, Oh, you'll need candles and a line of vases or something. And as time moved on, it ultimately turned out to be exactly what I started out doing, which was really unique, one-of-a-kind, traveled items. So my advice would be: Don't try and fit yourself into what others are doing successfully. Just stick with what you know.
What's your biggest day-to-day challenge?
The biggest day-to-day challenge is keeping the shop looking the way it does. Because they're selling quite a bit, and because it's one-of-a-kind and things all have to make sense together—because I'm an interior designer, so I'm also selling my work. You sell four things, but you put out four new things and they don't necessarily work with what else is on the floor. So it's a constant maintenance of a look, more than product. Certainly it's also challenging because I primarily was sourcing around the world, and during the pandemic, for obvious reasons, I could not travel.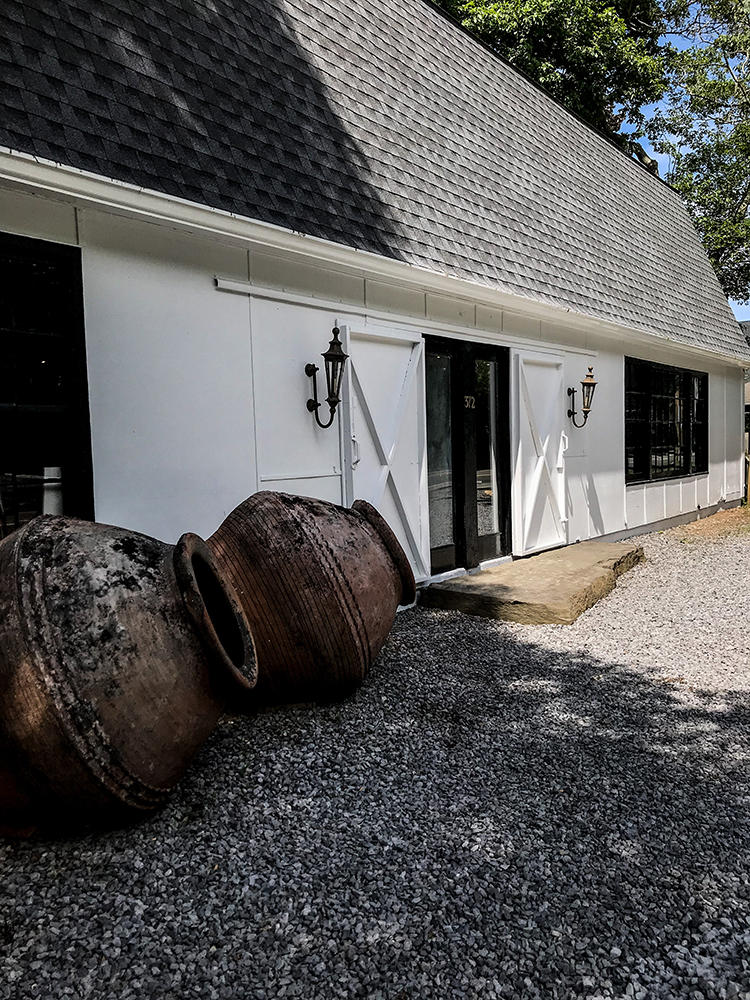 Courtesy of Michael Del Piero
How have you gotten through that?
Because I've established relationships around the world, I have called some of those folks and said, "What can you ship?" Shipping is crazy expensive right now. So that [too] is a challenge, but because they know what I like and they've been dealing with me for so many years, they've been able to email and send photos. That's how I've been shopping. Also, making a lot more use of U.S. sources. I'm on a constant hunt for lines that will make sense in the shop.
How have you formed those relationships over the years?
Really treating people with absolute respect. I make sure that I'm easy to deal with—if I'm irritated or frustrated by not speaking the language, I take ownership of that and never let it show, and I just find whatever way to communicate respect. I think that's really helped establish relationships that are solid. People that want to do business with us. I'm also honest—I talk things through with dealers and owners of companies: "I need to mark this up. I want to be fair. I want to make sure you make money, I make money, and the end user gets something for a reasonable price." I just engage them in the process.
Are there big-picture things that bother you about the business?
No, I think I'm an open-minded person to change. I'm open to knowing that in business, you have to constantly be open to change because everything changes. How people design their homes has changed. People design their homes from Instagram or HGTV, and designers have to adjust to that. Same thing with retailers—there's a lot that's done online now. Some people still want the brick-and-mortar, but does the brick-and-mortar make sense? I'm flexible in all that.
How do you convey to customers that what you're offering is more worthwhile than the cheap stuff they get on the internet? Or does a Hamptons crowd need less convincing?
People that are attracted to what we're doing can see that their friend can't buy the same thing, because there's only one. Or it's come from a faraway land, so of course there's some travel involved in their shipping. But often, if I'm in the shop and someone says, "Wow, that's expensive," I agree. It's expensive, but it costs quite a bit to be able to access this kind of item, and they usually end up buying it. It isn't that they're complaining that it's expensive—they can see the value—but also it doesn't hurt to explain why it has the price tag it has.
Are there challenges that are specific to operating in the Hamptons?
Many of the people that come into the shop are of a higher socioeconomic [status], so that's a positive for a retailer, [but] the biggest challenge I find as a business owner is that since the pandemic, no one can afford to live here. Finding quality employees is a really big challenge. They can't afford to exist here, can't pay the rent. It's gotten out of control. I'm fortunate; right now, I have incredible people working with me. But I am nervous [for the future].
What is the future of a small business like yours?
I'm always thinking about what's next: What other revenue sources are there? How can this move into one thing and then into another? It seems if things continue with the internet and Amazon, the little guys are going to have a more and more difficult time.
Are there aspects of the role you just love? What is a great day in retail?
A great day is an end user who comes in and wants input. ... Which sofa, which color, which artifact would look great? What piece of art? They're looking for some help. Combined with the next customer, who's a designer who finds the coolest things to work in their aesthetic. [Many designers have] taken me to lunch and said, "So, should I open a shop?" And I almost always say yes, because as an interior designer, it's a great way to show what you're capable of to the masses. Where the difficulty comes in, for me, is that we have a thriving interior design business and then a full thriving retail business of its own. I'm managing two different companies, and that's a lot.
Sounds like good problems to have.
Yeah, I'm not complaining.
Homepage photo: Del Piero's Hamptons store | Photo by Glen Allsop