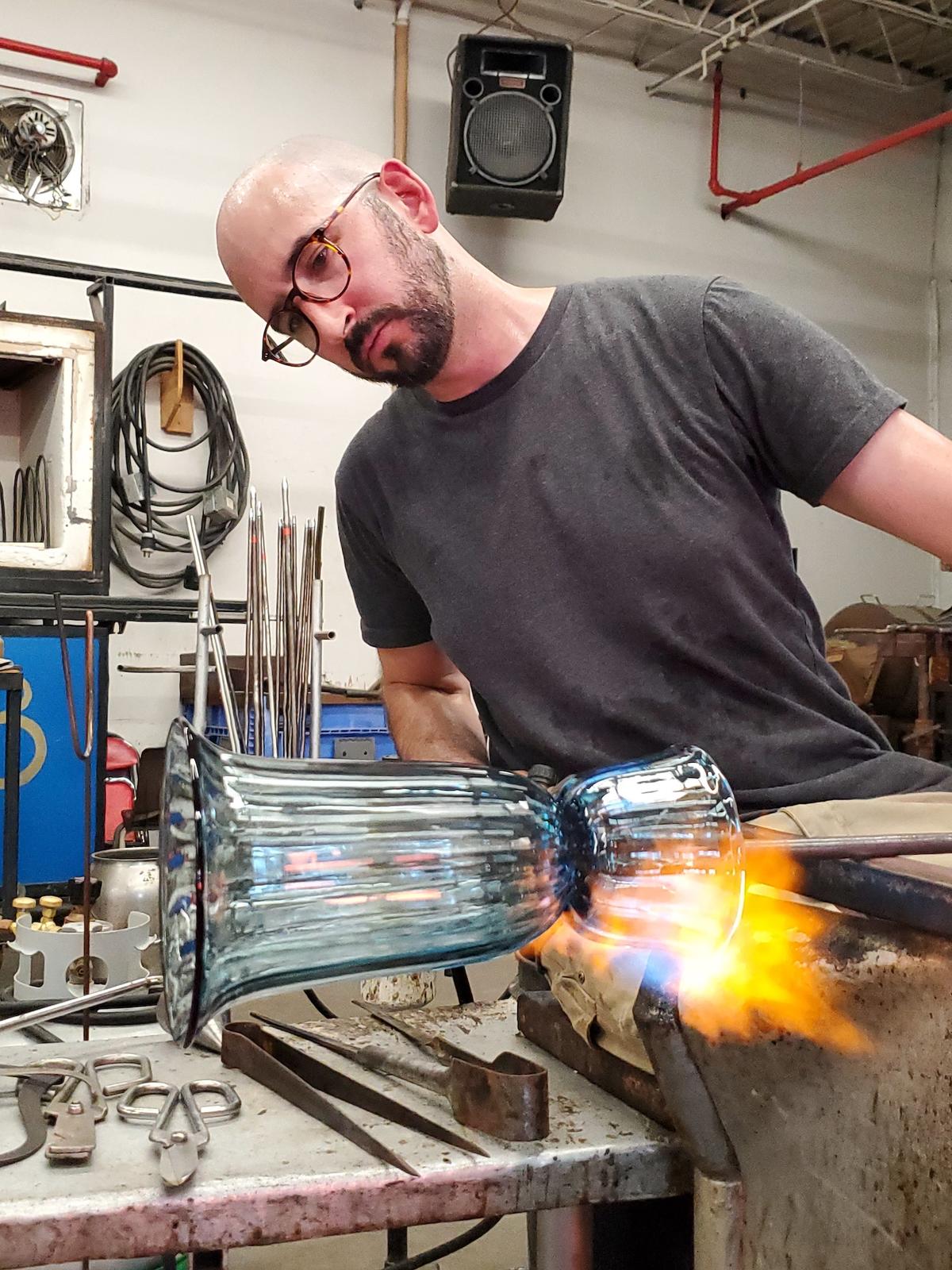 Courtesy of Andrew Iannazzi Studio
Despite using one of the oldest artistic mediums, Andrew Iannazzi's hand-blown glass creations feel undeniably fresh. The Cambridge, Massachusetts–based glass artist fuses centuries-old craft techniques with of-the-moment design elements to create objects that are equal parts retro and contemporary. "I look to traditional forms, methods and techniques and interpret them in a modern way," he tells Business of Home. "There is an element of nostalgia and familiarity that I want people to feel."
Iannazzi was first introduced to glassblowing while studying at Hartwick College in Oneonta, New York, where he majored in the subject. After graduating, he began assisting other glassmakers in their studios while balancing a job as a bartender, before officially opening his own design firm in 2015. "My first collection was a series of two-toned Tiki mugs that was informed by my work as a bartender," he explains. "It was a great stepping stone into drinkware, and the collection remains one of my most popular to date."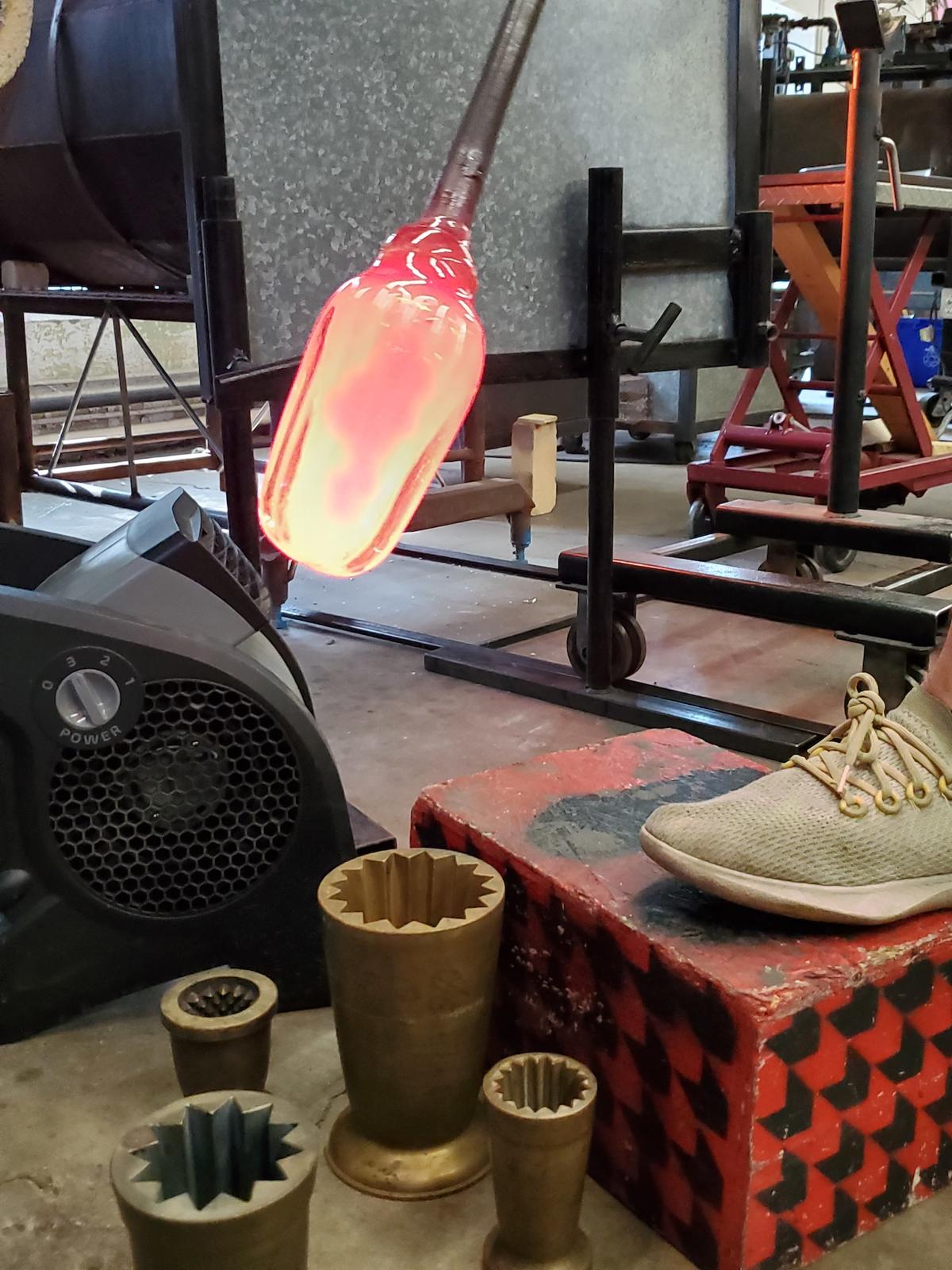 Courtesy of Andrew Iannazzi Studio
Form and function both play key roles in Iannazzi's designs. Along with an assortment of hand-blown drinkware, ranging from vibrantly colored whiskey glasses to stackable pineapple-shaped cups, he crafts pretty yet practical housewares, including chamberstick-style candle holders and multicolored bowls with built-in pouring spouts. "I try to be as exacting as possible with what I make," he says. "Subtle curves in something as simple as a water glass give my work nuance."
Recently, Iannazzi collaborated with New York–based home goods retail platform Civilian Objects on a glass vessel inspired by the multidisciplinary fervor of the Vienna Secession movement. Designed using traditional Venetian techniques in blue glass, the trumpet-shaped top of the C/O Vase 01 allows for sprawling flower arrangements. "We use the mold near the beginning of the process to create ribs in the glass, which later soften into the subtle optics you see in the finished design," he explains.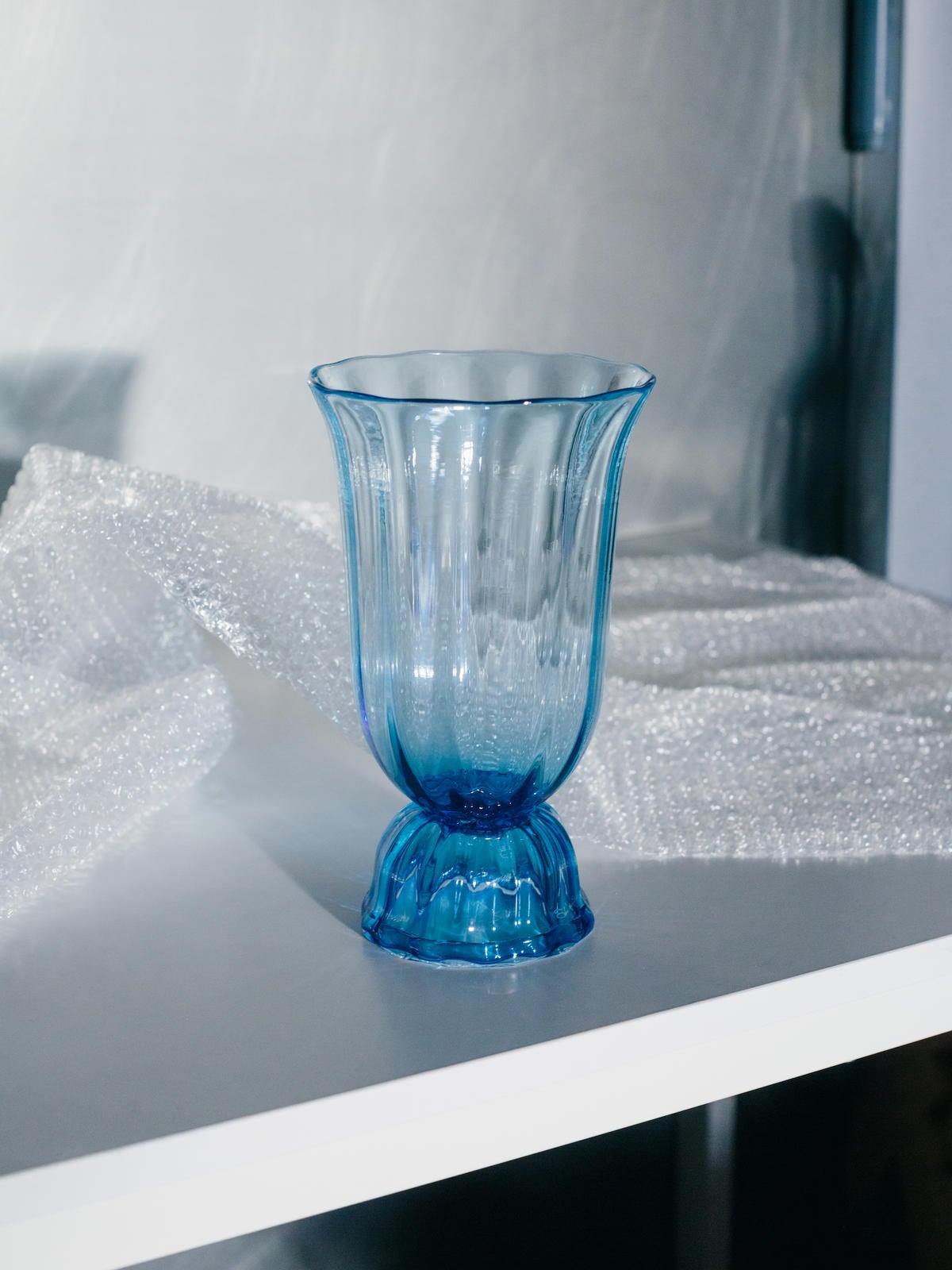 While all artistic mediums come with challenges, Iannazzi says glassblowing offers a unique set of obstacles. "We still use traditional processes that have changed little over the course of hundreds of years," he explains. "Everything I make I make by hand, so the physicality of the work and the strain put on my body over time can take its toll."
Looking ahead, the glassblower plans to release a collection of lighting based on the glow of a lighthouse and the heavy textures of its beacon's Fresnal lens. "My upcoming works are heavily inspired by the coast in and around the Boston area," he says.
Iannazzi also hopes to eventually expand his studio space into a full-blown cooperative, where he can collaborate with other glass artists on upcoming projects. "Glassblowing is seldom done alone, so it's great to have great teams of people to work and problem solve with. I would like to create a community based around skilled glassworkers that have similar ideals and desires to continue designing great work.
To learn more about Andrew Iannazzi, visit his website or follow him on Instagram.
Homepage photo: Spouted glass Pouring bowls in large and small by Andrew Iannazzi | Courtesy of Andrew Iannazzi Studio