In Business of Home's series Shop Talk, we chat with owners of home furnishings stores across the country to hear about their hard-won lessons and challenges, big and small. This week, we spoke with Meghan Basinger, the owner behind Stevie Interiors, a design studio and retail shop in Milton, Georgia.
When she launched an online shop of decor objects in the summer of 2020, Basinger—who had a limited professional background in design—never dreamed the demand would outpace the confines of her house, then her first brick-and-mortar space. In fact, the breakneck growth was a real concern, as she explains, but one managed through careful hires and an eye on long-term outlook. Here, Basinger discusses her unconventional career before Stevie, how she's carved out a space in Atlanta's crowded decor market, and what she offers that Amazon can't.
What was your career like before this recent pivot?
My first job out of college was at a beauty PR agency in New York. It was very The Devil Wears Prada. It was a great learning experience, with big Procter & Gamble clients, but New York wasn't for me, so I was only there a year. I came down to Atlanta and worked at other big PR agencies, and ended up at Home Depot in corporate communications, where I was a speech writer and supported investor relations. Writing was the unifying factor; I had no interest in interior design or in retail.
Then I had my first baby in 2015, and I thought I'd be a stay-at-home mom. That lasted for like three months. I looked for jobs I could do remotely and [found one] running the shop component of [San Francisco–based children's design brand] Project Nursery, which is where I was first exposed to wholesale and retail prices and the back end of Shopify. Melisa Fluhr and Pam Ginocchio, the owners of Project Nursery, were really great teachers and mentors, and that was my first exposure to interiors and retail in a professional setting.
When did you launch your own thing?
I'm really good at taking on too much. I have three children now, and I was doing Project Nursery and working on a podcast with a former CEO of Home Depot who retired around the same time I left. I was writing for magazines, and I also had built this lifestyle blog at the time when everybody was becoming an Instagram influencer. I built a decent-sized following, to the point where I was getting paid for campaigns, and it naturally transitioned into campaigns around home decor. I was putting things in my home that weren't necessarily things I wanted in my home long-term, and it got to the point where I was like, "Why am I doing all of this marketing for other brands? Why don't I just curate my own collection of items that I love?"
Stevie really was born during lockdown. I knew how to do Shopify. I figured I could figure out how to take on vendors from my time at Project Nursery. I started with two vendors, an inventory that could fit in my house, and launched the shop online in August of 2020. It was literally me and my husband waking up at 5:30 in the morning and packing boxes in our foyer before our kids woke up. It quickly got to the point where we couldn't fit the inventory in the house. I was driving around our little town and saw a for-rent sign for a space. So I'm the person that opened a retail shop when there were still mask mandates.
What were the best and worst aspects of opening in the pandemic?
It's kind of crazy when I think back on it. The space—which we're still in—had cheap rent, so I could go year to year. The amount of business we were doing online was going to cover most of the overhead, with a little bit of our personal investment. I was growing two sides of my business at the same time: the retail side and the interior design studio. Opening that storefront really legitimized the interior design studio. So I knew, even if I wasn't covering rent and salaries based off of this foot traffic, one out of 50 people in that foot traffic ended up signing with the design side, which more than covered expenses for the next several months. With a physical location, vendors took us much more seriously. I was able to meet minimums and get better pricing.
I look back, and I did not know what I was doing, and I think I got really lucky. The people investing in homes made our business skyrocket. The challenging part of that was scaling very quickly without experience of working at another design studio or another home decor retail location. Hiring personnel, bringing in the right amount of inventory and knowing when to order it—because it may not arrive for nine more months—was such a gamble in so many ways.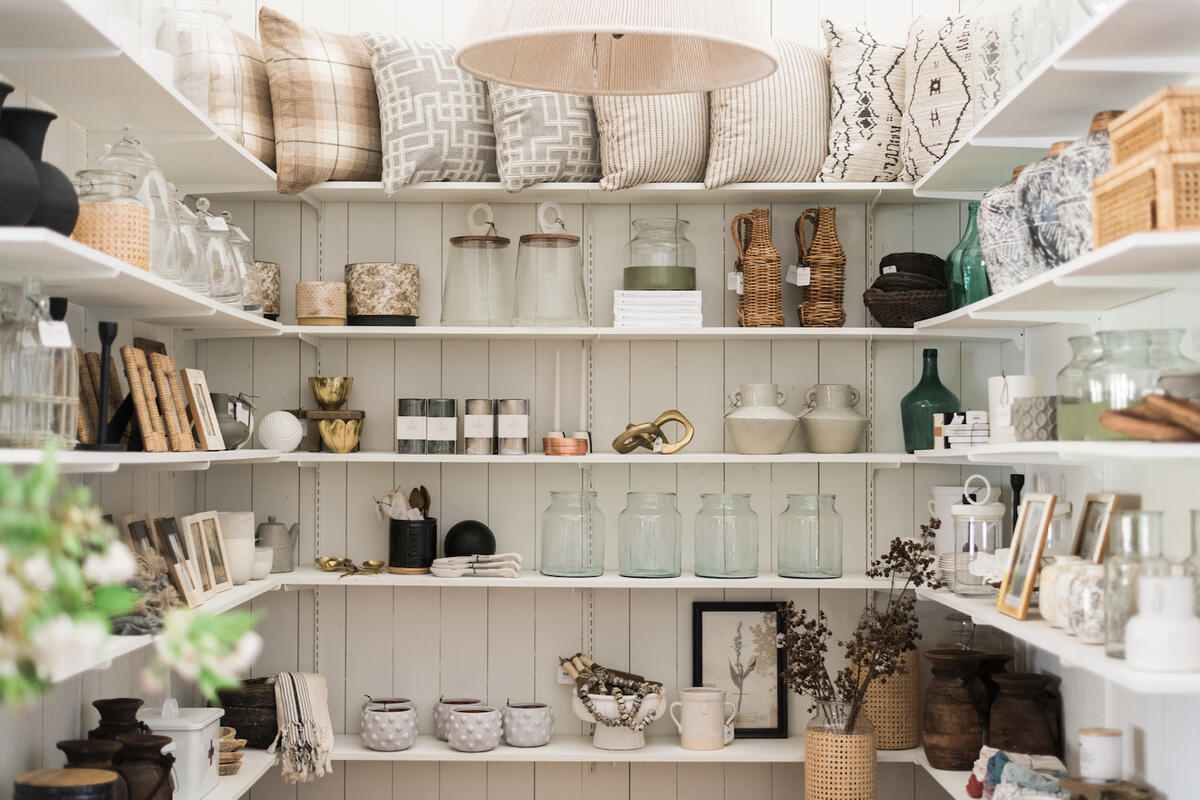 Courtesy of Stevie Interiors
How would you describe the aesthetic of the store?
We're north of Atlanta in a town called Milton. I think it's starting to change, but it's like—you have to have an acre. Farm country, horses everywhere. And a lot of the stores in this area fall into that all-white everything, modern farmhouse vibe. Stevie is warm and layered, moody. We're in an area with a lot of other home decor stores, and I was happy to bring something completely different. Sure, we love white walls, but it's going to be layered with draperies and antique signs and natural wood. The biggest compliment we get is that there's not another store that feels like ours.
Who is your typical customer? How much is to the trade?
We don't seek out other designers. We definitely have some designers that buy from us, who are local, but really, we don't appeal to the trade. There are other stores in the area that are specific to the trade that are great at what they do. We're going straight into clients' homes.
What's your approach to sourcing?
It's really important to see things in person, so I take my whole team—there are five of us now—to High Point once a year, and we're fortunate to have Atlanta Market, where we go every time, multiple times a year. There are smaller vendors that I source from, for clients, versus bringing it into the store online, just because it's a higher price point. Typically, somebody's not going to walk in and invest in an $800 sculpture. I love the Creative Co-Op rep, but I don't want to have things that you can find on Amazon.
Speaking of, do you worry that customers "shop" the store—see your stuff, look up the vendor, then go buy it online?
Yeah, that's a big deal. We've had clients do that, and it's been a learning curve to approach that upfront and let them know that's not how our business works. It's definitely a bummer. That's why, as much as I love some of the vendors that you see everywhere, I don't want that to be all that we carry. It's really important for me to find those unique pieces that a Google detective can't find somewhere else.
Is there a certain object or category that you can't keep in stock?
We [sell a lot of objects people see in images of] our design projects. Most people don't have the vision of how things can be used, so it really just depends on the week and what we've been highlighting [on Instagram] from our design projects. We get bombarded: "Do you have one of those in the store?" We do really well with vessels, so I love finding unique vessels. One of the women on our team is a floral designer, so if somebody purchases one of our vessels, we can top that with a live or dried arrangement.
You started entirely online, but what is your e-comm strategy now? Where are your priorities?
E-comm is not a priority right now. I want that to change. Our retail store is not as much of a priority now, because the design side of the business has grown. That will change because we're moving our store, so my little safe haven of inexpensive rent is going to end. We are upgrading to a larger space that allows us to have a lofted conference space for our design studio and more square footage for actual retail. Our team is growing by several people, and those people are going to be fully devoted to the retail side. God bless my team—I ask them to dance the line and do both, and it's just impossible. The 2023 priority is to think of the business as two different entities and focus on the retail side of things and beef the e-commerce back up. We pulled a lot down from our site over the last year just because we couldn't handle the amount [of sales] without hiring more people. I want this to be a long-term successful business. As I said, I was worried that it was scaling too quickly, but now it's scaling efficiently.
How did you approach hiring?
When I was a lifestyle blogger, Christen Lane, my head of design, followed me on Instagram and asked if she could buy me a cup of coffee. She brought her portfolio, and she'd done beautiful work—in her own home, in her friends' homes. I was like, "You don't need me. Just do it on your own!" But she wanted to be a part of a team. There's Noel Craft, the floral designer who runs operations; I was introduced to her by a friend, and she's just spunky and energetic. Everybody loves Noel. Aliesha Porto, our other designer, came to our launch party. She had her own interior design business and basically told me, "I want to be a part of your team. I don't want to do this by myself." She was really persistent, in a good way, and it was super impressive to me. Madyson Marsden, our newest addition, is a year out of school now, and her work ethic is insane. She's a machine. So I've gotten really lucky. I've made a couple mistakes that have been remedied, but we have a really good team.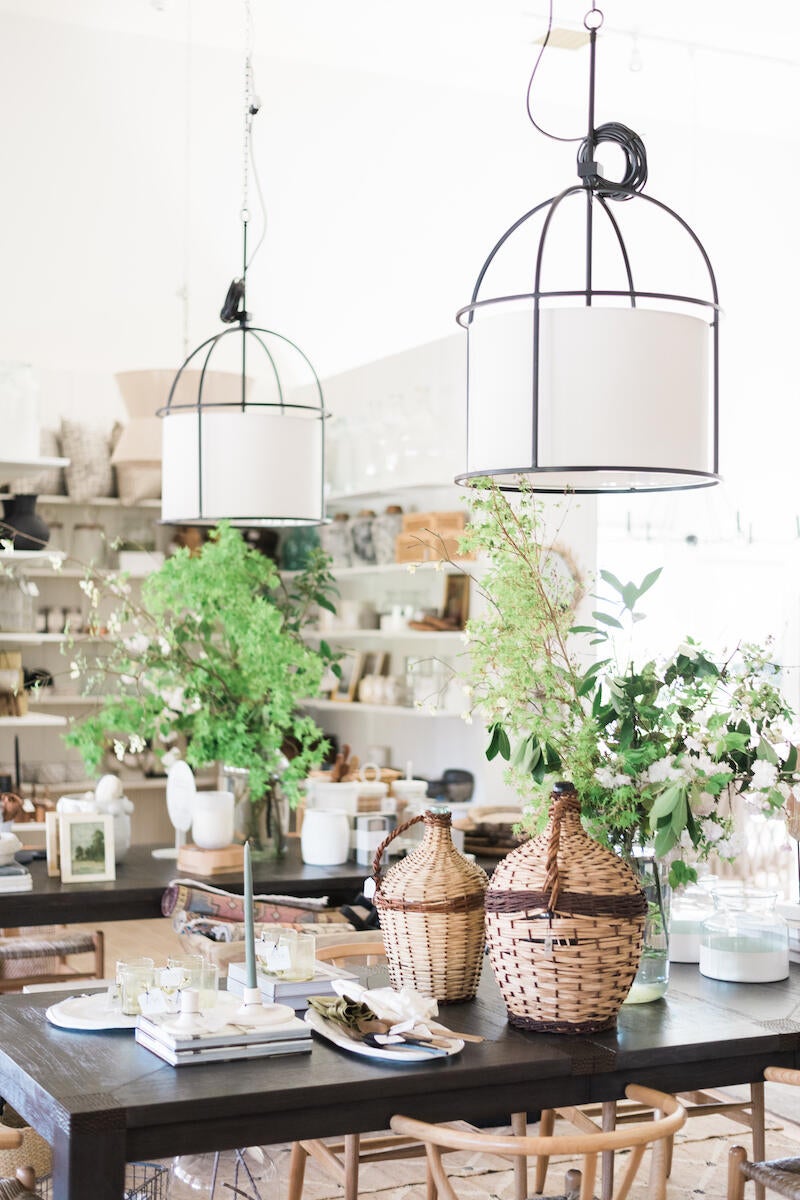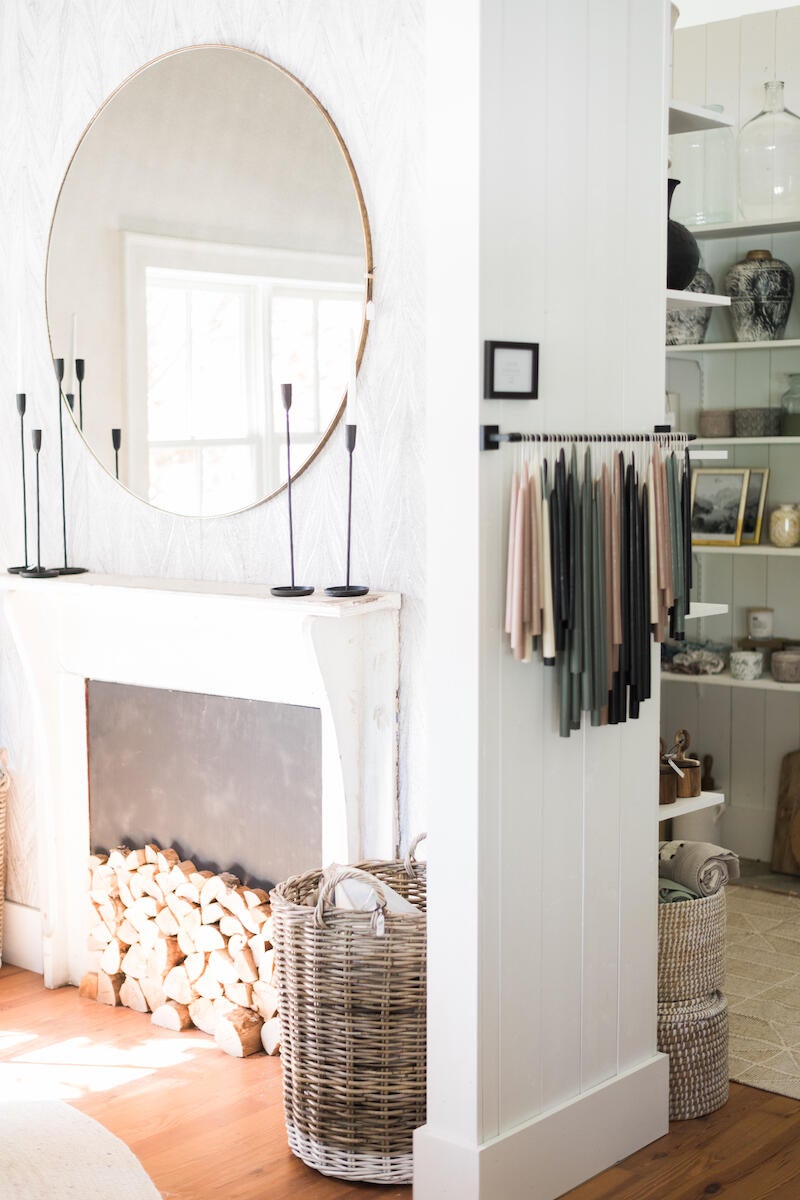 What's a challenge that's specific to your area?
There are a lot of designers, which I don't think is a bad thing. I have good designer friends who I will share learnings with, like, "Let's help one another out." As long as my team can offer something different or a better personal experience, I'm OK with [a competitive market]. In north Atlanta, where we are, there are one or two powerhouses that do both design and retail, and we weren't the first name people thought of for a long time. But we've really grown into our own identity, and I feel that shifting. It's a very affluent area, in north Atlanta, so that definitely helps.
Have you felt the impact of things like inflation or supply chain issues in the short time you've been open?
It's been painful because we are a small business. We're not Amazon; we're not RH, where it's like, "If something shows up and you don't like it, I can come pick it up." Free returns and all of that. With the price of shipping, it's hard to educate customers and clients on why it's worth it to come through us rather than to try to find something similar from Pottery Barn or Crate & Barrel. That's really the largest challenge—justifying shipping prices and trying to be competitive. But I know we can't stay afloat if we offer free shipping and returns on everything. And then, like everybody [else in the industry], I feel like we've been on such a high of people spending so much on their homes, and this can't be the trajectory for the rest of our lives. So we keep an eye on that, and ponder how things will shift and how we adapt.
Has this experience changed your mind about what is possible for small businesses? Like you just said, it's hard to fight Amazon, but people clearly want what you're offering.
I was talking to a design client earlier this week; the project was coming to an end, and they were telling me they originally fell in love with Stevie due to the dynamic of me and Christen. The fact that we're moms, and that we could relate to busy lifestyles. We were sharing stories; we're in the same community. I'm going to see [that person] out downtown at the restaurants in this area on the weekends. It's very kind of, "You're going to get the owner and not go through some customer service person who has no connection to you."
When people invite us into their homes, whether they're spending money in our store or signing up to be a design client, that's a really personal decision. We take that very seriously, and we pour our hearts into a project, no matter how big or small. You're not going to get that if you go to, say, Pottery Barn, and their on-floor designer is trying to sell everything in Pottery Barn because that's their job. We're coming into it like, "Your son really likes trucks, so how can we incorporate that? I'm going antiquing this weekend, and I'm going to hunt down some cool figurine to incorporate on his dresser." We're always thinking about our clients and customers.
Homepage image: Meghan Basinger | Courtesy of Stevie Interiors