Camille Beckles is moved by the freedom of materiality. While some ceramists strive to forge the perfect form or finish, the founder of New York pottery studio Camille at the Wheel finds inspiration in the unknown. "I enjoy experimenting with different types of clay to see what shapes naturally evolve—and what marks and glazes best suit them," she tells Business of Home.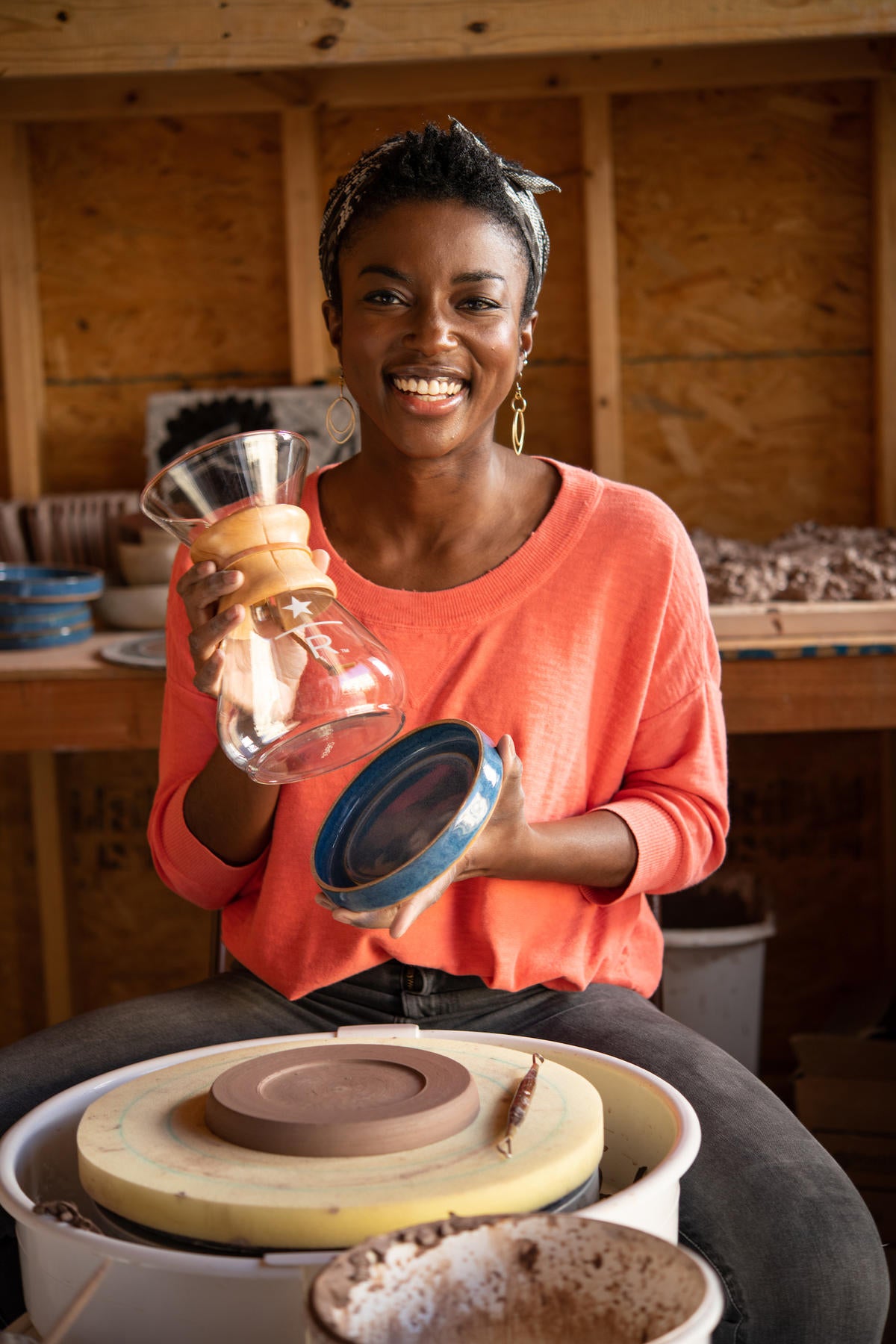 A St. Louis native, Beckles didn't discover ceramics until she was in her mid-20s and living in New York. "I was transitioning out of therapy and looking for a creative outlet," she says. "A local studio was offering classes, and I just went for it."
Instantly enamored with wheel throwing, Beckles says it was the exactness of the process that ultimately kept her coming back for more. "It's a lot of trial and error," Beckles says. "However, the satisfaction of moving past a hurdle and nailing a pottery skill is so rewarding."
Soon, friends and family were asking to buy Beckles's ceramic creations, and she began toying with the idea of opening a pottery studio. "I didn't want to simply sell my work on Instagram or Etsy," she says. "I wanted to launch a proper brand and go to market with strategic collections."
In 2018, Beckles debuted Camille at the Wheel, complete with a website, logo and branding, and a family of faceted cups called Hello Dotty that would eventually become one of her bestselling collections. "I hand-carved every pattern," she says of her inaugural line. "The carvings give each cup a tactile quality that ensures they look good and feel good to hold."
Beckles—who works out of a studio in Long Island City—says the bulk of her designs start with sketches that she uses to loosely guide her at the wheel. "I used to sit down and just see what sprang up," she says, "but sketching gives me a better idea of what shape I'm interested in achieving and helps me focus my approach."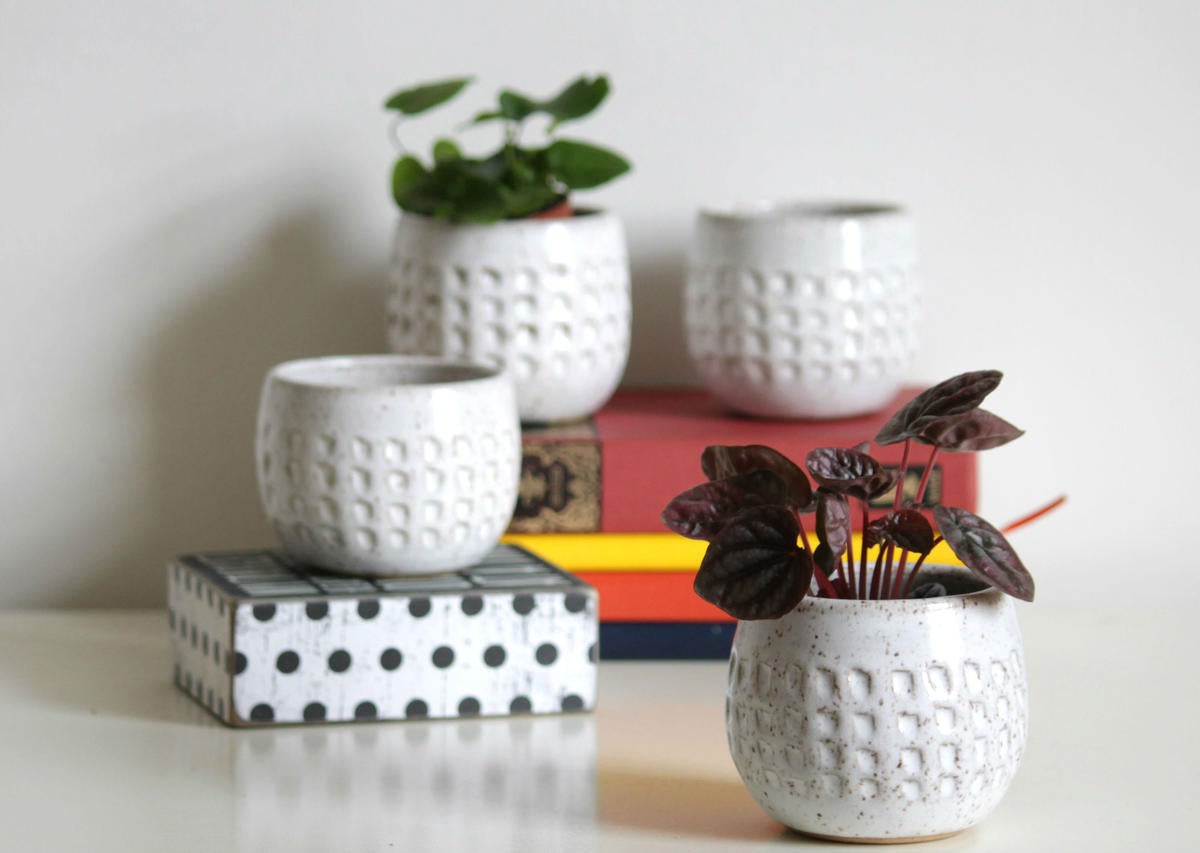 Courtesy of Camille Beckles
After a vessel is thrown, she allows it to air-dry for a day or two before using small looped tools to make shallow cuts in the clay. "Carving is the most organic part of the process for me," she says. "It's all done freehand, so I can get really creative about the cuts."
The quality of the carvings—along with the silhouette—is what determines the color of the finished piece. "The more intricate the markings, the less bold the glaze," Beckles says. "I use a lot of white because it provides a clean finish that doesn't compete with the pattern."
Though she has a history of employing neutral palettes, Beckles has been exploring new hues and, more specifically, glaze techniques. "I recently released an experimental line of glasses [named Tumblers] that I dipped in a porcelain slip before firing and glazing to create an ombre effect," she says.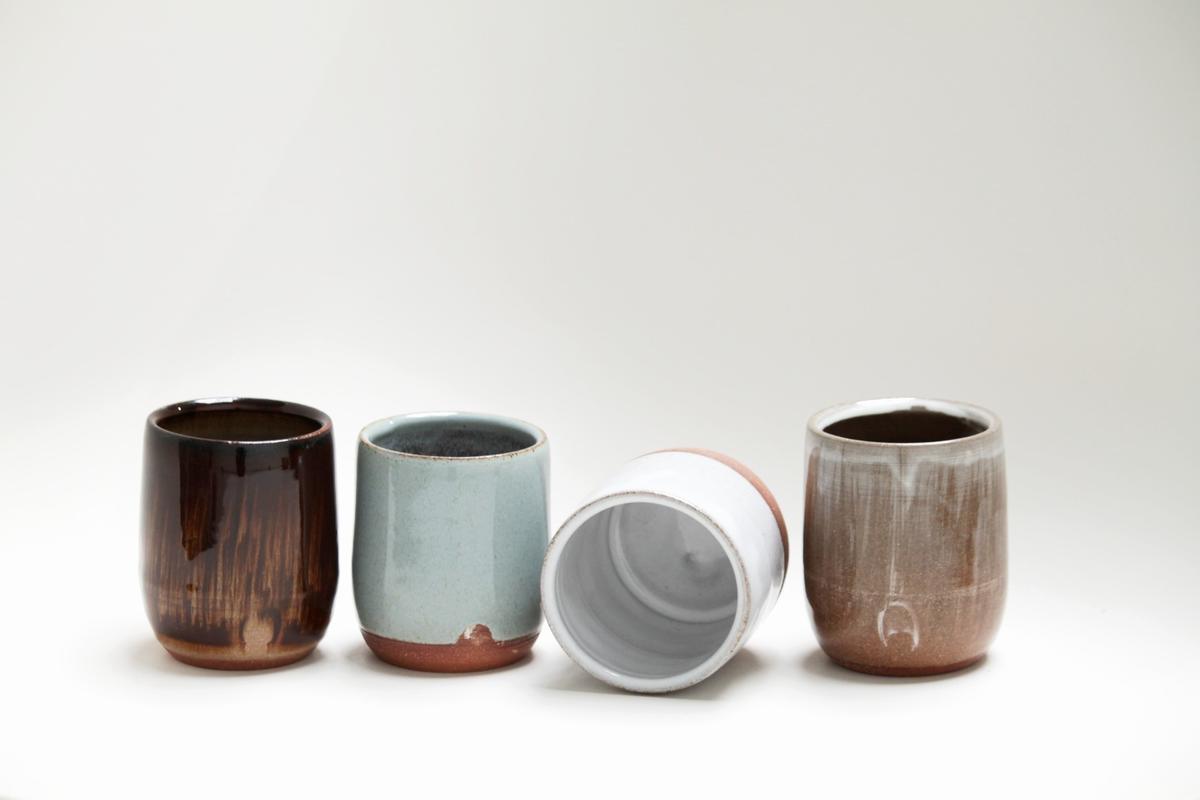 Courtesy of Camille Beckles
She's also learning to embrace the so-called blemishes in her designs. Case in point: the Throwing Lines collection, where she opted to highlight certain imperfections—including thumbprints and splatter marks—instead of correcting them. "They showcase the characteristics of human touch," she says, "which, in my opinion, is the best quality of hand-made pottery."
Currently, Beckles is hard at work on a new line of decor accents that will include items she describes as "less utilitarian," such as single-stem vases. "I used to be a functional potter, but lately I'm leaning into making purely beautiful pieces," she says.

If you want to learn more about Camille Beckles, visit her website or follow her on Instagram.
Homepage photo: Camille Beckles at work inside her Long Island City studio | Öykü Çakar-Smith.