You really never can know where life will take you—some land a stone's throw from where they were born, while others find themselves on the other side of the world. For Jorgelina Lopez, a series of twists and turns ultimately dropped her—and her business—some 5,000 miles away from where she started designing.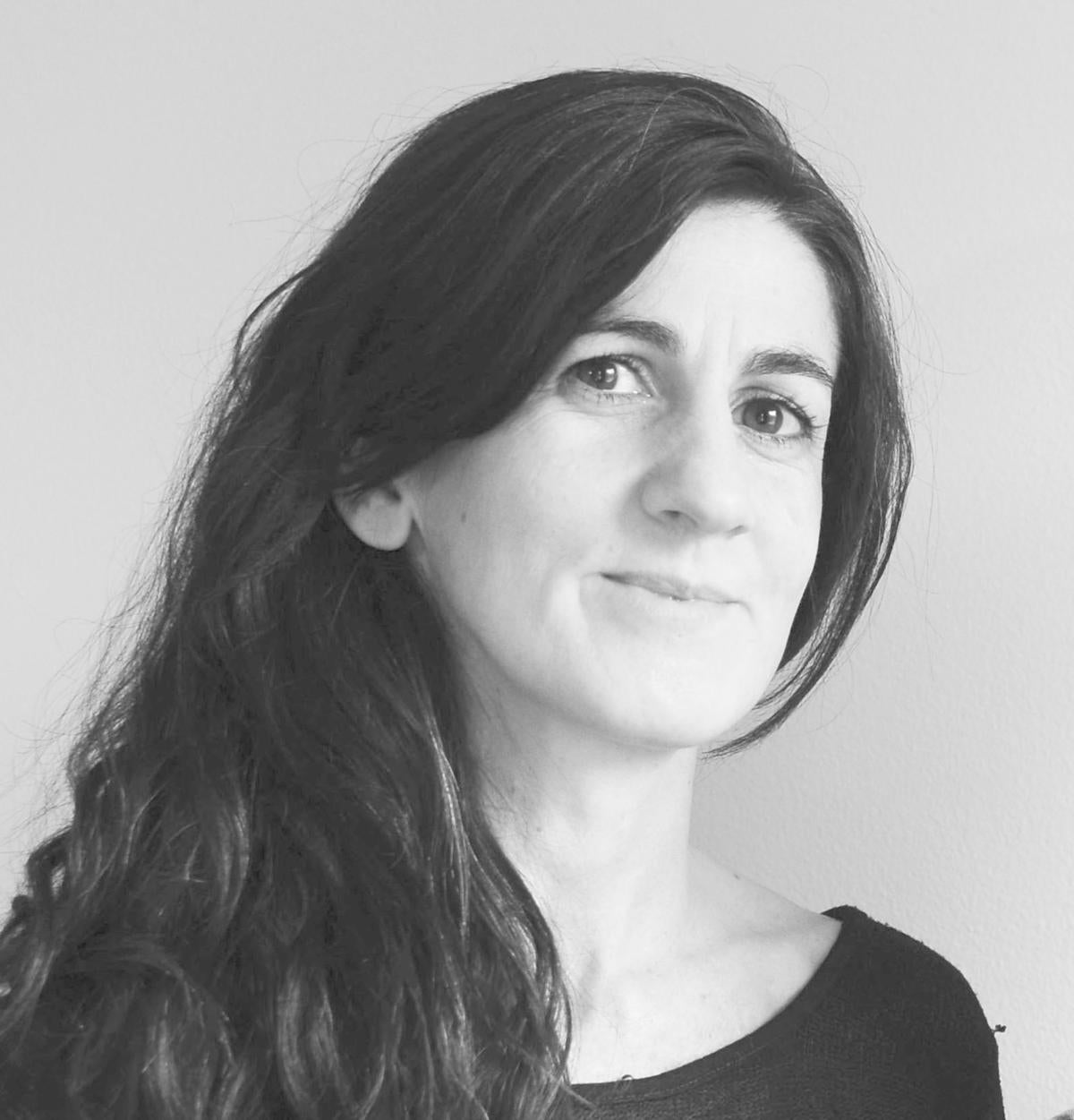 Courtesy of La Loupe Design
Growing up in Buenos Aires, Argentina, Lopez was always playing with fashion, sewing her own clothes and coming up with new designs. It wasn't until age 28 that she decided to study fashion design outright, but ultimately realized after two years in the program that the industry wasn't exactly what she'd hoped for. "I was more interested in the process of making textures and materials," says Lopez, who pivoted her studies to textile design."During my last year of study, I proposed a collection of contemporary textile jewelry—that's how I started working with textiles in 3D. They were very conceptual pieces that explored the structure and nature of fiber and textiles."
Shortly after graduating, Lopez took a job in industrial textile production, but was itching to continue where her capstone project had left off and continue experimenting with 3D forms. Her industrial experience wasn't for naught, though—she says that it taught her to produce objects functionally and efficiently. "Artists explore concepts, and in design, we try to solve problems," she says. As fate would have it, just after Lopez created a few prototypes of lamp designs, she moved to the U.S. with her partner in life and in business, Marco Duenas; in 2017, she founded La Loupe Design.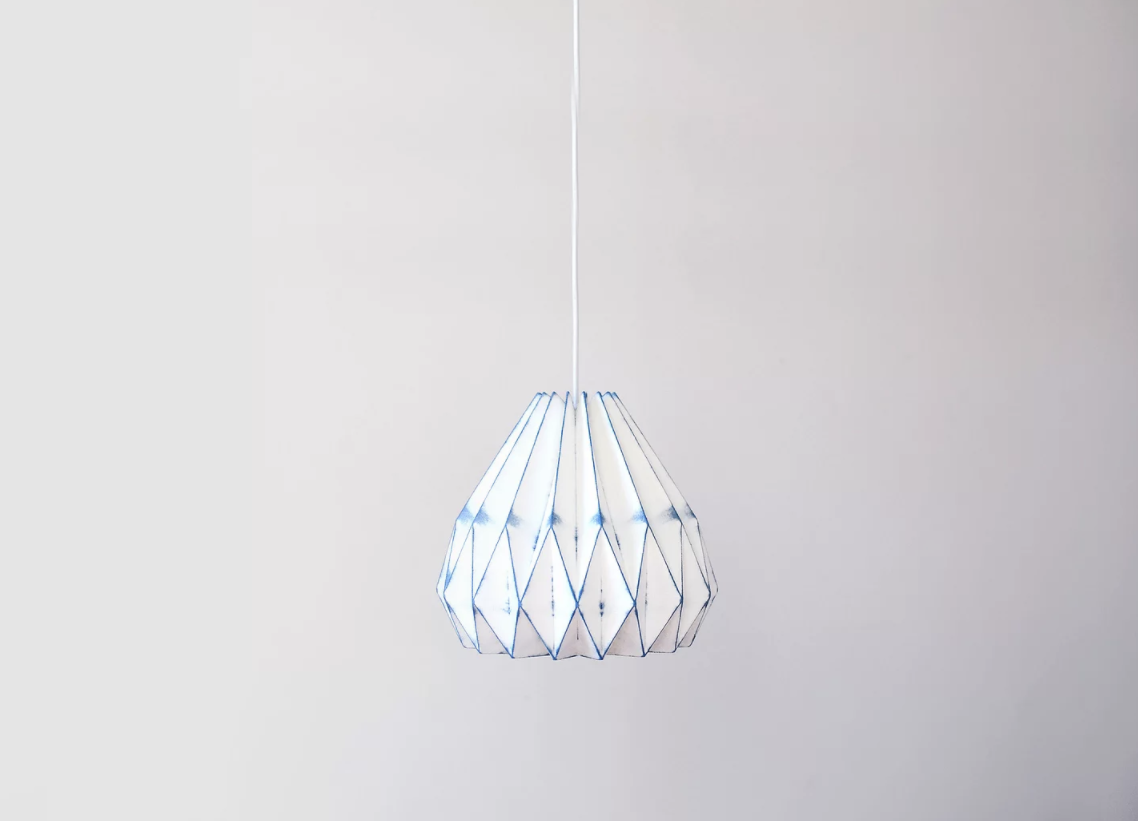 Courtesy of La Loupe Design
The brand is named after the French word for magnifying glass—a symbol of observation and visual attention that Lopez brings to her craft. "La loupe represents objects that allow me to discover," she says. Pretty quickly, she threw herself into a self-guided origami education as a continuation of the textile sculptures she had explored in Argentina. The more she worked with paper, the more she saw an opportunity for two-dimensional forms to become functional objects. "I decided to do lamps because I think they are a very sculptural object that [allow] you to experiment with the light and the forms, but at the same time, they're functional," she says. "I just wanted to explore and see what happened."
La Loupe Design began showing at grassroots craft fairs in the Baltimore area, where Lopez had settled. "I wanted to create a high-end product, so it took a lot of material exploration, [learning] how to produce the lamp as a final product that sells to the market," she says. One lamp led to another, and soon the caliber of her lighting fixtures exceeded that of the average craft fair—so much so that by 2018, Lopez was invited to teach a workshop at the Baltimore Museum of Art linked to an exhibition on fiber artist Annet Couwenberg.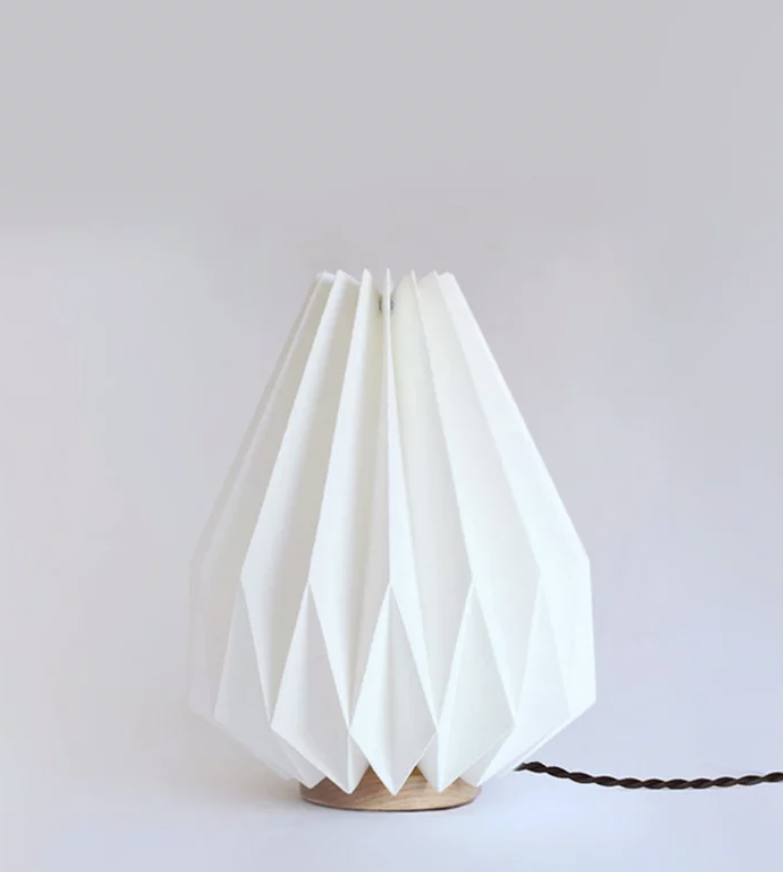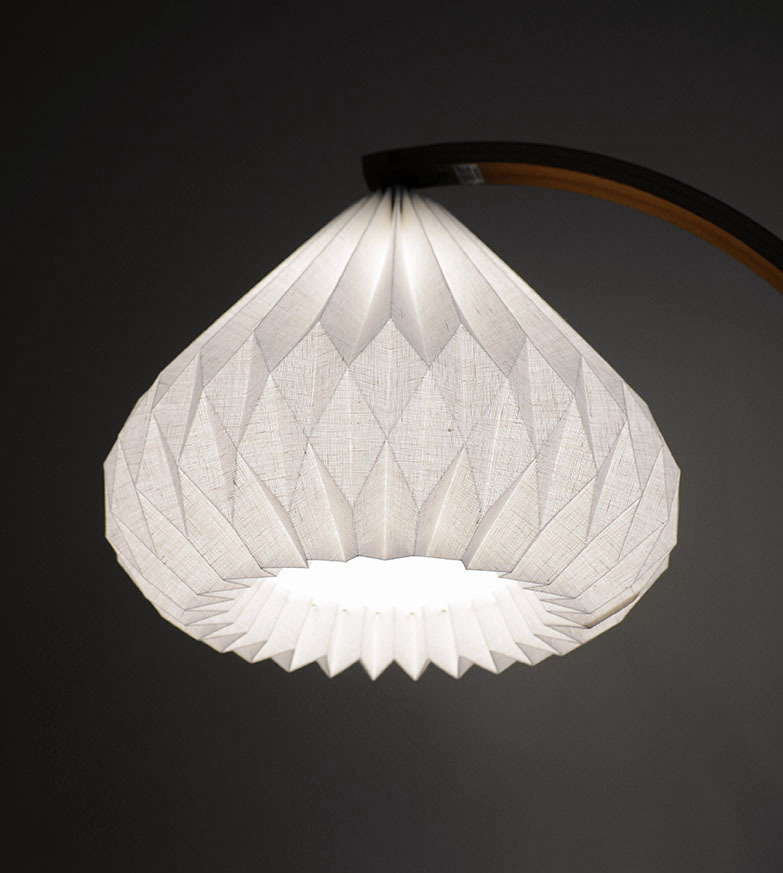 With origami in her design vernacular, Lopez was keen to continue exploring the craft traditions, incorporating shibori dye techniques into her pieces as well. With Duenas fabricating the wood elements of the lamps and Lopez folding each lampshade, La Loupe Design began selling through its own website as well as an Etsy store, appealing to buyers looking for handmade craft.
After using digital tools to sketch out each design, Lopez configures the folding pattern required to bring her pieces to life before turning to the linen paper that she sources for her light fixtures. Her designs come in a variety of sizes, each meticulously creased before being lifted into its final shape. The result is a geometric lantern that catches as many shadows as it casts: The Ume lamp's silhouette is a balance between an organic silhouette and the rigid lines required to create its structure, while the Toro lamp is evocative of an accordioned chrysalis standing on a wooden base.
Lopez plans to continue to push the boundaries in both scale and complexity. "It's a long path, and I'm amazed because I never planned it," she says. "But I was always interested in creating three-dimensional objects to be functional, and at the same time beautiful and artistic to make people feel good at home."
To learn more about La Loupe Design, visit their website or find them on Instagram.
Homepage image: The Luma table lamp | Courtesy of La Loupe Design