As you're reading this, you might be sitting at a desk, or you're at a dining room table that's doing double duty as a home office. (Or, let's be real, you're slumped into a sofa that's gotten a little too much attention in the last year.) It's difficult to say when the return to offices will take place—and even when that day comes, companies may hold on to hybrid work schedules, splitting employees' time between a corporate space and a work-from-home setup.
For Steve Symons, founder and CEO of Kontich, Belgium–based office furnishings brand BuzziSpace, the shift to remote work wasn't a total surprise (it had been a slow-growing but noticeable trend in recent years), but the acceleration brought on by the pandemic certainly reinforced the company's approach to office design. "We've been working toward solutions that cater to working from anywhere, and today that ethos has become a reality," he tells Business of Home.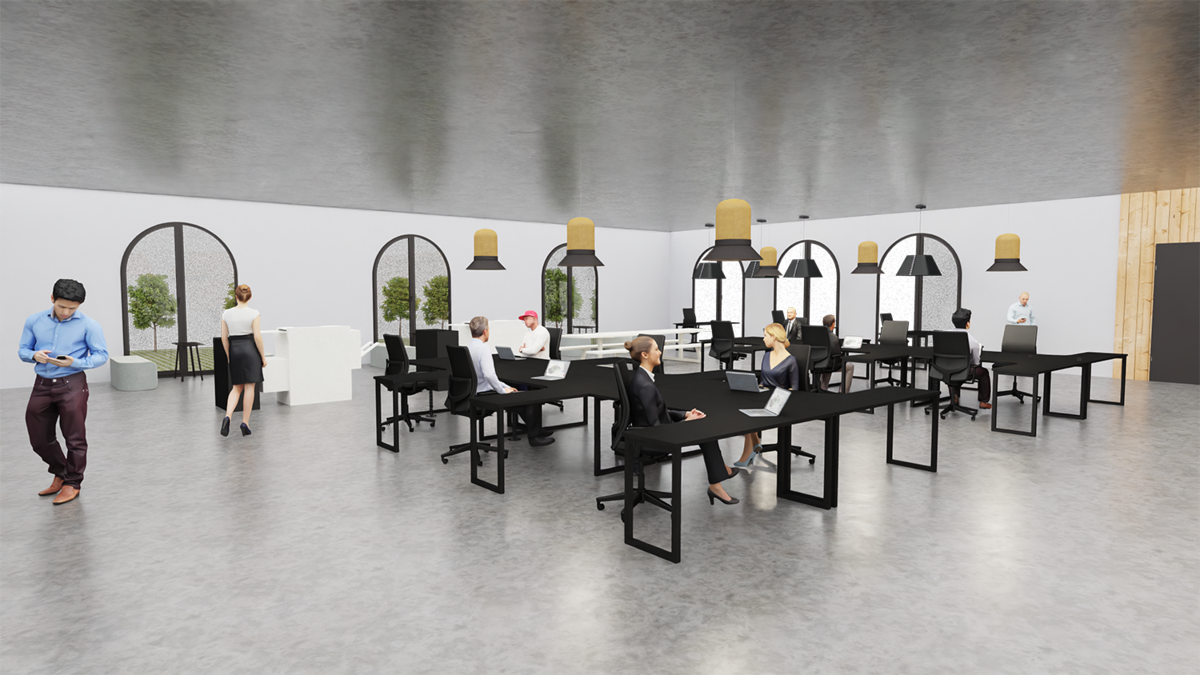 Since he founded his company in 2007, Symons has seen firsthand (and designed for) the ever-changing modern office. Over the course of the last year, especially, he observed businesses wrestling with the complicated conditions of the COVID-era workplace—and while he doesn't believe in a one-size-fits-all approach, he devised a series of alternative office archetypes that tap into the different motivations of business owners while providing the support systems employees need. "We see a lot of companies struggling to figure out what hybrid working will look like for them," he says. It's a management problem, yes. But in many ways, it's a design problem, too. "That's why we wanted to inspire them with four big idea starters."
Rethinking office design, it turns out, can become the gateway to new ways of working. And while the models that Symons proposes are meant to serve as jumping-off points for companies rather than a formula to follow, answering the questions to solve an office's design dilemmas can double as a useful tool to assess the company's priorities for its in-person workforce. To start, he suggests that businesses decide on a ratio of office and remote work to deduce what is needed of a given space. Then, it's time to consider what must take place in-office for the company to meet its goals: How much time do people really need to be in the office to perform their tasks? What type of talent do you want to attract?
With these questions in mind, BOH took a deeper dive into the four types of offices that Symons thinks will define the future of the workplace.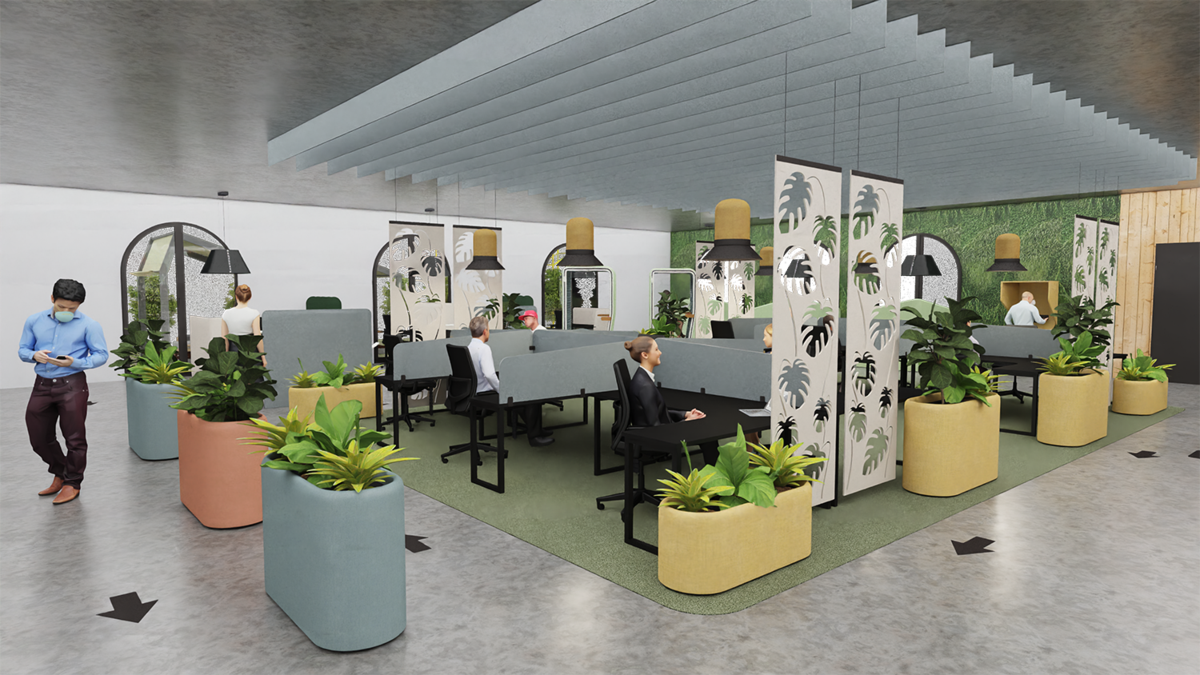 The Future-Proof and Transitional Offices
While the Future-Proof and Transitional Offices largely look the same from a design perspective, the former is designed for companies that intend for all of their employees to return to the office full-time. The Transitional Office, on the other hand, adopts an employee rotation, in which parts of the workforce are cycled into scheduled periods of office work; the reduced office population creates opportunities to transition extra space into exhibition areas or meeting rooms.
For both models, Symons suggests a strategic floor plan that includes protective infrastructure changes in compliance with COVID-19 safety regulations. Open floor plans have become increasingly dominant in recent years, which means designers will have to solve for a more hygienic layout, harnessing solutions like sound-mitigating partitions that direct office traffic while ensuring physical distance between work stations.
Design considerations: "As a good business owner, you want your desk partitions and office dividers that create physical distance to retain their value after the pandemic," says Symons. He suggests incorporating plants as dividers or investing in colorful, movable partitions that offer a sense of safety and privacy (as well as acoustic control).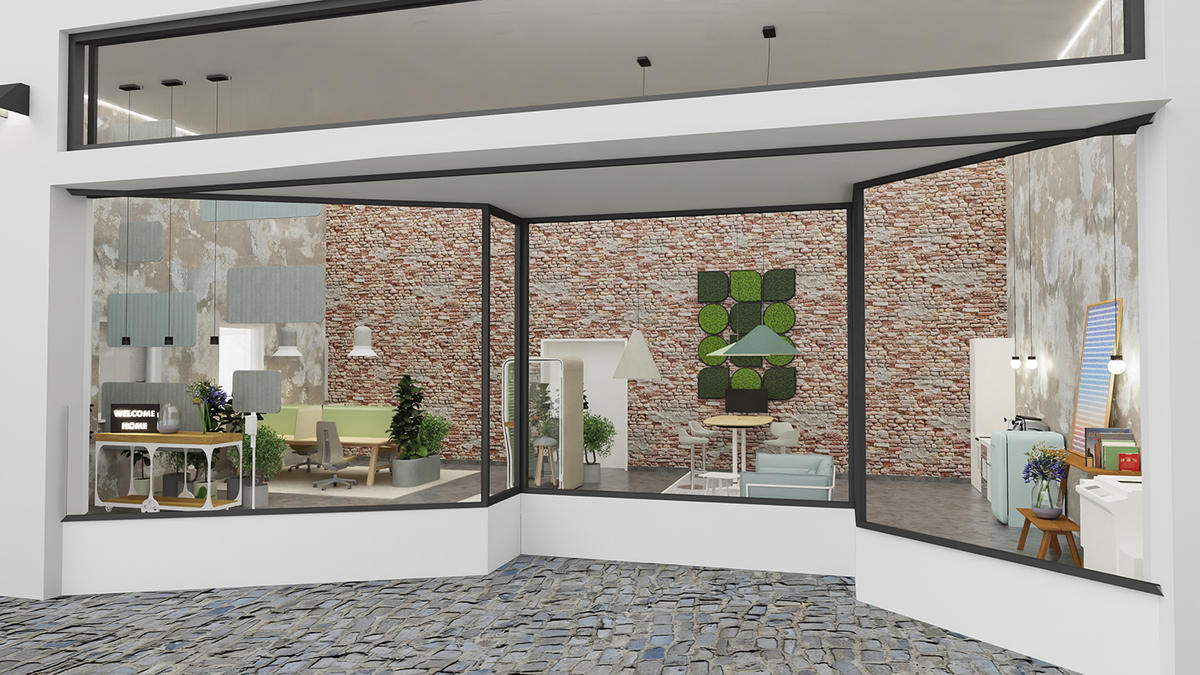 The Destination Office
The purpose of the Destination Office is to meet employees (and clients) where they are—increasingly, that means spreading out across a city or in the suburbs. Symons envisions this type of space sprouting up in existing office buildings or repurposed retail and hotel spaces, utilized mostly for in-person meetings with clients and suppliers, but also as a dedicated workspace to provide a change of scenery for employees.
It's the office reimagined as a landing pad one or two days a week, for example, rather than an everyday hub. "This provides employees the chance to commute less, and thus have a better work-life balance," he says. "Employees can come in to meet, collaborate and socialize whenever they want or need, with colleagues who live in close proximity."
Design considerations: Transforming a shoe store on Main Street into an office requires more than bringing in desk chairs. From a design perspective, purpose-made built-ins have to be reconfigured in order to accommodate meetings. "When repurposing spaces, it is important to have proper acoustics, good lighting and dedicated areas to meet ... but also to catch up on emails," says Symons. "Post-pandemic, it will be very important that spaces feel warm and welcoming, while also guaranteeing physical distance."
The Trophy Office
The Trophy Office concept was designed to make employees feel important—Symons sees it as a great way to attract new talent and express company culture. "I envisioned a place that felt like home, focused mainly on collaboration and social interactions, that had a mix of residential and commercial features," he says.
As a space meant for infrequent yet memorable meetings, the Trophy Office is more of an inspirational tool, best suited to companies whose employees work remotely most of the time (that means doing away with traditional desks and diverting attention to in-person interactions and mentorship, leaving what he calls "focus work" for the remote work days).
Design considerations: Many tech startups have already integrated the Trophy Office atmosphere into their day-to-day—kombucha on tap and pingpong tables function as flashy lures for younger professionals. But Symons asserts this model is far more effective as an occasional experience. "Think luxury sofas, small seating corners for collaboration, informal meetings and brainstorming sessions," he says. "Soft materials, sleeping pods, a fireplace, a garden to relax, spaces for in-person meetings or video calls, and a cinema for larger presentations—all thoughtful touches to provide a long-lasting and meaningful experience for employee engagement."
Homepage image: The entryway to the Trophy Office | Courtesy of BuzziSpace