It's been said: "Do what you love, the money will follow." And while this may not prove true in practice for everyone, it has for Boston–based creator Madeline Ronzoni, founder of Happy Rugs.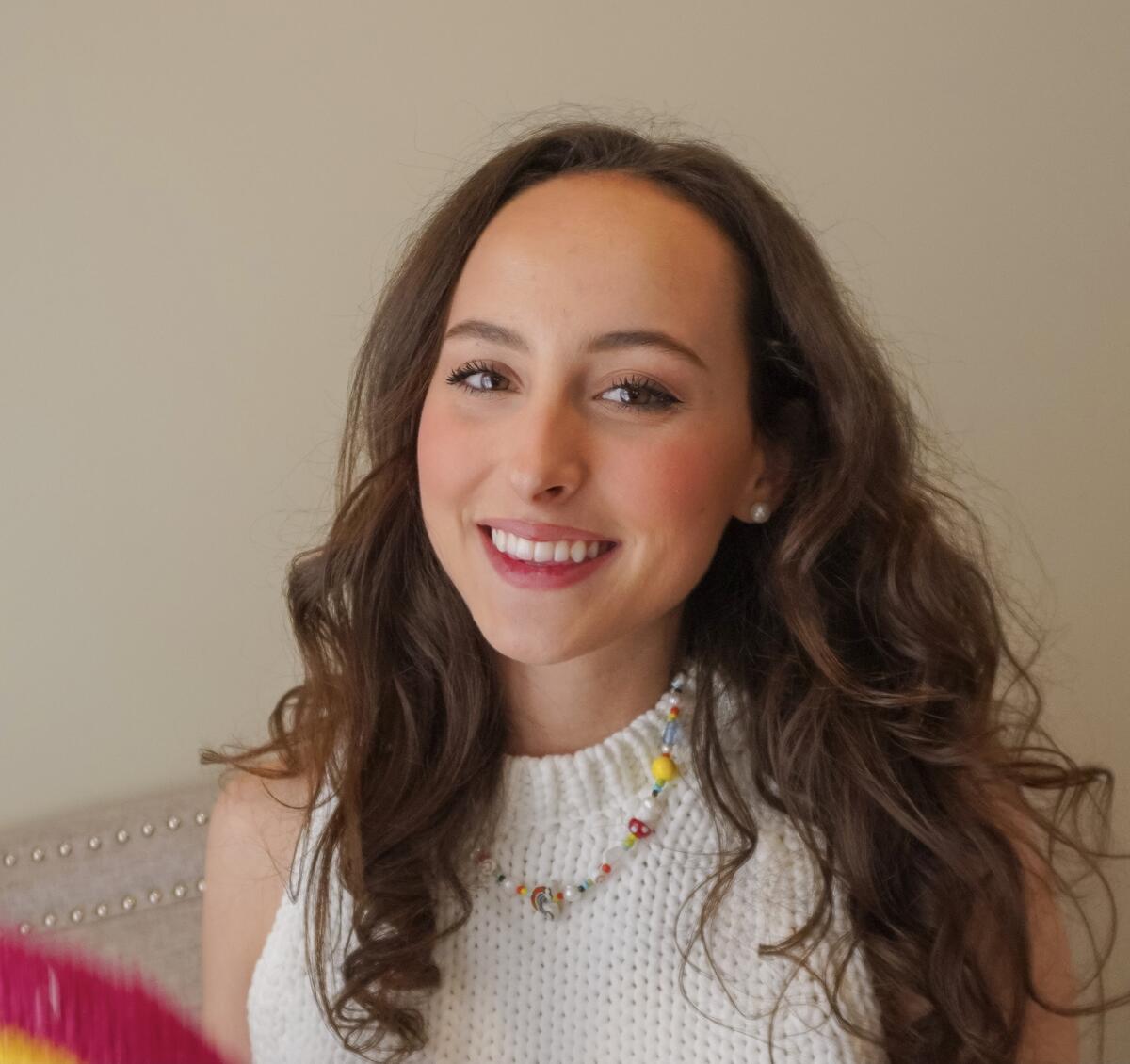 The beginnings of Happy Rugs can be traced back to the summer of 2020, just before Ronzoni's final year studying marketing at Bentley University in Massachusetts. Scrolling on TikTok, she saw a video of someone using a punch needle to create their own rugs and was excited by the possibilities that came to mind. "I was obsessed with the idea that I could make my own rug from scratch," she tells Business of Home. "Before then, I didn't really know how rugs were made, and I didn't know that you could do it with a punch needle at home by yourself. It became a new creative outlet for me."
Ronzoni had always been creatively inclined, so she bought the necessary supplies and, through a lot of trial and error, completed her first rug, a large-scale design inspired by a Nike Air Jordan 1. She recorded the process along the way, too, and once she posted the video to TikTok, received encouraging feedback—commissions immediately started flowing, and in the thick of the pandemic, she saw an opportunity at a time when internships were few and far between. "I thought it would be cool to try to make [my rugs] into a small business, market the business and hopefully [gain] some real-life experience on my own," she says.
Juggling her work as a full-time student and a small-business owner, Ronzoni didn't have a tremendous amount of time to do anything but work. She admits that the learning curve for hand-needling rugs was steep. At the time, there were only a handful of dedicated hand-needling YouTubers to refer to for guidance, but she didn't hesitate to learn by doing—and there was plenty to do, seeing as her first video had generated dozens of requests for custom rugs. Ronzoni, like many creative entrepreneurs, was unsure how to charge in those early days—she laughs at the memory of selling her first rug for only $30—but as her business grew, she learned to adjust her pricing to reflect the tediousness of the product.
From variations on the sneaker theme to takeout cups of boba tea, Happy Rugs designs center on candy-store color palettes and a bubbly sense of fun. For the brand's playful spirit, though, Ronzoni's business was growing at a serious rate—in her first year, Happy Rugs generated six figures in revenue between sales and brand partnerships. She credits TikTok as the main factor that helped to expand her business so quickly, and to keep up production, Ronzoni upgraded to a tufting gun, which enabled her to go from one rug per week to roughly five or six per week.
Now, three years since founding Happy Rugs, Ronzoni has certainly honed her crafting process. She begins with a digital drawing of the design—among her favorites are compositions of fruit or flowers—before using a projector to trace the design onto a stretched piece of tufting cloth. Using a tufting gun strung with yarn (Ronzoni prefers New Zealand wool), she fills in the outline, spreads carpet glue (dubbed "the forbidden peanut butter" by her TikTok followers) along the backside of the design, then shaves the excess pile to finish.
From a creative standpoint, Happy Rugs's meteoric rise posed an interesting artistic challenge for Ronzoni. Many makers begin with a strong personal aesthetic before shifting to custom work, yet for Ronzoni, the demand from her social media following left her little time to establish her own point of view. "The custom commissions were amazing, but at first it was everything I did, and it kind of hindered me finding my style," she says. "There was a point in time when I stepped back and was like, 'What kind of things do I want to bring into the world?' As a creator and an artist, it was really important for me to take time to develop my own style."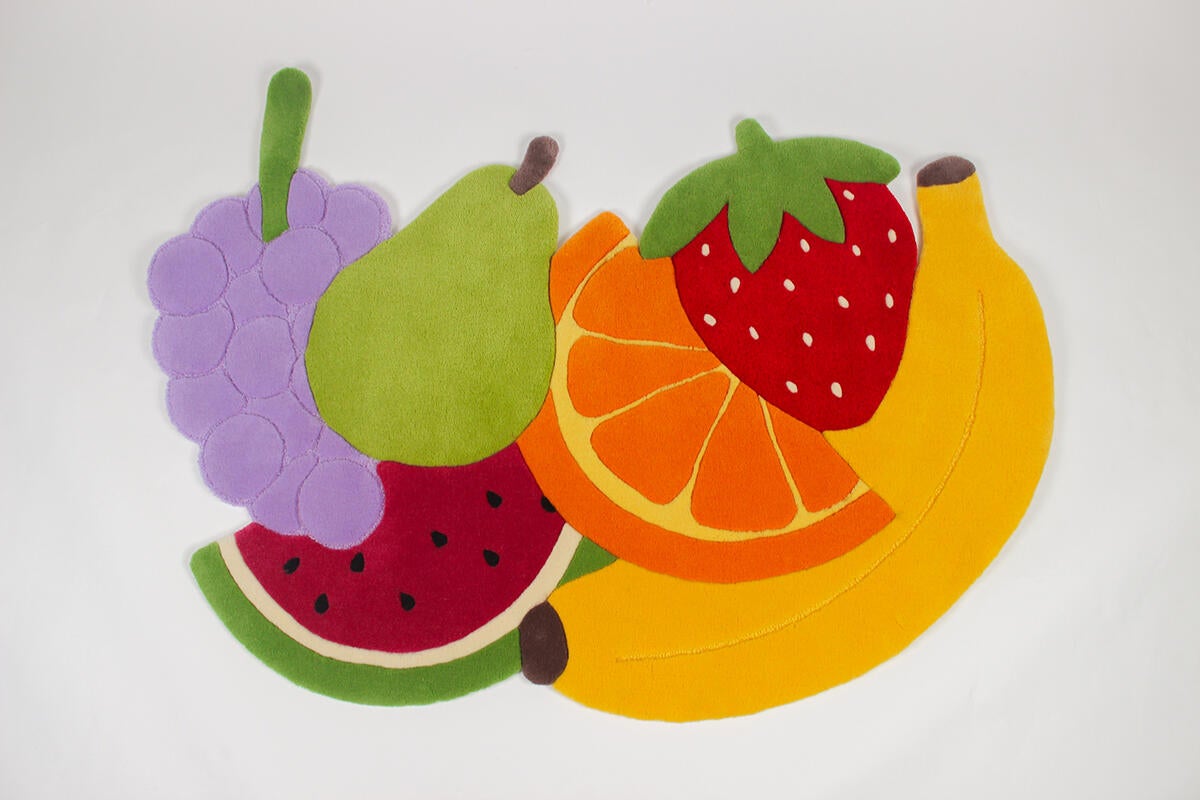 Doing so with intentionality led to pieces that can be made on a larger scale, like her Wiggles series. Beyond decorative floor rugs and area rugs, Ronzoni also makes what she calls "Mug Rugs," a line of tufted coasters, all the while continuing to design rugs exclusively for content creation purposes, whether instructional or just for the satisfaction of a rug-tufting time-lapse video. And integral to her practice is an element of surprise: "My goal [from the start has been] to bring my favorite everyday objects to life and make them super untraditional, unexpected," says Ronzoni. Through her social media following, she's discovered that there is an appetite for learning more about the art of rug-making, and she's struck upon the fun in that process as well: "I love being a content creator because I can make rugs that make people happy, [that] show them different designs, like their favorite character from a TV show—and I can bring that to life."
If you want to learn more about Madeline Ronzoni and Happy Rugs, visit her website or Instagram.
Homepage image: Madeline Ronzoni, founder of Happy Rugs, sitting with her original Nike Air Jordan 1 rug | Courtesy of Happy Rugs