Long gone are the days of creating a makeshift workspace out of stacked books and dining room tables. Almost three years into the pandemic era, the demand for home office furniture continues to rise as employees ebb and flow between working from home and traditional offices. By the end of 2022, the U.S. market for home office furniture is expected to reach $14.9 billion, up from $14 billion in 2021.
Along with more spending, a rapidly shifting workplace culture is inviting innovation and discussion, ranging from how hybrid work can be beneficial to the environment to why some offices now offer childcare. Spanish furniture manufacturer Andreu World, which specializes in producing sustainable office chairs and tables, recently released Work Well Seated, a book exploring the evolution across big corporate offices including McDonald's, Pinterest, Uber and YouTube. One big takeaway from the book? Office furniture has gone from "stuff you sit on at work" to what sounds like a complex academic field. "There is no one way of looking at what constitutes a productive workplace," says Jesus Llinares, CEO of Andreu World. "There are layers such as technological abundance, climate change and, obviously, the engagement of the employees."
To find out what those needs look like and how they're changing, Business of Home asked furniture manufacturers to weigh in on the core principles that will shape the home office in years to come.
SCULPTURAL SEATING
Now that spaces like a guest or dining room might double as a home office in a more permanent fashion, manufacturers are focused on creating office chairs that have a more residential feel. Design behemoth MillerKnoll, which is expanding its retail footprint, is a prime example.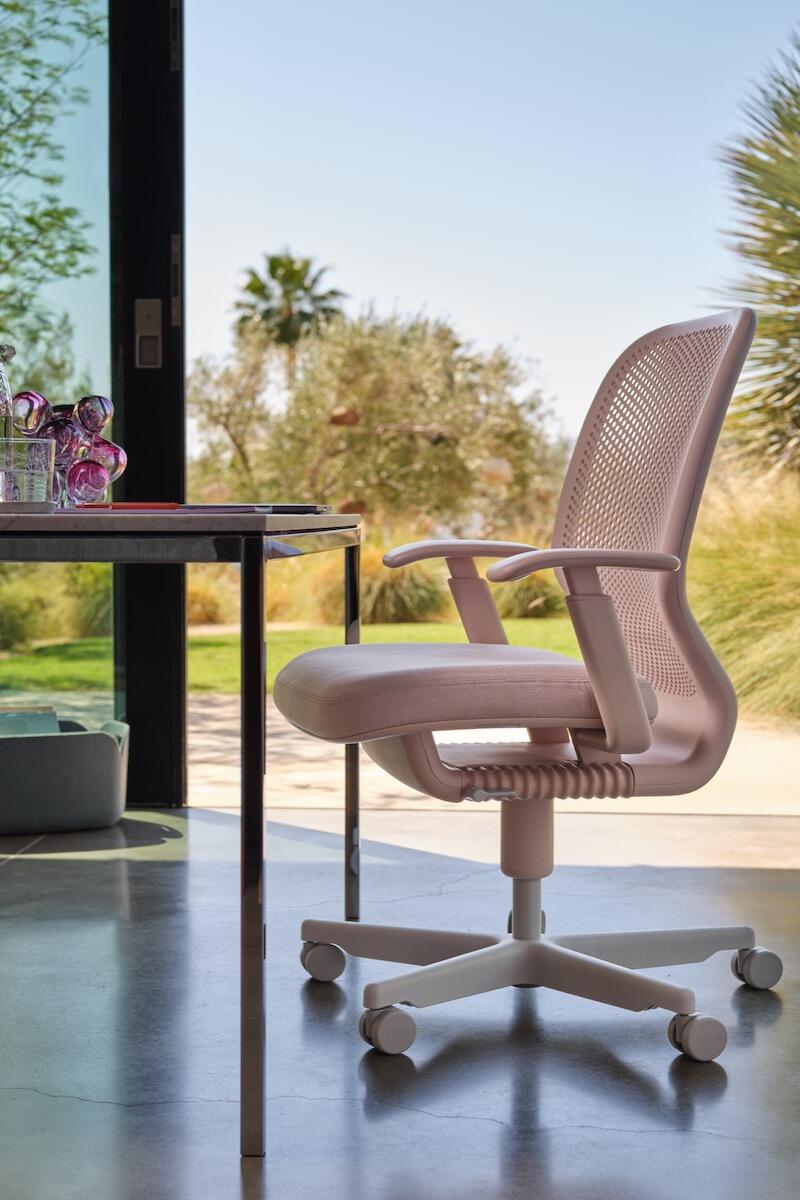 "What is shifting is the blurring of the boundaries and the recognition that you do both work and life at home. [Accommodating that] has become an increased priority," says Knoll president Alana Stevens. "Things need to perform more than they used to, but at the same time, a traditional product that 'performs like a machine' probably isn't good enough either. So you want to bring the best of both together."
Knoll's Newson Task chair, designed by Australian designer Marc Newson, exemplifies the balance between performance and style, featuring a minimalist but ergonomic design. Newson cleaned up the undercarriage to hide the metal support mechanism that characterizes most ergonomic chairs. "The idea that you can have something that is so high-performing work in harmony with the objects around you is increasingly important, and keeps with the history of Knoll's design philosophy," says Stevens. "It is to consider that an object needs to be amazing in relation to the objects around it, so that the whole space feels elegant and beautiful. … It speaks to that marriage of work and life."
Customizable pieces for easy transitions
Furniture that can be rearranged with ease was also a high priority for customers. Companies like Mitchell Gold + Bob Williams already released an exclusive collaboration with the Savannah College of Art and Design to offer an imaginative and aesthetic assortment of work-from-home pieces as the hybrid work model becomes more common. (As designer Nina Etnier pointed out on a recent panel with Business of Home that showcased the MG+BW collection, a hybrid work model inherently assumes that employees have a dedicated space at home for focused work.)
Customers are looking for furniture that can serve, for example, as both a bookshelf and place to display artwork. "Flexibility, modularity and mobility are all front of mind because people want the ability to change up their spaces," says Sergio Silva, a design director at New York–based ergonomic furniture manufacturer Humanscale. While the company's products have traditionally been focused on the typical corporate workstation—a desk, monitor arm and chair—the focus has now shifted. "As we realize that working is more than just staying in one place, and there are bigger human needs that need to be met, we start to think beyond the workstation," he says.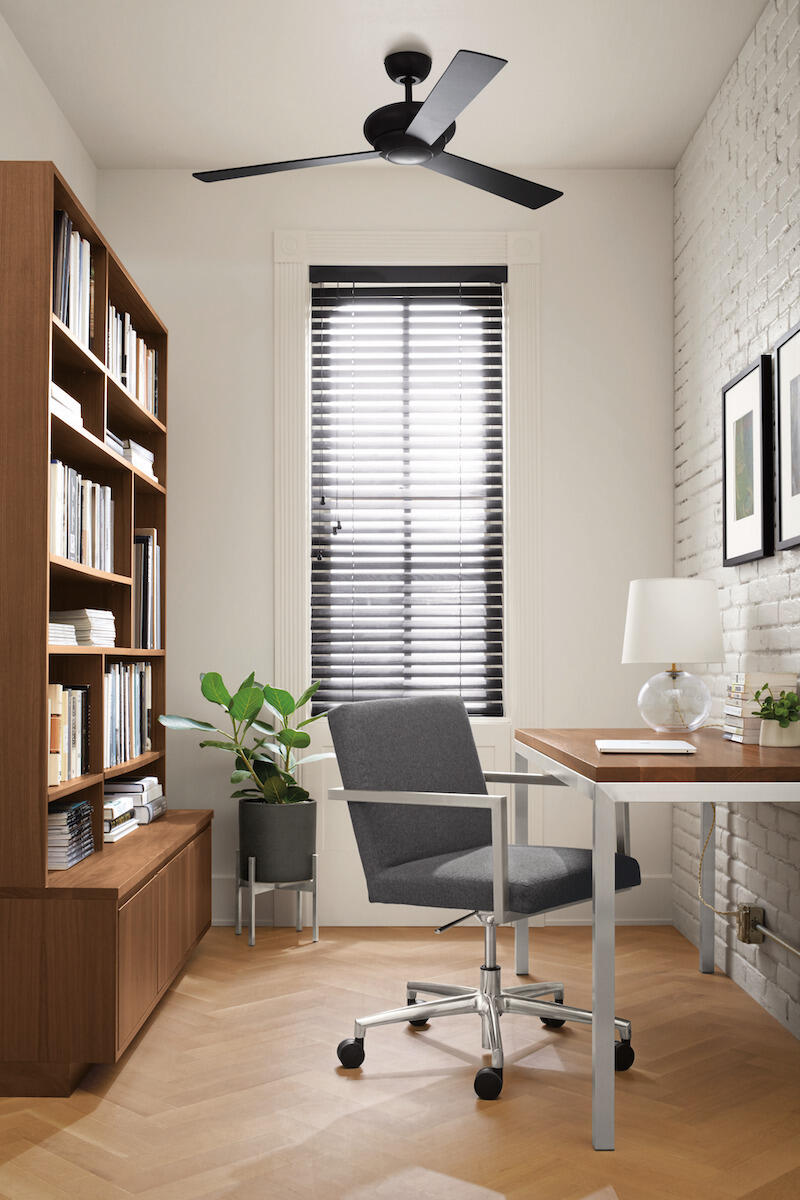 For the traditional office, Humanscale is designing products that accommodate more of a cocoonlike experience, where employees can indicate to the rest of the team that they are doing deep, uninterrupted work. In personal spaces, the demands are different: "For those who will continue to work from home, it is more about making sure that they have access to the right tools and technology, promoting collaboration, and making sure that everyone is still part of the conversation so that they don't feel left out or marginalized by having to work from home," says Silva. He emphasizes the importance of mobility as well—ensuring that furniture can be accessible and modular, so that a space can be reinvented as needed for employees who may need to hop on an impromptu Zoom.
The ability to incorporate the workstation into the broader design of a home is also an important part of flexibility. Customers are investing in pieces that allow them to turn a bar cart into a storage unit or a guest bedroom into an office, according to Elise Nicpon, director of business customer experience at Room & Board. This new "blended customer of leisure and business" may work from home, but they don't want their home to feel like work. To meet this consumer demand, Room & Board offers products like the Lira Office chair, which comes in more than 263 different fabric options and has several cushions for support, giving it more of a residential feel. Customers can mix and match finishes and legs for various items, like the Parsons desk. "These are investments that you're wanting to [use to] build out an entire space, so customers are approaching it as a continuation of their home, [with] beautiful, multifunctional pieces that integrate with the rest of your design," says Nicpon.
PERFORMANCE WITH A PURPOSE
With the notion that these pieces are an investment that will live in a space for multiple years—or generations—sustainability is at the forefront of how many companies see the future of the home office. "Our number-one sustainability goal is anti-obsolescence and creating products that last," says Stevens. "If you have a high-quality product that you don't need to put in the landfill, that's more important than how often or how you can recycle something that you're going to get rid of in five years."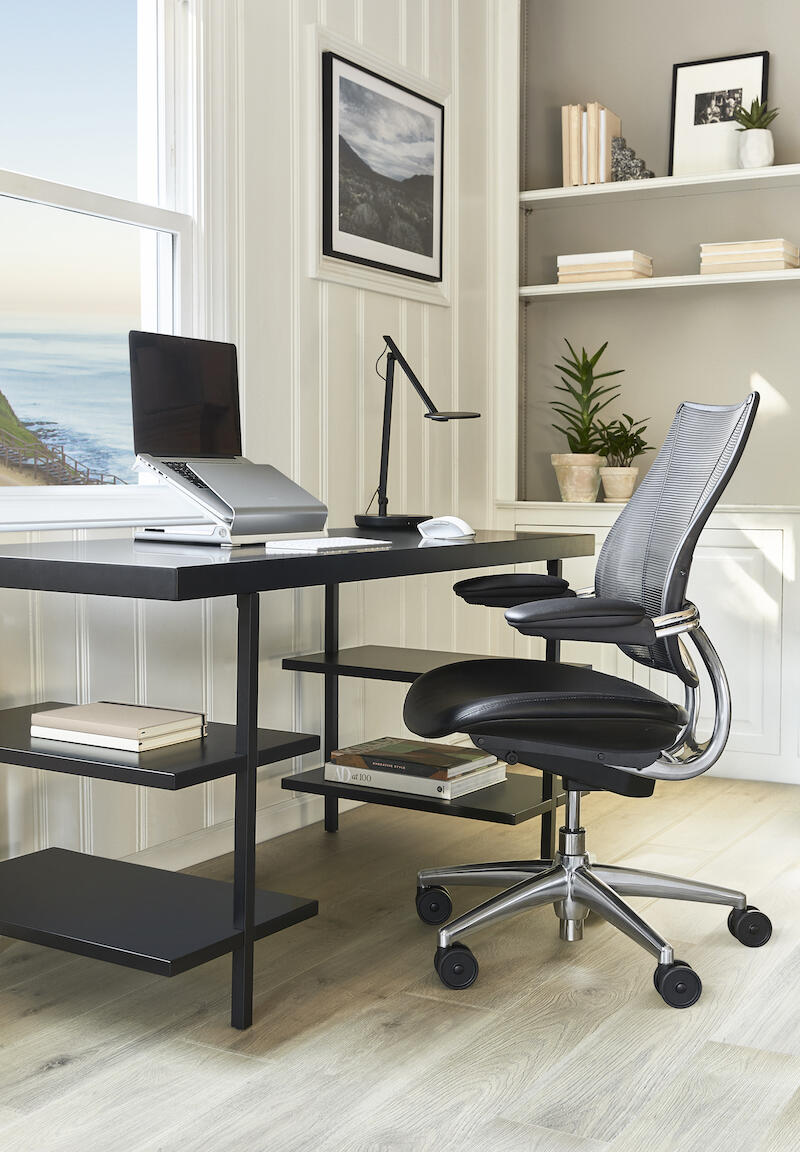 At Humanscale, Silva urges the rest of the design community and customers to make sure that they're asking all their vendors and brands these tough environmental questions. Products like Humanscale's Liberty Ocean chair, which incorporates nearly two pounds of recycled fishing net in each unit, and Path chair, each of which reduces 6 kilograms of carbon-dioxide-equivalent emissions and saves 15 gallons of water, reduce both the company's and the consumer's carbon footprint.
The workplace will continue to evolve along with key factors like technology and climate change, but the need for versatile, high-quality, good-looking, sustainable furniture remains. "Ten years from now, we will still have the same biology, the same body types and the same ergonomic needs," said Silva. "Regardless of whether you're sitting and doing focus work for three hours or [you're working in some other modality where you have a VR set], you still need the same ergonomic tools and solutions."
Homepage image: The Newson Task chair | Courtesy of Knoll