If you had an archive of more than 20,000 vintage textiles, could you zero in on just five to turn into rugs? That was the task that Joanna Williams, the owner of the Los Angeles–based textile library Kneeland Co., was put to when she agreed to collaborate with Temple Studio on a line of rugs.
Williams had known Temple co-founder Kate Reynolds for years, with Reynolds often buying archival pieces from Kneeland Co. as inspiration for her studio's collections. The idea to finally collaborate on a line arrived through a bout of fateful Instagram scrolling. "Joanna posted this amazing textile that she'd found, and I messaged her and was like, 'This should be a rug,'" says Reynolds. "It seems so simple, but it took off from there."
They knew from the start that the collection should be on the leaner side to avoid being overwhelmed—a very real risk with thousands of prints to draw from. The pair agreed on creating five rugs for the Kneeland Co. x Temple Studio Rug Collaboration, the first such partnership for both.
"There were a few patterns that leapt to mind right away—one swatch I'd saved for 10 years, just waiting to find the right application," says Williams. A plaid that she had dog-eared for years was among the first to be selected, eventually becoming the Vanora Multi rug. The others trickled out organically: The Claude 1921 was pulled from a collection of antique fabric samples dating to 1920s France that Williams won at auction; an Egyptian jacquard inspired the Akhet rug. "I'd had that sample for years and I knew it had to be turned into something, but it didn't feel right for fashion," says Williams, who founded the vintage textile library in 2010 and offers consulting services to designers developing new patterns and collections across industries. "There were a few textiles like that, that I always felt were just screaming to be rugs."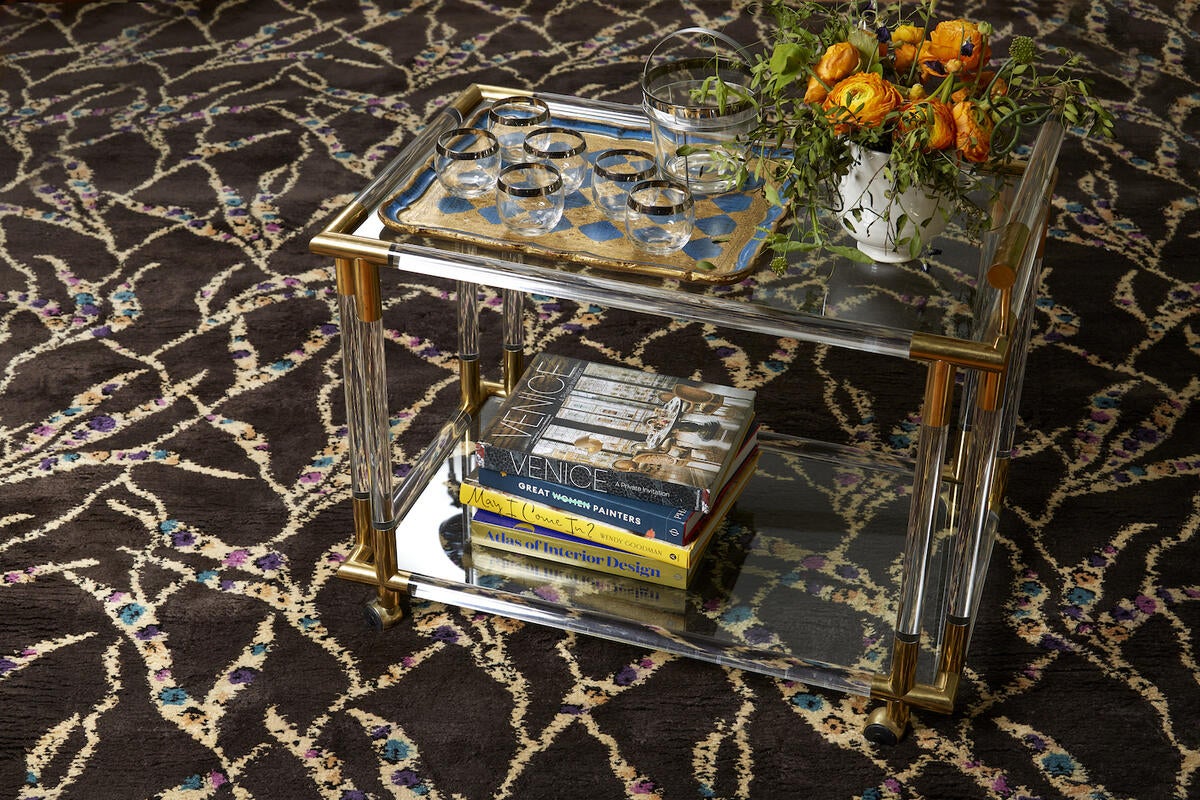 Courtesy of Temple Studio
The thoughtful curation resulted in a collection that Reynolds feels transcends design styles—the plaid, for example, could work just as well in a casual beach house as in a contemporary apartment. "It's a very welcoming collection with a wide reach," she says. Yet that accessibility arose naturally, not from an attempt to capture as many consumers as possible. "Letting Joanna take the lead on the design direction helped to keep my more marketing-focused side at bay," says Reynolds. "There was no worry about market reach or being for everyone. I can often get hung up on, 'This is good for this kind of client, and that's good for that kind of client.' With this [line], I didn't want to take away from what was happening creatively. The foundation of this collection was that we'd have a chance to express ourselves."
The rugs, which are hand-woven at mills in India and Nepal, will be available to retail customers at Williams's Los Angeles store, Kneeland Co. Rarities, as well as made to order through Temple Studio. "There are six standard sizes, which I think will really appeal to a retail client," says Reynolds. "These aren't supposed to be difficult pieces where you have to think hard about how to lay them out in a room." For trade clients, Temple will work with designers on more technical applications, like stair runners or rugs that need to be custom-fitted to a fireplace hearth, as well as custom color options.
The assortment is just the first of several in-house collections in the works at Temple Studio, with a wallpaper and textile line set to roll out later in the year. "I collaborated with Joanna on that as well—it's 70-plus SKUs and we're so excited," she says. While there can be some delicacy in building an in-house brand as a multiline that represents other lines as well, Reynolds feels that it doesn't change her role. "My job is to tell the story of each brand and make sure that our clients understand why what we carry is special," she says. "I wouldn't want any of our vendors to feel like we're putting our own product first, because we're nothing without everyone that we work with."
The endeavor aligns with a broader shift Reynolds has observed in the design industry over the past decade—a move toward openness and collaboration. "When I started in this industry in 2005, I encountered a mindset of 'I worked hard to find my vendors, so you should have to work hard too.' It was very closed off. But there's been this beautiful change that I've seen where people are more willing to share and help each other. It's tremendous, and it's part of the identity of our studio. I feel that there's enough room for everyone."
Homepage image: An Egyptian jacquard inspired the Akhet rug in the new collection | Courtesy of Temple Studio