Built on social media by one aspirational project and practical design tip after another, Studio McGee, the beloved lifestyle brand founded in 2014 by entrepreneurial husband-and-wife team Syd and Shea McGee, now boasts a devoted following of millions—3.8 on Instagram alone—and encompasses everything from long-running Netflix show Dream Home Makeover to New York Times bestselling book Make Life Beautiful to popular e-commerce site McGee & Co. By making sophistication accessible and spreading the gospel that good design enhances daily life at any budget, Studio McGee continues to grow. Having already worked with Ann Sacks on several custom home projects, collaborating with the company to create three original tile collections was the natural next step on Studio McGee's meteoric trajectory and an irresistible addition to its impressive portfolio of luxe yet attainable lifestyle products.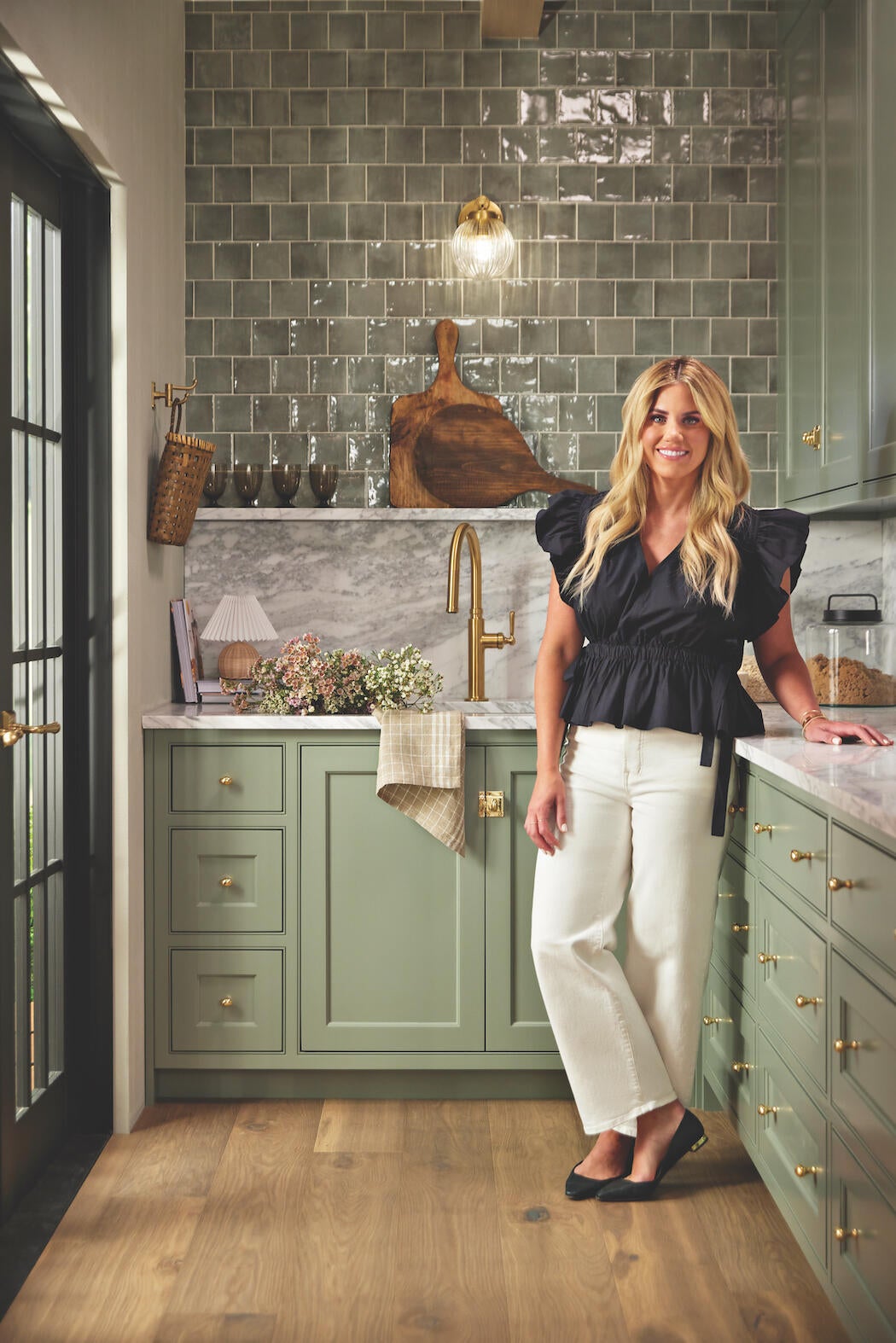 "Ann Sacks knows tile and is the best at what they do," says co-founder and chief creative officer Shea McGee, speaking from her home in Salt Lake City. To conceptualize her collections, first she gathered her personal ceramics and analyzed their textures, colors and glazes for inspiration. Then she drafted her initial new designs. After several conversations, editing sessions and rounds of samples, the two partners came to a consensus on their shared favorites. "I loved that collaborative process," says McGee. "Even though I always have a strong vision of what the Studio McGee aesthetic should be, Ann Sacks brought it to fruition with their quality materials and expertise."
While covering a surprisingly wide range of styles—the Old World–influenced Canyon Lake, classic marble Willow Heights and limestone-like Novah—all three collections capture McGee's affinity for muted, nuanced hues. "I resonate with calming palettes," she says. "I want to be able to come home and feel like I can take a deep breath in my house and relax." Subdued doesn't mean flat or monochromatic, though—quite the opposite. "With these designs, it's never just the same colorways on repeat: There are tonal and textural variations to each shade and every individual tile, so you get that organic warmth and nice movement my interiors are known for." Below, she describes the Studio McGee freshman tile trifecta in detail—and she's already looking ahead to her 2024 sophomore designs, which will be hand-crafted at the Ann Sacks Made factory in Portland, Oregon.
THE SOFT SHADES OF CANYON LAKE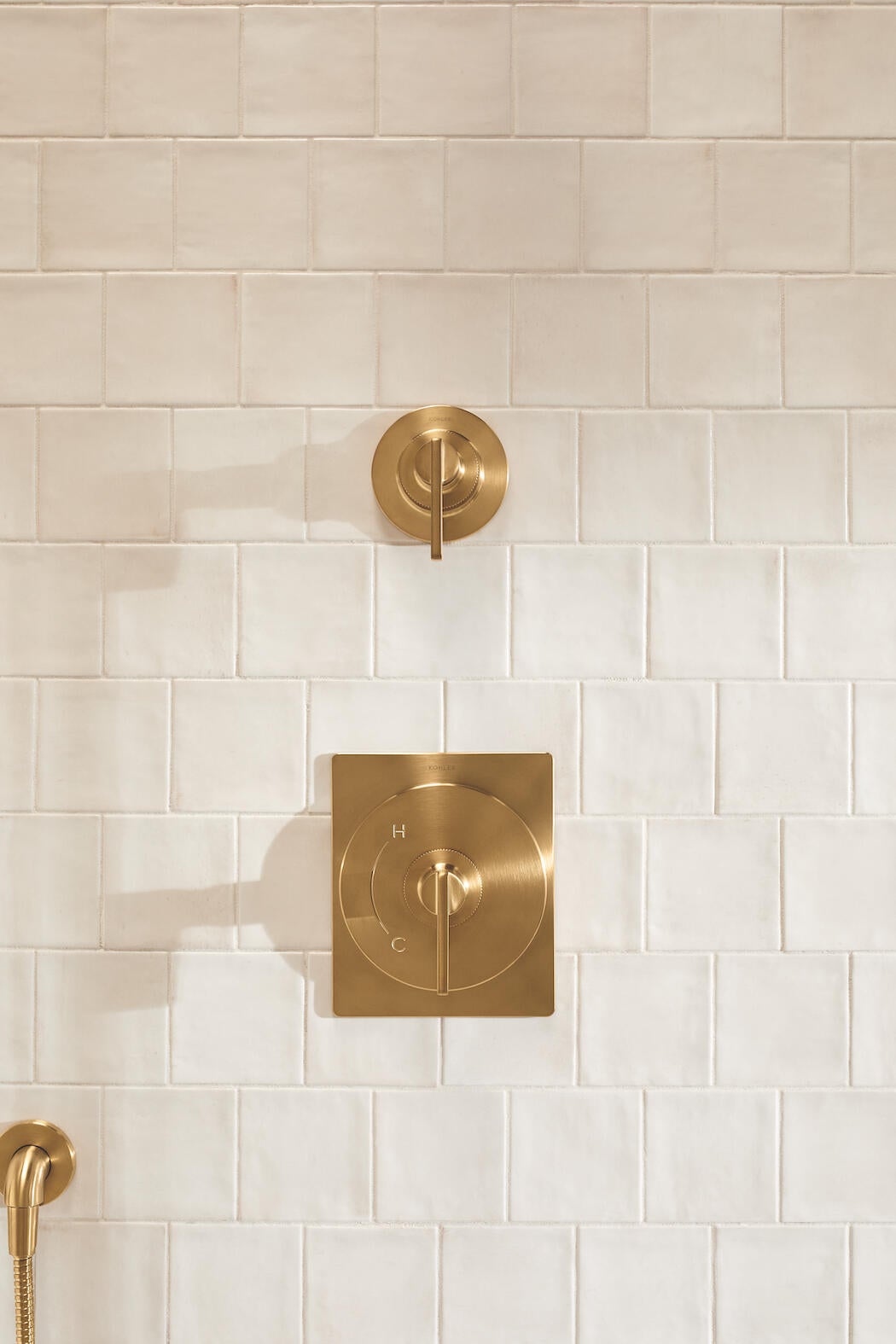 "I live by the mountains, and the landscape of cool blues and beautiful greens informed this palette," says McGee. "I cherish natural shades that have a bit of a dusky undertone to them, so there's color, but it's not an overt pop." Hand-crafted in Spain from 51 percent recycled materials, the dry-pressed porcelain tiles and trim are available in six mix-and-match hues and gloss or matte glazes that emphasize their depth. "I've already been tagged a lot for the Dusty Rose—I can't wait to see how it's used in homes." In her own, she anticipates incorporating Sea Salt in a future bathroom. "Green is my favorite color, and as much as I appreciate a honed finish for a floor, I relish a glossy backsplash or shower because the reflection of light reveals the movement of the undulating surface really well, prompting the eye to travel."
WILLOW HEIGHTS' TIMELESS MARBLE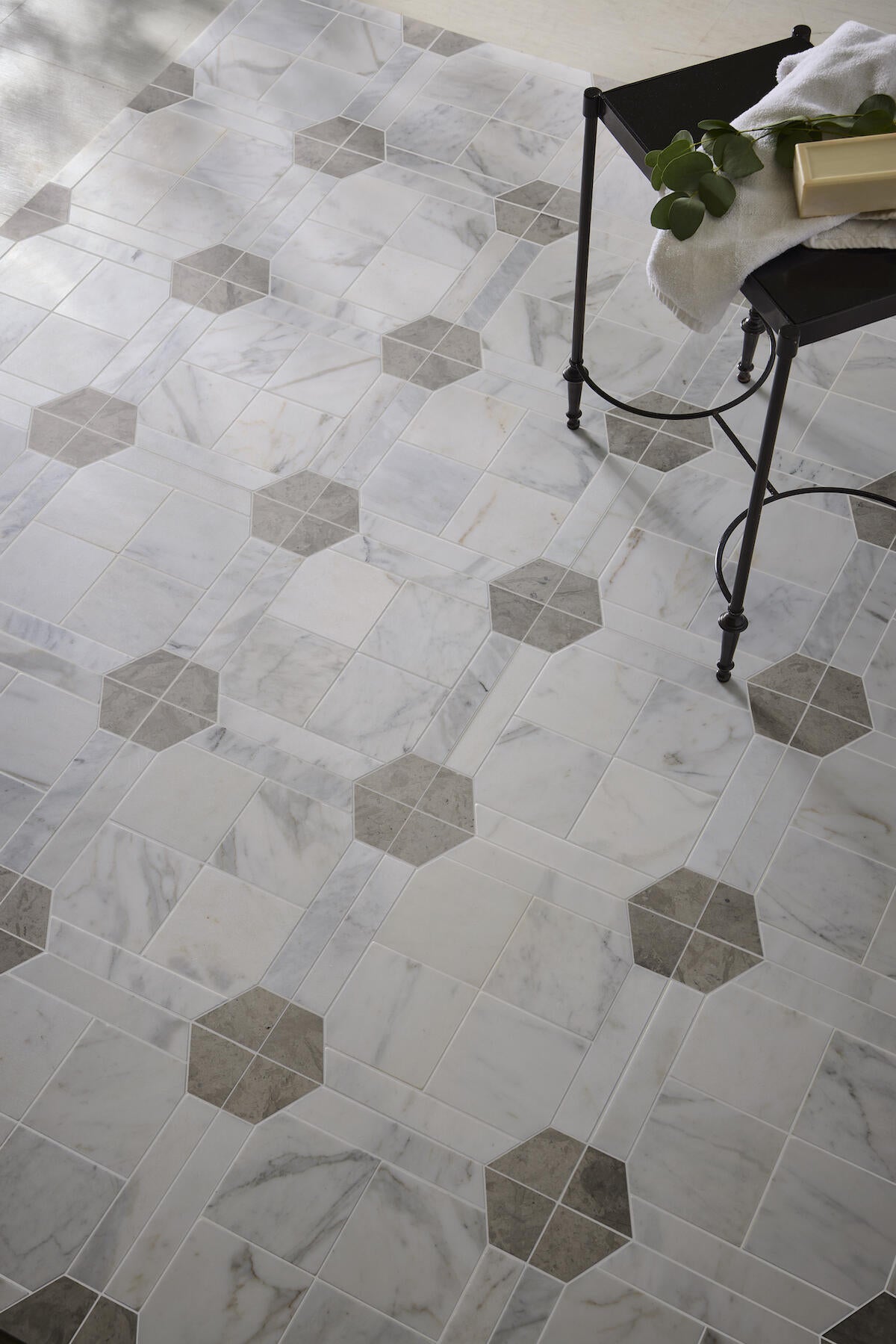 The geometric verve of Brynn and Rylee, the two patterns in the Willow Heights collection, may evoke the iconic lines of art deco design, but they're actually inspired in scale and style by traditional parquet flooring–one of McGee's go-to mediums. Brynn's frame-within-a-frame pattern centers four small square insets, while Rylee's defining form is hexagonal. Made from a creamy Calacatta marble base, the 12-inch-square mosaics bring structured luxury to entryways, bathrooms, backsplashes and fireplace surrounds in colorways that are more subtle than the standard high-contrast black-and-white. "I wanted to soften the tones and bring out the veining in the Calacatta, so I chose Brittania beige and Bardiglio gray accents in addition to the all-white option for both designs," McGee explains. The classic material confirms her affection for all things vintage and suits a variety of decors. "When you bring marble into your home, it becomes an heirloom feature: You're making a decision that's going to last a long time."
THE ESSENCE OF LIMESTONE THROUGH NOVAH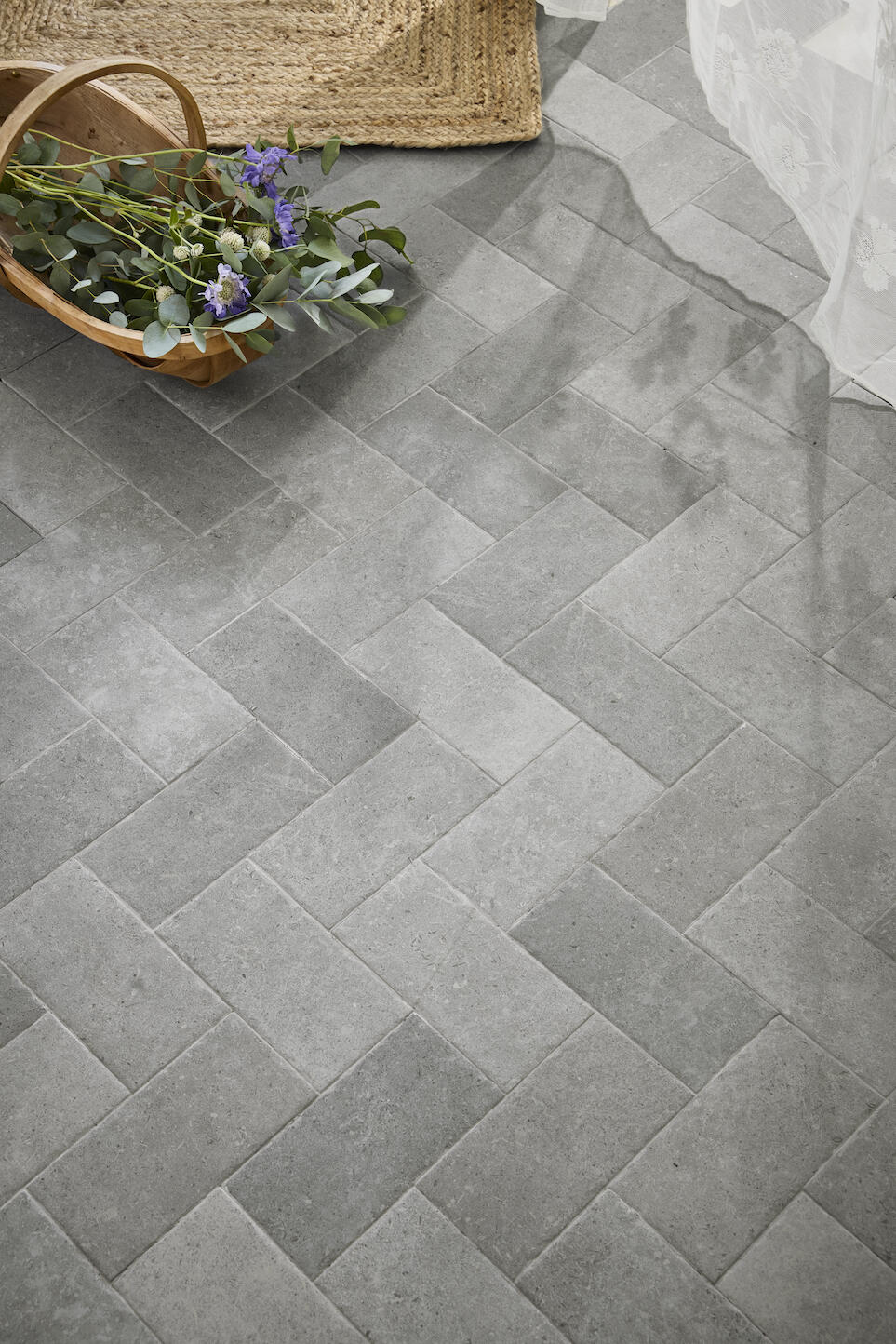 Offering the durability and easy maintenance of porcelain while mimicking the dimensionality and weathered charm of limestone, Novah is available in four square-corner sizes and three elemental colorways—Glacier, Salt and Sand—that can be combined in checkerboard, diamond and bordered arrangements, or applied as a singular shade for a cohesive though gently varied, tactile foundation in a space. "With its tumbled edges and slightly distressed texture, Novah fills the need for a transitional tile that wears like porcelain but looks like limestone you'd find on the floors and walls of centuries-old buildings in Italy and France," says McGee. No two tiles are exactly alike, and matte finish adds to the rustic appeal. As ever, McGee finds her muse in Mother Nature: "Glacier is my preferred color of the bunch. It reminds me of a palette from the sky."
This story is a paid promotion and was created in partnership with Ann Sacks.