Taking a cue from the requests of its customers, artisan home decor company St. Frank has moved into customization, adding to its already extensive offerings of art, accessories, tabletop, pillows, linen, wallcoverings and more. Hot off the heels of a successful New York City pop-up, the program now allows customers the option to customize pillows, window coverings and lampshades.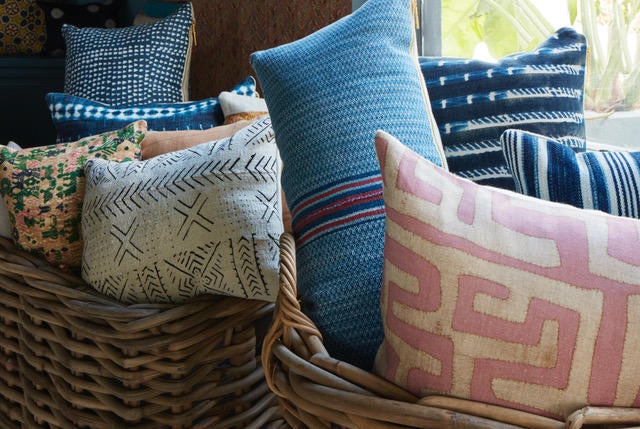 "We first tested offering custom pillows and lampshades in our stores and had a really fantastic response," says Christina Bryant, the founder of St. Frank. "We also installed curtains to show off our fabric-by-the-yard, and received a lot of positive feedback and inquiries on that finished product as well. After seeing the strong interest, we launched the customization capability on our site to give customers the option to order custom pieces for all three categories."
All of the customization can happen through the company's website, where users are given the option of starting with suggested designs and expanding from there, or they can work directly with the St. Frank team if they have other options or dimensions in mind. Currently, there are 25 fabric options for customers to choose from, and the brand has plans to roll out several new fabric designs in the coming months.
As St. Frank is a digital-first company, Bryant says she wanted to be able to meet the customers in person, hear their feedback and share the quality of her company's products. So the brand started with a pop-up in the Hamptons over the summer, and then due its success, opened a second East Coast shop in New York City, which was open through the end of January.
If the customization program goes well and customers are looking for more options, St. Frank is open to expanding the program to include other product offerings.