Now that performance has transitioned from a bonus to a necessity that many expect from their fabrics, Ultrasuede holds a distinct advantage in the field: decades of experience. The original faux suede microfiber has been surpassing the demands of home entertaining, homeschooling and home offices since 1970—long before "WFH" became a universally known term. Even better, despite the benefit of broad consumer awareness of the classic brand, Ultrasuede continues to evolve, not only improving its performance and expanding its color palette, but minimizing its environmental footprint too.
"It's that luxury textile in your living room, for kids and pets by day and for company by night," says Helen Brier, Ultrasuede's sales and marketing manager. "How many other materials can claim that?"
Spun from ultrafine polyester fibers, the nonwoven fabric offers the soft, supple feel of premium suede on its surface, supported by a sturdy, ropelike lining, or scrim, that gives the material its underlying strength. The combination of these opposing qualities makes the fabric the obvious choice for infinite applications. With its durability and drape, it is used, in varying weights, for everything from handbags, shoes and clothing to casings for portable tech products to automotive, aircraft and yacht interiors. That versatility has made it a staple in products by top brands such as Lexus, Toyota, Brooks Brothers, Bugatti, Ethan Allen and Adidas.
"Ultrasuede won't retain moisture, which is why it's perfect for poolside and boats," says Brier. "It won't trap odors or attract allergens, because there are no threads for them to attach to. It's breathable, so you won't stick to your car seat." All-weather adaptability makes the the material, which feels warm in winter and cool in summer, the perfect complement to indoor and outdoor furniture alike. Plus, it's easy to clean and comes with a 10-year warranty.
From its founding, Toray Group, Ultrasuede's Japan-based parent company, has been committed to energy-efficient manufacturing practices and reduced carbon emissions. Since 2010, it has used 100 percent recycled polyester to produce Ultrasuede; in 2014, the company began incorporating partially plant-based polyester made from biodegradable food waste, including residual fibers extracted from sugarcane that would otherwise be discarded. "We may be the first in the industry to do so," says Brier, who explained that the transition has been rolled out incrementally to maintain quality. "We started at 14 percent, and by the close of 2022, we expect to be at 30 percent. The goal is to achieve 100 percent plant-based polyester fabrication within the next four years."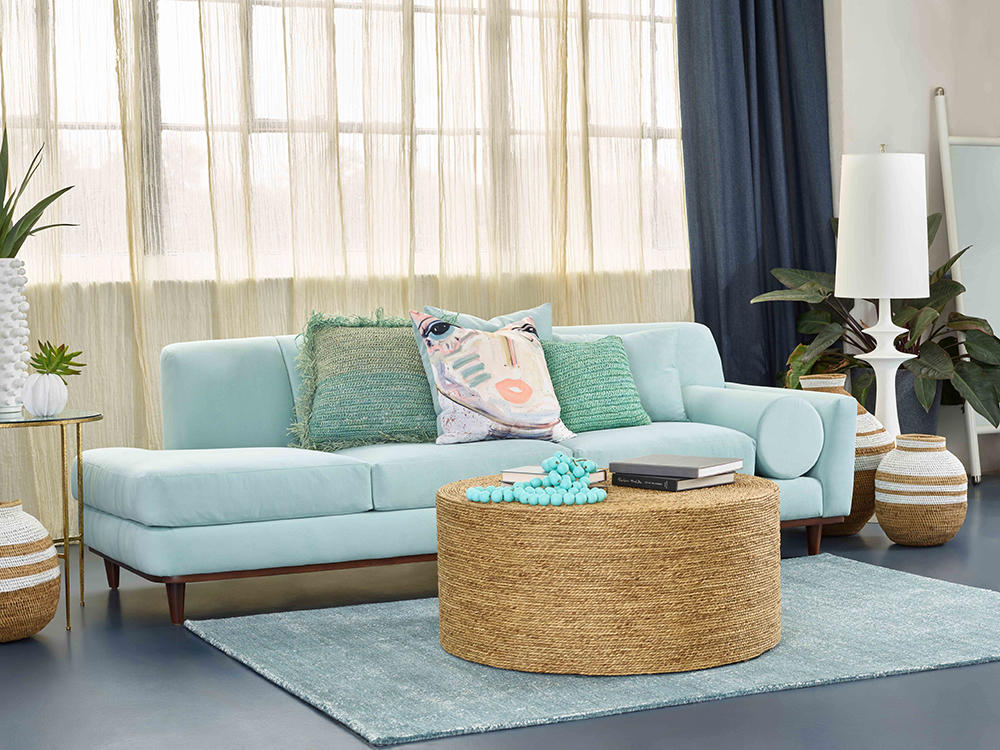 Beyond ethical production practices and exceptional performance capabilities, Ultrasuede also prioritizes aesthetics, ensuring that its fabrics feel both timeless and current. Coastal colors—blues, grays and beiges—are popular at the moment, with browns trending toward the lighter end of the spectrum. For customers specifying more vivid palettes, marigolds, chartreuses and citrons provide a cheerful punch of color while responding to the growing interest in biophilic designs that bring the outside in.
"The deep pink of Wine 'n Roses also always makes a gorgeous statement," says Brier. Currently available in 97 solid, assuredly colorfast shades, Ultrasuede will introduce two patterns for the first time in the third quarter of 2022: Melange, which will feature a heathered effect, and Twill, a small-scale zigzag "weave." The screen-printing method used to create both allows for more consistency from lot to lot, reducing any risk of color variations. Each will be offered in five colorways.
Just as legendary American designer Halston put the fabric on the map in the fashion world of the 1970s and '80s—Ultrasuede got several shout-outs in Netflix's recent Emmy-winning miniseries about the icon—acclaimed midcentury furniture maker Vladimir Kagan was an early adopter of the upholstery for his curvilinear styles. "It's perfect for that purpose because of the way it's manufactured," says Brier. "When the fabric is pulled taut across the framework of a piece, it retains the requisite tension due to its tight construction: The scrim gives it strength and just enough stretch."
Well inventoried, with plenty of yardage ready to ship from its warehouse (contrary to products from other companies navigating pandemic supply chain delays), Ultrasuede is available for residential applications through Kravet and for contract and hospitality projects via Knoll.
This story is a paid promotion and was created in partnership with Ultrasuede.
Hompage photo: A sofa upholstered in Ultrasuede HP | Courtesy of Ultrasuede