In Business of Home's series Shop Talk, we chat with owners of home furnishings stores across the country to hear about their hard-won lessons and challenges, big and small. This week, we spoke with showroom manager Janis Lee of Honolulu's store Fishcake.
What began in 2007 as a furniture shop selling high-end pieces sourced from around the world has become a creative hub in Hawaii's capital. The space also features a ceramics studio; classrooms for goth-jewelry workshops and sculpture lessons; art exhibitions; and a "culinary incubator" cafe. Lee, who works under co-owner and interior designer Maura Fujihira, chatted with Business of Home about finding 250 local artists, operating on an island without Crate & Barrel or West Elm and holding market parties on the nights of full moons.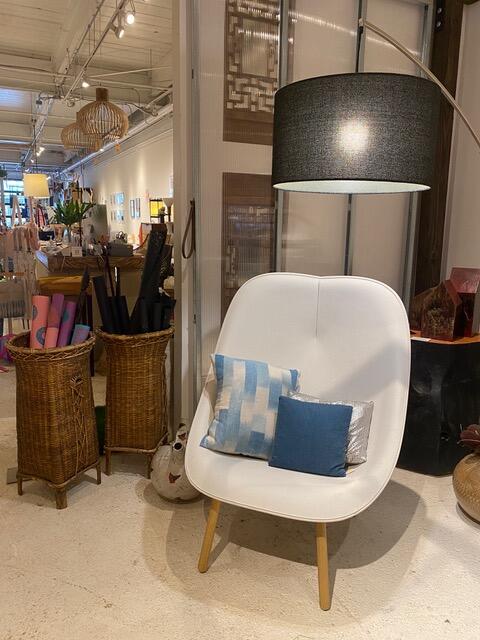 Tell me about your role at Fishcake.
I was hired in 2017, and I was just a store assistant, really, but that changed during lockdown. I was the only employee left. During that time, we transformed Fishcake from a furniture showroom and art gallery—[that's when] we started an art school, a clay studio and a test cafe. I pushed the test cafe along, and now we have 14 culinary artists, from baked goods to Thai food to Filipino food to Mexican food. I find and schedule vendors, and l find tenants for our artists' studios—right now we have a tattoo artist and a hair salon. The newest tenants are architects. It's a pretty big space! We have different names, but we are really a co-op, a collaborative creative hub.
What was the concept of Fishcake at launch?
The owner opened the shop in 2007 with a couple of partners. Their vision was high-end contemporary furniture, and they had traveled the world and bought stuff from Bali, from Italy. But I think the reason they survived for so long is that they are fluid with the times. If something's not working, they're pretty quick to pivot to a new direction.
What does the space look like?
People have described us as a museum, with a kind of New York vibe, even though we're in Hawaii. It's got a high ceiling, rough ground and half of the store is a brick wall with a big sliding metal door. There are a lot of elements that say "industrial." It used to be a garage.
Who are the customers? Is there foot traffic?
Because of the other businesses operating out of here, we have a big range of customers. People tend to find us by accident, actually. We're a hidden gem. I like to say it takes an open-minded, curious person to find us, because we're kind of hidden on back roads. They feel good that they stumbled across something amazing on their own.
What was your background before starting at the shop?
My background is actually in [fine] art. I was drawn to Fishcake because they work with over 250 local artists and makers. My boss's background is in interior design; for over 30 years, she's been working with local artists, incorporating and commissioning their works for clients, from restaurants to retail to residential.
How are the artists found?
We have a gallery curator, Keiko Hatano. Before the store opened in 2007, she used to have her own gallery inside a space called the Foundry, which was also a giant warehouse collective of artists. She got her start 40 years ago and has introduced a lot of our artists.
And how about sourcing these unique furniture pieces?
Some furniture is consignment, but a lot of it is locally made. We do a show called Kagu Akari, a design-challenge exhibition we've been running for 12 years now. Keiko and Maura made this show so that we could find local makers—woodworkers, architects, furniture [designers]—so about 60 percent of the furniture is locally made. We do it every year, bringing in new furniture and new designers.
What other kinds of events and programming do you have?
We have art openings and about six rotating art exhibitions, including the Kagu Akari. We have a lucky cat show, Maneki Neko, that's one of our staples. We have a lot of group art shows, which is a great way for established artists to introduce emerging artists, help out the community, get their names out. We also have a lot of markets. This past summer, I had a series of moon markets, held on every full moon, no matter what day of the week—a little night market where we hand-selected the vendors and one of our cafe vendors would serve a dinner menu while one of our art studios did a workshop. The last one was the corn moon market, and the art school did a corn cob cup workshop. That was really cute.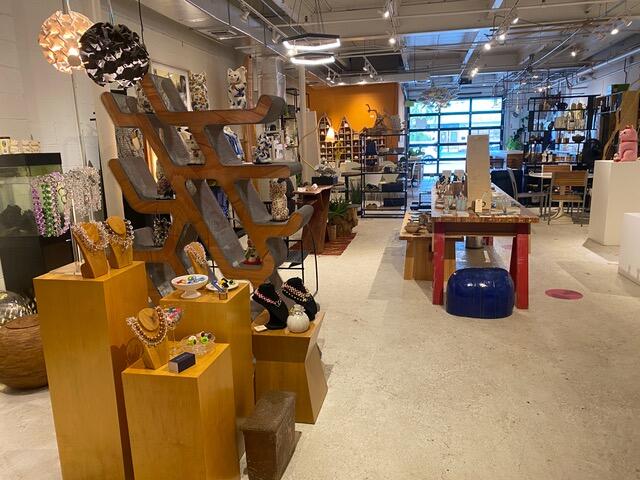 There are so many elements to the business. How big is the staff?
I wear lots of hats! I have one store assistant who's also a social media manager, then our art school coordinator and our kiln manager. Just four people.
What's the most typical purchase for someone coming through?
Our bestseller is our artist Laura Trangmar, an illustrator, and her prints. Prints and ceramics do well. We carry a range of ceramic artists, so mugs, plates and bowls. We also have a lot of upcycled bags and totes, which are recognized out in the community. We carry some vintage home decor and vintage lamps that are pretty popular, too.
What is your e-commerce like? Shipping must be complicated with all this large furniture when you're on an island.
I know people say to push the e-commerce, but our stuff is so varied in size. It definitely was a bigger [thing] during lockdown, but not so much now. Our e-commerce site has its functions; it's really the most helpful when it comes to managing, selling and promoting our workshops. Our ceramics workshops do the best and usually fill up, but we have other media like painting, throwing, weaving, printmaking.
What's the design scene like in Honolulu?
The artist community is so small; basically all the fine artists know each other. Then there's the Hawaiian art, and that doesn't cross over too much. It's like commercial art and fine art, and they're very, very different. It can be cliquish.
What about interior designers? Do they come to Fishcake to source?
I would say maybe once a month we have an interior designer come in. I assume [designers on the island are] shopping at HomeWorld or Ashley [Furniture] or some bigger corporation. But places to source here are limited. You often see the same things in everybody's houses.
Is there a Restoration Hardware or Crate & Barrel or any of the big-box stores on the island?
No, we don't have anything like that. We have Target. There are not many options here. We have the teak, Indonesian kind of furniture, a few of those stores, but it's very dry.
What are some of the challenges of operating specific to Honolulu? I would imagine it's shipping or sourcing, or that customers are mostly tourists?
I think it's budget. People spend millions of dollars to buy a house, and by the time they are done getting it closed and painted, they have nothing left over to furnish it. That's been my experience. We have one or two consignment furniture stores, which is where unique pieces are; people move their furniture in and then move away, and it's so expensive to move it out of the islands, so they often end up consigning it. You can still order Italian-made furniture, but it's really slow and takes too long. People want things more immediately. It's a struggle.
What's your favorite kind of day at work?
I like the market days, because they're busier. I like when someone new comes in and I can give them a tour, tell them about everything that we do here. They're always so inspired, like, "Wow, this space is special!"