When couples who live together opt for separate rooms, it sometimes spells trouble—though a growing number of homeowners and interior designers believe it is the new frontier for a night of restful sleep. Stay in the know with our weekly roundup of headlines, launches, events, recommended reading and more.
Business News
In recent years, trade brands like Janus et Cie and Stark have made a play for the growing consumer market for design by extending their offerings to everyday buyers, Forbes reports. The latest design giant to enter the arena is Schumacher, which recently debuted retail boutiques in Nashville and Paris. The locations were created to serve both interior designers and consumers, offering a front section where the general public can shop rugs and wallcoverings along with other home items from an array of local Nashville artisans and global brands, as well as a back section where designers can meet with clients. According to Schumacher CEO Timur Yumusaklar, the company aims to service markets with a strong design community and a pool of affluent millennial homeowners, with eyes on Charlotte, Austin and New Orleans for potential future locations.
For nearly every month over the past year, Zillow's 12-month home price outlook has declined—until last week, when the company's economists predicted a 0.5 percent rise in home prices between January 2023 and January 2024, Fortune reports. Coupled with optimistic new mortgage data, the latest numbers could point to an uptick in housing demand. Still, according to Fortune's analysis of forecasts from 29 of the nation's leading real estate researchers, just six predict U.S. home prices will grow or remain flat in 2023, with the majority still expecting prices to fall further. If there is optimism for a near-term housing market rebound, it is very, very cautious.
Elsewhere in housing, a record number of multifamily housing units are currently under construction in the U.S., Fast Company reports—at 943,000 units in progress, it is the highest number in production since 1974. Unfortunately, those statistics do not signal an end to the undersupply of housing but instead reflect the continued pandemic-era challenges faced by the construction industry. Still reeling from labor shortages, supply chain issues and inflated building material costs, the number of units-in-progress has grown largely because so many projects are progressing slowly. However, new data from the U.S. Census Bureau reveals the opposite for single-family housing: Though construction starts were down 4.3 percent last month, signaling a slowdown at the top of the pipeline, housing completions rose 4.4 percent compared to the month before—an improvement of 12.8 percent compared to the same month last year. While the rise in completions shows that pandemic challenges are receding for some builders, the slowdown in starts and permits could mean continued stagnancy ahead as a smaller number of new projects line up to fill the funnel.
The Material Innovation Initiative published its "2022 State of the Industry Report," highlighting the forces that changed the sector in the past year. Since the organization began collecting data in 2013, the number of next-gen material companies—which source from plants, microbes, mycelium, recycled materials and cultivated animal cells—has grown consistently year over year, reaching 102 total companies in 2022, up from just 33 in 2013. Next-gen material companies also raised at least $486.75 million from publicly disclosed deals in 2022, with brands such as MycoWorks, Natural Fiber Welding, AlgiKnit and VitroLabs all closing multimillion-dollar funding rounds.
The Gerson Companies, a supplier of seasonal and everyday home decor, has acquired the assets of decor importer Park Hill Collection, Furniture Today reports—the terms of the deal were not disclosed. Following the acquisition, Park Hill will continue to be headquartered and operated in Little Rock, Arkansas, as a subsidiary of Gerson, with fourth-generation Gerson family members Jacob Gerson and JJ Hjalmarson serving as interim general managers while the company searches for a full-time general manager.
Launches & Collaborations
Generative art platform Art Blocks, French homeware brand Trame and web3 product studio Crypto Packaged Goods have all partnered for the launch of Navette—a 300-piece generative-art NFT collection paired with loom-woven physical wall hangings. Designed by digital artist Alexis André, the two-part series includes generative artworks released via Art Blocks's blockchain technology, and then translated to large-scale physical tapestries claimable by eight owners of the original digital works in an auction set to take place on March 2.
International consumer goods fair Ambiente, the exclusive partner of the U.S. television series America ByDesign on CBS, announced plans to debut a European edition of the series in summer 2023. The first season of Europe ByDesign will be themed around innovations, highlighting examples of creative design across categories such as production and packaging, digitalization and design, and advertising and publication. Across six half-hour episodes, a panel of judges will announce 10 winning innovations along with people's choice awards, for which viewers can vote online.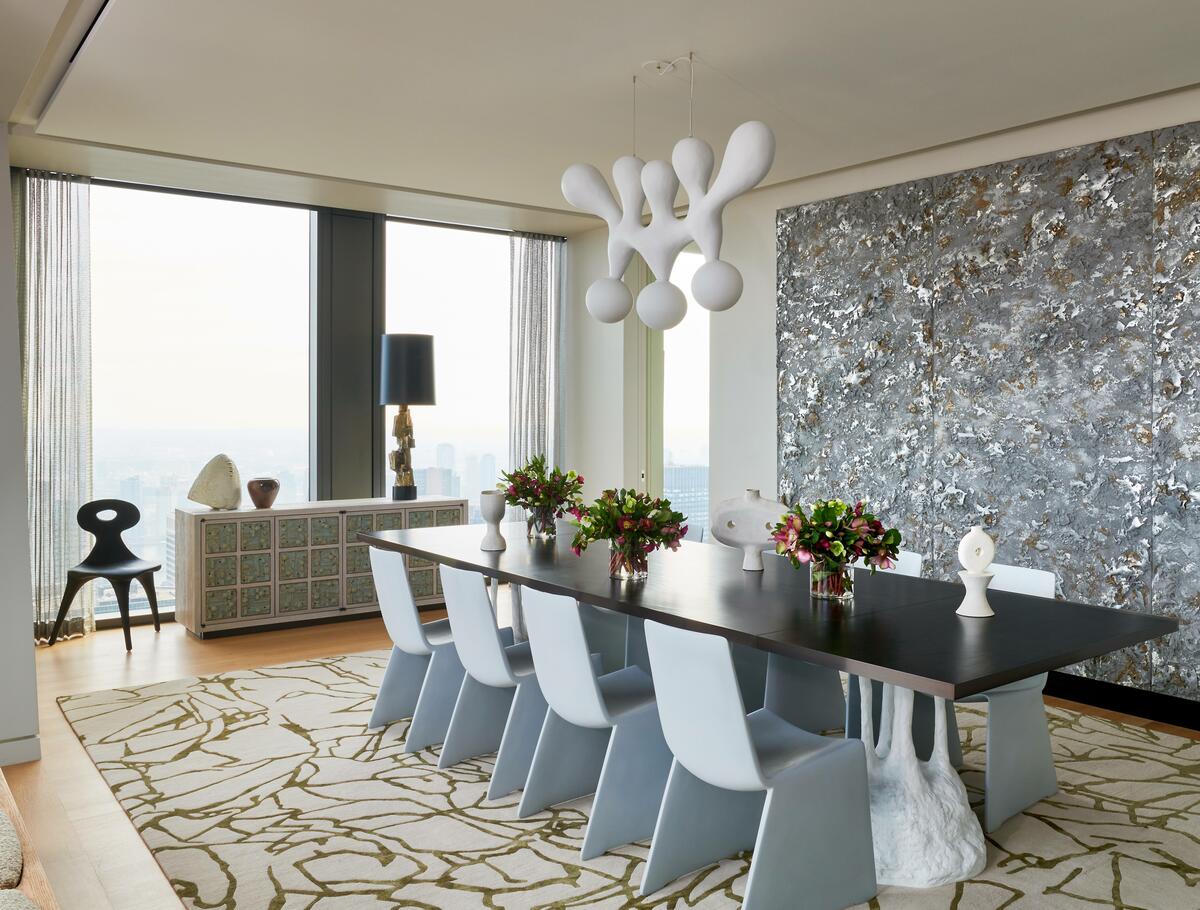 Showhouses
Elle Decor revealed its Penthouse at 53 West 53, designed by A-list designer Joe Nahem of Fox-Nahem Associates and featured in the magazine's March 2023 Art Issue. The 7,973-square-foot duplex includes four bedrooms and three-and-a-half bathrooms, situated atop an 82-story tower designed by Pritzker Prize–winning architect Jean Nouvel and overlooking Central Park.
The Design Centre at Chelsea Harbour released the designer lineup for its 2023 WowHouse. Chosen to re-imagine the 1,300-square-foot, 17-room showhouse, the group of design professionals—a mix of American and British talent—includes Joy Moyler, Mark D. Sikes and Tim Gosling, among others. Presented as a pop-up within the Design Centre, the redecorated space will be open to the public from June 5 to July 6, with a portion of the proceeds to benefit the U.K.–based design charity TP Caring Spaces.
Recommended Reading
Last January, Bill Chan—president of Hong Kong–based Man Wah Furniture Manufacturing—had never set foot in Mexico. This year, the country has become the future site of a $300 million factory for the home furnishings giant and is on its way to welcoming a much larger migration of Chinese companies. Today's episode of The New York Times podcast The Daily explores why shipping chaos and a fast-changing global economy have triggered a shift from "Made in China" to "Made in Mexico."
A growing number of Americans are moving to the country's desert locales, seeking to build contemporary homes with lots of light and large glass panes—though in places like Tucson, Arizona, where temperatures topped 100 degrees for 92 days last year, those design features threaten to turn their homes into ovens. As Cecilie Rohwedder writes for The Wall Street Journal, architects and designers are responding by tapping into ancient design techniques rooted in Pueblo and Spanish building styles, incorporating features such as windows placed to allow for crosswinds, walls made of rammed earth and deep shadow boxes to keep homes cool, conserve resources and cut energy costs.
Around midnight on Clint Basinger's first night in his new home, he was surprised to hear an automated voice suddenly announce it was bedtime—and proceeded to spend the rest of the night locked inside his own house, only to be freed the next morning after getting in touch with the previous owner to transfer access for the home's smart security system. The incident demonstrates the dark side of our increasingly intelligent homes: Households in the U.S. had an average of 20 internet-connected devices as of last year, ranging from televisions and fridges to coffee makers and doorbells. As Anna Kodé writes for The New York Times, the ubiquity of automated systems also creates more opportunities for people to lose control over aspects of their home, especially when those systems are inherited from previous owners—or fall into the wrong hands.
Call for Entries
The Atlanta Decorative Arts Center is now accepting submissions from design firms and individual professionals for the 2023 Southeast Designers & Architect of the Year Awards. A panel of judges will select finalists and winners across three categories—residential interior design, contract interior design and architecture—with honorees to be announced at the Southeast Designers & Architect of the Year Awards Gala during ADAC's annual spring market. To make a submission before the March 3 deadline, click here.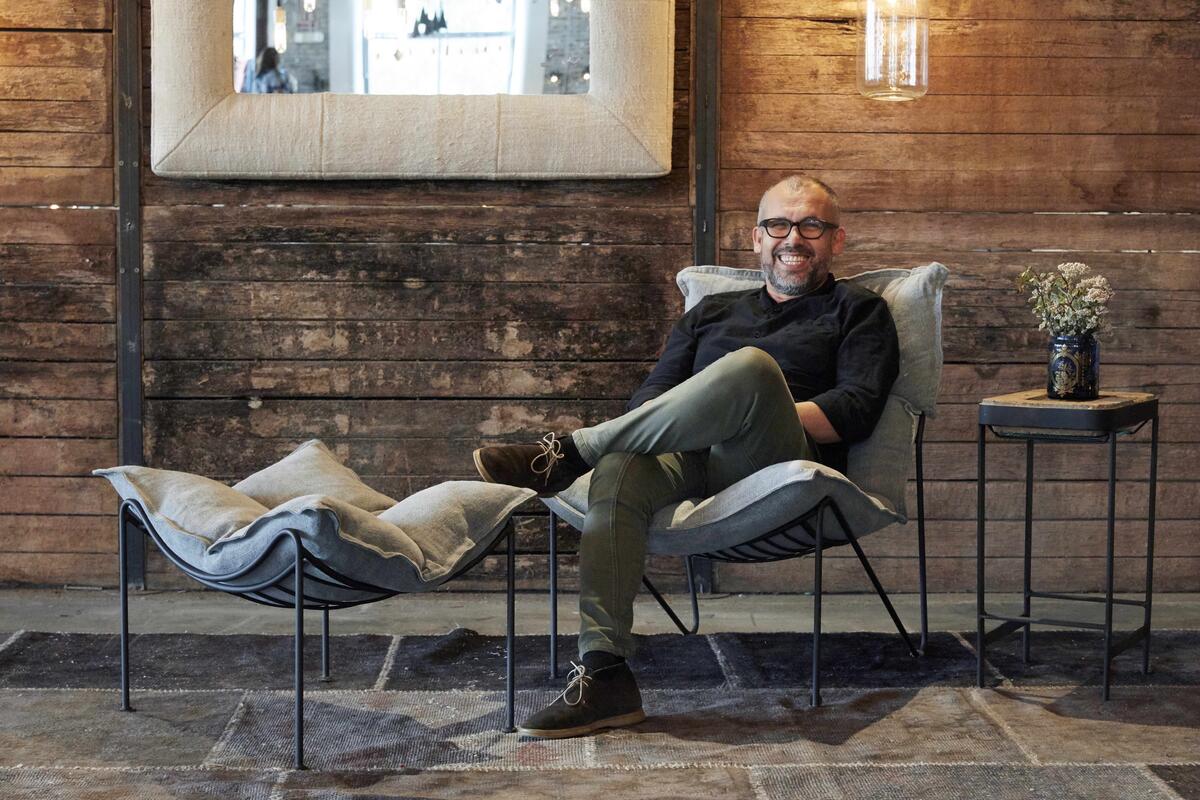 In Memoriam
Cisco Pinedo, a furniture designer, builder and founder of Cisco Home, passed away last week from a heart attack at the age of 60. Pinedo was born and raised in a small village in the state of Jalisco, Mexico, and went on to make his mark on the design industry with the debut of furniture brand Cisco Home in 1990. As the brand gained traction, Pinedo grew the business into a manufacturer of bench-made upholstery and upholstered beds, garnering a loyal following along the way and partnering with design legends like John Derian for furniture collaborations. "He was an amazingly big-hearted, generous man with the biggest smile and so supportive of everyone's creativity—such a loss to all," says Derian. In 2003, Pinedo became a founding member of the Sustainable Furnishings Council, advocating for sustainable practices as well as utilizing eco-friendly woods and materials in his own furniture. In a post on his company's website, Pinedo traced his appreciation for sustainability back to his upbringing in Mexico, where he developed his enduring respect for nature and craftsmanship. "Cisco's creativity, business ingenuity, friendship, and expansive generosity of spirit has been an important part of so many of our lives and livelihoods," wrote Pinedo's wife and daughters in an Instagram tribute. "He felt invested in the businesses and well-being of customers and vendors, and grew endeared to many of you, considering you first and foremost as friends close to his heart."
Homepage image: Inside the Elle Decor Penthouse at 53 West 53 by Fox-Nahem | Kelly Marshall