A name change isn't the only thing shifting around at RoseHyll Studio, formerly The Ruffled Window. The founder of the handmade window treatment company, Robin Feuer, has welcomed her daughter Ariel Tensen to the team. The duo chatted with EAL about the history of the firm and what their partnership means for the brand moving forward.
"I've always had an interest in what my mom has been doing," Tensen says. "But coming out of school, we decided that it would be best if I got some real-world experience. I'm so happy that I did, and that is [when I worked in] publishing. I loved working at those places, but something was missing. A connection to my work is what was missing."
Now, as director of business development, Tensen's role is a hybrid of sales and marketing responsibilities. Since officially joining the company in September, she played a significant role in the company's rebrand as RoseHyll Studio and is now focused on learning more of the technical aspects of the business.
Feuer, a third-generation designer, explains the new name's origin: "Rose, my grandmother, was an extraordinary seamstress who taught me Old World sewing skills and standards [she brought to America from Russia]; Hyll combines Harry and Sylvia, the names of my parents, from whom I learned the importance of hard work and integrity."
Feuer started her career in the fashion industry after graduating from FIT and didn't see a career in the home industry in her future. She became an accomplished menswear designer. In 2000, when she was asked to sew a pair of curtains for a friend, she reluctantly agreed, but immediately fell in love. As Tensen says, "She is a self-proclaimed textile junkie."
Since then, she has grown the company to a team of 12, and hopes to leave the business to her daughter. "We've been talking about this for so long, and you really don't know what it is going to be like," Tensen says. "You hear a lot of horror stories about mother-daughter teams and family businesses. I was a little hesitant, but once I started working with her, everything just clicked."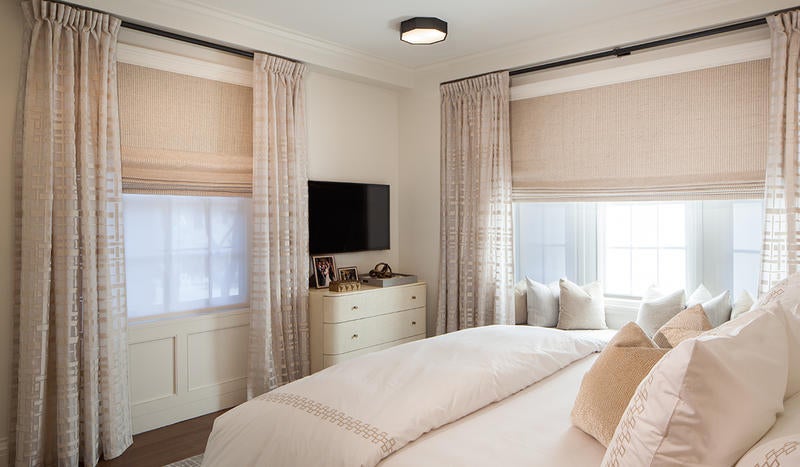 RoseHyll Studio is a trade-only company and works with a host of designers throughout New York City. One of Tensen's goals is to reach a new audience of designers—especially younger designers who may not understand the value of a handmade window treatment. She is also examining the potential for offering new services, pricing structures or products, and is surprised at how open her mother has been to her new ideas.
"It is a new energy," says Feuer on the working relationship with Tensen. "I have experience to give, which is the groundwork for certain things. But with my young designers and my daughter, I love to hear their thoughts, because it is a totally new generation. They think on a different level."
For young designers who may not have the clients or the budget for a handmade window treatment, RoseHyll is now offering a semi-machine-made line called Studio. The hope is that as designers grow and become more established, they can move into larger, handmade projects, and the studio will have been part of their team from the beginning. Feuer says that since she founded the company 18 years ago, her goal has always been to be an extension of designers' teams and to support the trade, even when she was making all of the treatments herself.