Thanks to Instagram accounts like Zillow Gone Wild, eclectic haunts from every corner of the world—including one 1920s-era blue-roofed abode in Michigan that internet admirers have dubbed "The Smurf House"—are stealing hearts near and far. Whatever comes next, stay in the know with our weekly roundup of headlines, launches and events, recommended reading and more.
Business News
Pinterest has entered into an agreement to acquire The Yes, an AI-powered shopping platform for fashion that provides users with a personalized feed based on their brand, style and size preferences. The Yes currently hosts hundreds of brands, whose offerings are curated by an algorithm that Pinterest wants to apply to categories such as home, beauty and food. Pinterest expects to finalize the acquisition this quarter, after which it plans to sunset The Yes app and website and merge the company's team with its own.
Franchise Group—the parent company of American Freight, Badcock Home Furniture & More and Buddy's Home Furnishings—has entered into an exclusive three-week negotiation period to acquire Kohl's Corp for nearly $8 billion in cash, Reuters reports. The transaction—which values the department store chain's stock at $60 per share, $15 above where it trades today—is subject to Kohl's board approval. Kohl's faced pressure to sell itself earlier this year after activist investors Macellum Advisors GP LLC and Engine Capital LP called upon the company to do so. More recently, bidders such as Brookfield Asset Management Inc. and J.C. Penney investors Simon Property Group Inc. submitted competing offers for the retail chain.
Target has announced plans to cut prices and cancel orders to get rid of unwanted inventory. According to The New York Times, the move comes in response to a recent shift in consumer behavior away from home goods, tech and athleisure and toward travel and out-of-home experiences. The change has left retailers like Target with an overload of inventory, which the company stocked up on during the recent period of skyrocketing pandemic demand. The new plans will cut profit in the current quarter, the company said—a blow that comes just three weeks after Target's stock fell nearly 25 percent following a dismal earnings report.
Horticulture lifestyle brand Lively Root has closed a $4 million seed funding round, with participation from former Jack in the Box CEO Jake Goodall, original Vuori investor CJ Stos and McKenzie Farms founder Ken Cook, among others. Founded in July 2020, the company aims to encourage the creation of more green spaces by connecting people with curated plant selections from local nurseries. Armed with the new funding, Lively Root has set its sights on expanding beyond its current markets in California, Oregon and Florida; moving into additional categories such as outdoor plants, holiday items and plant care accessories; and preparing to kick off a Series A fundraising round later this year.
San Francisco–based startup Pulley has announced the completion of a $4.4 million seed funding round led by Susa Ventures, TechCrunch reports. Co-founders Andreas Rotenberg and Charlie Jacobson started the company to streamline the construction permit process—an often frustrating experience, they say, due to the nation's 19,000 different permitting jurisdictions, which each have their own system for interpreting and enforcing building codes—through the implementation of its workflow software. With the new injection of capital, the company plans to build out its core product, grow its team and expand into additional markets.
According to a survey from financial services company Bankrate, 74 percent of respondents view owning a home as the highest possible achievement, above that of a successful career, raising a family or earning a college degree, The New York Times reports. Among respondents who did not own homes, roughly the same share cited affordability factors like income level and record-high housing prices as preventing them from making a down payment. To reach the goal of homeownership, 58 percent noted that they would be willing to make compromises such as relocating to another state, buying a fixer-upper or moving into a less desirable area.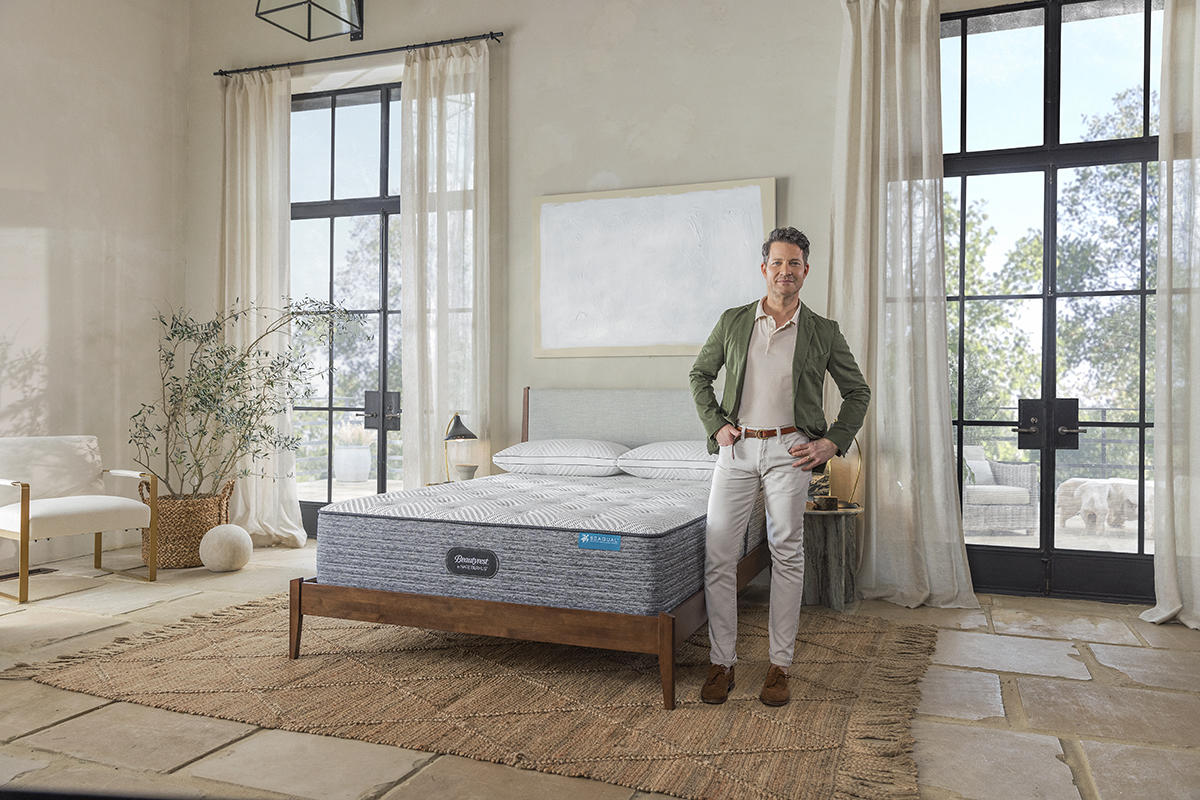 Launches and Collaborations
Design icon Nate Berkus has partnered with Beautyrest for a limited edition sleep collection. The new line includes mattresses, mattress protectors and down pillows, with each item incorporating upcycled plastics recovered from the ocean.
Showhouses
The Kaleidoscope Project, a nonprofit dedicated to providing opportunities to designers in BIPOC communities, has announced the location and date of this year's designer showhouse: the 1906 Tyler Street Firehouse in Pittsfield, Massachusetts, on August 5. The organization has selected four design teams—Everick and Lisa Walker Brown of Everick Brown Design; Denise Gordon, Tanya Lewis and Marilyn Lavergne of the Austin Gray Design Group; Virginia Toledo, a partner in Toledo Geller; and Rasheeda Gray of Gray Space Interiors—to reimagine four residential units within the converted firehouse with a focus on sustainability.
Recommended Reading
Practicality and minimalism may have been the dominating design influences of the past decade, but the pandemic awoke in many the taste for something much more opulent at home. For Eater, Jaya Saxena dives into one manifestation of the present trend toward maximalism—the current online craze and growing community surrounding the collection of vintage china.
When it comes to residential suburban development, homeowner-activists on the local level enjoy an inordinate amount of control over new builds—a set of circumstances that led to the rise of NIMBY, an acronym that stands for "not in my backyard" and describes neighbors who fight nearby construction, especially multi-unit properties. For The New York Times, Conor Dougherty offers a thorough look at the roots of NIMBYism, the policies that have both enabled and counteracted the phenomenon and the groups that have emerged in opposition as the nation's housing crisis worsens.
Call for Entries
Jamie Stern Furniture, Carpet & Leather has opened submissions for its third annual Rug Design Contest. The competition encourages members of the architecture and design community to submit an original design for the chance to win a custom wool rug produced by Jamie Stern, with winners to be selected from each of the four regions—Northeast, Southeast, Midwest and Western. To submit an entry before the July 1 deadline, click here.
The International Furnishings and Design Association is now accepting applications for six professional grants available through its Educational Foundation. The awards include the Irma Dobkin Universal Design Grant, a $3,000 prize open to an individual involved in a Universal Design project; the Ina Mae Kaplan Historic Preservation Grant, $2,000 open to those involved in the restoration or preservation of design/furnishings; the Elizabeth Brown Grant, $2,500 open to an accredited U.S. interior design program; the Tony Torrice Professional Development Grant, $1,500 open to design professionals seeking advanced study; the Valerie Moran Memorial Grant, a prize of up to $3,000 for an IFDA professional member; and the Barbara Brock Memorial Grant, a $1,500 prize for two IFDA experts to travel to speak at various industry venues. For more information, click here.

In Memoriam
Susan Becher, an industry leader and pioneer of design public relations, passed away on June 3. For more than 35 years, Becher served at the helm of her eponymous New York–based boutique public relations and marketing firm, which specializes in representing home decor and lifestyle brands and personalities (the firm is currently run by principals Julia Duke and Molly Bates). Becher rose to prominence working alongside brands such as Marimekko, Flos, Cassina, Boffi, Pottery Barn and Waterworks, as well as with design greats such as Victoria Hagan, Thomas Jayne and Orlando Diaz-Azcuy. "She was much lauded for her contributions in design, but she is often most remembered by her peers for mentoring women in the fields of design and public relations. She started her own firm in an era when women could hardly get their own credit cards," says Duke. "She consciously committed to an all-women firm for the entirety of her career and nurtured her employees by empowering them to have leadership roles in her business and with her clients." Becher is survived by her husband, Bruce; sons David and Marc; and Marc's fiancee Danielle. They will be holding a public memorial at 2:30 p.m. on June 12 at the New York Society for Ethical Culture at 2 West 64th St., where Bruce and Susan were married in 1978.
Photographer Patrick Cline passed away late last month, leaving behind a legacy in the interior design industry for high-standard imagery featured in titles such as InStyle, Redbook, V Magazine and Vanity Fair, with a lauded subject list that includes the work of Albert Hadley, Celerie Kemble, Kelly Wearstler, Mark D. Sikes and more. Cline fell in love with photography as an 18-year-old apprentice processing film in a studio under Spitalfields Market and went on to build a name for himself photographing interiors. In 2009, Cline co-founded Lonny magazine alongside Michelle Adams and went on to serve as the title's director of photography for three years. "Pat's sharp eye, innate talent and genuine love for photography brought our magazine to life. He was a natural, easily able to capture dozens of outstanding photos in just a couple of hours," says Adams. "His charming personality and dry sense of humor ensured laughter at every shoot and made him a favorite in the design community. He will be sorely missed."
Homepage image: A room designed by Virginia Toledo for last year's designer showhouse for The Kaleidoscope Project | The Kaleidoscope Project